Federal Aid Might Not Reach Small Businesses Owned By People of Color, Advocates Fear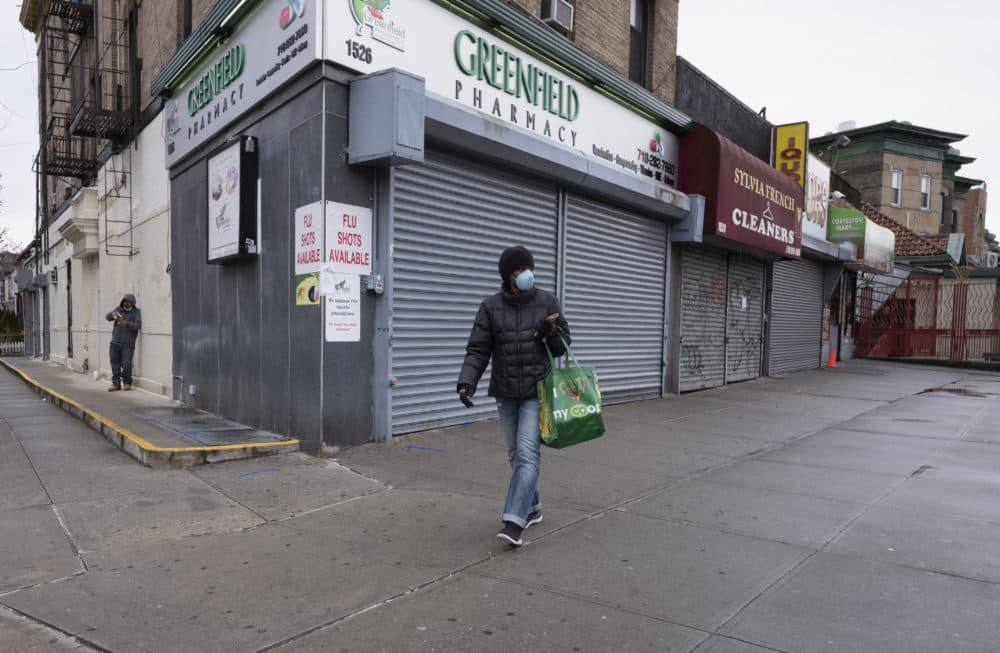 This article is more than 2 years old.
Community development groups, along with advocates for black, Latinx, and Asian business owners, are worried that minority-owned small businesses could be left behind in the latest round of federal aid.
A group of nearly 80 organizations, calling itself the Small Business COVID-19 Response Coalition, says the federal government's efforts to help small businesses during a time when most have been closed to stem the spread of the coronavirus are not reaching many businesses in communities of color, rural communities, and Gateway Cities.
Joe Kriesberg, president of the Massachusetts Association of Community Development Corporations, will pitch state lawmakers on the funding proposal, which was outlined last week in a letter addressed to Massachusetts Governor Charlie Baker, Senate President Karen Spilka, and House Speaker Robert DeLeo.
"The programs are poorly targeted and won't help many of the businesses we serve," the letter said. "That is why we need a state-level strategy that is focused on reaching those who continue to be left behind."
The group is urging lawmakers to pay more attention to businesses that are "the most vulnerable during this economic crisis, including those from historically underserved communities."
More federal money is on the way for the federal government's Paycheck Protection Program (PPP), which helps small businesses secure a forgivable loan from a local bank in exchange for keeping employees on the payroll. The program reopens on Monday after congress replenished it with an additional $310 billion last week. The initial allocation of $349 billion was depleted in a matter of days.
However, the PPP's first-come, first-served structure put some business owners at a disadvantage, such as those who did not have a pre-existing relationship with a participating bank, who are not fluent in English, or who did not have ready access to financial and legal expertise.
Sixty billion dollars of the second round of PPP funds are slated to go to smaller banks with less than $50 billion in assets, in the hope that the money will make its way to smaller businesses. But that is no guarantee.
"If the state does not step up and do what it's supposed to do, we're not only going to see the largest increase of the racial wealth gap of our time, but we're also going to see whole community economies destroyed," said Segun Idowu, executive director of the Black Economic Council of Massachusetts, which is part of the Coalition.
Historical discrimination and the legacy of predatory lending by large banks has led many black and brown business owners to distrust those institutions. As a result, many of them will miss out on the latest round of federal business aid.
"It's not only a black and brown issue. It's a statewide issue. It's an economic issue."

Rosario Ubiera-Minaya, Executive Director, Amplify Latinx
Language and cultural barriers have also prevented many business owners from obtaining relief through the PPP.
"Many of the businesses were left in the dark," said Rosario Ubiera-Minaya, executive director for the nonprofit Amplify Latinx, which is also in the Coalition. "Many of the businesses thought they didn't qualify because they didn't understand the information."
Ubiera-Minaya added that while the past decade has seen minority-owned businesses proliferate and grow, that progress could be reversed due to the pandemic. This isn't just bad news for those business owners; it's bad news for the economy, she said.
"It's not only a black and brown issue. It's a statewide issue. It's an economic issue," she said. "We cannot leave them behind."
In 2016, Massachusetts' minority-owned businesses (which the federal government generally defines as being at least 51% owned and run by at least one person who identifies as Asian, black, Hispanic or Native American) were the source of an estimated 126,000 jobs in the state, according to the U.S. Small Business Administration.
To make sure that these businesses are not left out, Ubiera-Minaya said funds must be allocated to community-based organizations that can assist owners in navigating the process, and to the community lending institutions where those owners are most likely to go for a loan or grant.
"The development of some communities cannot co-exist with the underdevelopment of others."

Segun Idowu, Executive Director, Black Economic Council of Massachusetts
The Coalition's proposal for spending the requested $150 million dollars is as follows:
$10 million to support community-based organizations that deliver "culturally competent and multi-lingual assistance and coaching to small businesses
$30 Million in emergency relief grants to help businesses cover rent, mortgages and other fixed costs
$35 million to Community Development Financial Institutions, community development corporations and other community-based lending programs to provide low-interest loans or grants to small businesses
$75 million to MGCC for a revolving loan fund to help businesses unable to access SBA financing, with a particular focus on communities of color, immigrant communities, rural towns and Gateway Cities.
A statewide Small Business Assistance Task Force charged with ensuring the effective delivery of support to small businesses during the economic shutdown and through the recovery; the task force should have a laser focus on equity and inclusion.
Idowu acknowledged that such an outlay could put more strain on what is predicted to be a massive shortfall in the state budget, but he argued that fairness and economic concerns support the measure.
"The development of some communities cannot co-exist with the underdevelopment of others," Idowu said. "The more certain communities are depressed, the more state aid has to go to these communities."
"But when we're investing in businesses, particularly in communities of color, we are helping to not only grow the local economy there but also to increase the tax base and the investment that these communities are making in the state coffers."
---
Correction: An earlier version of this article misstated the size of the federal Paycheck Protection Program. The initial allocation was $349 billion. The second round is $310 billion.
This article was originally published on April 26, 2020.