Singer JoJo Is Back With A New Album And Telling Her Side Of The Story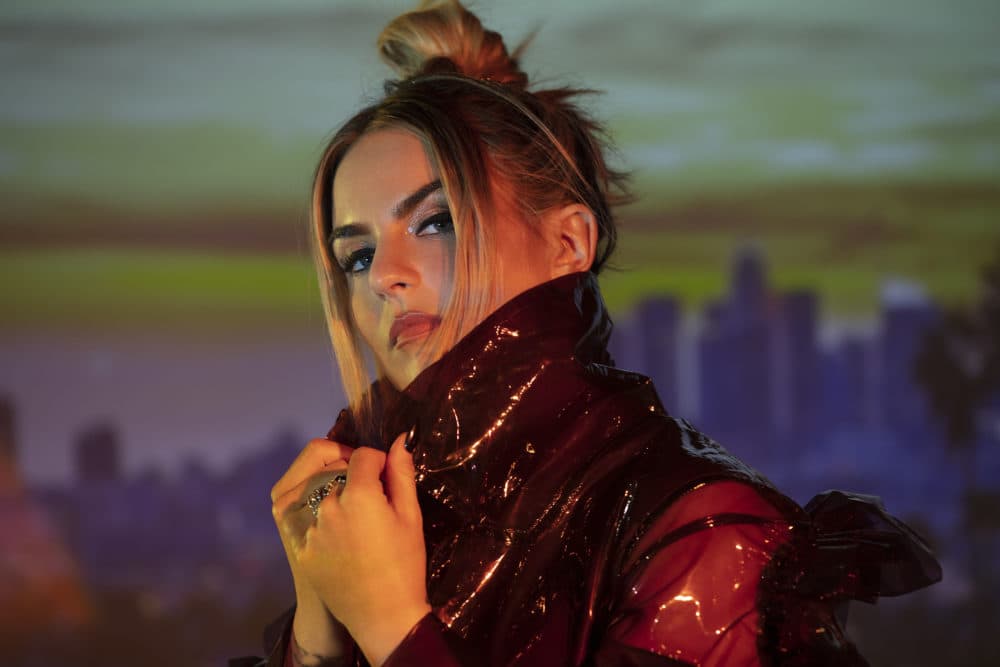 This article is more than 2 years old.
It's 2004. Your low-rise jeans are sitting on your hips and your Juicy Couture bag has all the bells and whistles. What's playing on the radio? Probably "Leave (Get Out)."
That voice coming through the speakers of your mom's minivan belongs to none other than JoJo. What sounded like a young woman scorned by a relationship was actually a teenage girl from Foxborough, Massachusetts.
"Hope you know that when it's late at night/ I hold on to my pillow tight/ And think of how you promised me forever," she crooned. This young songstress was hitting vocal runs and ranges reminiscent of some of R&B's heavyweights, like Brandy or Toni Braxton. But JoJo was just 13 years old at the time. And most 13-year-olds also didn't have the number one record in the country. In fact, she was the youngest solo artist to ever do so.
"I've never really been alone and I've always tried to self-soothe through love or sex or substances, and that's something I'm not accepting anymore."

JoJo
Now, more than 15 years after her debut, and fresh off her first Grammy win with PJ Morton for his song "Say So," JoJo is telling her story on her own terms. And there's a lot to tell.
JoJo's new album, "good to know" (out May 1), was inspired by getting to know herself while settling into her singleness, she says. After going from relationship to relationship, she found herself needing to deal with some uncomfortable truths about her life. "I've never really been alone and I've always tried to self-soothe through love or sex or substances, and that's something I'm not accepting anymore. I really want to face life head-on. I wanted to discover confidence in myself, by myself," she says.
That's evident in her lead single, "Man," which has garnered more than 2 million views on YouTube since the video's March release. In the song, she sings "I been getting comfortable on my own and shit/Loving it -- I can handle it." The time spent creating this album was the first time she says she looked inward. She spent time abstaining from sex and fostering her female friendships. Some of her friends star alongside her in the music video, such as singers Ari Lennox and Tinashe.
Some other women who've made an impression on JoJo are Mariah Carey and Whitney Houston. With strong, soulful vocal capabilities like hers, it's no surprise she listed these women as her top influences. Etta James and Aretha Franklin also inspired her to sing and she says she still finds lessons in their music and watching old YouTube clips of their performances. On the songwriting side, Joni Mitchell and Carey have both served as models for the way JoJo approaches writing. She feels they were able to tell their own stories and create their own narrative.
"Mariah Carey, I think, is underrated as a songwriter," she says. "I think it's because she's just such a phenomenal singer that it's easy to forget. I mean, it's just like Beyoncé, how we almost take her for granted because she excels at absolutely everything, that we forget that she's one of the best singers that we've ever heard."
Creating her own narrative, as her influencers did, wasn't so easy for JoJo. She knew from the age of six that she wanted to be a singer, and with the support of her mom, the pair started driving from her small hometown to New York, among other places, to audition and perform. After losing on "America's Most Talented Kid" in 2003, she was approached by a music manager who shopped her around to different labels and producers. She ended up signing a deal with Barry Hankerson at Blackground Records at the age of 12. (Hankerson is the uncle of singer Aaliyah, who died in a plane crash in 2001, and was the first to sign with Blackground Records when she was a teenager.)
From there, she worked on her first album "JoJo," released in 2004, which spawned the mega-hit "Leave (Get Out)" and cemented her place in the pop canon of the early 2000s. That year, she went on her first tour, opening up for Usher during his "Confessions" run, where she recalls her first time getting booed on stage in Europe because they were unfamiliar with her music. "They didn't want me. They wanted Usher. And like, that's not something that I consciously think of ever. But of course, it must do something to you as a young girl," she recalls.
Nonetheless, "JoJo" was a platinum-selling success. Her follow-up album "The High Road," released in 2006, gave her another Top 10 single "Too Little Too Late," which charted at No. 3 on Billboard.
But behind the scenes of her success, there were troubles at her label. In a video interview she did with Uproxx this February, she explained how even though she was making and turning in music consistently, folks at her label had burned a lot of bridges with distribution companies. Music, including a complete third album, wasn't being released, which in the end meant fans didn't have access to her music. The record contract she signed when she was 12 was ironclad, so her legal team started filing lawsuits against Blackground Records until they released her from the contract in 2014. During that time, she said she made no money from her music because the record label owned "everything JoJo."
"I felt really sad and upset that I would see things online, my fans commenting on social media being like, 'Why aren't your first two albums available? Why would you want us to not have your music? We want to listen to them. And you're such a big part of my childhood. I want to have those albums.' So it's just I hate feeling like there's nothing I can do," she says.
She took matters into her own hands and legally recreated new masters of her first two albums, releasing the recordings in 2018. It was a way for her to finally move forward while taking care of those who helped create those songs. With the new recordings, she was able to ensure producers, writers and others who helped create the music received proper compensation through streaming. She owns those masters now, and the same year she released those recordings, she signed a record deal with Warner Music creating a joint venture called Clover Music.
"It was cathartic and it made me feel empowered..."

JoJo
"[Blackground Records] didn't make any of their artist's music available, including Aaliyah's ...She doesn't have the opportunity to go back and make sure that her legacy is protected," she shares. "It was cathartic and it made me feel empowered because those albums weren't available on streaming platforms."
Through all of that, her love for making music didn't sour. There's no roadmap for navigating that much success at a young age, but as she gained more perspective from her experiences, she says she grew to understand what it really meant to have a place in the music industry. She says it's a privilege to see fans rallying behind her and listening to her music. "They deserve to be able to go back to the music that they grew up with whenever they want."
And the Grammy award in January was just more reward for sticking it out. JoJo recalls the email she received from PJ Morton inviting her to sing alongside him on "Say So." Morton flew her out to his studio in New Orleans and they were able to record the song together in a traditional duet style instead of recording in two separate locations like many collaborations are done today, she says.
"I'm just proud to be on this journey with him and be a part of his story as well as him, you know, having this moment with him in the beginning of the year," she explains. "It started my year off and this new chapter for me so beautifully that I'm just — I'll forever be grateful for him."
Now 29, JoJo has her focus on her new album "good to know." She describes the record as dreamy, yet grounded, saying there's this push and pull between wanting to escape reality and wanting to face yourself. While working on the track "Think About You," the first song she worked on with producer Lido, she was in the process of coming to terms with her actions.
"It was just a very raw statement for me. Like, I felt very desperate in that moment, I felt a lot of guilt and shame surrounding the person that I was with and that I cheated on," she says. "I was like punishing myself for a good year, year and a half. And I was just kind of like confessing a lot of stuff in this song."
And the rest of the album has these same types of honest, raw offerings she hopes resonate with people. On "Lonely Hearts," her newest single released April 24, she sings of a lover who she is having a falling out with. "How can I work on me if I'm working on your body?/ I thought we were meant to be but we never really got it/ Did we?"
She collaborated with mostly new musicians and artists on this record, such as producer 30 Roc, who worked on Roddy Ricch's number one hit "The Box," and she teamed up with Doc McKinney, who helped craft The Weeknd's sound.
Because of the COVID-19 health crisis, her "good to know" tour has been postponed. (JoJo was set to perform at the Royale in Boston on May 19.) But she's taking it in stride, even releasing a parody version of the song that started it all called "Chill (Stay In)." And she's looking forward to December when she'll finally get to perform in her home state once more.
"I love the accent. I love the food. I love the people. I love the pride in our sports teams. Like, I just love the fabric of New England," she says.
---
JoJo's album "good to know" is out Friday, May 1.