Aerosmith's Joe Perry On Life During The Coronavirus Pandemic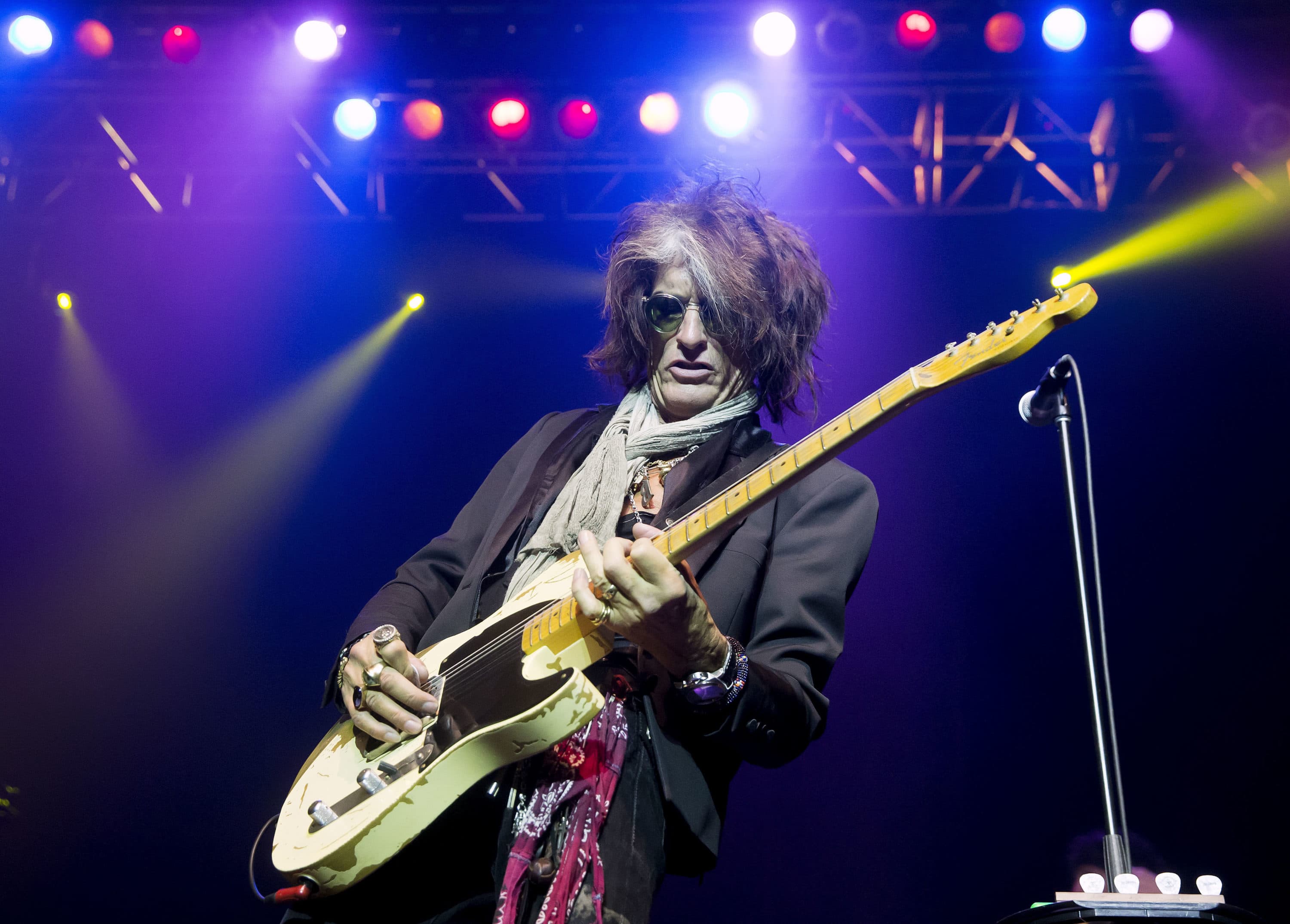 This article is more than 2 years old.
"I would say this is as close to a world war as you could get, in a lot of ways," says Aerosmith guitarist Joe Perry. "If you tick off the boxes, it is a world war. Basically, it has shut down the touring business for an indefinite period of time."
Perry is on the phone from his beachfront condo in Sarasota, Florida, where he and his wife, Billie, reside when his main band and his secondary band, the Hollywood Vampires, are not on the road or in the studio. Aerosmith had been playing Las Vegas in March and was in the midst of an extended, on-and-off residency at the Park MGM. Now, Perry is dwelling in the same COVID-19-afflicted netherworld as the rest of us — but with a little twist.
"As soon as I realized we weren't gonna be playing for at least months, if not a year," Perry says, "it was almost like I felt like I was on vacation for the first time in 30 years. Where I didn't have to think [when I got home], 'Well, I don't need to unpack my bags because I'm leaving in a week.' We know we're going to be rolling again soon."
"As soon as I realized we weren't gonna be playing for at least months, if not a year, it was almost like I felt like I was on vacation for the first time in 30 years."

Joe Perry
Perry, Aerosmith's co-songwriter and band-leader with singer Steven Tyler, has altered one major part of his downtime routine. Normally, he'd practice guitar two or three hours a day, just to keep his chops up. That, he hasn't been doing — "knowing we don't have to go anywhere for X amount of days."
Say this about the pandemic: It has been, if nothing else, a great leveler, taking down rock bands large and small. Obviously, the smaller bands are in a more financially precarious position, especially since musicians now make the biggest chunk of their living not through royalties on record sales or internet streams but, by far, from gigs and the merchandise sold at them.
These questions linger and haunt: Will the venues still be there? Will promoters risk putting tours together? Will audiences be afraid to congregate? Will their audience still be there? Will anyone have enough disposable income to consider attending concerts?
You probably don't have to worry about Aerosmith or their fans not coming back. The Rock & Roll Hall of Famers — class of 2001 — have sold in excess of 150 million album copies worldwide, which accounts for 25 gold, 18 platinum and 12 multiplatinum albums. With a catalog that includes "Dream On," "Walk This Way," "Toys in the Attic," "Sweet Emotion," "Cryin'" and "Janie's Got a Gun," they're one of the top legacy bands in the world.
"We're pretty healthy as far as 70-year-olds go," says Perry. (He's actually 69, as is drummer Joey Kramer; guitarist Brad Whitford and bassist Tom Hamilton are 68; Tyler is 72.) "Whatever we do on stage, with Steven, as physical as he is, that stuff doesn't bother us, but it definitely puts more pressure on your immune system and we're in that [danger] zone.
"We have nothing like life-threatening underlying medical issues, but we've definitely lived hard lives. The things that you've done 20 or 30 years ago, like smoking — you smoke for 10 years and still they can see signs in your arteries and lungs."
Drug abuse, of course, is part of Aerosmith's saga, too. In an interview with biographer Stephen Davis for his 1997 book "Walk This Way: The Autobiography of Aerosmith," Perry gave a famous quote, saying that by 1978 the members of Aerosmith "were drug addicts dabbling in music rather than musicians dabbling in drugs." Just as famously, the members all went into recovery and moved forward, one day at a time.
Aerosmith's fortunes have waxed and waned over the years, certainly. They have been on long hot streaks and have been derailed, some of that related to addiction and illness. They have been counted out at times, as the public's tastes changed or they hit a creative lull. But there's always been a bounce-back.
Perry says when news of the coronavirus first hit, he was in Las Vegas and got word from an American friend, a guitar builder, living two hours from Wuhan. He told him that what the West heard about the coronavirus was worse in reality. "It was interesting talking to him about what he was hearing on the street, and a lot of stuff they weren't allowed to say on the internet or online or texting," Perry adds.
Among Perry's reading material: "The Great Influenza: The Story of the Deadliest Pandemic in History," about the Spanish flu of 1918. "A lot of things are different now — medical things," Perry says. " But on the other hand, we got a lot of people flying around the world. So, in a lot of ways, we're in the same position we were in 1918."
Las Vegas Mayor Carolyn Goodman has been pushing Nevada Gov. Steve Sisolak to re-open the casinos, though she has no jurisdiction over that decision. Nevada currently has a "stay at home" order and the governor has projected a phased reopening of businesses. The Las Vegas Sun entertainment writer Brock Radke reports that, no matter what happens on the gambling floors, concert halls will be among the last spaces to reopen.
Aerosmith has played 42 Vegas shows. They had dates slated May 20 through June 4, with discussions around another "few legs" taking them into 2021. MGM, which owns the Park MGM venue, has announced its closure through June 30.
As of this writing, a European tour running June 13 through July 27 is "still on the books," says Perry, as is a date in Moscow July 30. Perry says before the pandemic hit, they'd been discussing doing Hollywood Vampires dates in China.
"It would take a lot to get me on a plane to Vegas at this point."

Joe Perry
There has been no official announcement regarding a postponement of Aerosmith's homecoming return to Boston Sept. 18 at Fenway Park with Extreme. But Perry says everything — the European tour, the Fenway gig — is in the hands of "the powers that be, the government, the CDC or WHO — who knows? If they say we can't do the shows, that's when they'd be canned."
If the Vegas venues opened up and bucked scientific advice — that is if MGM wanted Aerosmith back in the saddle for their next leg and the pandemic situation had not been bettered — don't expect the band to jump into the fray. "If they somehow wanted to open the shows — and I doubt they would do it — we wouldn't push our luck," says Perry. "We also feel like we don't want to be the ones responsible, the ones to say to people, 'It's OK to come in. Take your chances. Wear masks. Come in and rock out!'
"I don't see 5,000 people in an arena or theater. It's too contagious. It doesn't take much to pass it from one place to another. It would take a lot to get me on a plane to Vegas at this point."
When Perry and his wife returned to Florida in March, he says, "Within two weeks Billie and I started locking up and self-quarantining. We don't need the government to tell us which way the wind's blowing. I was really amazed to see people who are saying their lives are being trodden on because they're being told they can't go to the beach."
Perry says that, as it happens, life in Sarasota has not radically changed from what it had been previously. "We don't go anywhere," he says. "Especially now, but Aerosmith goes out so much on the road and we've been around the world so many times. … Billie and I haven't even been to the movies in two years. So, it's really not that much different for us. We get take-out; we go to the store and buy enough food for a week and a half. Once in a while, we take a walk on the beach, but [the pandemic] hasn't changed our way of life as far as that goes."
Aerosmith has some experience with crisis situations. They were on the road in America when the 9/11 attacks put everyone on heightened alert in 2001. "We were going from city to city, gigging, and we didn't know if something was going to break out," he says. "So, we made sure we had everything we needed on the bus. We were self-contained."
That philosophy carried over to life as we know it now. "I don't like to use the word 'preppers,' but I guess you would call us that," Perry says. "The point is, Billie and I were kind of ready for this because we studied the whole 1918 pandemic and saw what happened, the two different waves that mutated and exploded around the world, and this had all the earmarks of the same thing."
Perry is doing his best to look at the current situation, however uncertain, as not a prelude to a permanent vacation, but a time to enjoy being off stage and out of the studio as best he can. Perry and his wife have binge-watched "Ozark" — of course, who hasn't? — and have dug deep into European TV series on Netflix. They used to love zombie movies like "28 Days Later," but those days are done. "We're not going for the dystopian stuff," Perry says.
They're taking comfort at home. "Most people have a regular job where they get to sleep in their own beds and make a living in the same city every night, so that when they go on vacation it's like two weeks to do nothing," he says. "We don't feel that way. I don't and Billie doesn't."
Perry's mindset about playing rock 'n' roll concerts in the age of coronavirus is a conservative one: Better safe than sorry. "There's a real lot they don't know, even now," Perry says. "Which really makes you scratch your head if they start opening certain things. It doesn't make any sense to close everything down, but people have to do that social distancing and wearing gloves and masks. That's the only thing we know we can do to fight it. I think that, really, people gotta use their common sense."