Educators Tell Mass. Lawmakers Of Remote Learning Frustrations And Budget Worries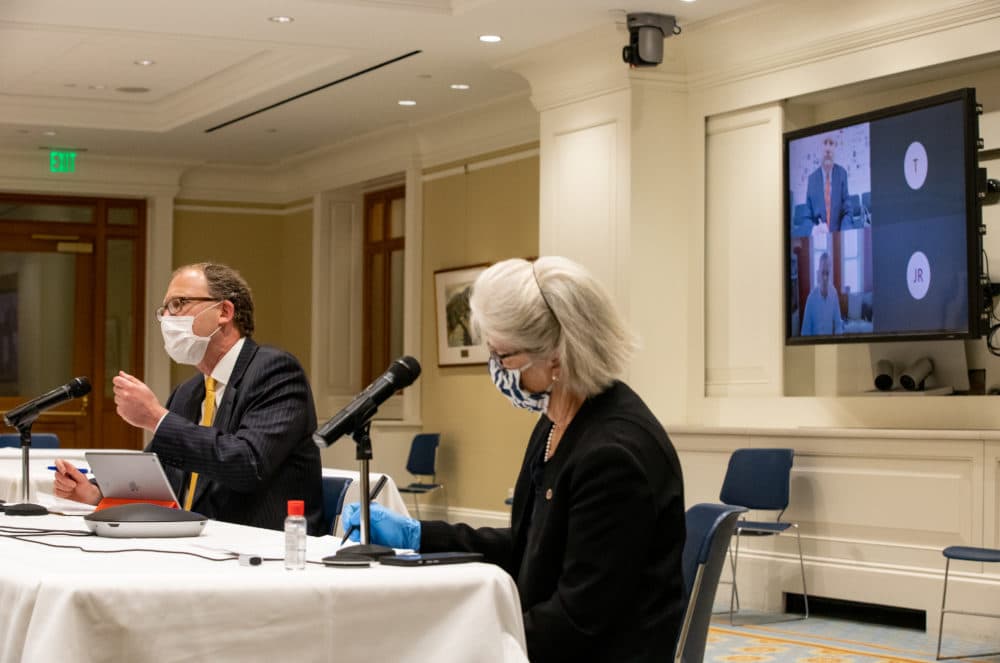 This article is more than 2 years old.
Concerns about budgetary and technological gaps dominated the conversation between Massachusetts educators and lawmakers on Wednesday.
Speaking during the Education Committee's first remote oversight hearing since schools closed down due to the pandemic, Massachusetts Education Commissioner Jeff Riley said about 9% of state students don't have reliable internet access, and 15% don't have exclusive access to a device. Districts may need financial support from the state to cover the estimated $50 million cost that schools are currently taking on to reach those students, he said.
During his own testimony, Education Secretary Jim Peyser offered a little more insight into how schools might begin to re-open their doors, saying state officials recently created an advisory board to explore the question of how and when schools could make that transition.
Any return to class would likely involve "stringent protocols to ensure social distancing, personal hygiene, and effective cleaning, along with daily measures to assess student and staff health," Peyser said.
Remote learning will likely play a significant role in education next year, according to Peyser.
"Some of the lessons we are learning this spring will need inform how we approach teaching and learning in September," he said. "Even if we are able to start school in a quasi-normal fashion, we have to be better prepared for the possibility that in-person education will be interrupted again."
Tom Scott, executive director of the Massachusetts Association of School Superintendents, said his members have serious concerns about balancing their budgets with student needs in 2021.
"However we come out of this, resources are going to become an issue, no question about it," he said. "How are we going to deal with transportation costs or the need for PPE?"
Some districts are anticipating budget cuts would likely result in staff layoffs.
"In this climate, with everything that's going on, the idea is very painful but it's an eventuality we may need to face," said Scott.
"To say that this has been a challenge is an understatement."

Amy Looman
Revere Superintendent Dianne Kelley said student participation is a big concern right now. Her district estimates that about 80% of students there are engaging regularly with school work, but just 50% have been "fully engaged" since March. Teachers and staff are also worried that they're missing opportunities to identify student social service needs when kids are so far from the classroom, she said.
Access to broadband Internet dominated the conversation among a coalition of speakers representing rural schools.
"To say that this has been a challenge is an understatement," said Amy Looman, the principal at Colrain Central School. She estimated that about 40% of homes in the town of Colrain don't have access to internet service that can handle activities like video classroom meetings and other educational resources. Looman argued that reliable internet access should be considered just as essential as electricity, especially right now.
Local officials in the tiny Franklin County town recently installed wifi hotspots in a school parking lot and the library to allow people to access high speed internet from their car.
"Families express frustrations over frozen internet connections ... or just weariness over having to sitting in a parking lot with a car full of kids," she said. "It's hardly conducive to a productive learning environment."
Looman said because of that, she's been getting more requests for paper-based learning packets.
"Far too many of our children are being left behind simply because they live in hill towns," she said.