What The Mass. 4-Phase Reopening Plan Looks Like For Arts & Culture Organizations
Massachusetts Gov. Charlie Baker announced a four-phase plan for reopening, with a number of retailers allowed to resume business in limited capacity beginning May 25.
When examining the arts and culture landscape, there are several businesses and spaces that will be opening next week: drive-in movie theaters, parks and zoos, outdoor gardens and performances, hair salons, barbershops, and curbside pickup for libraries and restaurants. Museums and movie theaters won't be allowed to open until phase three, which if all goes according to plan, may be in July.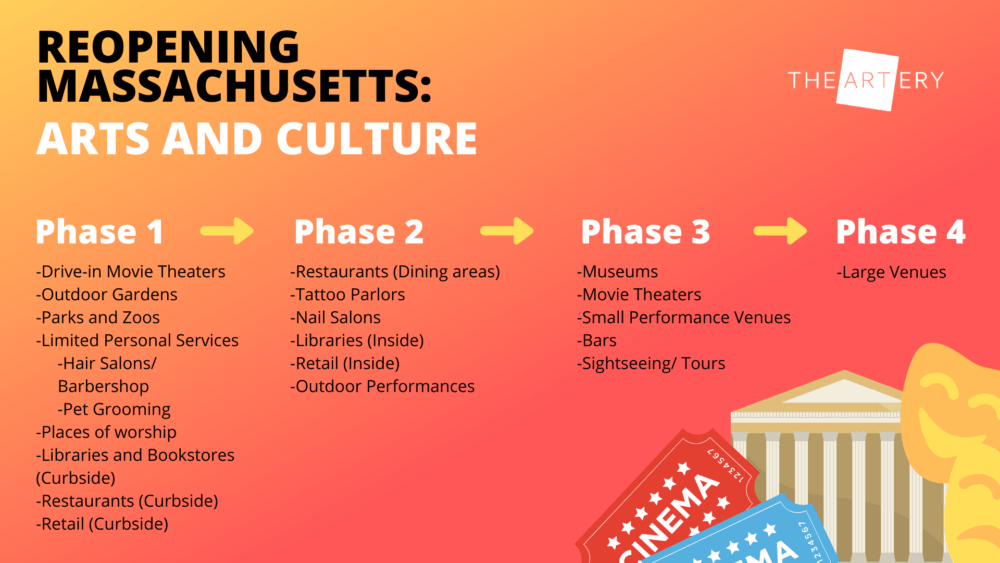 Museums
Joseph Thompson, director of the Massachusetts Museum of Contemporary Art in North Adams, welcomed Gov. Baker's announcement of a phased reopening across the commonwealth.
"We can provide social distancing by the acre. That part of the guidelines will not be difficult for us," Thompson said. The exhibition space at Mass MoCA is spread out over 200,000 square feet and set on a campus of 16 acres.
The museum is preparing for visitors with plans for touchless ticketing, sneeze guards and timed entry into popular galleries. They're paying particular attention to avoiding pinch points, like groups of people congregating in the lobby. And, since laying off 120 of 165 staff members in March, the museum has been able to hire some people back to work towards reopening.
Plans for live performances, which comprise a big portion of Mass MoCA's offerings, are proceeding more slowly. Thompson said those plans are "on ice" and will begin percolating slowly after the galleries reopen. Performance venues will also be allowed to reopen in phase three.
Thompson said museum patrons are already accustomed to obeying certain rules in the galleries, like not touching the artwork. "When the time is right, museums will be well-positioned to provide a key public service to help people be together, but apart," he said.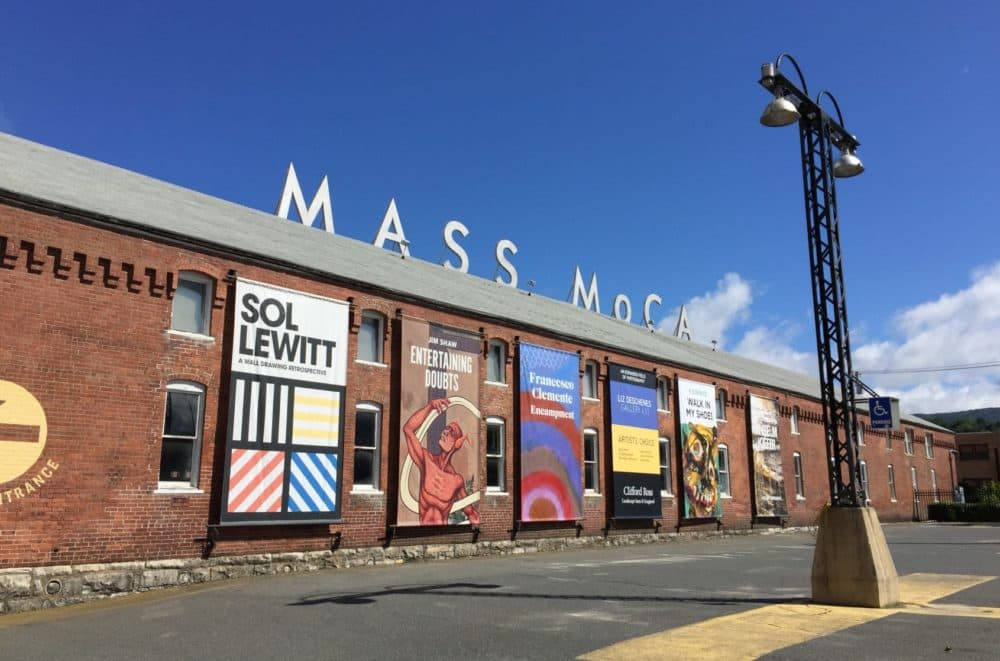 John Ravenal oversees the arts and cultural properties in the Trustees portfolio, including the deCordova Sculpture Park and Museum. He and the organization are still processing Gov. Baker's reopening schedule but it didn't come as a surprise that museums won't be revived in the earlier phases. Even so, Ravenal acknowledged it's sad.
"Culture is, to my mind, essential and I think a lot of people feel that it's essential," he said. "We know it's economically important to so many different communities in terms of the jobs that are created directly and indirectly, that culture is a huge driver economically. But it's also important for our souls — intellectually, emotionally, socially. It's crucial. That's why we're in this work and continue to feel so passionate about it."
It's going to take time, Ravenal added, and distinguished between museums and other cultural institutions like opera, ballet and theater where audiences sit close together in assigned seats.
"In some ways, museums are already set up to accommodate visitors at a time like this. They're meant to be — for the most part — non-touch environments. And there's security staff. But nonetheless, there's still a lot of practical obstacles that we have to address before we can do it safely."
While the deCodova's museum building is closed its sculpture park is open. Ravenal said the Trustees team has also been planning how to reopen their historic buildings when the time comes, including Castle Hill on the Crane Estate and Ralph Waldo Emerson's former home, the Old Manse, in Concord.
"But honestly, it's a lot more complicated," he said, "and that will take months before we really can do that in a responsible way."
Theaters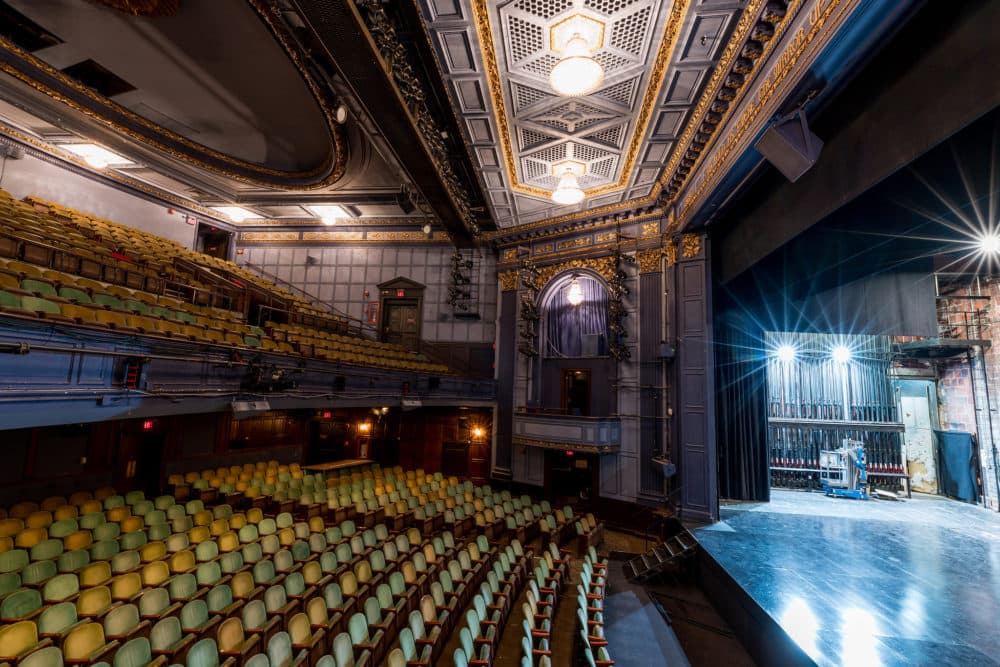 Theaters in the area have already been in discussion with one another on how to reopen. David Dower, artistic director of ArtsEmerson, said there were not a lot of surprises in what Baker said this morning and there was a lot of common sense.
"So much of this is going to be contextual," Dower said. "Each institution or organization is going to be trying to decide for ourselves within whatever our context is, whatever the authorizing environment is that we're in. So, for example, for ourselves...we are inside a university. And some part of our future rides along with decisions that the university makes about its pace."
He said they're planning around a bunch of different scenarios, but have already decided that their online series and programming will continue through the end of January.
"We're not expecting to return with our Emerson performances any time before November and possibly not till after the first of the year," Dower said. "But we are hoping that our venues become resources not only for the college in the fall, but also for local theater and performing arts organizations that are going to be really struggling to find performance space."
Michael Maso, managing director at the Huntington Theatre Company, said there is no magic solution and that theaters around the country are having the same conversation about how to use their spaces in the safest way possible, including how to disinfect bathrooms.
"Bathrooms are, in fact, an astonishing, complex issue," Maso said. "If you have intermissions...even an expanded intermission, people are going to need to be in close quarters to use them. And what do you do about that? And so, we know that the new normal, when it comes, is going to require us to think differently about the way we present our spaces...and we're all trying to anticipate what the rules are that we'll be working under."
Maso hopes to know more in the coming six weeks about a time frame to resume productions. He calls theaters a "gatherer of people." Unlike museums or galleries where one person can consume and appreciate art alone, theater is meant to be appreciated with others.
"We're all impatient to get back to that experience," Maso said. "But we also are realistic and know that might be a little while away."
Zoos and Aquariums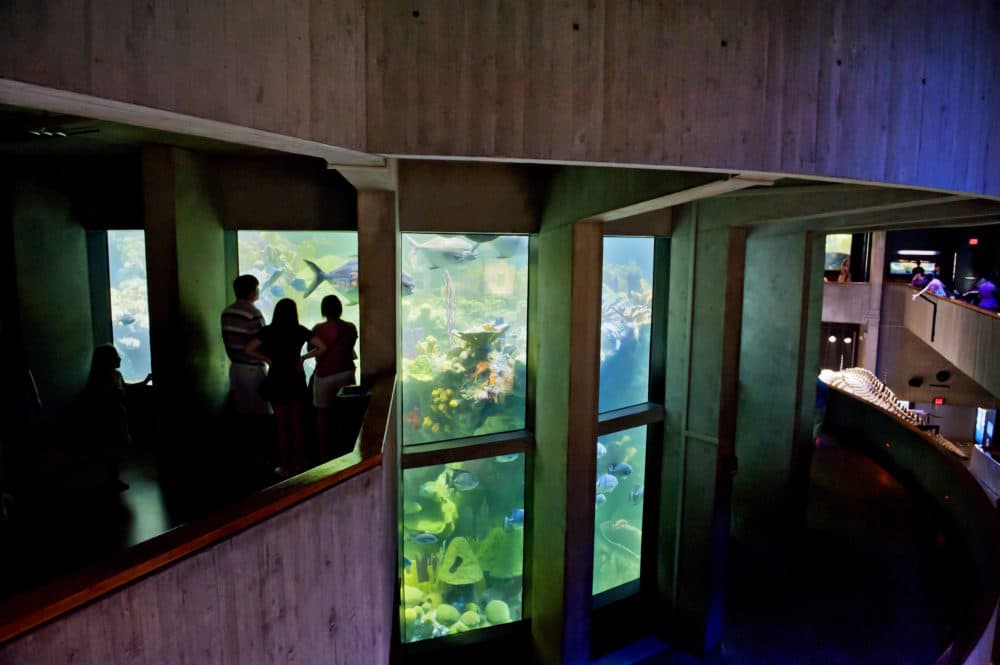 Zoo New England, which is allowed to open in phase one, has not yet announced an opening date. In a statement, Zoo New England's executive vice president of external affairs and programming, Cynthia Mead, said the zoo is working hard planning and making changes for when they decide to welcome guests back safely. Some of those changes include online and timed ticketing, one-way paths to control guest flow, clearly designated 6-foot distance markers and enhanced cleaning protocols.
"In the next couple of days, we will be sharing more information on our website," Mead wrote. "We very much look forward to welcoming guests back to Franklin Park Zoo and Stone Zoo. Our staff and animals have missed seeing our visitors."
The New England Aquarium won't be opening until phase three, but with the governor's announcement, planning is now underway. "The New England Aquarium is excited to welcome back visitors in a responsible fashion, consistent with public health guidelines that ensure the safety of our visitors and staff," said Vikki N. Spruill, the aquarium president and CEO, in a statement. "We look forward to learning more about the commonwealth's 'phase three' timeline and the City of Boston's plans as we continue reopening preparations."
Looking Forward
While there is still much to be hashed out, there is still reason for celebration, according to Anita Walker, executive director of the Massachusetts Cultural Council, which supports and distributes funding to 400 cultural organizations across the state.
"It's wonderful to see that our gardens and our zoos are now going to be made available to people," Walker said in response to the reopening schedule, "and there is nothing more enlightening, enriching and refreshing to be able to step out into a garden at this time of year."
Nevertheless, Walker said one thing she hopes people recognize is that the state's cultural organizations are under enormous financial stress. Most of them won't come back for an uncertain amount of time as the realities of Gov. Baker's roadmap for reopening become more clear.
"They've now been closed for two months, without any income whatsoever, since the doors just shut closed in a minute," Walker said. "It's going to be very expensive for these organizations to reopen because of social distancing. They won't be able to fill the houses, so the earned income and ticket revenue will be a lot smaller than they're used to."
She was happy to see outdoor performances on the horizon in phase two and said that it could apply not only to music but to plays also.
"I've heard the word 'outdoors' mentioned several times from some of our theater spaces," Walker said.
Large venues will be the last to come online. "Some of the smaller ones might be able to come on a little bit sooner," Walker predicted. "But nevertheless, we are going to be paying close attention to social distancing and that might mean sitting every other seat."
While we now know the governor's guidelines, Walker said there's more to come that will dictate the future.
"We also know that Boston is going to perhaps have some slightly different rigor around when organizations can open and what the rules of engagement are going to be," she said. "We're still waiting at this moment to hear what the mayor of Boston has to say about our organizations in the city."