Boston Area Farmers Markets Are Back With New Safety Protocols
Nothing says "summer's here" like the the bustling crowds and bounty of vibrant, locally grown produce at open-air farmers markets. But – as with just about everything else these days – the seasonal spots will operate very differently than in years past.
"They will be a cross between farmers markets and grocery stores," Edith Murnane explained while readying to open one of Boston's busiest in Copley Square on Friday.
As executive director of the non-profit Mass Farmers Markets she's been working with the state's departments of agriculture and public health to create new pandemic protocols, guidelines and lay-out plans for safe outdoor shopping.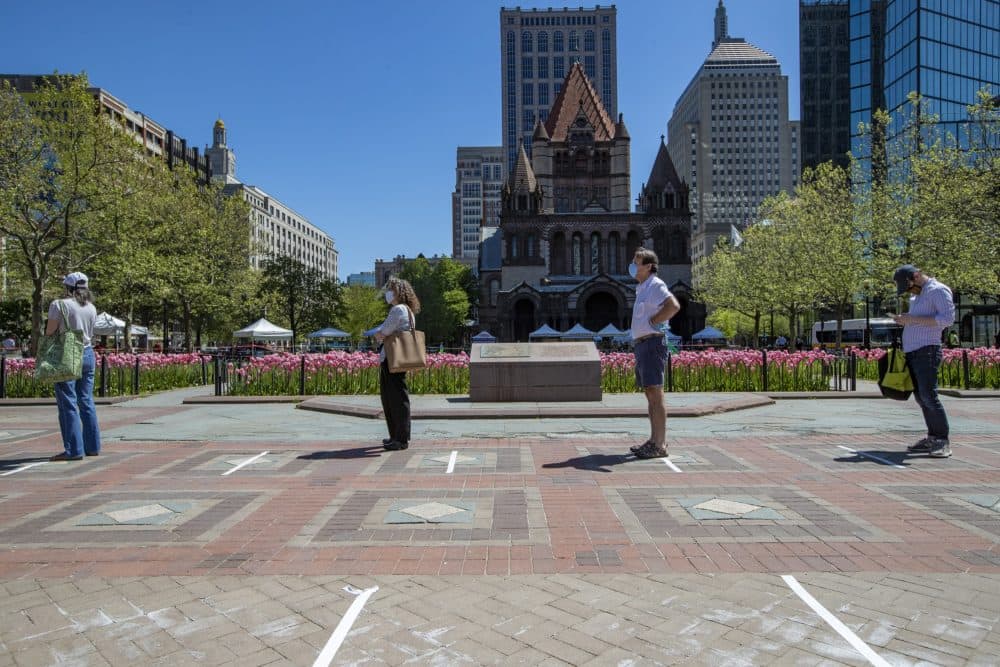 "The Copley Square Farmers Market has 15-to-18 foot aisles that are all one-way," Murnane described, "which creates this sense of openness and really provides a mechanism for people to shop and be at a safe distance from one another."
Other changes at the plaza across from Boston Public Library's main branch include a single entrance and only one exit. The numbers of shoppers allowed inside at one time will be limited. And there will be "social distancing cues" throughout the market telling folks where to stand while shopping, how to order from vendors, and how to pay – preferably not with cash.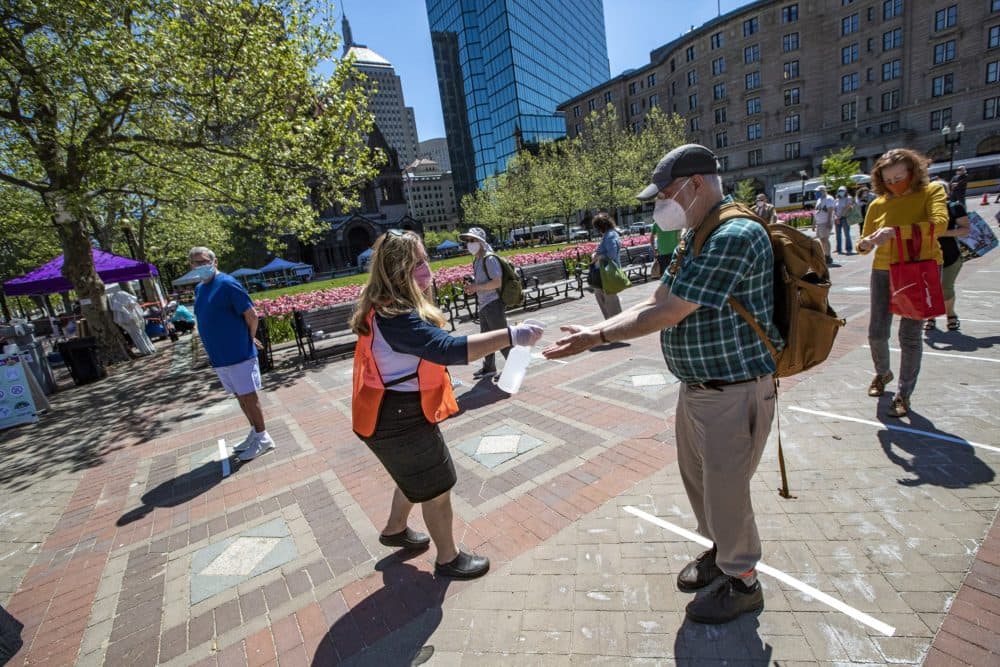 Mass Farmers Markets has translated information on safety protocols into multiple languages to ensure everyone understands they need to wear masks and that they should stay home if they feel sick. Folks cannot handle products (no more fondling tomatoes and peaches in August people!) and vendors will not be able to touch reusable bags.
Tips include: make a shopping list; pre-order online with favorite farmers and purveyors; shop alone or later in the day, if possible; and thank your farmers and food vendors for coming out. The first 30 minutes after opening are reserved for people aged 60 and older. Those who have physical challenges or pre-existing conditions can also gain early access.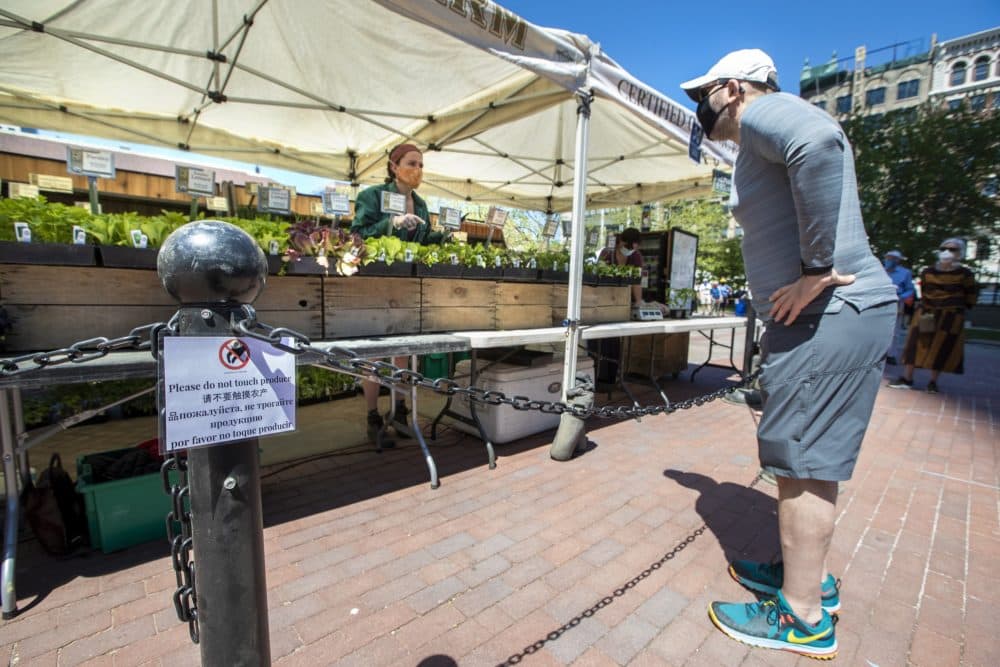 The Copley Square Farmers Market opens on the tails of markets in Cambridge's Central Square and Davis Square in Somerville that kicked off earlier this week. They're the first Boston-area markets to pilot this new shopping format and Murnane sees Copley as something of a test site.
"The great news about us being one of the early ones is that we get to do all the hard work," she said, "we get to stumble through everything, and then we can help articulate it to everyone else along the way."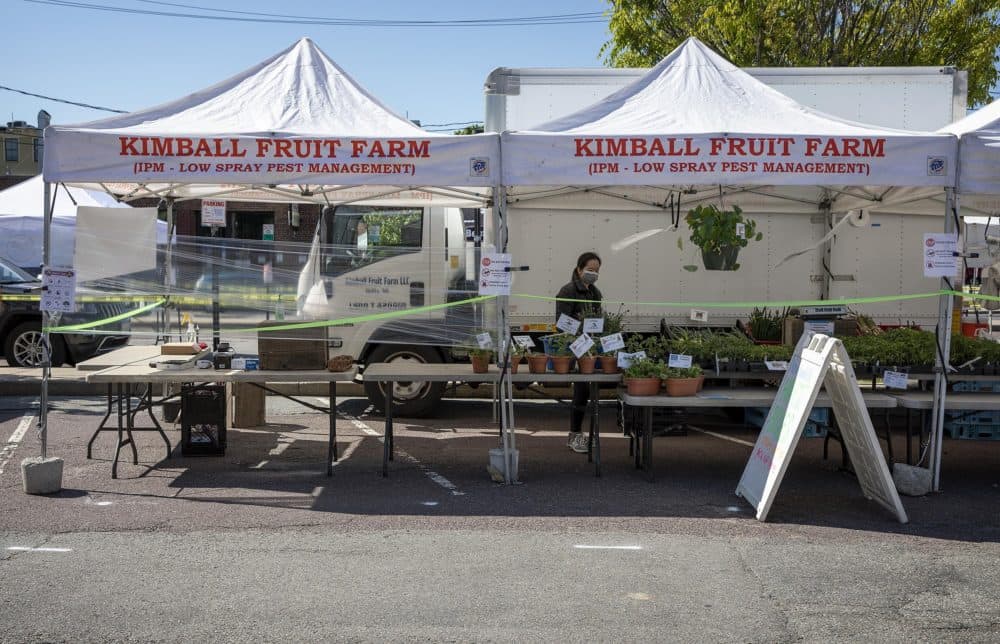 Murnane's organization runs the three urban venues and supports other markets across the state. Last summer 224 farmers markets were up and running. But this year some won't have the agility or resources to navigate the new distancing requirements. It's expensive to implement the COVID-19 changes like purchasing sanitizing stations, gloves and hiring more staff. Murnane said it could cost an additional $10,000-$20,000 dollars per farmers market to make the pivot.
Mass Farmers Markets has been able to apply for grants through the state's  Department of Agricultural Resources' Resiliency Fund which will help support operations throughout Massachusetts that will be open this season.
Those in Billerica and Westborough have already determined they won't reopen this season. Newburyport is on hold, Murnane said. Rockport is online only, and will re-evaluate the situation in early July.
The safe market model also presents challenges for the artisan purveyors and farmers. Murnane said many are concerned because the number of potential customers will be reduced.
"And that's also why we've encouraged all of our farmers to offer pre-ordering to facilitate the amount of shopping that can happen at a given farmer's market," Murnane said.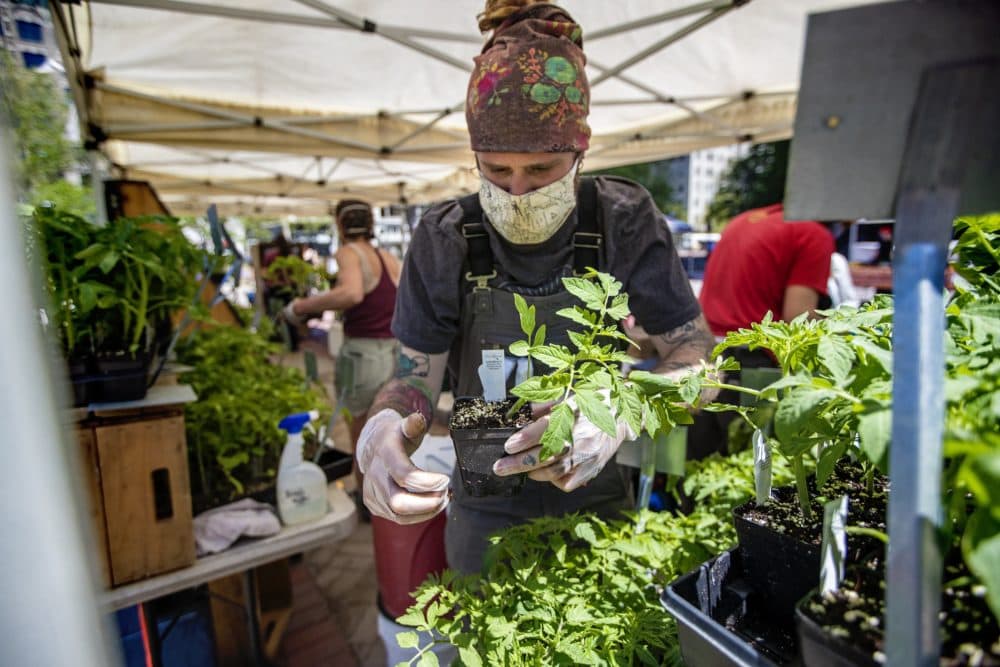 Even in normal times it's expensive for farmers to drive into the city and set up their stalls.
"It's labor, it's gas, it's product," Murnane explained, "And so we really need to make sure that farmers are earning and being able to sell as much as possible in the time frame of that market."
Some other confirmed openings include the Brookline Farmers Market on June 4, Roslindale on June 6, Newton on June 20 and Maynard on June 27.
Murnane is excited to see the Healthy Incentive Program (HIP) return to the city's farmers markets, which she said is so important for people on SNAP — the Supplemental Nutrition Assistance Program — especially during the pandemic. They're eligibile for additional funding for fresh fruit and vegetables, "But you have to be at a farmer's market to access it," Murnane said, adding that's one more reason why opening in Boston was really important.