In Franklin Park March, Protesters Call For Action Amidst Somber Reflection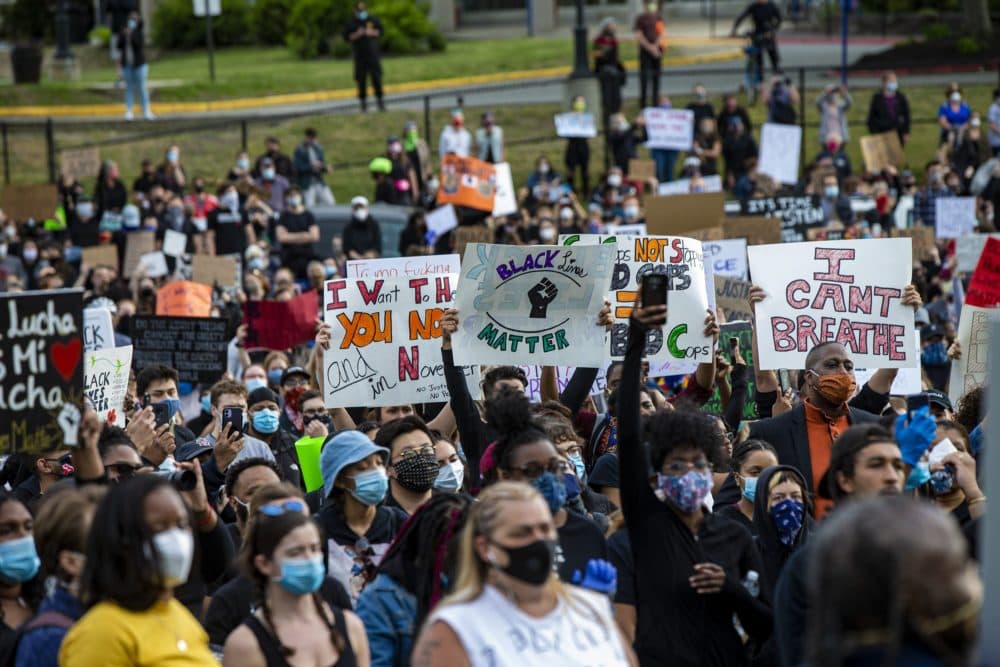 As she marched through Franklin Park on Tuesday evening, fist in the air, Sharifah Mulrain, 33, pointedly told white people with Black Lives Matter signs what she thought of their presence.
"White people have been our oppressors for 400 years. A lot of them are here fronting. A lot of them know we see the racist in them," Mulrain yelled, making eye contact with white protesters in face masks as they passed by. "All cops have to stop racially profiling my people."
Allies or not, her question was candid: where had they been? And what will they do to keep the momentum going following the tragic death of George Floyd, the Minnesota man who died after a police officer kneeled on his neck for nearly nine minutes?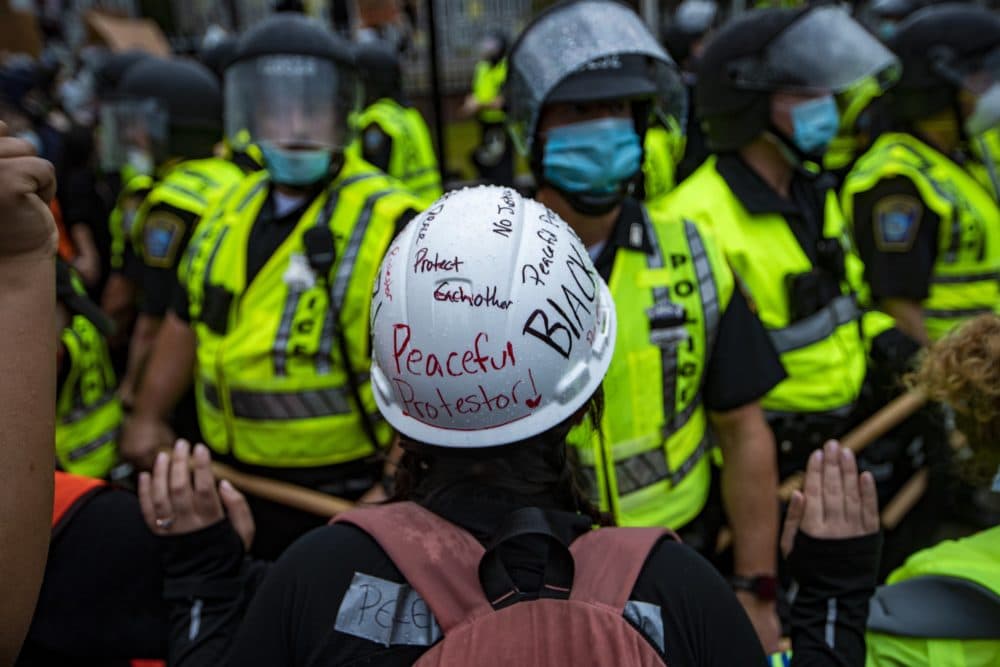 Tuesday night's action didn't get violent, but there were tense stand-offs throughout the evening between crowds and authorities. There were too many moments to count where throngs of people surrounded police officers, chanting. Each stood their ground, face to face. Some protesters and police had conversations in the midst of all the chaos, talking through helmets and masks and resulting in handshakes and hugs.
Others screamed at each other.
"I'm walking for my sons," said Jane Pierre-Evans, 34, of Hyde Park, who attended the event with Mulrain. "I don't want them to be another hashtag on Facebook ... The police had to arrest more than 5,000 people [nationwide] just to arrest four cops for killing a person."
Some people at the march had never set foot on Blue Hill Avenue, or had ever ventured into one of Boston's most prominent communities of color.
Some had never heard of Franklin Park, which was designed by Frederick Law Olmsted and part of the Emerald Necklace. Yet other protesters were members of the communities that have been marching for decades, and were exhausted of burying their dead.
Subtle — and not so subtle — moments of antagonism rippled through the crowd from protester to protester, and from protester to police officer. Mulrain said she asked more than one young adult at the event, "Do your parents know you're here?" Many said no. To her, that's a test of sincerity. A way to gauge whether this person will take a stand against racist family members, or simply listen to them rail on. Mulrain said some looked away uncomfortably as she interrogated their motives for being there.
"What's your intention here? Are you scared? Are you here to destroy our neighborhood? Are you here for your black friends?" she said she wondered. "Or are you here because you're with us?"
Luana Morales and her group of healers, known as Seeds of Our Ancestors, all wore white and burned blessing herbs. Lula Christopher, founder of Boston Black Women Health Initiative, shook a ceremonial rattle as police rode by on bikes. More than one protester burned sage to cleanse or release negative energy.
"We're here offering sacred smoke to those who have been killed and protection for those who are here," Morales said.
Pastor Chris Lesley leads Citadel of Love Worship Center in Dorchester. He said the church has not historically been present for these types of events around the nation.
"We should've been involved a lot sooner," Lesley said. "We want to do our part and support. The church needs to be more active in the community. We shouldn't have to wait until these things happen, but we're grateful we could come together now."
For Giovanni Petit-Frere, Tuesday night marked the first protest he'd ever attended. He drove up from Providence alone. He said if you don't have a deep understanding of the history of systemic racism in America, then you're not going to understand why this movement is important. A friend asked Petit-Frere why he went and said the protests would make no difference.
"I had to feel it for myself," Petit-Frere, 26, said. "I'm here to support my people. I want kids. I want a wife. I want to get married. I don't want them to have to worry about this."
The Boston Police Department sent out several tweets during and after the protest.
"Every officer working tonight is praying for peace and asking those marching in our streets to work with us in our efforts to keep everybody safe," they wrote.
More than once the department tweeted, "Our officers are there to keep people safe. The intention is not to invite, incite or provoke violence."
Some marchers reveled, feeling accomplished at the end that night, but at least one mother said this work must continue because she's scared for her 3-year-old son. So even when it started raining, Raphaela Thomas didn't budge. The 33-year-old mother from Roxbury held her sign higher for cars passing by to see.
It said, "Please don't kill my son."
"I have three kids — one son fits the description," Thomas said. "I got a husband, a brother. I got black men in my life...that are not statistics and I'm out here fighting for them."
Thomas's little boy plays with blocks. She would love to see him graduate, but she's afraid her two light-skinned daughters have a better chance of achieving that milestone than he does.
Max McCullough, a history teacher for 11th and 12th graders, came to the protest to support his students from City on a Hill, a charter public school in Roxbury's Nubian Square. He said following Floyd's death, his students have been emailing questions.
"Their entire young adult lives have been defined by Black Lives Matter," McCullough said. "Except being home for three months, sitting and thinking through quarantine didn't stop police murders."
The class has covered social movements in school, but now they're asking questions about distinguishing between a protest and a riot. They want to know how they could contribute in a meaningful way.  They recognize this moment will go down in the history books as a defining point in time. McCullough said, as a white man teaching all black and brown students their own history, he tries to go beyond the curriculum, to get at the core of these issues and the students' roles in them.
"It's a huge responsibility and I can't let myself be comfortable," McCullough said. "I need to challenge the narrative I've been taught, and do my best to include the history, faces, and names that are representative of my students, whether American history or the parts of the world they come from."
At the end of the night, most of the Boston police officers had left Forest Hills station. Transit officers, who remained, kneeled several times to chants compelling them to "take a knee." Strecy Lamarre, 18, of Roslindale approached a black officer in full riot gear after he kneeled. She said he told her he cares about the community and tells coworkers who behave disrespectfully that it's not OK.
"I honestly, truly want to know why the officers do what they do," Lamarre said. "Why do they choose who to serve and protect?"
Some protesters said that police taking a knee was disingenuous. After a handful of Transit Police kneeled again, chants of "quit your job" followed. Roxlind James, 26, told white people to protect black people outside Forest Hills Station.
"Otherwise, why did you come?" she yelled. "Find a buddy...protect us, protect me...stand in front of them and then I'll believe you."
She said she doesn't have time to educate them on how to be allies, that it is not the time for those conversations right now.
It's a time for actions, she said, and to change the world.
"If you're uncomfortable, I understand," she said. "Go home, get some money, and get ready to bail me the [expletive] out."
The remaining white people there listened. They walked out of the crowd and placed themselves near black bodies, like shields.
---
Correction: A previous version of this article misspelled the name of Frederick Law Olmsted. We regret the error.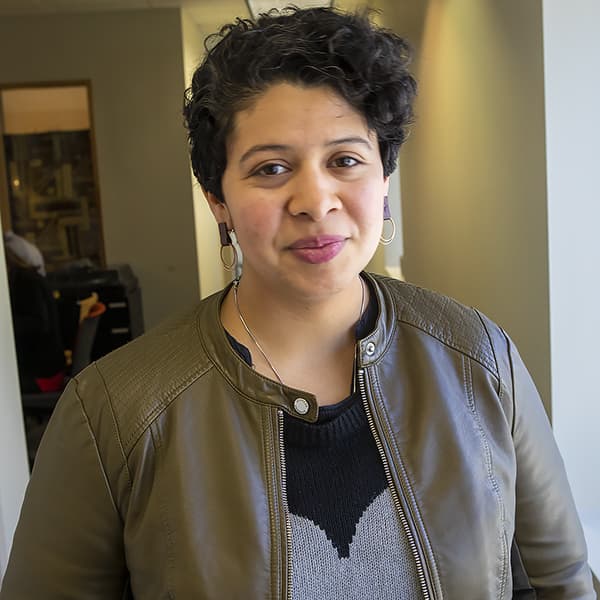 Cristela Guerra Reporter
Cristela Guerra is an arts and culture reporter for The ARTery.