'It Ain't Over': Thousands Protest Police Brutality On Boston Common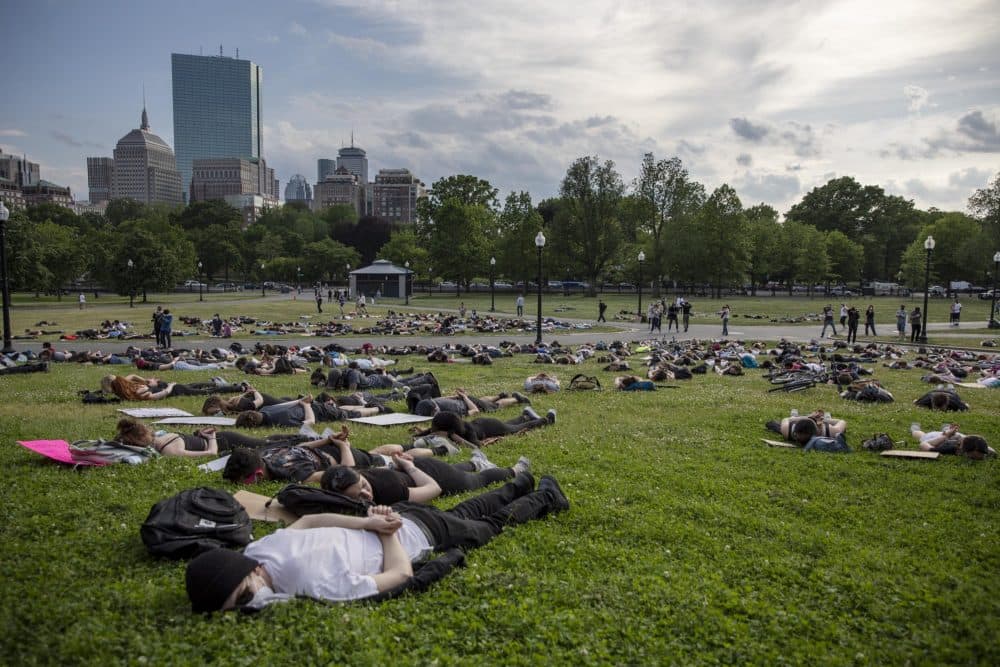 This article is more than 2 years old.
Word of the news spread quickly through the hundreds of people gathered at Boston Common Wednesday to protest police brutality: Three more officers would face charges in the death of George Floyd.
The three watched and did not intervene as officer Derek Chauvin pinned Floyd with a knee to the neck for more than eight minutes. What's more, Chauvin would now face a more serious second degree murder charge.
The protesters gathered in Boston said it was a step in the right direction, but that they weren't done yet.
Brock Satter, with Mass Action Against Police Brutality, said "it ain't over."
"It's one thing to get a charge, but we want to see these cops convicted," he said. "So we're going to have to stay out on these streets all over the world just like we've been doing."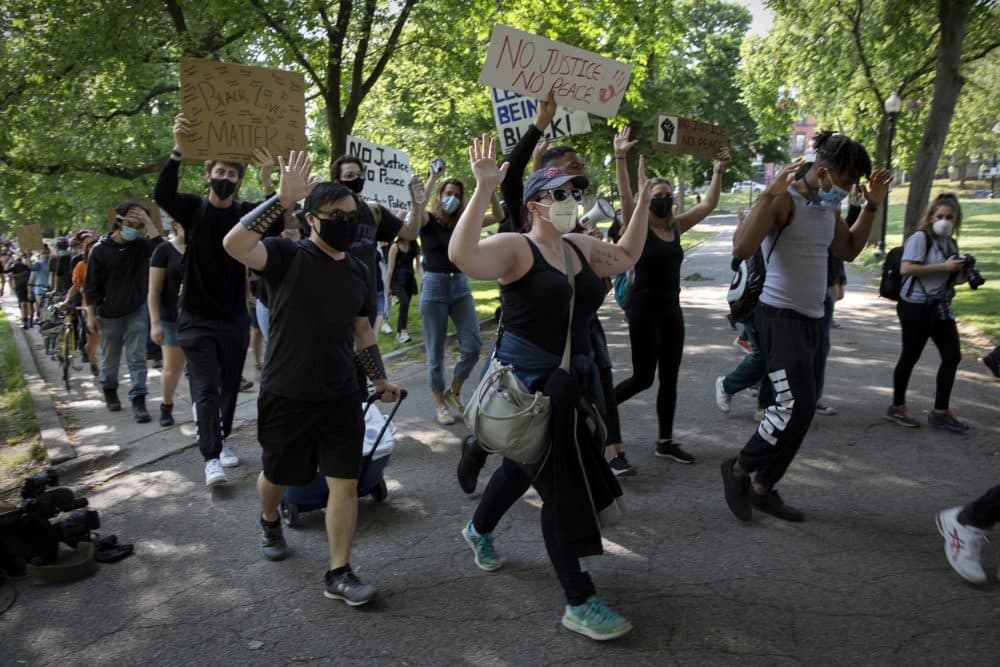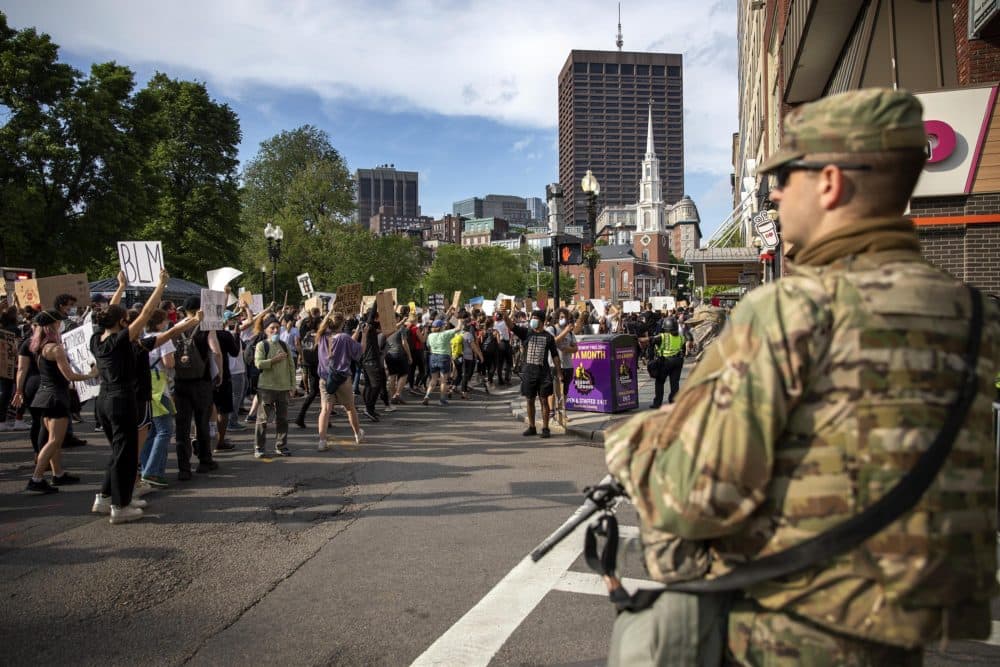 Satter said Gov. Charlie Baker, Attorney General Maura Healey, Boston Mayor Marty Walsh, Police Commissioner William Gross and even reformist District Attorney Rachael Rollins' recent contrition for black lives taken by the police is disingenuous until they reexamine instances of local black people killed by police.
"You are hypocrites if you don't simultaneously demand reopening the cases of Terrence Coleman, Usaama Rahim and Burrell Ramsey[-White]," Satter shouted into a bullhorn.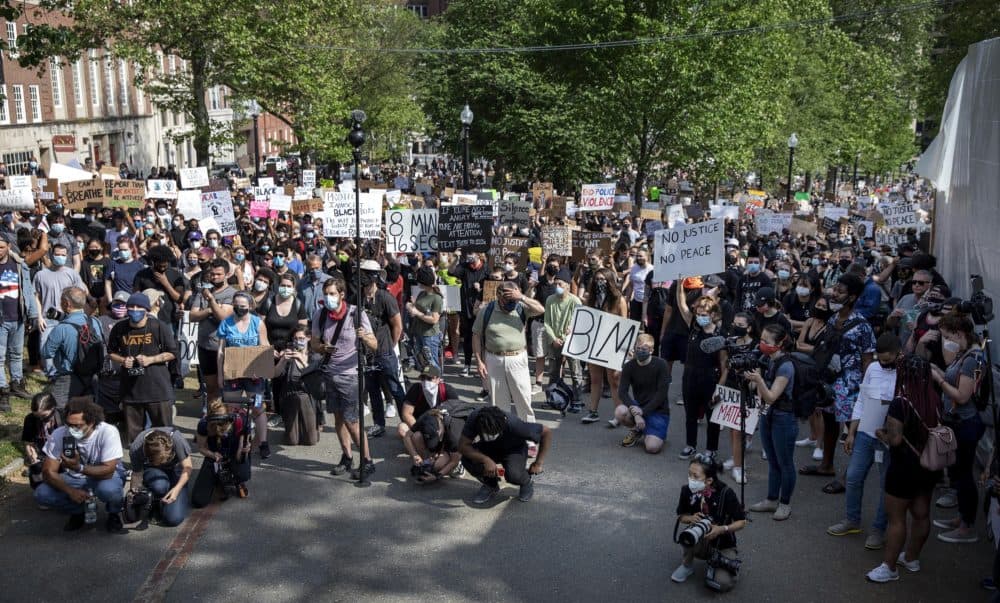 Protesters gathered in Boston Common, where groups of military police stood with rifles. Armored humvees drove around the perimeter.  Hundreds marched down Tremont Street, which was lined with Boston police officers standing with wooden clubs and motorcycle police. Demonstrators chanted "Who's streets? Our streets," and "Black Lives Matter." They also chanted the names of George Floyd and Breonna Taylor.
For many, beyond wearing face masks, COVID-19 wasn't really on the minds of protesters. For 21-year-old Matthew Balinda, of Framingham, coming out was continuing an ancestral fight.
"Racism has been here long before me, long before my grandfather, long before my great-father," he said. "I'm young and I can recover [if I get coronavirus]. Racism, that's old and it's not going to recover as quickly as this COVID."
The march ended with protesters staging a die-in in Boston Common. There was eight minutes and 46 seconds of silence — the amount of time Chauvin had his knee on George Floyd's neck.