In Massive Show Of Solidarity, Vigil Attendees Gather At Franklin Park To Protest Police Brutality
Some lay in the street and others kneeled, blocking Blue Hill Avenue for several minutes in the late afternoon sun, to honor George Floyd, the black man who died under the knee of a white Minneapolis police officer last week.
Then thousands of protesters marched Tuesday in a vast stream, many clad in black and carrying signs, wending their way to Franklin Park in a rally and vigil decrying police brutality against black people.
For all the fears of a repeat of Sunday night's tumult, the night stayed largely peaceful. Factions of protesters stayed animated late into the night, gathering at the Forest Hills T station, chanting at police headquarters and making their way to the State House.
The event at Franklin Park, organized by the groups Violence in Boston Inc. and Black Lives Matter, came on the seventh day of demonstrations nationwide after the killing of Floyd. A massive protest Sunday in Boston turned ugly at night, with looting and arrests, and clashes between police and protesters.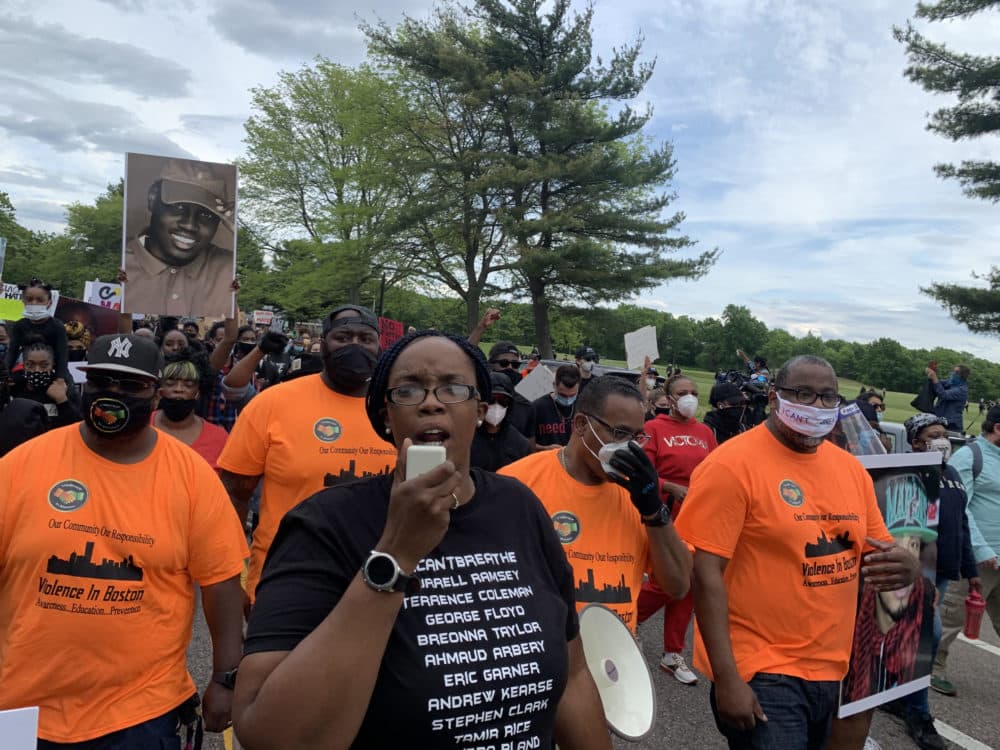 "The message that we're trying to convey is 'Not one more,' " death or assault, said Monica Cannon-Grant of Violence in Boston, in an interview with WBUR's Radio Boston ahead of the gathering. "Protesting is the voice of the unheard."
Later, addressing the crowd, she exhorted white people to use their bodies to protect black people if necessary. The event would remain peaceful, though the vibe would shift somewhat by nightfall.
More than 7,000 people had expressed interest on Facebook in attending the event, Cannon-Grant said, and they did not disappoint. Young and old, black, brown and white, their signs carried familiar messages: "No Justice, No Peace," and "Black Lives Matter."
A helicopter hovered overhead during the vigil, and some attendees said this was the biggest gathering they'd ever seen at the park.
"I live here, I was born here," said Clara Lennox, a family doctor at the march. "My heart wouldn't let me not come."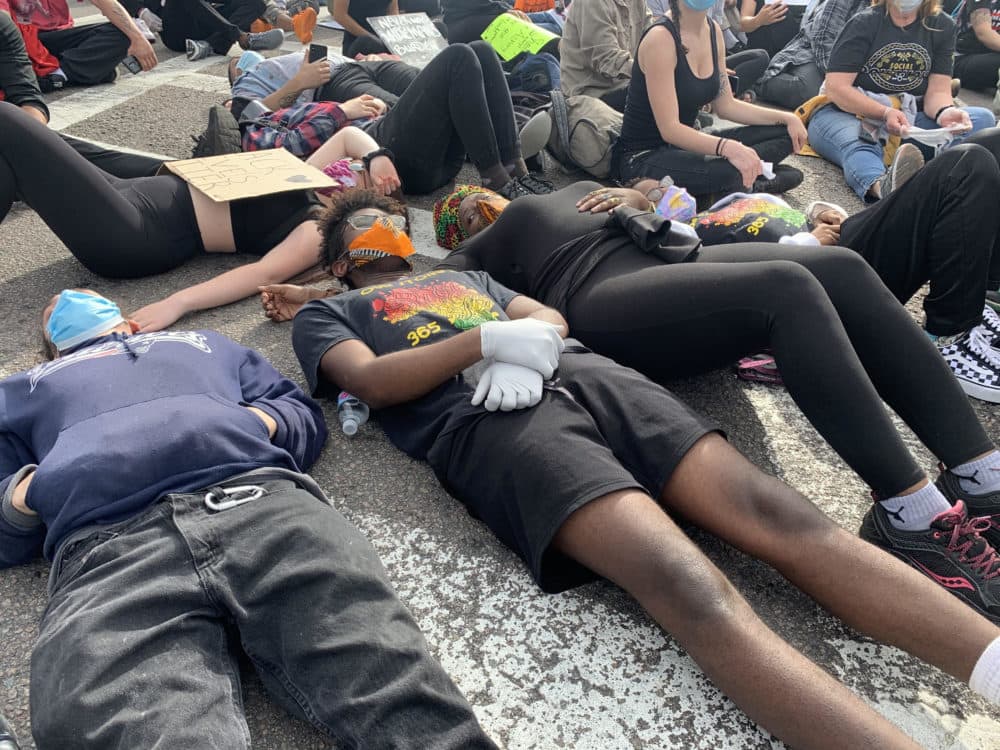 As in other recent protests, the majority of demonstrators wore face masks, given the ongoing coronavirus pandemic. Officials also had asked them to keep a six-foot social distance apart — a feat more difficult in so large a group.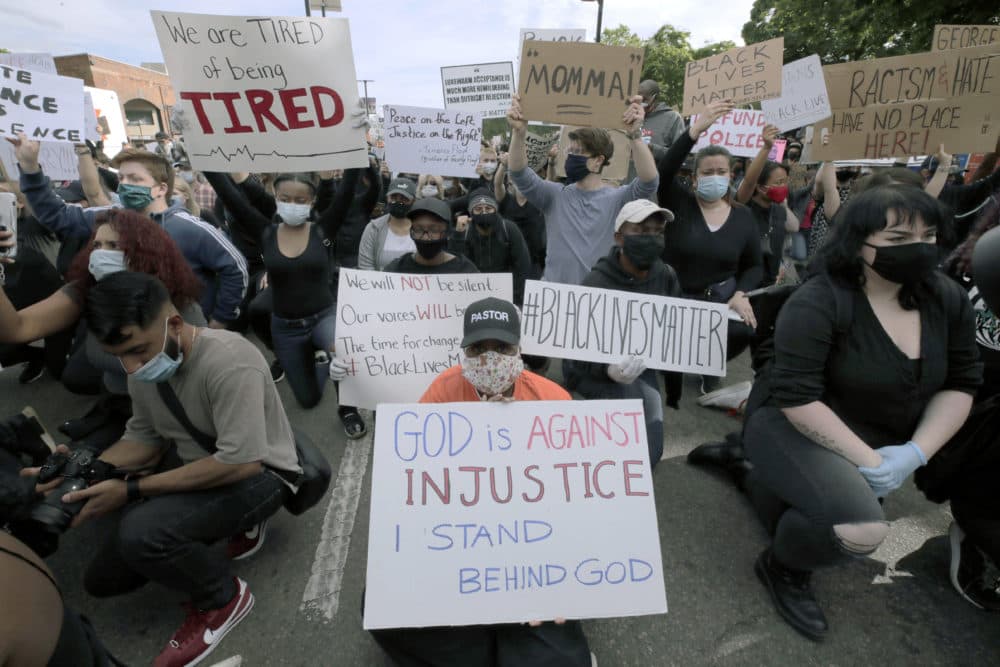 Boston police tweeted, "Peaceful protest has begun," and they kept a relatively low profile for much of the evening, though the tweet also said, "Our officers are out in full force to protect everyone's rights. Let's all work together in ensuring the safety and protection of all in involved."
Around 7 p.m., as dusk was falling, a surge of police in cars and on motorcycles suddenly sought to part the crowd, prompting rounds of "Hands up, don't shoot."
The scene grew tense for several minutes, as protesters surrounded a line of police officers on bikes. Demonstrators chanted the name "George Floyd," and then demanded that police officers join them and take a knee. Officers remained still and watchful.
Perhaps mercifully, the rain came, dispersing the crowds quickly as they sought shelter from a downpour. Hundreds headed for the Forest Hills T station, where they continued to gather and chant, cheered on by passing drivers. At 9 p.m., they showed no sign of heading home. A large group chanted at police headquarters in Roxbury, and others marched toward Copley Square.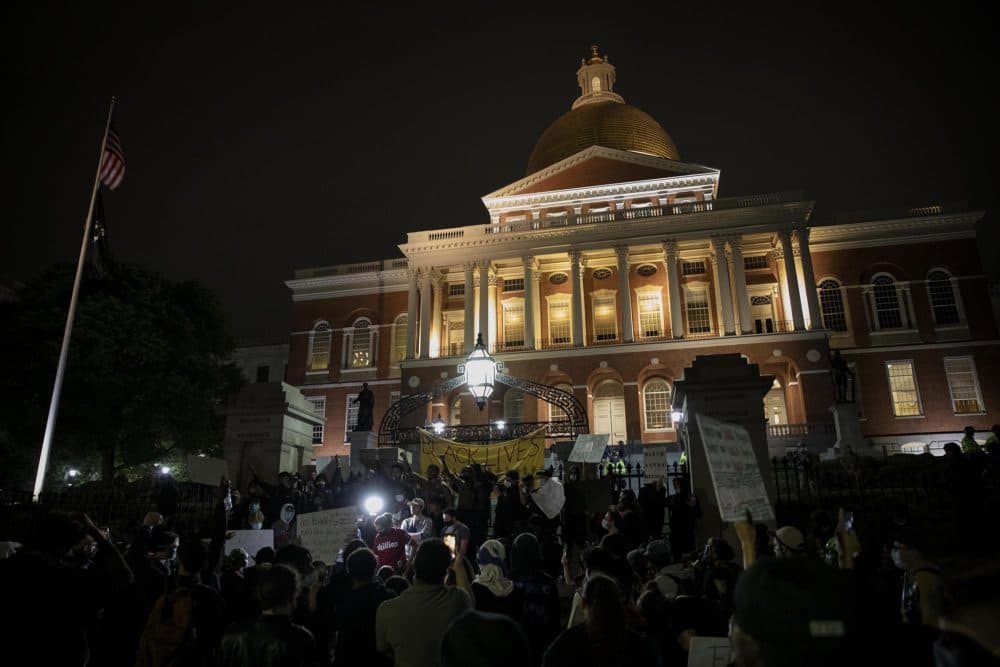 There were other rallies Tuesday night in Quincy, Watertown and Brockton. As Brockton's protest ended, some protesters headed to the police station and began clashing with police. Fireworks and water bottles were thrown, and tear gas was fired at the crowd. The National Guard came in, and local police with sticks and state police moved closer to the protesters.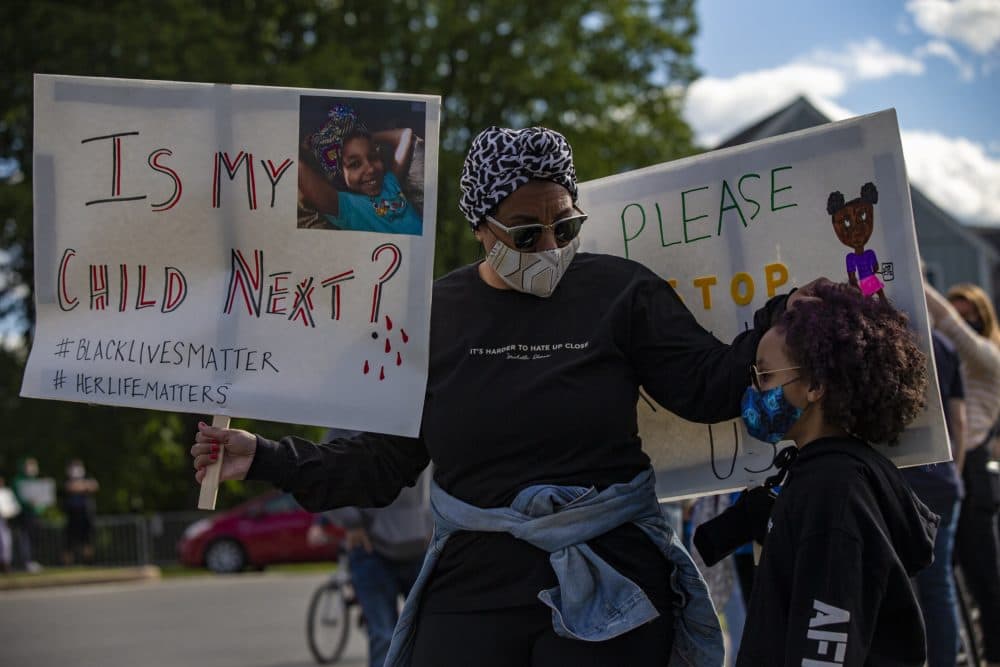 A smaller vigil in West Roxbury Monday night was peaceful and calm. But several businesses boarded up their windows and there was a heavy police presence following Sunday night's destruction and looting in the wake of the massive, peaceful march.
There were 53 arrests after the Sunday night mayhem, which left police cars burned and downtown stores smashed. The police commissioner said 27 of those arrested were Boston residents; 24 were from outside the city. Protest organizers insisted that some of the destruction and looting happened at the hands of people who do not live here and were taking advantage of the confusing scene.
Protests Monday night in Worcester and in Providence ended in police action, skirmishes and arrests, as well as damage and fires in Providence.
The Boston event Tuesday was planned in memory of Floyd, as well as Breonna Taylor, killed by police in Louisville, Ky., and Ahmaud Arbery, an unarmed jogger killed in Georgia by a man and his father, a former police officer.
President Trump added fuel to the nation's fire Monday when he had peaceful protesters cleared from an area near the White House and tear-gassed, so he could pose for a now-controversial photo by a church.
The president has threatened to send the U.S. military to cities to quell any unrest and urged governors to "dominate the streets" with law enforcement. His comments drew widespread criticism through Monday night and Tuesday.
Floyd was killed on May 25. The officer who kneeled on his neck, Derek Chauvin, has been charged with third-degree murder. All four officers present have been fired. Two different autopsies have ruled the death a homicide.
With additional reporting from WBUR's Meghan Kelly, Max Larkin, Simón Rios, Cristela Guerra and Adrian Ma.
This article was originally published on June 02, 2020.