After Hours Of Peaceful Protest Against Police Brutality, Conflicts Escalate Between Officers, Protesters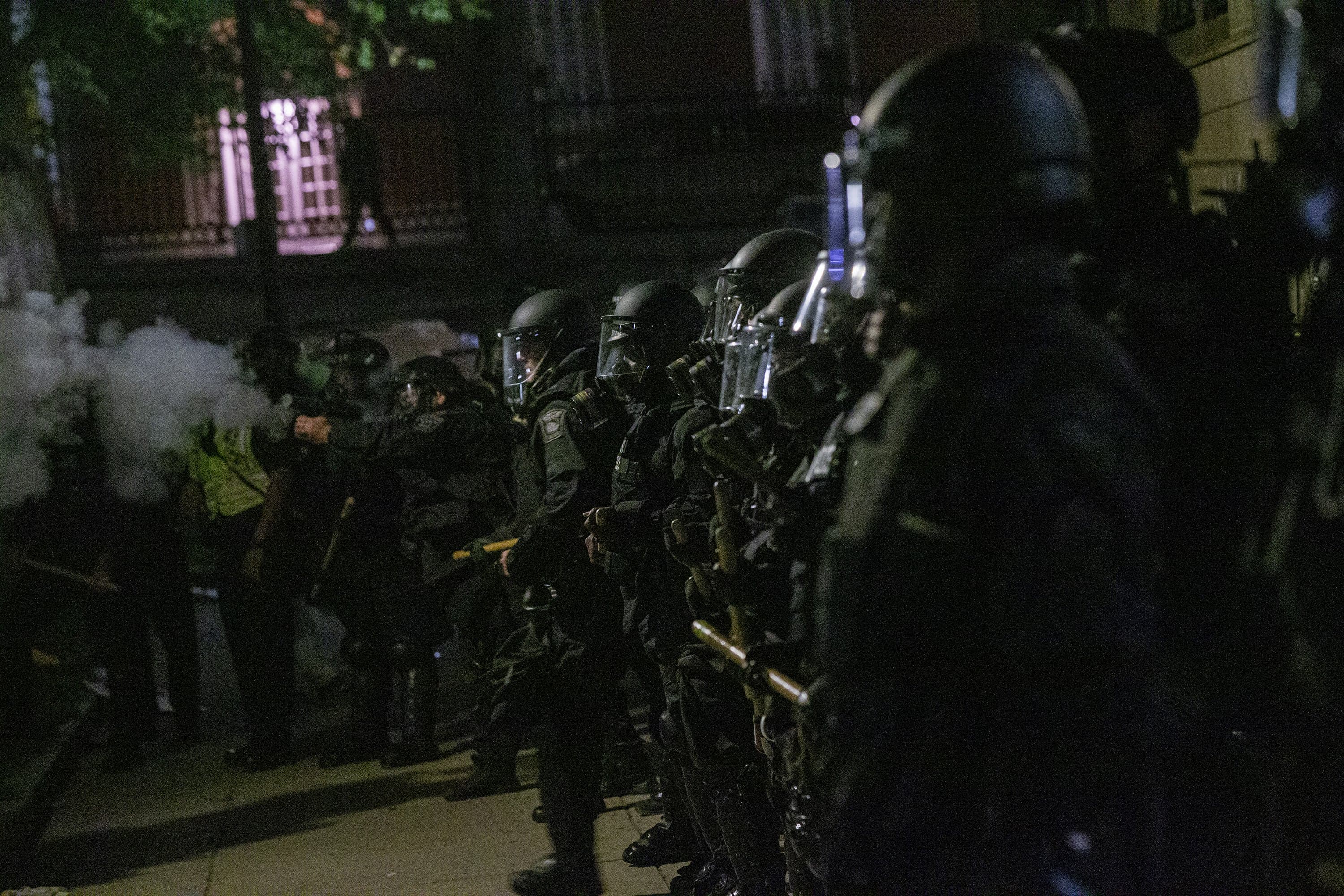 This article is more than 2 years old.
Thousands of protesters marched across Boston Sunday, joining in the nationwide chorus of outrage and calls for justice following the death of a black man who died after a white officer pinned him to the ground with a knee to his neck.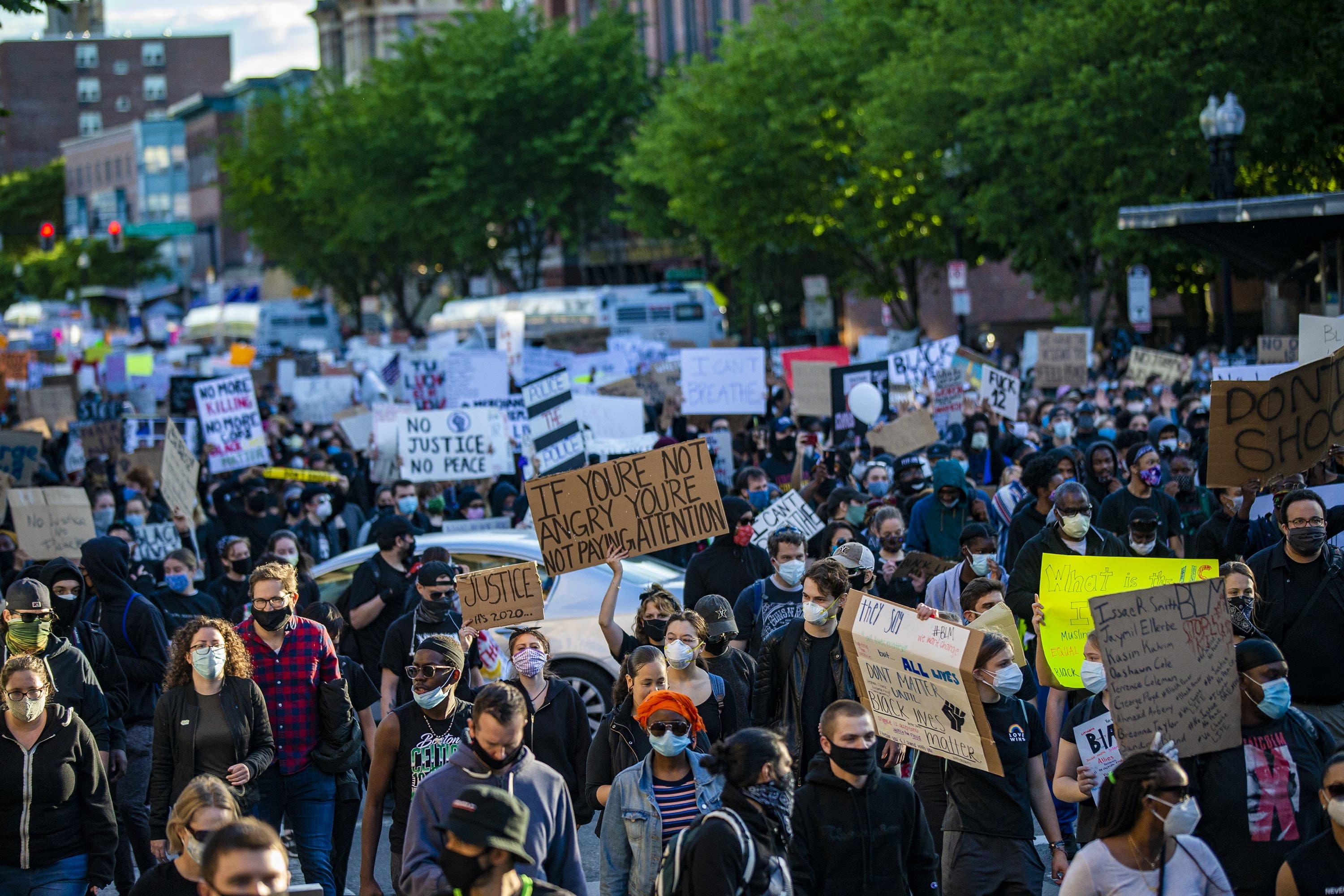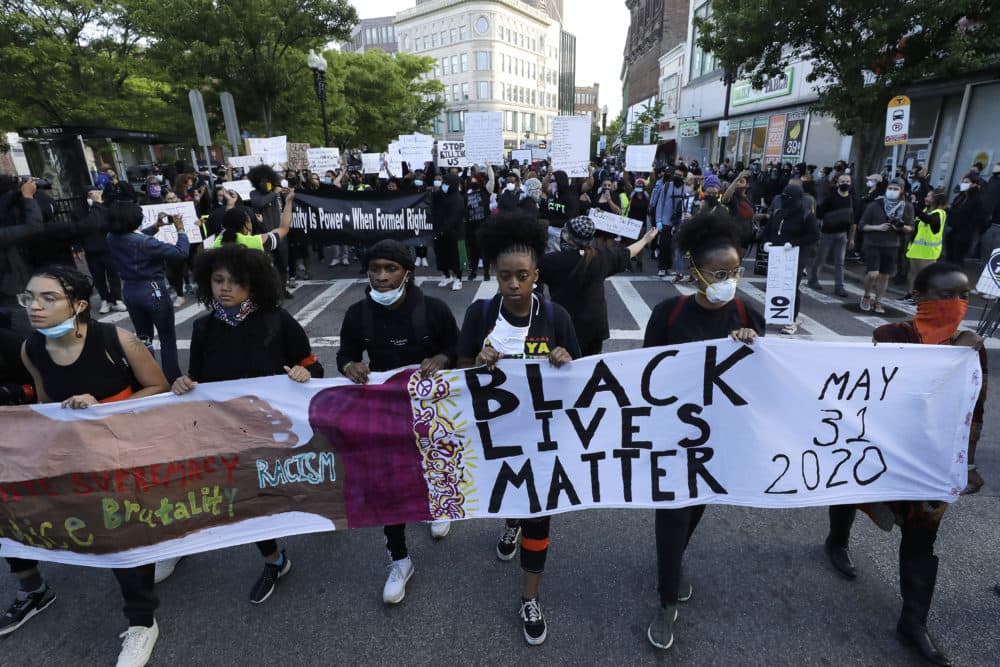 The protests were peaceful for hours. Then, as the official protest ended and night fell, the situation began to deteriorate between protesters and police in pockets of the city. A police car was ignited on Tremont Street. There were reports of protesters hurling bricks at officers, and of officers hitting some people with "pepper ball projectiles," pepper spray or tear gas. People smashed in several storefront windows.
WBUR's Meghan Kelly reported that others in the crowd were asking those throwing objects or damaging property to stop and remain peaceful.
By around 10:45 p.m., it was announced that the National Guard was called in to restore order downtown, according to a spokesman for the state police. Around that time, Boston Mayor Marty Walsh tweeted thanks to police and many of the protesters, alike, saying demonstrators "exercised their right to free speech effectively and peacefully, making sure everyone hears their message. Tonight's protests were motivated by a righteous desire for equality, justice, and accountability in our country."
But, the mayor added in his tweet thread that he was "angered" by "the people who came into our city and chose to engage in acts of destruction and violence, undermining their message."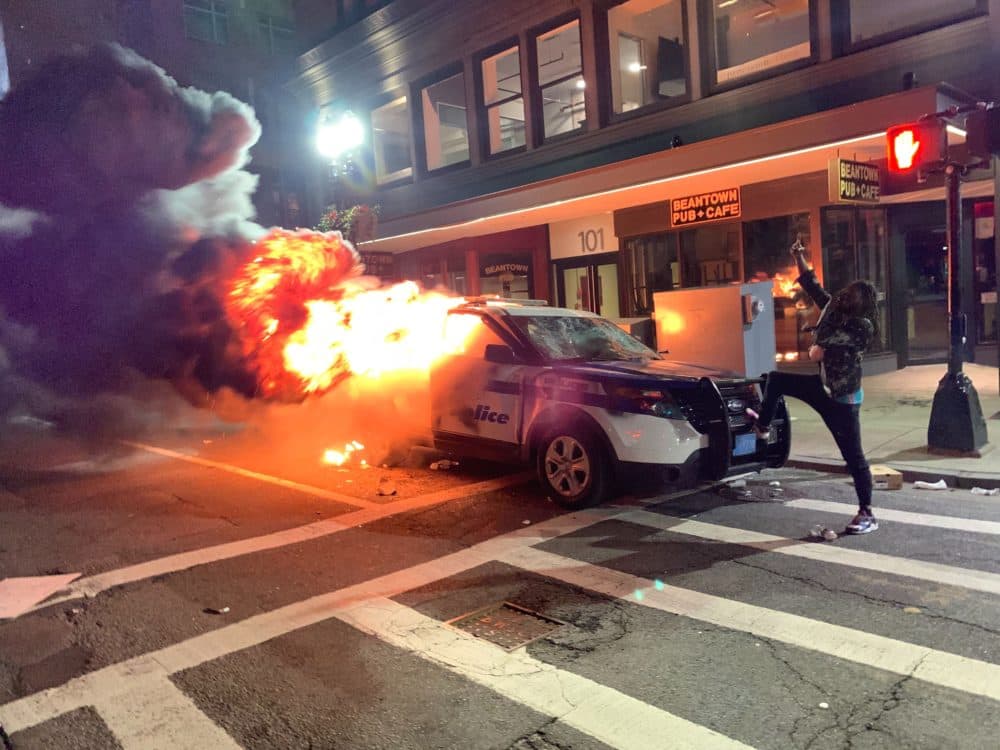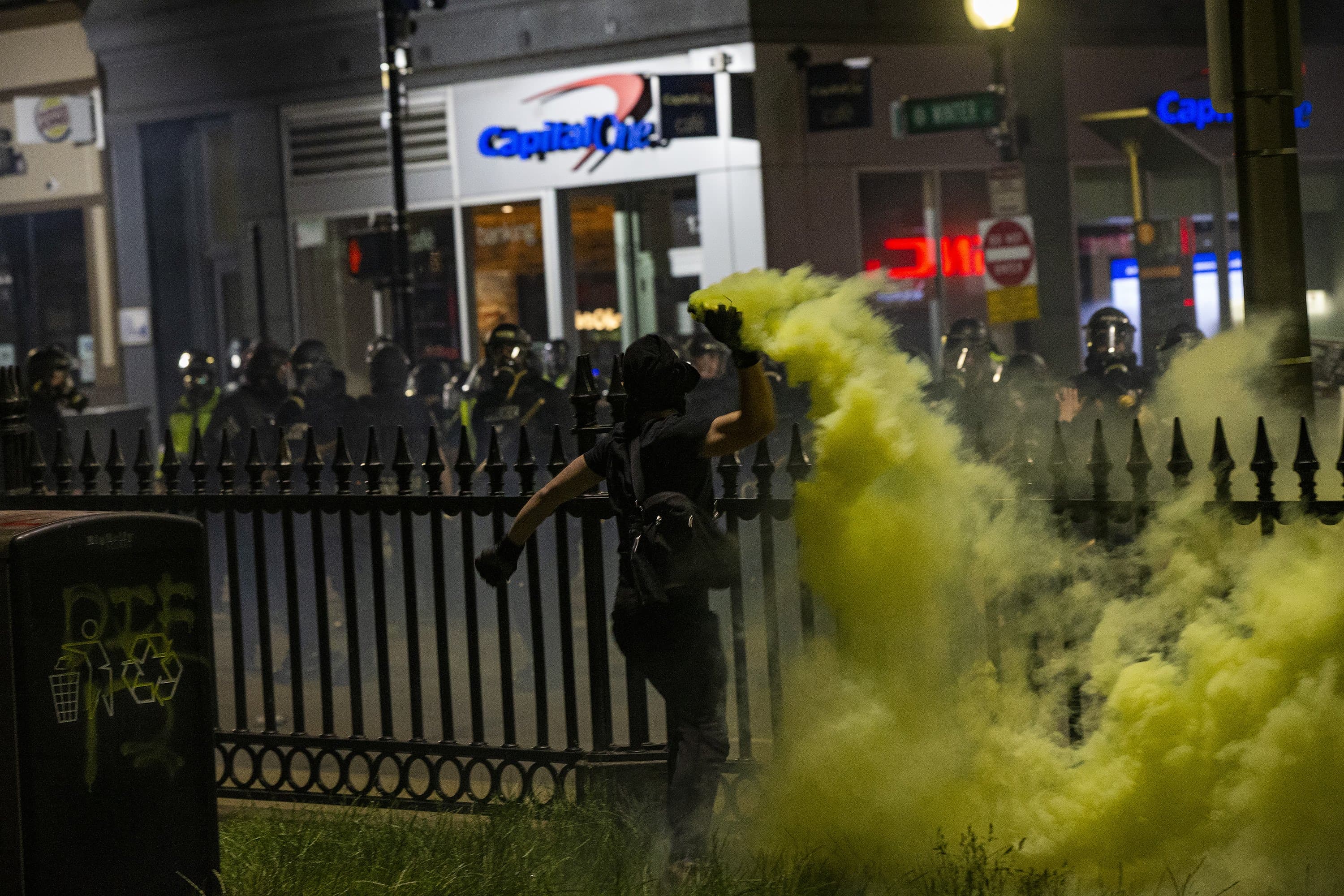 Gov. Charlie Baker echoed Walsh, thanking the majority of protesters who marched, "peacefully, toward a common goal of promoting justice and equality."
And he decried those who acted violently or looted and destroyed property, saying those "criminal and cowardly" actions distracted from the powerful statement made earlier by thousands.
The majority of the march was calm and peaceful, WBUR's Kelly said, making the shift as night fell more stunning. She followed the crowd from Nubian Square to the State House.
"There was a moment that was very powerful where the whole crowd took a knee and shouted for justice," she said. "That seemed … really nice. This is Boston coming together. So it was a little surprising to see it turn as chaotic as it did."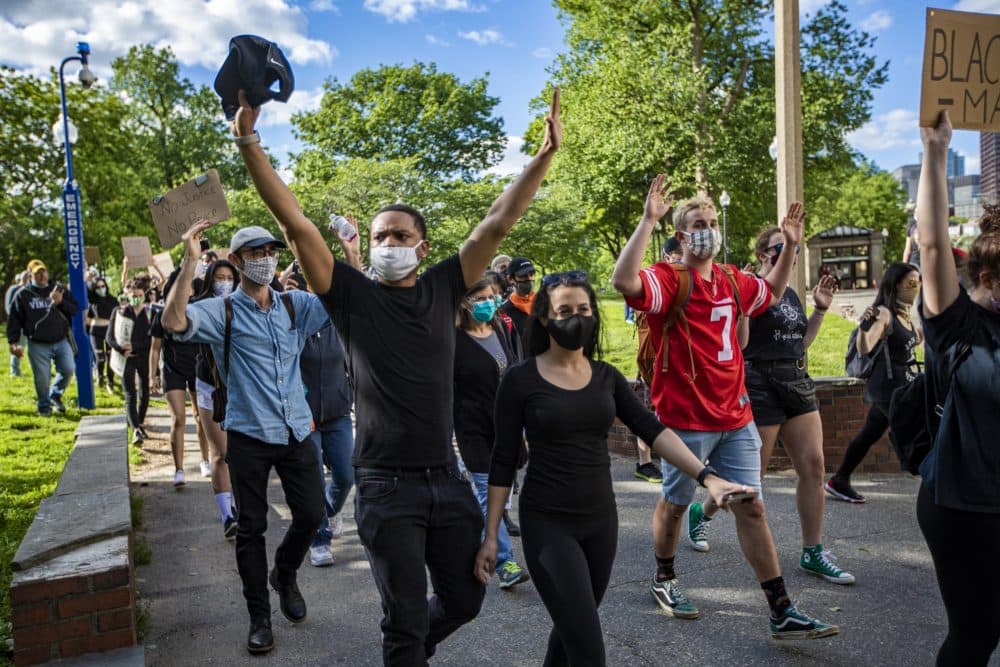 The anti-police brutality protesters initially gathered in Nubian Square in Roxbury determined to march along the roughly three-mile route to the Massachusetts State House, where hundreds of other demonstrators were already situated following an earlier protest on Boston Common in reaction to the death of George Floyd.
The Minneapolis father died after a white police officer, now charged with third-degree murder and manslaughter, kneeled on his neck for at least seven minutes as Floyd pleaded, saying he could not breathe. The arrest and Floyd's final moments, captured on video, has sparked widespread dismay, rage and public calls against police abuse and power. The police officer, and three others who responded to the call, have been fired.
Along the route, thousands of people had moved together — block by block — in a peaceful show of solidarity with other protests around the nation focused on police accountability. More than two hours into the protest, there were no reports of violence or any arrests. At around 9 p.m., organizers asked participants to head home and the crowd began to dissipate.
With the official protest ended, state police reported a male protester was arrested at the State House after jumping over a fence. WBUR's Jesse Costa reported shortly after that police fired pepper spray, mace or tear gas toward at least three protesters in Downtown Crossing.
Boston police tweeted at around 9:30 p.m. that there were reports of protesters throwing rocks and bricks at officers along Tremont Street.
Police swiftly followed that tweet with another, asking peaceful protesters to leave the area near Tremont Street. Boston police said Monday officers arrested 40 people.
In one tense scene on the Beacon Street side of the State House, state police said troopers discharged "pepper ball projectiles" at people who were striking a transit police cruiser to prevent the officer inside it from being injured.
In the Theatre District, WBUR's Simón Rios watched people calmly walk in and out of the broken window of a convenience store.
"People are walking in there with bags like they were going shopping," he said, saying he watched a person exit with a roll of lottery scratch tickets. "Walking, not even running. Walking out with bags."
People were screaming around Rios at around 10:30 p.m., but not about anything of substance. "There's a tremendous energy in the air," he explained. "I don't think they're saying anything in particular. One guy was yelling, 'I want a cigarette.' Another guy was saying, 'Let's hit Macy's.' "
The MBTA announced that it was bypassing several stops near downtown due to the protests.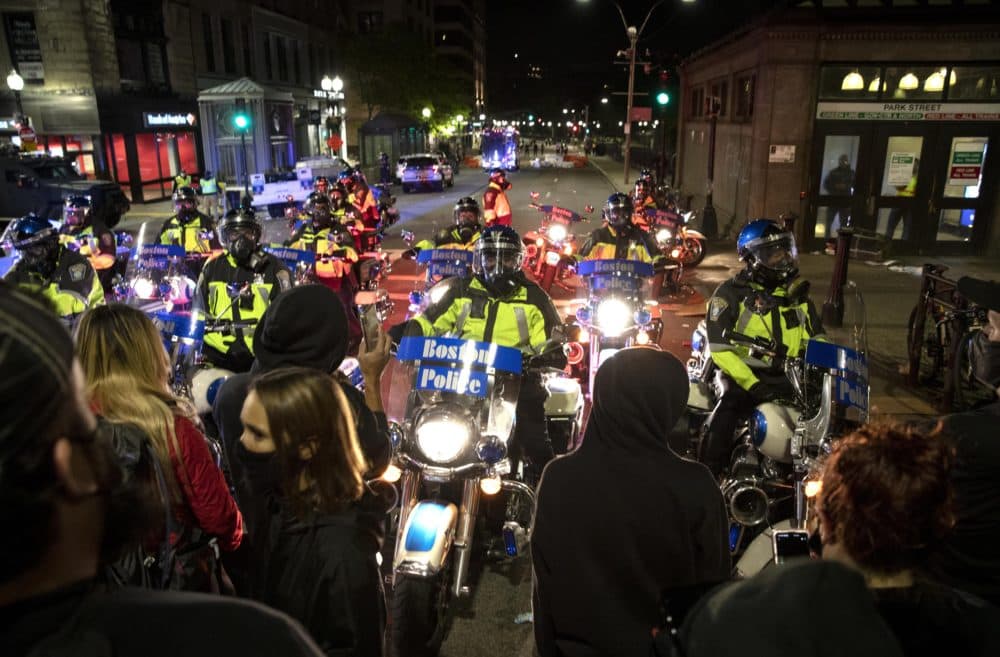 The protest, organized by a group called "Black Boston," kicked off at around 6:30 p.m., with dozens of activists and participants coming to the square earlier. The group asked participants to wear black clothes. Many did while also carrying signs, banners and flags, their mouths often covered by face masks as they chanted, "black lives matter" and "hands up, don't shoot."
Two days ago, a demonstration led by Mass. Action Against Police Brutality, saw a heavy police presence and protesters wearing face masks while dispensing with social distancing guidance amid the ongoing coronavirus pandemic to stand with one another in solidarity.
In advance of Sunday's march, some business owners downtown and in other areas boarded up store windows as a precaution.
Across the nation, the protests also highlighted the lives of others killed by police, with protesters frequently chanting the names of Breonna Taylor and Ahmaud Arbery, among many others.
With additional reporting from WBUR's Simón Rios, Bruce Gellerman, Adrian Ma, Meghan Kelly, Jesse Costa and Robin Lubbock.
This article was originally published on May 31, 2020.