Trump Rolls Back Protections On East Coast's Marine National Monument
President Trump announced Friday that he will remove protections on the Northeast Canyons and Seamounts Marine National Monument, a nearly 5,000-square-mile area southeast of Cape Cod that has been closed to most commercial fishing since 2016.
"We're are reopening the Northeast Canyons and the Seamounts marine region to commercial fishing," Trump said at a roundtable in Bangor, Maine. Trump called the existing regulations "ridiculous" and "terrible."
"Under the last administration, commercial fishermen and Maine lobstermen were suddenly informed that nearly 5,000 square miles of ocean would be closed to commercial fishing," Trump said. "This action was deeply unfair."
Trump also announced the formation of a task force to identify opportunities to open foreign markets to American seafood exports, and said his administration was undertaking "an accelerated review and reduction of all unnecessary regulations on the seafood industry."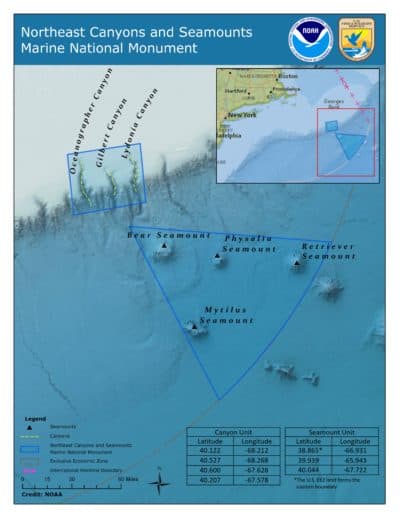 Representatives of the New England fishing industry saluted Trump's move.
"Thank you very much for your interest, for your executive order promoting American seafood, and for this announcement that you've made today," said Maggie Raymond, executive director of the Associated Fisheries of Maine. She said that in her 30 years in the industry, "I have never known a president to express a concern about the well-being of our fishing and seafood industries."
"We appreciate that he's paying attention to New England fisheries," said Jon Williams, owner of New Bedford-based Atlantic Red Crab Company.
But environmental advocates say the rollback could damage a fragile and productive marine ecosystem.
"It's devastating for those of us who have worked to protect it for so long," said Kelly Kryc, director of marine conservation policy and leadership at the New England Aquarium.
The New England Aquarium and Connecticut's Mystic Aquarium provided much of the scientific basis for establishing the monument, Kryc said. She noted that fragile corals found in the area can grow for thousands of years, and be destroyed in a few hours of fishing. The area is also home to endangered whales and sea turtles.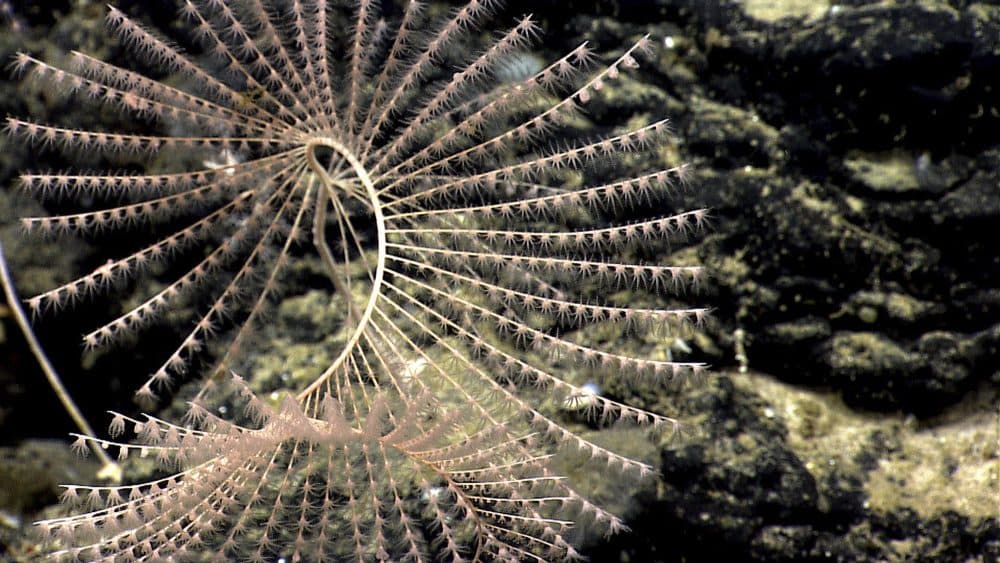 "There's a need for a balanced use of the ocean," Kryc said. "The fishermen have a role there. Offshore wind has a role there. Shipping has a role. But there's also a need to protect parts of the ocean to insure that it is able to sustain future generations."
The Conservation Law Foundation (CLF) noted that this is the latest environmental rollback made by the Trump administration during the coronavirus pandemic, and now, amid ongoing protests against police brutality in Black communities.
"Once again, the president is making cynical use of the national crises he has inflamed to pander to the very few New Englanders who may still have faith in his leadership," said Bradley Campbell, President of CLF in a statement. "Trump is now dismantling the few protections now in place to avert the demise of New England's traditional marine fisheries, culture, and economy."
CLF plans to file a lawsuit challenging today's decision.
Former President Barack Obama established the conservation area in 2016, creating the country's first and only marine monument in the Atlantic Ocean. The area contains diverse marine life, including deep sea corals and endangered sea turtles.
Obama's order prohibited new commercial fishing in the area, but existing red crab and lobster fisheries were allowed to continue operations for seven years.
Fishing groups, including the Massachusetts Lobstermen's Association, sued over the creation of the monument. Federal courts have dismissed their claims.
This article was originally published on June 05, 2020.