Reebok Cut Ties With CrossFit But Has Overlooked Years Of Racist Comments By Conor McGregor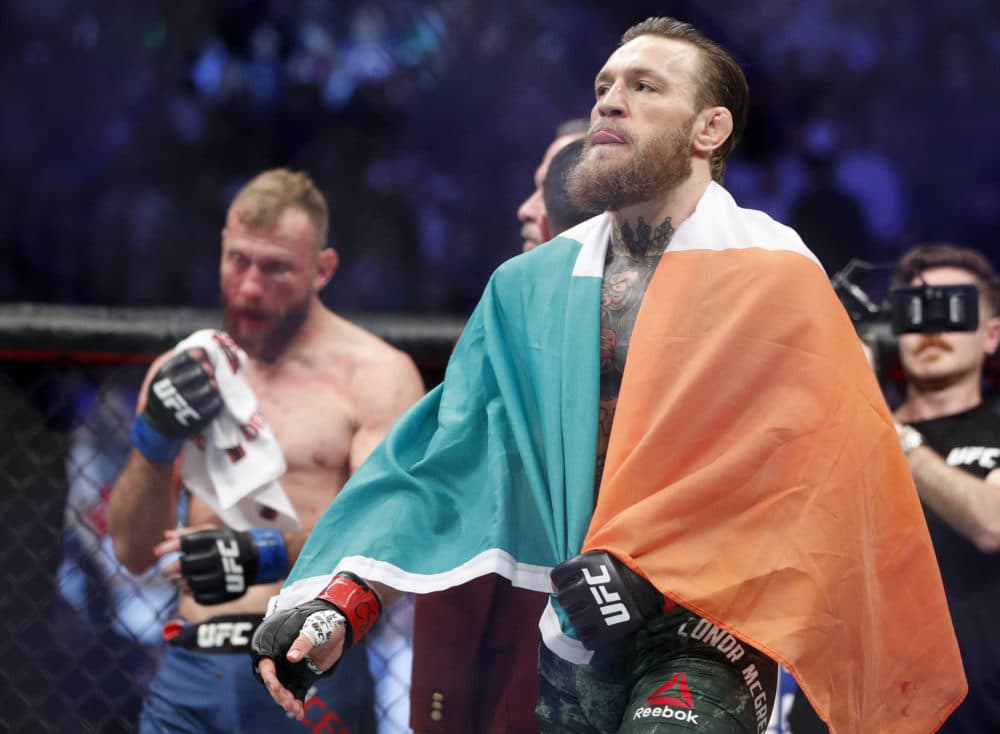 This article is more than 2 years old.
Reebok this week said it would not renew a sponsorship deal with CrossFit, after the fitness brand's chief executive mocked George Floyd and the idea that racism is a critical public health issue.
Yet Reebok has for years paid professional fighter Conor McGregor to endorse its products, despite his pattern of racist comments, and the Boston-based sports apparel company continues to sell McGregor-themed merchandise.
Reebok did not respond directly to a WBUR inquiry about whether it plans to cut ties with McGregor, one of the biggest stars in the Ultimate Fighting Championship series. The company also did not answer a question about why it reacted swiftly to a tweet by CrossFit head Greg Glassman, amid a national reckoning on racism, but has tolerated McGregor's remarks during periods of less scrutiny.
A company spokesman referred to a Reebok Instagram post that reads, in part, "Going forward, we can do better. We will be better." The post does not mention McGregor.
In one past episode, Reebok stood by McGregor when he invoked the company's name in a racist taunt of Brazilian fighter Jose Aldo. At a promotional tour stop in Boston, ahead of his 2015 bout with Aldo, McGregor said his opponent is "from the favelas," referring to shantytowns that formerly enslaved Africans formed on the outskirts of Brazilian cities in the 19th Century.
"When I'm done," McGregor added, "I'm going to turn his favela into a Reebok sweatshop."
Days earlier, at a tour stop in Rio de Janeiro, McGregor had said, "If this was a different time, I would invade his favela on horseback and kill anyone that was not fit to work."
McGregor's rhetoric, often dismissed as mere trash talk by his fans, frequently contradicts the inclusive image that Reebok seeks to cultivate. A company that recently unveiled a rainbow-themed collection for Pride Month also features a "brand partner" who has called a fellow mixed martial arts fighter a "f-----."
McGregor uttered that homophobic slur in 2017, the year he crossed into boxing and lost a high-profile match against Floyd Mayweather Jr. At a promotional event for that fight, McGregor told Mayweather, who is Black and 11 years his senior, to "dance for me, boy."
As Khaled A. Beydoun wrote for The Undefeated, at the time, McGregor used "boy" in a way that "conjures up imagery of slavery, Jim Crow and the residual racism still prevailing in the United States." In short, McGregor employed "a proxy for the N-word," Beydoun wrote.
McGregor was not a Reebok-sponsored athlete when he fought Mayweather; an endorsement deal expired shortly beforehand. But McGregor's bigoted comments did not deter Reebok from signing him to a new contract in 2018. McGregor's manager told ESPN then that the renewal was worth more than $5 million.
Back on the Reebok payroll, McGregor last year tweeted that the wife of rival Khabib Nurmagomedov "is a towel." Nurmagomedov is Muslim. McGregor paired the insult with photos of Nurmagomedov's wife in a white veil.
McGregor later deleted the tweet. He has called accusations that he is racist "f---ing ridiculous," saying that he, himself, is "half Black," while adding a racist reference to the male anatomy.
McGregor took a 15-month hiatus after losing to Nurmagomedov but returned to win a fight in January. In February, he launched a "Reebok x Conor McGregor" line of sneakers.
Just a few months later, police in Minneapolis killed George Floyd, a Black man, during an arrest caught on camera. Like many companies, Reebok responded by declaring itself an ally of Black people.
"Without the Black community, Reebok would not exist," reads a banner on Reebok's website. "America would not exist. We are not asking you to buy our shoes. We are asking you to walk in someone else's. To stand in solidarity. To find our common ground of humanity."
On Saturday, the Institute for Health Metrics and Evaluation at the University of Washington tweeted that "racism and discrimination are critical public health issues that demand an urgent response." Glassman, the CrossFit boss, replied, "It's FLOYD-19."
Reebok told Footwear News the next day that it would not extend a CrossFit sponsorship that expires this year. Against the backdrop of nationwide protests against racism, Reebok took the kind of action it has declined to pursue against McGregor.
Glassman resigned from CrossFit Tuesday, after BuzzFeed published a recording in which he further disparages Floyd.
McGregor tweeted Sunday that he is retiring, but he has claimed his career is over twice before. He returned to fighting — and to Reebok — each time.