Attorney General Barr Meets With Boston Police Commissioner As Protests Against Police Brutality Continue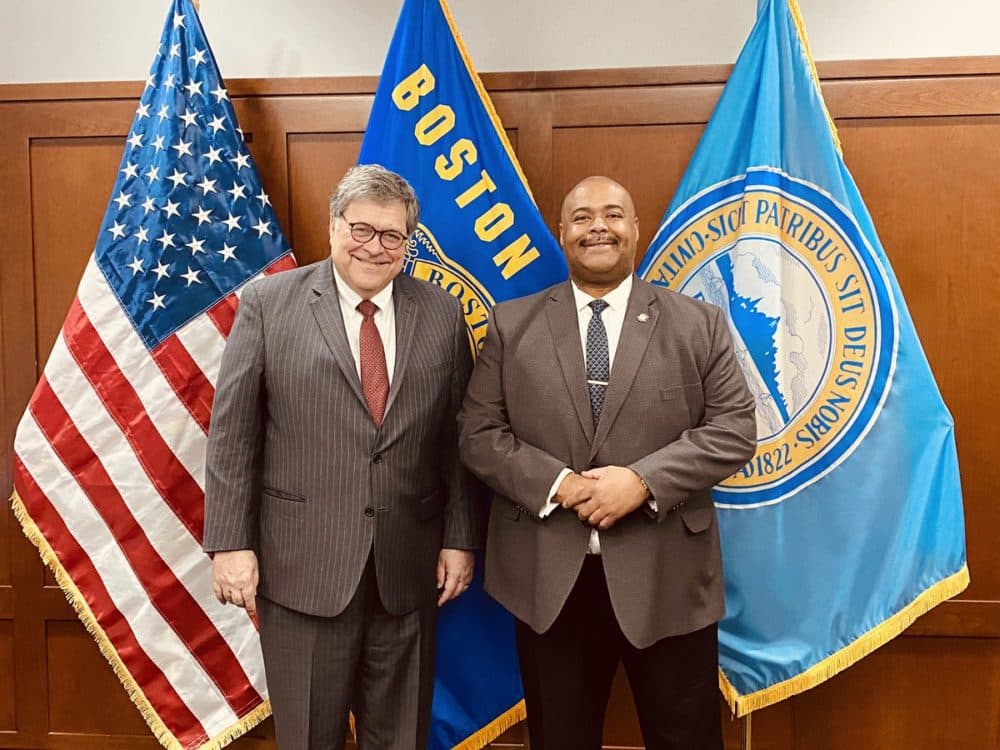 This article is more than 1 year old.
Amid a debate over police reform in Massachusetts and around the country, the commissioner of the Boston Police Department met Thursday with U.S. Attorney General William Barr in Boston.
A spokeswoman for Barr tweeted a photo of the attorney general with Boston Police Commissioner William Gross early Thursday afternoon and said the two met earlier in the day. The subject of their meeting was not immediately clear.
"Commissioner Gross told us it was the first time a U.S. Attorney General had visited Boston PD," Justice Department spokeswoman Kerri Kupec tweeted along with a photo of the two men in front of a flag display. "Thank you, Comm. Gross, for your wonderful hospitality and invaluable insight and advice."
In a statement, Gross said he took the meeting not because he agrees with Barr on policy issues, but because he didn't want to "close a door."
"I would rather take the opportunity to educate someone on what we are doing in Boston on how we value and work with the community, and how we support our officers in this work, than close a door," he said. "A meeting does not mean I agree with his policies in any way, but I hope he walked away knowing a little more about ours."
Gross did not address what he and Barr discussed at their meeting.
Several local politicians criticized Gross and Barr's meeting, on Twitter. Boston Mayor Marty Walsh said that Barr and Trump "do not share Boston's values or my values."
Rep. Ayanna Pressley told Barr she wants a face-to-face meeting "where you look me in the eye and explain why you tear gassed protestors."
And Mass. Attorney General Maura Healey decried the visit, saying Barr "does not care about justice or the people of Boston."
The attorney general's visit marks at least the second time in the last week that a member of President Donald Trump's Cabinet visited Boston. Last Friday, Health and Human Services Secretary Alex Azar toured operations at Beth Israel Deaconess Medical Center with Gov. Charlie Baker and Lt. Gov. Karyn Polito.
This article was originally published on June 18, 2020.