Boston Police Adopt The '8 Can't Wait' Reforms For The Use Of Force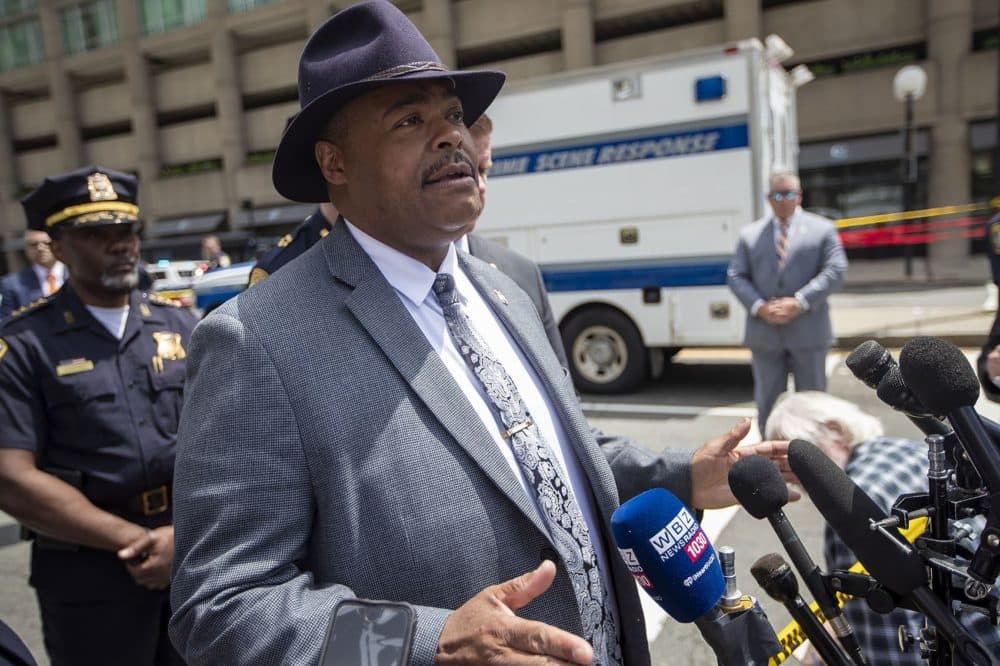 This article is more than 2 years old.
The Boston Police Department on Thursday said it would update its use of force policies to comport with calls for reform made by protesters in Boston and across the country.
Known as "8 Can't Wait," the reforms focus on reducing the amount and type of force used by police. The department said it already has in place rules dealing with half of the reforms.
"Current events and ensuing civil unrest across the country has brought police reform to the forefront," the department said in a statement. "One of the major issues for reform is use of force by police. All departments across the country should be reviewing their policies and procedures and making necessary changes as needed."
A Boston police spokesman declined an interview and said they would let the news release speak for itself.
Here are the requested measures, and how the department is responding:
1. Bans on chokeholds and strangleholds
Amending policy: BPD says there is already language restricting neck restraints, but it wasn't strong enough. The department will clarify that all neck restraints are banned unless deadly force is necessary.
2. Requiring de-escalation before using force
Amending policy: BPD says recruits receive training in de-escalation. But though it is a priority in training, it wasn't specifically mentioned in any use of force policies. The department is amending four use of force rules — covering deadly force, "less lethal" force, non-lethal force and use of tasers — to "include an introductory statement regarding the importance of de-escalation in all interactions."
3. Requiring warning before shooting
Amending policy: "In practice, when feasible, verbal warnings and verbal commands are standard." But it's not articulated in the deadly force policy. The department is including verbal commands in the de-escalation policies.
4. Requiring all alternatives be exhausted before shooting
Already in place: "Officers are trained in a wide range of reasonable responses for each type of resistance and are instructed to begin with the least severe action."
5. 'Duty to intervene' policies
Amending policy: Recruits are taught about intervening, and the department's "cannon of ethics" requires this: "Excessive or unauthorized force is never justified and every officer not only has an affirmative duty to intervene to prevent such violence, but also to report any such instances that may come to their attention." But that duty wasn't highlighted in use of force policies. That is changing.
6. Bans on shooting at moving vehicles
Already in place: BPD policy says that officers should not shoot at a moving or fleeing vehicle, unless threatened with deadly force other than the vehicle. "For the purposes of this section, the moving vehicle itself shall not constitute the threatened use of deadly force," according to the current policy.
7. A use of force continuum
Already in place: BPD says a use of force matrix is already part of policy and recruits and working officers are trained in it.
8. Requiring comprehensive reporting, including when an officer threatens a person with a firearm
Not yet: The department says recruits are taught about required report writing, but the current firearm discharge policy only requires a report when a gun is fired, not when it's unholstered and pointed at someone.
"We will continue to review and amend policies and procedures going forward as they pertain to uses of force and threats of force," the department said.
The department said it will also bring an ethical policing peer intervention program to Boston. The program "authorizes and empowers officers to intervene in another officer's actions, regardless of his or her rank."
Three Minneapolis officers watched a fellow officer kneel for more than eight minutes on the neck of George Floyd, whose death sparked the recent protests. The officer who killed Floyd is facing murder charges, and those who stood by are charged with aiding and abetting murder.
---
Boston has seen protests nearly every day over the last two weeks, with hundreds demonstrating against police brutality and calling for a diversion of funds from police to other social programs.
And the Boston City Council has been inundated with calls for the police budget to be reduced by at least 10%.
City Councilor Andrea Campbell said the change in the use of force policy is a good first step, but not enough.
"The Boston Police Department is right to make these changes — now we need to go much further, by implementing a real civilian review board, banning the use of military weapons in our streets, getting police out of our schools, and ensuring our police form reflects the diversity of our city," she said in a statement."
She said more reforms are needed, including reallocating money from police.
Others say the reforms don't address the central issue among protesters: the prosecution of police. Brock Satter, co-founder of Mass. Action Against Police Brutality, said until police officers in Boston and elsewhere are brought to justice for police killings, the protests will go on.
"You can defund, you can do whatever you want, but if you do not punish the police for the crimes they commit, this movement will continue," he said.