Boston-Area Bakers Rally Against Racism In A Global, Virtual Bake Sale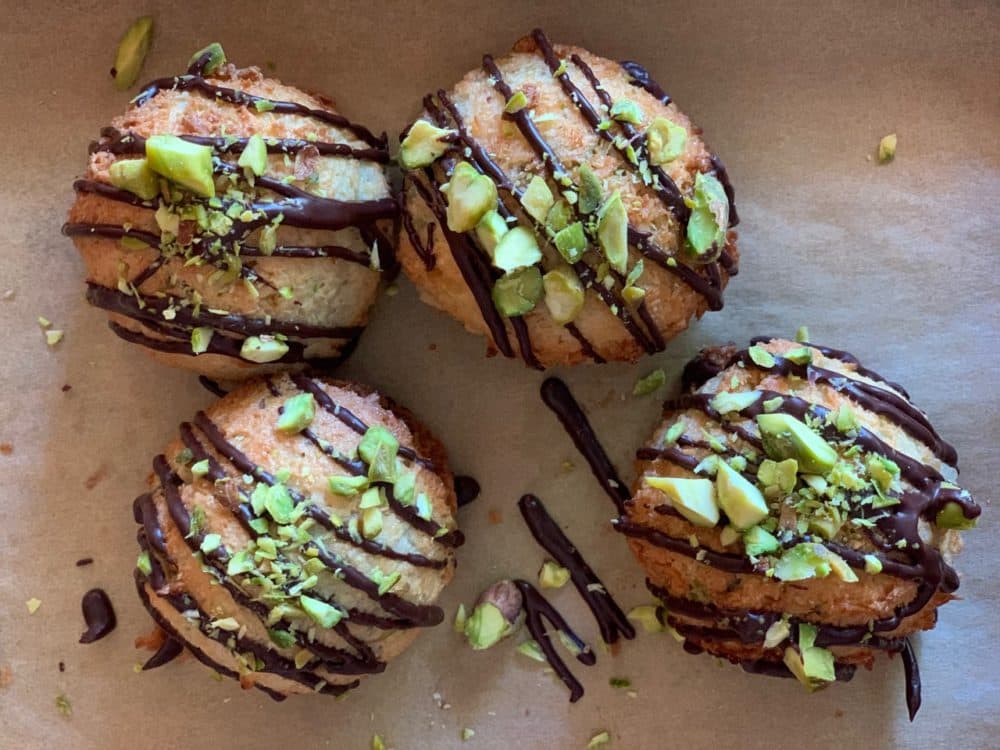 This article is more than 2 years old.
It's such an American tradition – homemade baked treats piled high on long tables at churches, polling stations and back-to-school nights as a grassroots way to raise money for communities. Now, a worldwide army of pastry chefs are wielding their spatulas, cookies and cupcakes in a virtual bake sale to fight for racial justice.

The new group, Bakers Against Racism (BAR), is behind this concept that's "mobilizing sweets into action." The sale runs through Saturday, June 20 — just a day after Juneteenth, a remembrance for enslaved people who were freed in 1865.
Paola Velez, the pastry chef at Kith/Kin in Washington D.C. founded BAR as protests against George Floyd's killing spread across the country, then the world. Her online bake sale idea has gone viral in the larger culinary scene. More than 2,400 participants from 15 countries and 170 U.S. cities, including a handful around Boston, have signed on since the effort was announced June 9.
Samantha Loos of the Camberville Bakers, a cadre of home and professional chefs from Cambridge and Somerville, found out about the BAR effort from food blogger Charlotte Weiss. Loos was inspired to organize a local branch.
As a kid, she and a friend held bake sales on street corners and front lawns. Now she said, "In our small way, as food lovers, home bakers and chefs, BAR is one way we're able to give back to BIPOC."

While supplies last, she and her compatriots are selling mocha whoopie pies with coffee salt, vegan blueberry scones, snickerdoodle blondies, mini loaf breads and eclairs online through Friday at 5 pm. Pick-up is Saturday at the Cambridge School of Culinary Arts where many of the Camberville Bakers, including Loos, are alums. They used donated kitchen space at the school to prepare their pastries. Proceeds will benefit two organizations that support communities of color, The Okra Project and the Boston Black Hospitality Coalition.
When asked how baking is a form of protest Loos said she believes food can be a catalyst for change. "As culinary professionals and home bakers we want to support Black-owned businesses and stand in solidarity, always, but are particularly aware of how the COVID-19 crisis has disproportionately affected Black communities," she explained. "This is our small way of bringing community awareness through food while giving back."

James Beard Award nominee Maura Kilpatrick learned about BAR on Instagram. She's head pastry chef and owner at Sofra Bakery and Cafe in Cambridge. The bakery closed for indoor dining because of the pandemic but is operating with a skeleton crew so they can offer takeout.
"Even though we are busy trying to rebuild our own business back, there is always a desire from our industry to give when we can," Kilpatrick said.
Bakers at Sofra's sister restaurants Oleana and Sarma collaborated to assemble samplers for the BAR bake sale that include Kilpatrick's favorite, Syrian shortbread. 200 cookie boxes that also include raspberry jams, pistachio rose coconut macaroons and Turkish rocky road sold out in 24 hours since they were posted. Kilpatrick and her team plan to bake a limited supply of additional collaboration boxes for online and walkup orders on Saturday, June 20. Proceeds will be donated to The Loveland Foundation and Black Lives Matter Boston.
Kilpatrick appreciates how the organizers of Bakers Against Racism want participants to choose a local charity that means something to each of them because she said it's "making your commitment more personal."

Puritan & Company executive pastry chef Brian Mercury also designed mixed boxes of sweets for BAR that hold red zen tea cookies, chocolate caramel crunch bars and raspberry orange marmalade breakfast bread.
"Over the years, pastry chefs and bakers have organized similar calls to action for other important social movements, but in their communities," he said, "This being national participation, and even global, is exciting. Our voices will be heard and spread far and wide." Money raised by Puritan & Company will go to Violence in Boston.
Mercury agreed that sometimes a cake is way more than a cake. "Food is something that connects people, that builds communities," he said. "When you do something like this, the cake — or whatever you make — is just the tangible part. You're really selling the intangible: stronger relationships, personal connection, belief and faith in each other." And Mercury added, "cooking is just an action, but to feed is to nourish the soul."
The fact that baking can be an expression of support, care and love is clearly not lost on those who do it for others in their careers or at home. Warm hands kneading chilled dough — or carefully adding decorative flourishes to a cake or cookie — have the power to deliver joy and compassion to people who are anxious, suffering or grieving.
Loos of Camberville Bakers hopes the Bakers Against Racism sale will allow people to reflect and think critically about the inequitable systems in this country. "To have those difficult conversations with family members, to stand up for what you know to be right and the truth, to start treating people as people and not as 'the other,'" she said, "to lead by example, to know that love is love no matter the color of your skin, your sexual identity, or who you choose to love, to fight and stand up every day against the unjust treatment of Black people in this country."
Other Boston area restaurants participating in the BAR virtual bake sale include Bondir in Cambridge along with Benedetto, Giulia , Mamaleh's, Big Heart Hospitality (Fool's Errand, Orfano, Sweet Cheeks Q, Tiger Mama in Boston), Breadboard Bakery in Arlington, Clear Flour Bakery in Brookline and Flour Bakery.