Instagram Founders' Website: Mass. Has Lowest COVID-19 Transmission Rate In The Country
Massachusetts now has the lowest COVID-19 transmission rate of any state in the country, according to a website that has been compiling state data and tracking transmission trends.
As of Monday, the Rt for the coronavirus in Massachusetts — a measure of a virus's average transmission rate at a given point in time — was estimated at 0.67, according to the website Rt.live. The site was created by Instagram co-founders Kevin Systrom and Mike Krieger, and tech executive Thomas Vladeck.
The Massachusetts rate is comfortably below the 1.0 threshold that signifies a stable epidemic. Anything higher suggests the number of cases of the virus is growing. The Rt value is essentially the number of people that one infected person transmits the virus to.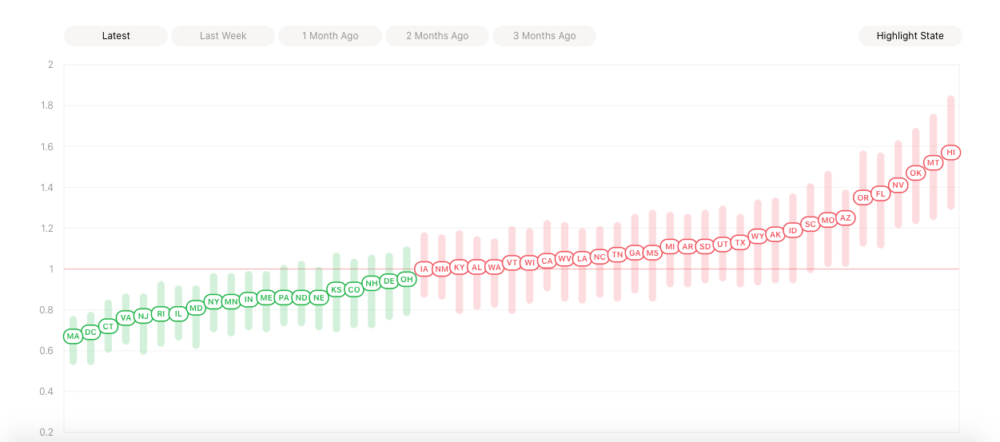 "The way you really get in trouble with this virus is the reproduction rate — you know, how fast does one person become two, become four, becomes eight, becomes 16, becomes 32 and the like," Gov. Charlie Baker said last week.
The District of Columbia has the second-lowest transmission rate, 0.69 according to the site. In New England, Vermont is the only state with an Rt value above 1, estimated to be 1.03 as of Monday. New Hampshire's rate is estimated at 0.93, Maine's at 0.86, Rhode Island's at 0.78 and Connecticut's at 0.72. The highest Rt value in the country belongs to Hawaii, at 1.57. Overall, there are 31 states with an Rt value at or above 1.
The numbers on the site change regularly as new data is taken into account.
"All the methods are in clear agreement that Massachusetts is in one of the better situations at this particular moment in the U.S.," says Nicholas Reich, an infectious disease scientist at UMass Amherst. However, he adds, "There is a fair amount of uncertainty. It's tough to say if [the coronavirus in] Massachusetts is declining the fastest of all the states."
Reich says he uses the Rt.live website as well as one produced by the London School of Hygiene and Tropical Medicine to keep track of state by state transmission rates. He says the Rt.live site numbers roughly match his own team's calculations of each state's Rt.
"At the heart of [this value], you're looking at how fast new cases, new severe cases and new deaths are growing," Reich says. "The transmission rate is a combination of the intrinsic properties of the virus itself. It's also a property of how society is behaving at the moment."
If people are being more careful and engaging in more physical distancing, then the Rt in that state should drop, Reich says.
This article was originally published on June 22, 2020.