Baker Reacts To 'Gut-Wrenching' Holyoke Soldiers' Home Report
Play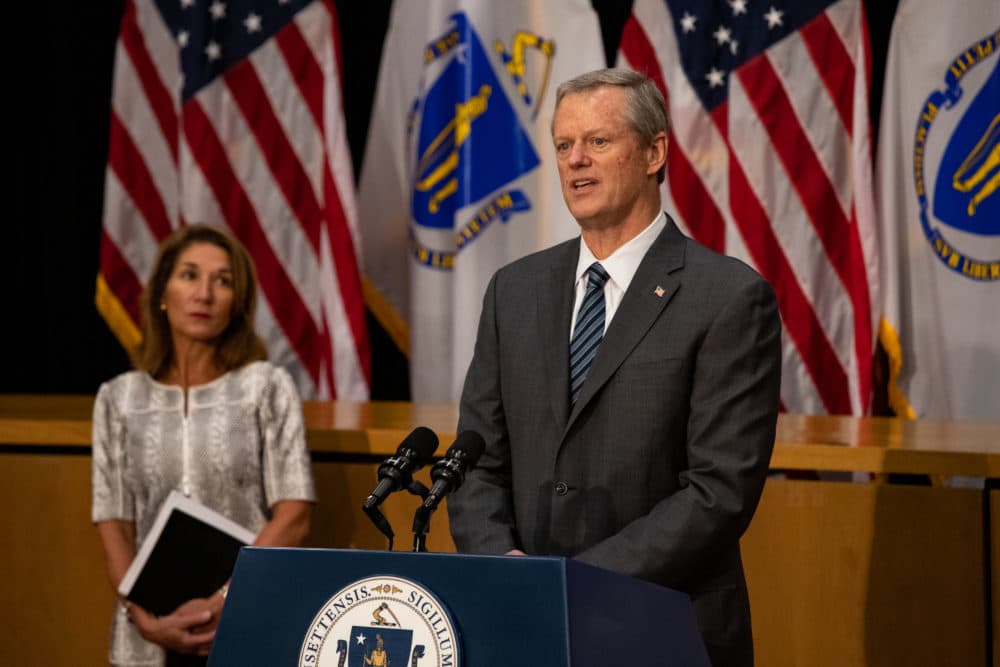 This article is more than 2 years old.
A visibly perturbed Gov. Charlie Baker announced the findings of a nearly three-month-long investigation into major failings at the Holyoke Soldier's Home, findings he called "nothing short of gut-wrenching."
"Today, the loss of life is difficult to even think or speak about," Baker told reporters at a State House briefing focused on the report. The governor had ordered the independent investigation in April, following numerous deaths and reports of mismanagement at the state-run long-term care facility. So far, 76 veterans have died from COVID-19 at the home.
"The events that took place at the Holyoke Soldiers' Home in March are truly horrific and tragic," he added.
The report placed much of the blame on management of the home, especially Superintendent Bennett Walsh and Department of Veteran's Affairs Secretary Francisco Urena.
Baker said he accepted Urena's resignation Tuesday night, and is in the process of firing Walsh. Walsh was suspended after the outbreak at the home became publicly known in late March.
The governor said his administration would adopt all recommendations outlined in the report. These include implementing an electronic health record system, hiring a designated occupational health nurse, and improving oversight of the facility. Gov. Baker and Health and Human Secretary Marylou Sudders said further details on reforms would be released Thursday.
Baker held back emotions as he spoke of the residents who died at the home.
"Veterans who deserve the best from state government got exactly the opposite. And there's no excuse or plausible explanation for that," he said.
Baker was among the 100 people interviewed for the report, which was compiled by attorney Mark Pearlstein at the governor's request. Baker said his administration did not influence the findings of the investigation in any way. Several other probes into pandemic-related problems at the Holyoke Soldiers' Home are ongoing.
When asked what he would have liked to have done differently regarding the Soldiers' Home, Baker said the report made it clear that his administration's  Department of Veteran's Services did not properly oversee the superintendent or the long-term care facility.
"That one's on us," Baker said.
He added, however, that he still has "full confidence" in Secretary Sudders, and says she reacted quickly to address the crisis at the Soldiers' Home.
"The full extent of what was going on there was simply not communicated until you got right up to the very edge of the end of March. And I think at that point — when we became aware of what we were dealing with, we were able to bring in the kind of resources that were necessary to help the place recover," Baker said.
"But by then, many of the other errors in judgment .... had already done really significant damage to the people who were there," he added.