What We Know — And What We Don't — About 'Asymptomatic COVID-19'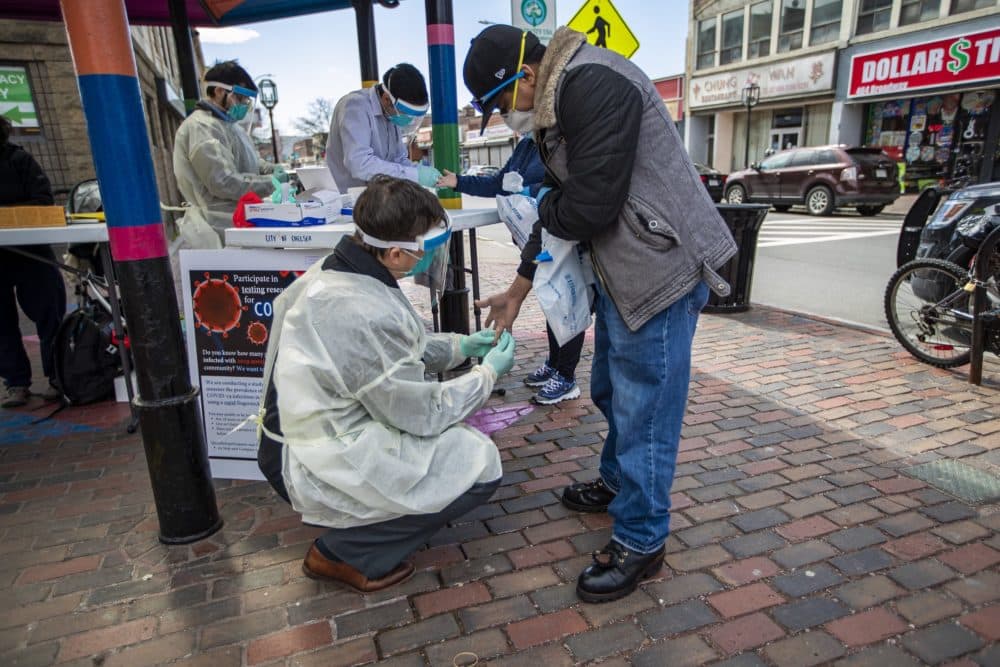 This article is more than 2 years old.
"Asymptomatic" coronavirus cases have been making headlines recently, causing much confusion and controversy. The very topic is inherently frightening: If someone can spread this nasty virus without feeling sick, how can we be sure our socializing is safe?
There's still a lot we don't know about asymptomatic cases, and anyone who pretends otherwise is making stuff up — unfortunately a common occurrence these days, when COVID-19 experts have proliferated like the pollen count in spring.
But with that caveat taken care of, let's go ahead and pose some frequently asked questions and do our best to answer them.
What does "asymptomatic COVID-19" even mean?
Chills, fatigue, headache, loss of smell, cough, shortness of breath — all are symptoms. And all of these are pretty common in people with COVID-19, which is why I listed them.
We shouldn't confuse symptoms with signs (things clinicians detect on a physical exam) or abnormal lab tests or imaging. "Anemia" (low red blood cell count) is not a symptom, and neither is "pneumonia" (infection in the lungs).
So "symptomatic" COVID-19 means a person has reported a problem linked to this illness — in medicine, we sometimes call them "complaints." Throw the prefix "a" — meaning "without" — in front of the word symptomatic, and you get "asymptomatic." A person with no complaints, no problems. They feel healthy.
Some argue we shouldn't call it "asymptomatic COVID-19," since COVID-19 refers to the disease caused by SARS-CoV-2. A more accurate term would be "asymptomatic infection with SARS-CoV-2". But that takes too long to type.
OK, if they're asymptomatic — feeling fine — how do we even find them?
It's a huge challenge, made even tougher when you remember that shortages of tests — very common earlier in the pandemic, less so now — sometimes force clinicians and policymakers to limit testing to those with symptoms.
Only through "active surveillance" can we find people who have infections and are asymptomatic. Examples include testing all people admitted to the hospital for any reason, or testing groups who have had close contacts with an active case (household exposures, on cruise ships, in nursing homes), or doing tests as part of a population-based epidemiologic investigation.
Want an example of broad testing to pick up both asymptomatic and symptomatic cases? Read about what Iceland did. Warning, it might give you a serious case of epidemic envy.
Do all these studies give the same result? 
Definitely not! Results vary depending on the susceptibility of the population to developing symptoms, and how intense the exposure has been.
Consider the following: Only 4% of people testing positive for the coronavirus as part of a nursing home investigation remained truly asymptomatic — probably because older age is the leading risk factor for severe disease. By contrast, 88% of COVID-19 positive pregnant women admitted to a hospital during the New York City outbreak had no symptoms on initial evaluation.
This excellent study from Geneva found approximately 11 times more people tested positive for antibodies than the "official" number of diagnosed cases. It was an even higher proportion in southern California. Unfortunately, the precise fraction of these excess cases that did and did not have symptoms isn't known.
How many asymptomatic people go on to develop symptoms of COVID-19?

This is a critical limitation of much of the literature. Studies without adequate follow-up are just a snapshot in time, and overestimate the proportion who remain asymptomatic.
This interesting recent review — a narrative of several published outbreaks and other studies — reports that 40-45% of people with infection are asymptomatic. However, an important limitation of this paper is that several of the cited studies don't include sufficient follow-up to address whether symptoms ultimately developed — a point nicely made in this "open letter" to the authors.
These are the most important cases: the person who feels well, goes out to a crowded bar (or bars) Friday night, does the same on Saturday with a mild throat tickle, but then spends Sunday in bed coming down with COVID-19.
The reason this distinction is critical is that people who go on to develop symptoms — "presymptomatic" cases (yes, another prefix) — appear to be particularly important for infection control. Studies clearly show that such individuals have very high levels of virus in the day or two before symptoms develop, and that these high levels typically persist through the first few days of symptoms.
For contact tracing purposes, these are the most important cases: the person who feels well, goes out to a crowded bar (or bars) Friday night, does the same on Saturday with a mild throat tickle, but then spends Sunday in bed coming down with COVID-19.
And this is why wearing a mask in public is so critical, even if we feel well. Masks reduce the spread of virus to others.
So how many cases remain truly, 100% asymptomatic?

Such a tricky question. We have to deal with the fact that COVID-19 is a mild disease in many people, especially children and young, healthy adults. They might not think much of that sniffle, or slight sore throat, or fatigue and aches, and may not even mention them unless directly queried — but all could be symptoms of a mild case of COVID-19.
Some have called these cases "paucisymptomatic" — another prefix to learn, good grief! — because "pauci" means "few." (You knew that, right?)
As noted above, we need to separate the presymptomatics from the asymptomatics. This pre-print aggregates studies with sufficient follow-up to exclude people who later develop symptoms. The authors estimate that only 15% of patients remain completely asymptomatic.
Check in periodically on this paper, as it's described as a "rapid living systematic review," and likely to be updated regularly. (Note that it's published in medRxiv. If you're having trouble pronouncing that commonly used pre-print repository, you are not alone.)
Bottom line (for now): the likelihood of truly, 100%, completely bonafide asymptomatic COVID-19 is likely somewhere between 15% and 45%.
Are these asymptomatic people contagious? And if so, for how long?
Yes, they are probably contagious, but it's very hard to prove that they are driving the pandemic in a significant way. It appears that viral burden — a marker for how contagious a person is — usually correlates with severity of symptoms, so those with no symptoms have less virus to spread. And certainly the  "superspreading" events that have been studied have a symptomatic or pre-symptomatic person as the initial source.
How long asymptomatic people are contagious is even less clear. We know from studies of people with symptoms that transmission has not been reported more than eight days after symptom onset. It is implausible that people who are asymptomatic — with their lower viral burden — would be contagious for longer than this, and it's probably shorter.
So what did the World Health Organization say about asymptomatic transmission to create such controversy?
The headlines picked up a comment from WHO epidemiologist Maria Van Kerkhove, who said that transmission from asymptomatic people is "very rare." Cue media firestorm.
This gets right at the difficulty of separating those without symptoms who remain well from those without symptoms who get sick one or two days later.
It's very clear that the latter group is contagious, and she obviously knows this. But the proportion of new cases arising from those completely without symptoms — the group she was referring to, she later clarified — is uncommon based on unpublished WHO data from Singapore.
And that's overall good news! Something we all can use these days.
---
Dr. Paul Sax is the clinical director of the Division of Infectious Diseases at Brigham and Women's Hospital, professor of medicine at Harvard Medical School, and blogs on infectious disease here.