Study: Black Renters In Boston Face Deep Discrimination. Subsidized Renters Face Even More
This article is more than 2 years old.
Study participants posing as Black applicants had a much harder time trying to rent an apartment in the Boston area than those posing as white renters, according to a recent experiment by researchers at Suffolk University Law School.  The results were worse for both races if the applicant said they wanted to use a Section 8 housing voucher.
Researchers worked with 200 mock renters looking to rent apartments in nine Boston-area cities and 11 neighborhoods in Boston. A mix of Black and white people were recruited to participate in the study, as well as market rate and Section 8 voucher holders. The testers were given "race-associated" names responded to 50 apartment listings to see how they would be treated differently during both the initial inquiry and the apartment viewing.
Researchers said Black renters experienced discrimination, mostly at the hands of real estate agents, in 71% of cases — while Section 8 renters faced discrimination regardless of race in 86% of cases.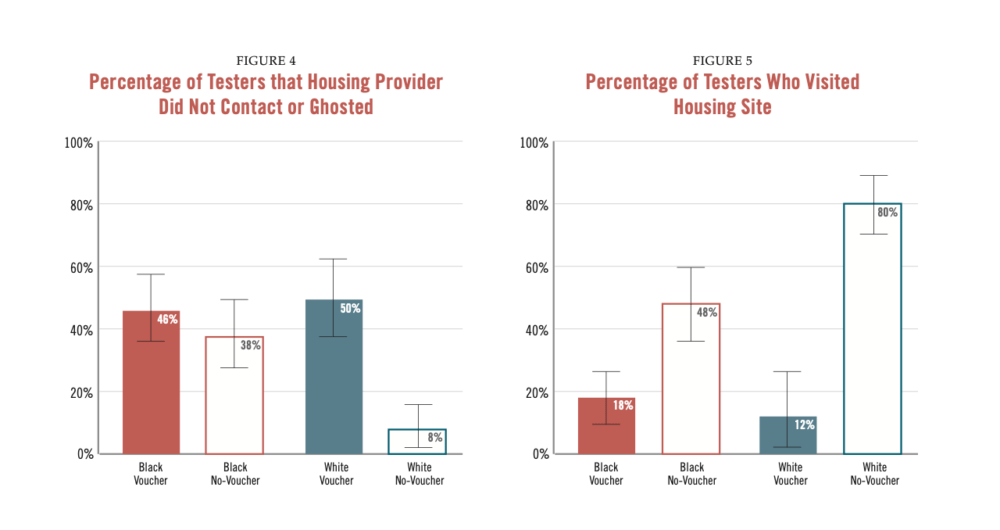 Bill Berman of Suffolk Law School's Housing Discrimination Testing Program said some white people need to acknowledge the role they play in the kind of structural racism found in the data.
"As a white person I can't say: 'Well, those people at a Red Sox game who make racial comments, aren't they're terrible, but that's not me,' " Berman said. "[Racism is on] all of us, it's our community. We have to all play an active role in removing the barriers that our communities of color have faced for all too long."
Art Kalotkin of Newton owns about 120 rental units, mostly in the Boston Area. He's been in real estate for 45 years, and said it's hard to believe discrimination exists on the levels suggested in the Suffolk study.
He said he has good and bad tenants of both races, but Section 8 renters have a bad reputation. And the program is "a bureaucratic nightmare" to deal with as a landlord, with tight regulations on living arrangements and "the inspectors are vicious," he said.
Berman said the stigma is unwarranted: renters with Section 8 vouchers are no different than those without.
"Tenants are tenants. There are some people with vouchers who are the most wonderful people — and like with anything, there are some who aren't," he said.
Berman said his team did not find evidence to suggest "voucher discrimination was a proxy for race discrimination." While 18% of Black voucher-holders were invited to walk through apartments after inquiring, just 12% of white voucher-holders got the same opportunity.