Mr. 'Hamilton' — What About Those Who Weren't In The Room Where It Happened?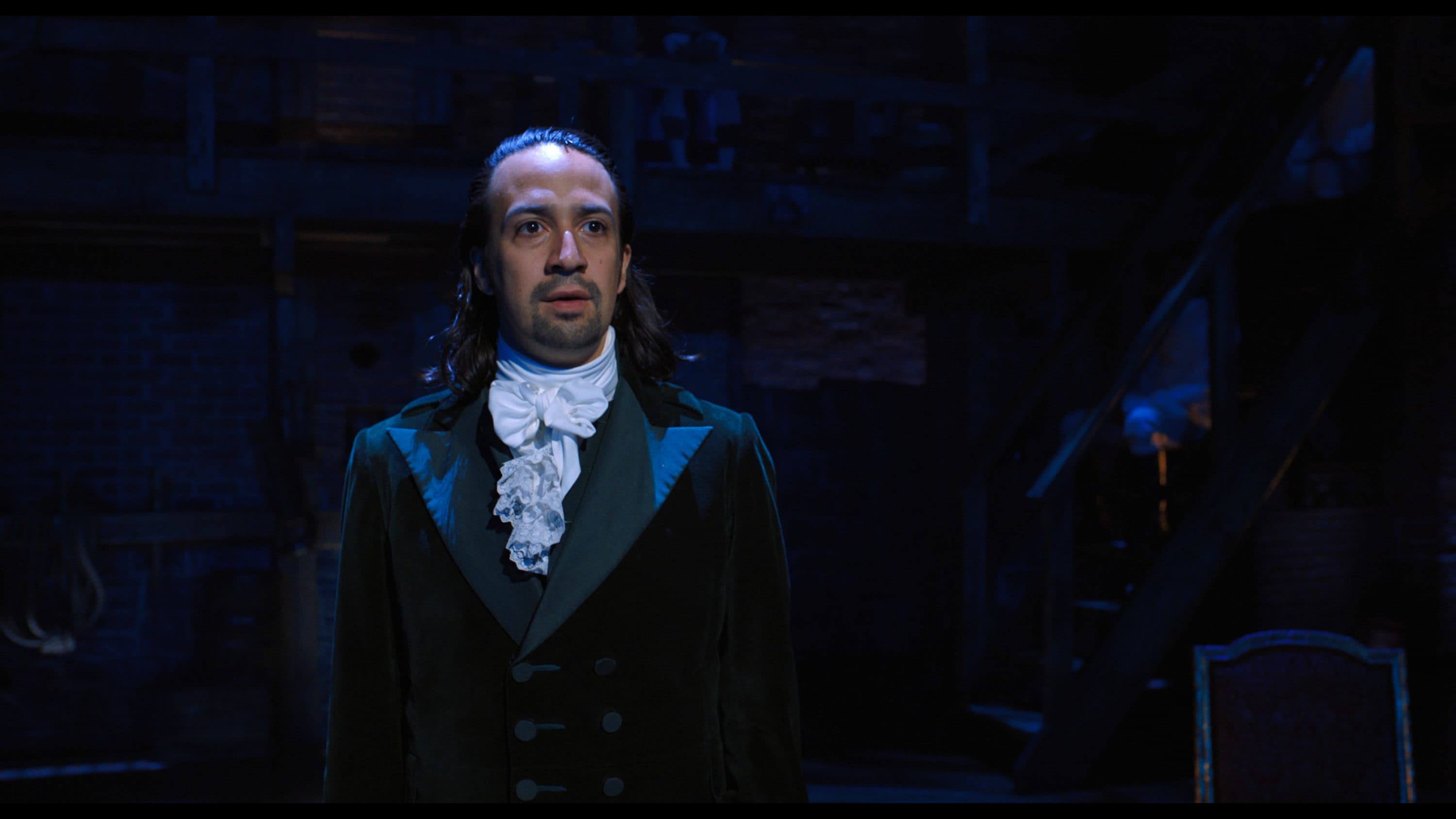 This article is more than 2 years old.
I didn't picture seeing "Hamilton" for the first time while sitting on my couch, eating a bowl of pasta and marinara sauce with the ability to pause it at any moment for a bathroom break. I'll admit, I had never seen the hip-hop inspired musical biography of Alexander Hamilton by Lin-Manuel Miranda before it was added to Disney's streaming platform, Disney+. I got to dance to the music and respond vocally from the comfort of my apartment — although being in a public theater has never stopped me in the past.
This film is a recording of a 2016 performance with most of the original cast. It was supposed to hit movie theaters in October of 2021, but with the COVID-19 pandemic ravaging the country Disney and the musical's producers decided to change their plans and stream the movie on Disney+.
As a theater lover and maker, watching a filmed version of a show will never be the same as seeing it in person. I'm all about the fleeting nature of theater and the mutual sharing of energy between audiences and performers. Watching on television is a completely different experience with its own beauty. I loved seeing the close-ups of the sweat dripping down Leslie Odom Jr.'s face, the sparkle in Lin-Manuel Miranda's eyes, the saliva flying out of Jonathan Groff's mouth. Theater actors have a special way of filling their characters and the stage with so much life that it reaches the last row of seats. So that same energy flies off the screen making for a dynamic viewing experience that you won't get from traditional movies or television.
But, this is the first time "Hamilton" has felt accessible to me. It premiered while I was still in high school and then continued to reign supreme as the Broadway must-see all through college. As a student, there was no way I was about to drop a few hundred dollars on a ticket.
Let's be real, "Hamilton" audiences have the deepest pockets of all theatergoers. The average "Hamilton" ticket buyer pays anywhere between $200 and $900. In 2017, the highest premium ticket price hit four digits at $1,150 for the first time in Broadway history. The show was marketed as accessible to and welcoming of diverse audiences because of its contemporary language and popular music style. But there really is nothing financially accessible about the musical, or Broadway for that matter, which means that the broadcast on Disney+ is the first time that "Hamilton" will reach its most racially and socioeconomically diverse audiences.
For some, paying hundreds of dollars for a Broadway ticket is comfortable. For many, watching from the living room using a Disney+ account ($7 per month) is comfortable. Even the show itself was comfortable. "Hamilton" is a polished and palatable version of American history because it leaves a lot out.

The film feels like a time capsule. So much has happened in our country since 2016 and the world is moving faster than any of us can comprehend. We are in the midst of our own revolution to finally put an end to over 400 years of racial inequality, systemic racism, police brutality, white supremacy, and countless accounts of murder and injustice against BIPOC (Black, Indigenous, People of Color) in the United States. We are reexamining and working to dismantle the systems that do not serve and protect Black lives. The theater industry is not exempt from interrogation. It is complicit in white supremacy in many ways (see the open letter, "Dear White American Theater," signed by 300 BIPOC theatermakers, including Miranda).
Encountering "Hamilton," a story that glorifies the heroism and humanity of the founding fathers and the system that they built — a system that blatantly left out and failed those who are retelling this history — on Fourth of July weekend as a civil rights movement spans the globe is complicated. While I am a champion of diverse representation on stages everywhere, watching BIPOC actors portray the people who declared that "all men are created equal" while simultaneously enslaving Black people was more complex than I expected. Originally, the show was branded as a bold reclamation of a history reserved for white men to tell. But watching Black and brown men in the colonial garb of United States' first politicians has me questioning who the true founders of this country are. Whose backs were this country truly built on?
"Hamilton" leaves out a glaring element of the foundation of the United States' independence — slavery. This is frustrating and disappointing because now is not the time to retell history in a siloed manner, especially not for entertainment's sake no matter who is telling it. Miranda himself once said, "History is entirely created by the person who tells the story." We are in control of the narratives that we choose to retell or continue to erase. The ugly truths that are continuously left out have led us to desperately clean up the mess and fight to actually achieve the "Life, Liberty, and Pursuit of Happiness" for all — what Miranda's star characters were talking about. We can't continue to learn history with blinders on because it's easier and more comfortable that way. Now is definitely not the moment to give the founders of this country the benefit of the doubt.

Miranda claims that slavery isn't central to the story because Hamilton and his counterparts didn't do much to stop it. He also acknowledges how the context of the piece has changed. Last month he told NPR, " [Slavery] is a system in which every character in our show is complicit in some way or another." He continued, "So that hits differently now because we're having a conversation, we're having a real reckoning of how do you uproot an original sin?" He also said, "When you write a musical that brushes against sort of the origins of this country, it's always going to be relevant." But what if you are doing more brushing past than brushing against? Is it still relevant when we need to unlearn and relearn our origin stories in all their truth in order to uproot those sins?
Historians tell us that Alexander Hamilton, America's first treasury secretary, was an abolitionist. But not all abolitionists opposed slavery because their moral compasses were somehow pointed in the right direction. His interests always lay in personal gain and freedom from Britain rather than fighting against the inhumanity of slavery. Hamilton was highly concerned with social status, which is made clear in Miranda's retelling, but the show doesn't quite let us know that the social ladder he was climbing involved buddying up to those who enslaved Black people.
The Schuyler sisters are the prominent female presence in the show. The love triangle between Hamilton and Eliza and Angelica Schuyler is the subplot that musical theater dreams are made of — hopeful yet heartbreaking. Eliza's journey is all about reclaiming her voice in the historical narrative, a perspective that is missing from history books. And obviously you root for her because you want her side of the story, but there's a sense that now that we hear it, the story is complete. But the wealthy Schuyler family enslaved people, and after marrying into the family, Hamilton assisted them with their finances in the slave trade.

The lines, "We'll never be free until we end slavery" and "We'll never be free until those in bondage are free like you and me" are dropped by South Carolina statesman John Laurens, played by Anthony Ramos. Laurens really did see the immorality in slavery and wrote, "We have sunk the Africans and their descendants below the Standard of Humanity." The musical gives an emotional shout-out to Laurens for his idea to enlist enslaved people in the Continental Army. The plan was unsuccessful in reality (it was rejected by Congress twice) and Hamilton's support of it was far from noble.
The army was in dire need of soldiers so Hamilton appealed to the Continental Congress' President John Jay in a letter stating that although he understood that there might be an "unwillingness to part with property of so valuable a kind," he continued, "It should be considered, that if we do not make use of them in this way, the enemy probably will; and that the best way to counteract the temptations they will hold out will be to offer them ourselves. An essential part of the plan is to give them their freedom with their muskets."
What worries me is that audiences, including well-heeled white people who have been the majority of those filling seats over the last five years, will watch this, pat themselves on the back for consuming art by non-white artists, and leave it at that. They'll leave with a greater love for this idealistic "young, scrappy, and hungry'' version of America without any recognition of its brutality, and the show gives us the OK! My biggest fear is that they'll walk away believing they got the whole truth. And because the show has reached its widest audience during a dire societal reckoning of our country's moral failures, these fears feel especially potent. Let this be just one piece of art you consume among many that center not just BIPOC artists but center their stories, experiences, and history too.

"Hamilton" made its own history. The way Miranda weaves rap and hip-hop into the conventions of musical theater is exciting, innovative and challenges traditional ideas of what musical theater is supposed to be. The hype is real — the music makes you move and the lyrics are quick-witted and poetic. In 2016, the show broke the record for most Tony nominations in one night, and the team walked away with 11 wins. The show also has a Grammy and a Pulitzer Prize. Maybe an Emmy is next for stage and film director Thomas Kail for the film's beautiful range of intimate moments, compelling shifts in perspective and energetic wide shots.
Another prominent moment in Broadway history: 22 members of the original cast wrote a letter to head producer, Jeffrey Seller, making a case for a profit-sharing deal. The cast won the legal battle and now hold 1% of the net profits of the stage production. This signified a disruption in Broadway's financial for-profit structures and sparked conversations about actor compensation. White producers all too often profit off of the genius and labor of BIPOC theatremakers. Now the actors who are largely responsible for the success of "Hamilton" will continue to reap the financial benefits even if they are no longer performing. The profit from the film's sale to Disney, around $75 million, will also be shared with these actors.
In the iconic words of writer, producer and actor Issa Rae at the 2017 Emmy Awards, "I'm rooting for everybody Black." So I'm thrilled for the success that this show has brought to BIPOC theater artists and the many it has inspired and empowered. I acknowledge that they've paved the way for artists like me. If seeing "Hamilton" means money goes into the pockets of incredibly talented artists and grants them the recognition they deserve then I say stream away and keep buying those tickets. But if you're going to lose yourself in the music, be enchanted by the ground-breaking artistry or touched by the valiant story, you have to acknowledge the parts of history that are left out.
"Hamilton" is streaming on Disney Plus. Broadway in Boston is bringing a touring company back to the Boston Opera House July 6-Aug. 22 2021.