Poll: Many Low-Income, Latino Residents Are Rethinking College Amid The Pandemic
A sizable minority of Massachusetts' most underserved high school students and their families are reconsidering their higher education plans in light of the coronavirus pandemic.
That finding — a cause for concern about the effect of the health crisis on low-income families — comes from a poll published Monday (toplines, crosstabs) by the MassINC Polling Group, and it appears to be supported by federal financial aid data.
The poll, conducted in mid-June, shows that college is still a common goal for the state's high schoolers and their families. Eighty-six percent of the 367 parents surveyed expect their child in grade 10, 11 or 12 is at least "somewhat likely" to attend college — online or in person — during the next few years.
But the poll suggests pronounced economic and demographic gaps are at work beneath the surface.
Of the parents surveyed, 11% told pollsters that they had too few devices for children to participate fully in online learning. And among families earning less than $50,000 a year, that number jumps to 24%.
Staff at MassINC say they were alarmed by the scale and predictive power of that "digital divide."
This spring, MassINC research director Ben Forman said, "so many students in our urban areas [weren't] able to participate in high school in the way that they should've, because they didn't have the devices, or the internet service was a real problem."
"When I went to college in 1995, it seemed like everybody in my class had a laptop. I can only imagine that college today requires access to the internet," Forman added.
Forty-three percent of respondents with limited internet access and 40% of those with too few devices said they are likely to at least delay their child's college enrollment, according to a presentation Wednesday morning by the MassINC team.
The survey also reveals that the "coronavirus effect" on college plans tends to deepen based on other economic and demographic characteristics. For instance, 22% of Black respondents and 26% of Latino respondents reported some changes to college plans due to the pandemic, compared to 17% of white respondents.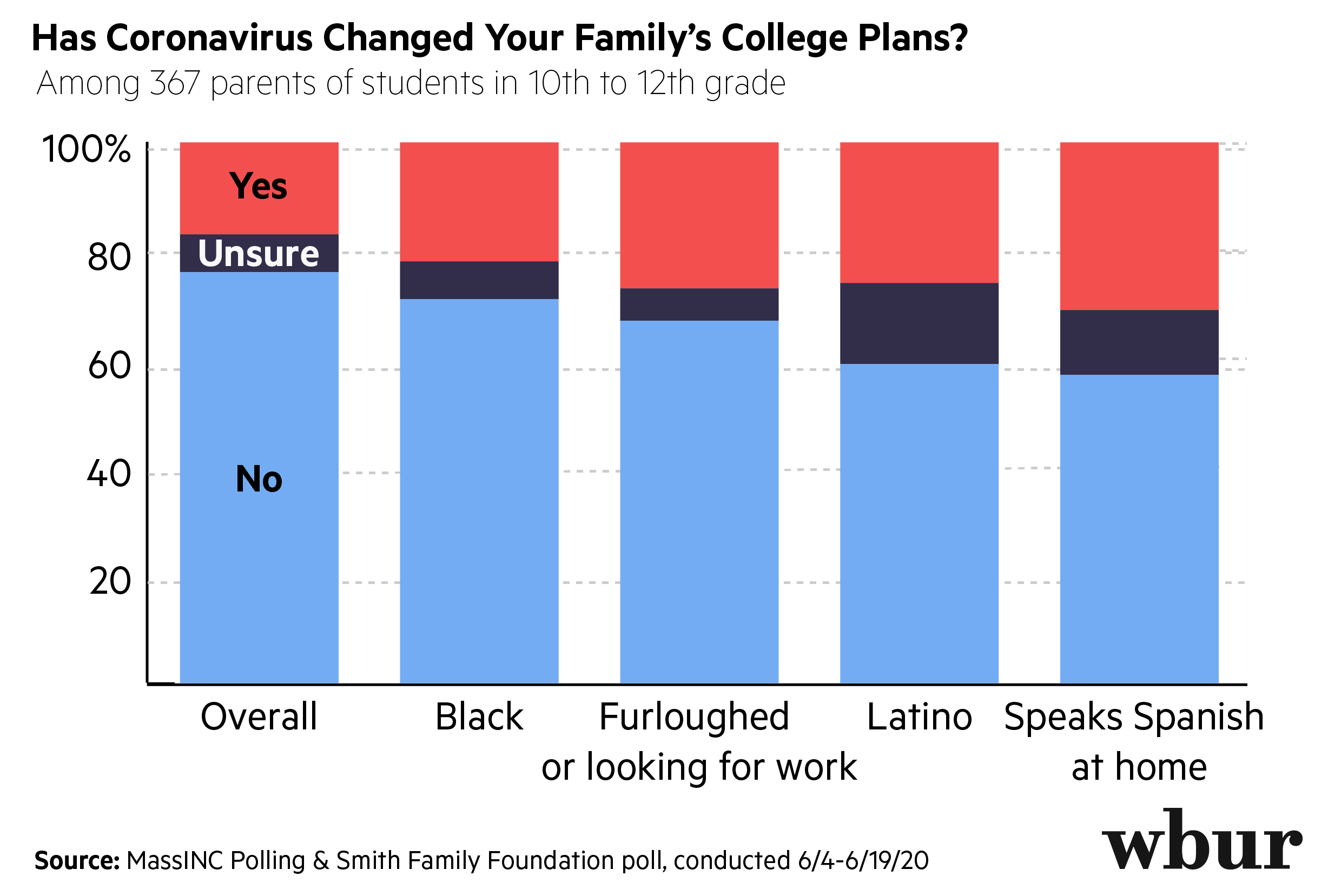 Forman also pointed to data showing wide and worsening gaps in the rates of college completion between the state's white and Asian students and their Black and Latino peers.
Of those latter students, Forman said they are already bearing the weight of cuts made in the last recession in 2008: "If they were in urban districts, they largely received underfunded education. And now their transition to college is going to be made that much harder."
There is some evidence in support of MassINC's findings in federal data on the completion of applications for financial aid, or FAFSA forms, this year.
The data, compiled by The Associated Press, shows a modest year-over-year dropoff in the state's overall rate of "FAFSA completions." As of July 3, when the last data was published, Massachusetts students had completed 2,153 fewer applications than they had by the same time last year — a decline of 4.8%.
But again, the decline was a great deal steeper in lower-income and diverse precincts. Schools getting schoolwide "Title I" aid from the federal government due to their enrollment of many low-income students have generated 8.6% fewer FAFSA forms this year than they did last year, while the decline at non-Title I schools is only 3.7%.
Forman hopes the MassINC poll findings help inspire an urgent rethink of the state's priorities when it comes to both college readiness and college completion.
He pointed to early evidence that the state's early-college program, which allows often low-income students to take college-level coursework in high school, helps its graduates save money and persist toward their degree.
He also said other states do "a much better job" of designing and supporting public higher education — even as Massachusetts grows a knowledge economy that will require college degrees of prospective workers.
"If students of color are completing college at half the rate [of their peers], we're going to have, baked in, very large disparities," Forman said. "We've got to get serious about how we fix that."