Eager Art Fans Turned Out For The ICA's Reopening, But Not In Droves
Resume
The Institute of Contemporary Art, Boston reopened to the public Thursday — four months after the coronavirus forced its closure. I ventured down to the seaport for the first time in what feels like forever to see who turned out.
With massive construction crews banging away next door and blue skies overhead, Bostonians Patrick McAvoy and Theresa Bergstrom were first to arrive outside the ICA's big glass doors 10 minutes before their 10 a.m. reserved time slot.
They're members of the museum and support other arts institutions around town. McAvoy said he was looking forward to some much-needed mental stimulation. For Bergstrom, just the act of getting herself to the ICA was a relief.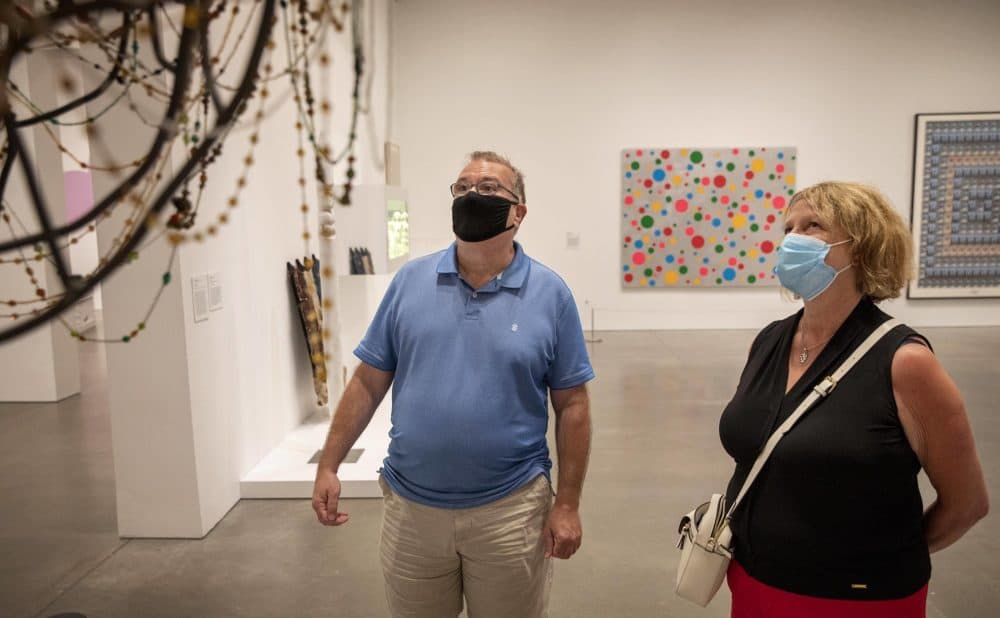 "How I feel today is back to normal," she said. "I walked from the apartment to meet Patrick here at the museum. No cars involved, no plans per se, but just city living."
Wearing a black ICA face mask, museum director Jill Medvedow was over the moon to stand outside as visitors began to trickle in. "You know, we expect numbers to start slow and build gradually," she told me, "and that seems exactly right as we test out all of our safety features."
Then Medvedow excused herself mid-thought because she wanted to greet three young women as they entered.
"Welcome back. Come on in. We're open. We're free. We're happy to see you," she told them, beaming.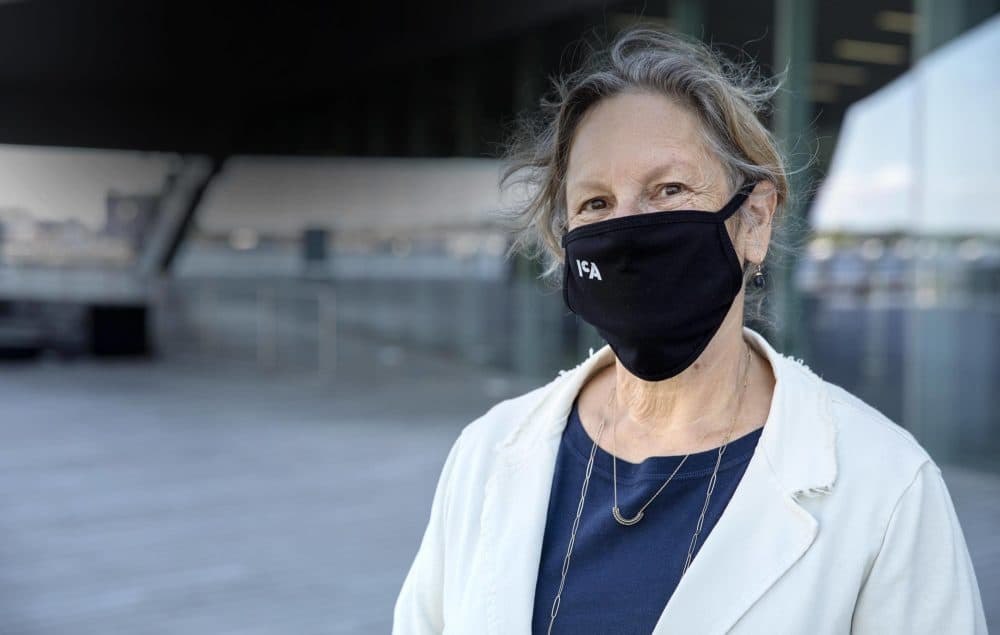 Admission is free through Sunday, July 19. It's being offered as both thanks and enticement for people to come experience the ICA in COVID-19 mode. New protocols include timed online ticketing and contactless entry. If guests are feeling ill prior to their visit the museums asks that they reschedule their ticket for another day.
Atem Ntangtang and his German Shepherd walked over to say hi to Medvedow. He's visiting from Los Angeles and went to Boston College. "As soon as I passed by and saw the doors open at the ICA, like, my eyes just lit up," he said, "and today is my last day in Boston."
Ntangtang said he'd come back later in the day without his furry companion because he's really missed going to museums.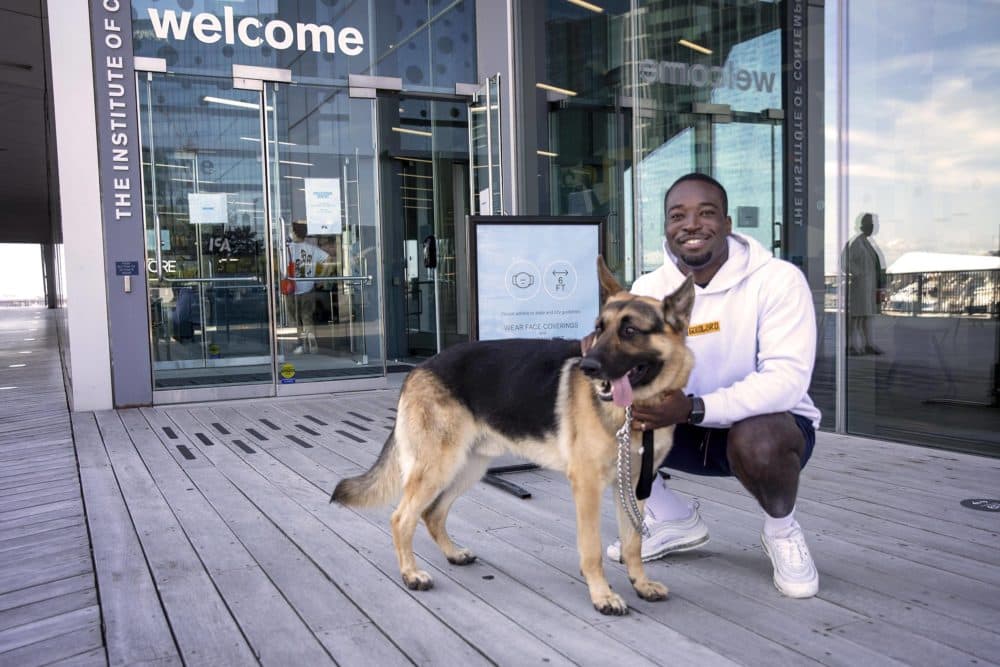 "Everyone is starting to do virtual shows now — and it's cool, there's nothing wrong with those shows," he said. "But at the same time there's nothing like the refreshing, quiet, therapeutic moment as you walk into a museum. There's no one that I've ever met that's very angry walking into a museum."
Staff members in face coverings stood ready at the museum's entrance to answer questions and instruct visitors on the new check-in procedures. ICA deputy director of public engagement and planning Kelly Gifford showed me how people will now swipe digital tickets at the welcome counter through plexiglass barriers to keep both staff and visitors safe.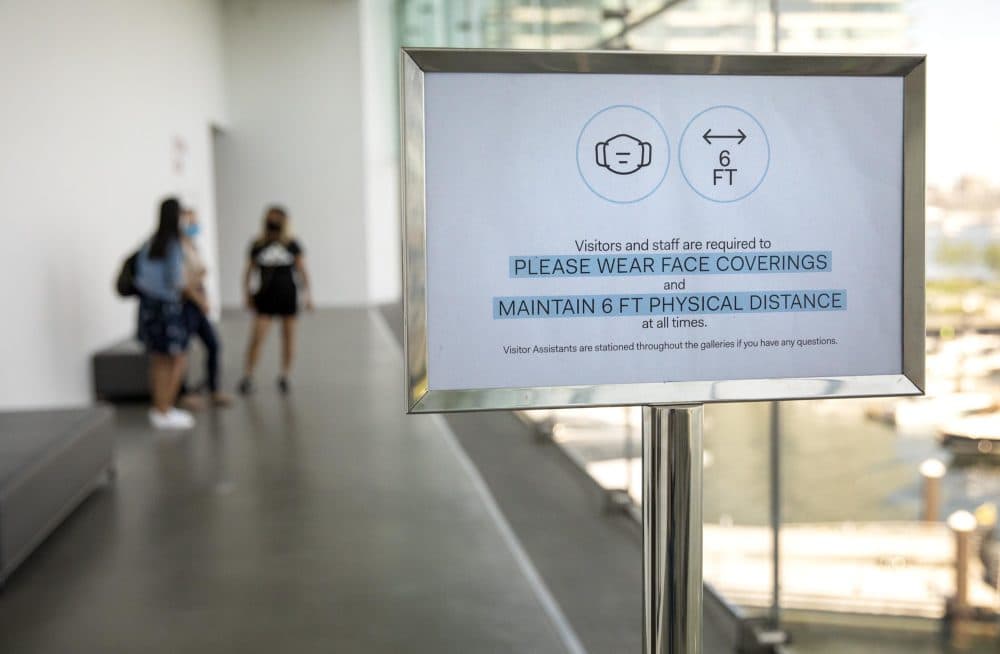 "We're really lucky at the ICA because we're a contemporary building." And, Gifford added, "the building's architecture is very spacious."
Even with so much space, Gifford said the museum is limiting entry to 100 people per hour even though the American Museum Directors Association had recommended 140. The lobby smelled mildly of disinfectant and there were hand sanitizer dispensers everywhere. We hit one as we entered the ICA's huge glass elevator that is now limited to four passengers.
We rode up to the fourth floor galleries with 22-year-old Boston native and NYU art student Jacarra Garraway.
"I came out today because I've been a part of the ICA for a very long time. It's where I first learned about art and film training," she explained. "So I was excited to be able to visit again after so long during corona."
Being back did feel different to Garraway. "You don't really just enjoy it to enjoy it," she said, "you enjoy it with caution." In the past Garraway would research which exhibitions were on display before arriving. Not this time, though, because she wanted to be surprised.
There were less people in the museum than Garraway expected, but Gifford said she was happy to have even the few that showed up Thursday morning.
"I was here last week when we were still closed setting up for this day," she recalled, "and it was really strange to be in a museum without visitors." Gifford said people bring energy, life and feeling to the ICA.
While the galleries remain largely unchanged, aside from additional staff, there are new QR codes on the wall labels. Now art lovers can scan those with their phones then step back to read the descriptions. This way they don't have to cluster and stand too close together — like we used to.
Gifford hopes visitors enjoy re-engaging with Sterling Ruby's sculptures while possibly tapping into the meditative experience that being inside a museum gallery can deliver. "It offers a little bit of relaxation — and the ability to reflect — during this insane time," Gifford added.
"I have missed it," Doreen Danielson, of Quincy, shared standing next to a textile collage by artist Tschabalala Self. "It was definitely on the top of my list to get back to seeing art in museums as soon as it was an opportunity."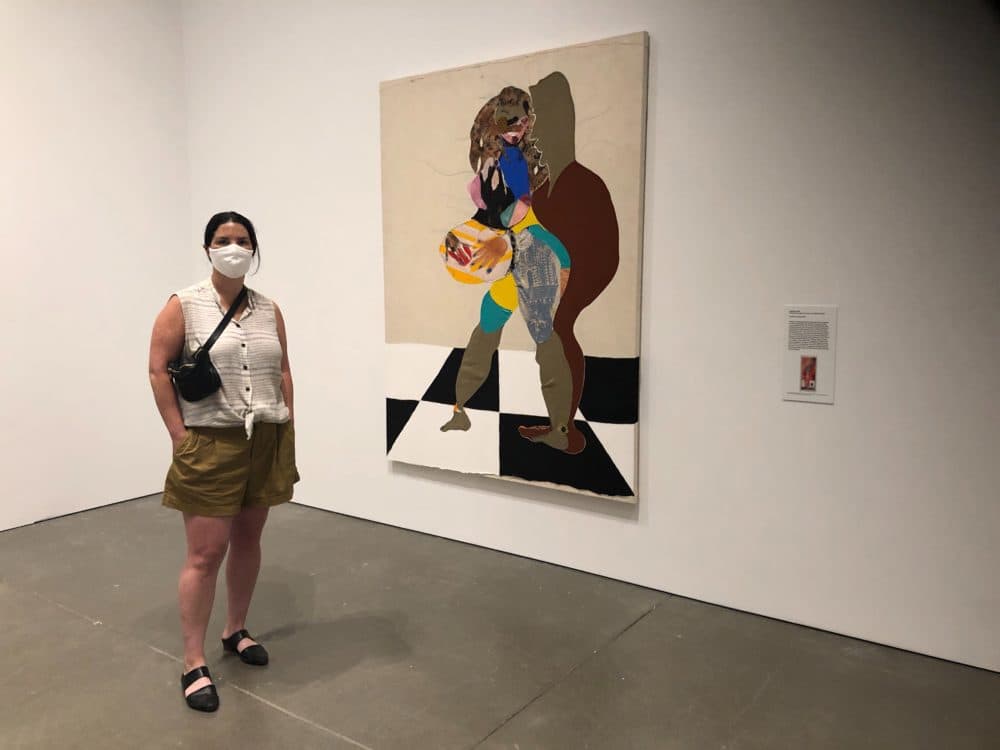 In normal times, Danielson does that regularly. She was excited to return on re-opening day and welcomed the fact that it wasn't crowded so she could consider the artworks without distraction. As for how the ICA is doing with making visitors feel safe Danielson replied, "I think the ICA is doing a great job. I got the mobile app for the tickets and it's been contactless from there." Then she made a comparison, "I mean, we're going to the grocery store every week, that's a much more congested experience."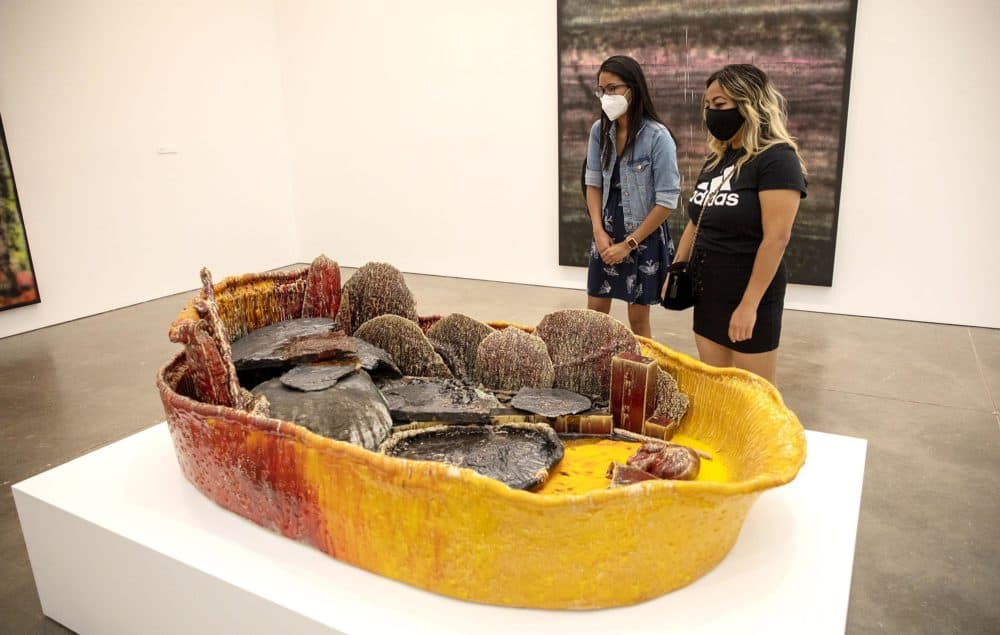 On the other side of the gallery wall, Midaly Carrsaquillo and her two friends Chanthy Ngin and Sabrina Apel were happy they made the trip even if they couldn't meander through artist Yayoi Kusama's immersive installation "Love Is Calling."
"Unfortunately that's still going through safety inspections," Carrsaquillo lamented. She's a 24-year-old art major from Worcester, so being inside a museum again zapped her back to her element.
"I feel, oddly enough, like I've enjoyed this more than other times," Carrsaquillo told me. "Maybe it's because you don't know what you're missing until you no longer have it."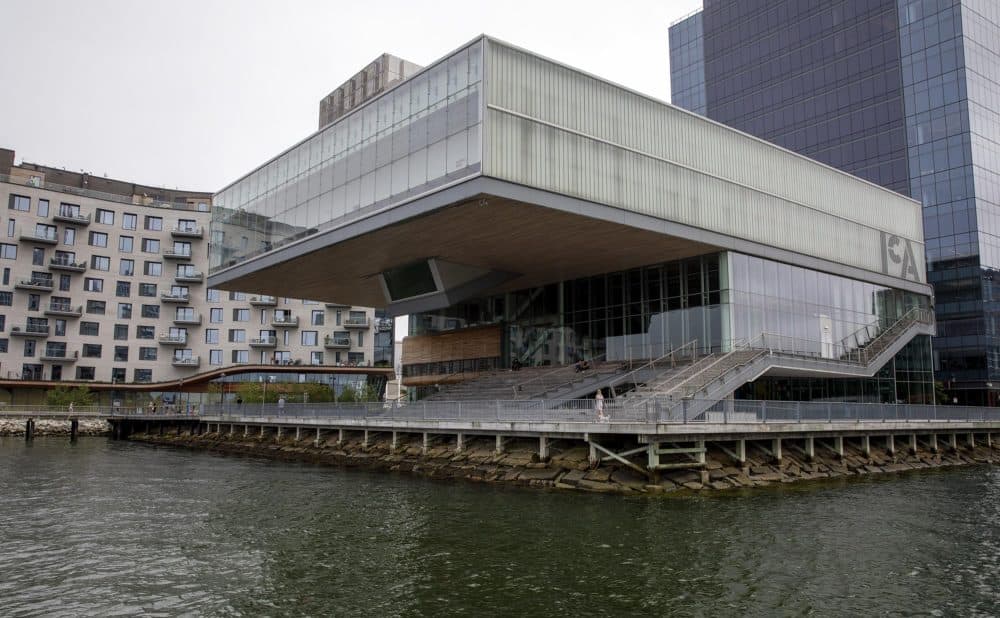 As I exited the ICA a group of photography students were excitedly taking pictures of Boston Harbor from the museum's back deck. I had seen them wandering through the galleries. The boats floating by made things feel a little more normal. Over the course of its much-anticipated reopening day, 218 visitors passed through the ICA's doors. On a June Thursday last year that number was 1,344.
This segment aired on July 17, 2020.