Cambridge Whole Foods Employees Sue Over Black Lives Matter Masks
Employees of a Whole Foods store in Cambridge are among the plaintiffs joining a class action lawsuit alleging that the company violated the Civil Rights Act of 1964 by barring employees from wearing Black Lives Matter masks during their shifts.
The complaint, which was filed Monday in U.S. District Court in Boston, alleges that the company violated Title VII of the Act "by discriminating against Black employees and other employees for showing support for Black employees and protesting racism in the workplace by wearing Black Lives Matter masks."
The suit further claims that Whole Foods unlawfully retaliated against its employees for their actions in opposing the dress code.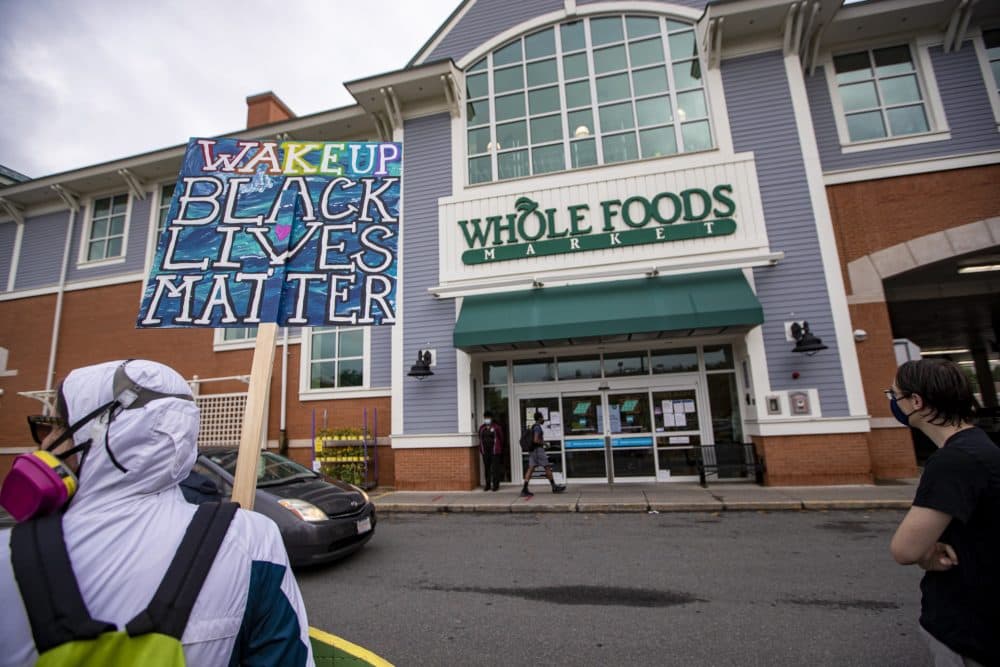 Employees at the River Street store and other locations began wearing the masks in solidarity with protesters who demonstrated following the police killing of George Floyd. The employees were repeatedly sent home from their shifts. The company has said the masks violate a company dress code that bars clothing with messages and slogans that are not company related.
For the past couple of weeks, more than a dozen employees at the Cambridge store have been staging walkouts to protest the policy, and have drawn support from some elected officials, including Sens. Elizabeth Warren and Ed Markey and Congresswoman Ayanna Pressley, who are Democrats, and the Cambridge City Council.
In the complaint, attorneys for the employees allege that Whole Foods' dress code policy was selectively enforced and that employees have previously worn apparel with sports team logos, political messages and LGBTQ+ pride flags without facing discipline. By contrast, the complaint states, employees who wore Black Lives Matters masks were sent home and given disciplinary "points," which put them at risk for termination.
"Is that more important than our policy that we support our Black coworkers and our community? Is that policy more important than our policy that we run on community values?" asked Savannah Kinzer, who said she was fired from her job on July 18, after multiple weeks of being sent home by store managers for continuing to wear a Black Lives Matter mask during her shift and for being late to work a few times.
A Whole Foods spokesperson said she cannot comment on pending litigation but denied that the mask was the reason for Kinzer's firing.
"Savannah Kinzer was separated from the company for repeatedly violating our Time & Attendance policy by not working her assigned shifts, reporting late for work multiple times in the past nine days and choosing to leave during her scheduled shifts," the spokesperson said in an emailed statement. "As an employer we must uphold our policies in an equitable and consistent manner. Savannah had full understanding of our policies and was given a number of opportunities to comply."
Kinzer is among the employees who have been organizing workers at the store to protest the policy. Other plaintiffs include workers from Whole Foods locations on Alewife Parkway in Cambridge; Bedford, New Hampshire; Berkeley, California and Seattle. According to a press release from the plaintiffs, others are expected to join the action.
"This is a moment in history when companies need to walk their talk on racial equality," said another plaintiff, Suverino Frith. "Many of the essential workers at Whole Foods are people of color, and we want to know if the company supports us."
The lawsuit follows similar confrontations between employees and management over Black Lives Matter apparel at other large companies such as Costco, Chick-fil-A, and Starbucks.
"Whole Foods' decision to selectively and arbitrarily enforce it's 'dress code' to specifically suppress the message that Black Lives Matter paints a picture about what the company values, and that picture is not pretty," Shannon Liss-Riordan, an attorney for the plaintiffs, said in a statement.
---
Editor's note: This post has been updated to reflect a statement from Whole Foods.
This article was originally published on July 20, 2020.