Mass. Hospitality And Travel Estimated To Lose $15.7 Billion This Year
This article is more than 2 years old.
As economic shockwaves from the pandemic continue to reverberate across the country, a new report by the nonprofit Pioneer Institute paints a dire picture of Massachusetts' ailing restaurant, tourism, and retail sectors.
Leisure, hospitality, and retail sectors make up an estimated 20% of Massachusetts jobs. Without help, the report says, these hardest-hit sectors could lose an estimated $15.7 billion dollars in sales this year.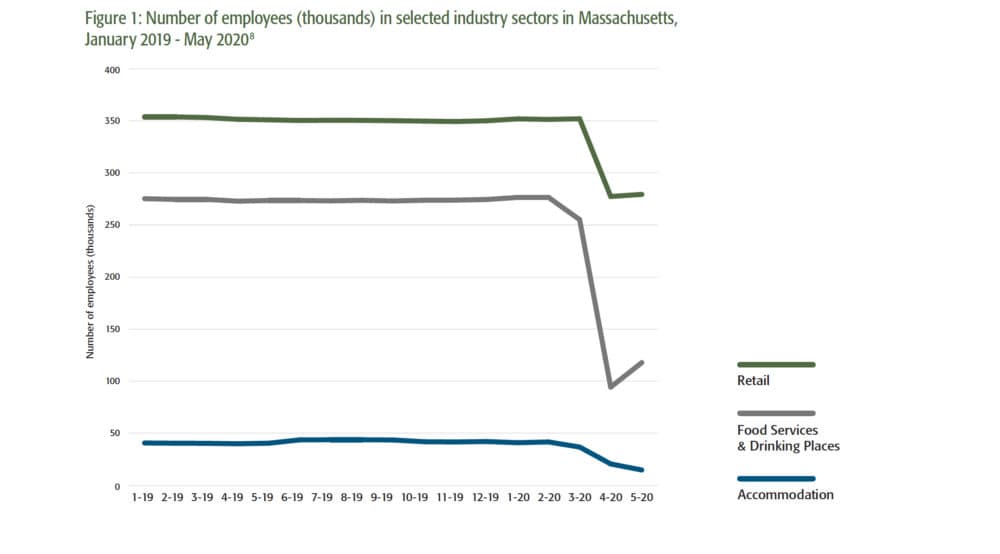 The report also urges state and federal lawmakers to focus on policies that could help those industries regain stability. While governments have so far taken a "shotgun" approach to helping businesses during the pandemic, "this report basically calls out and says, 'Hey, wait a minute. You've gotta be more targeted,'" said Greg Sullivan, director of research at the Pioneer Institute. "Like a laser," he added. 
Otherwise, Sullivan continued, Massachusetts' pandemic-inflicted economic downturn "is going to have long legs."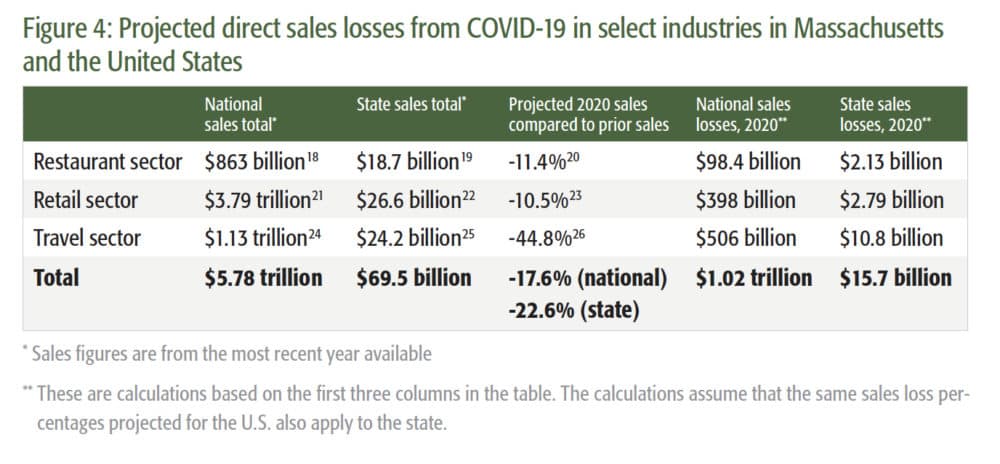 To try to avoid that, the report's authors drew upon a broad range of sources — government data, consumer surveys, news articles, consultant reports, and industry publications — to come up with a list of best practices and public policy proposals that they hope will help the state's hardest-hit sectors bounce back, even amid economic uncertainty.
Accommodations and Tourism Industry
Even as some states and cities manage to slowdown the coronavirus outbreak, restrictions on travel — as well as consumer concern about safety — will continue to be a drag on the industry. The accommodations and tourism sector is a broad umbrella category, and includes not only workers at hotels and tourist attractions, but also those who work in arts and entertainment.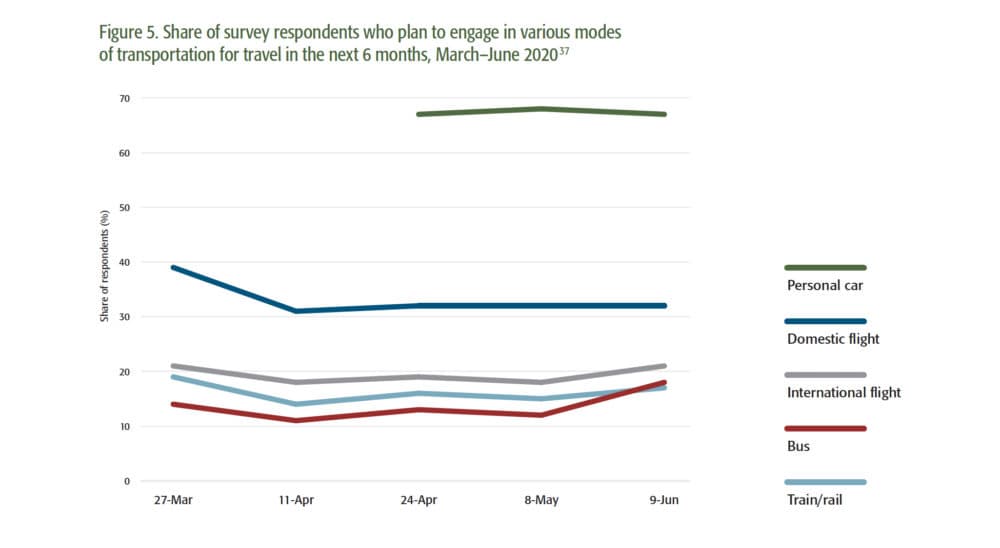 Develop publicly available cleanliness and hygiene operating strategies
Implement contactless procedures wherever possible (including for health check reporting, check-ins, room keys, concierge services, etc)
Post clear summaries of all implemented safety procedures at multiple customer-facing points, including in hotel rooms, on travel service and experience booking websites, at payment portals, when booking confirmations online and through email, and during follow-up confirmation correspondence prior to guest arrival "
Prioritize marketing campaigns highlighting key COVID-19 safety measures
Develop capabilities to monitor guest health metrics prior to guest arrival
Strive to maintain competitive rates, but offer flexible deposits and cancellations for bookings, which could include refund or voucher guarantees
On third-party review websites like TripAdvisor, create a platform where customers can leave reviews and ratings based on business adherence to COVID-19 reopening guidelines
Public Policy Recommendations
Investigate the costs and benefits associated with suspending the federal employer-side payroll tax for a distinct period of time, specifically as it would help the hospitality sector
Consider suspending or reducing state room and/or car rental taxes
Restaurant Industry
Nationwide restaurant industry sales were down over 50 percent before rebounding slightly in May. But in 2020, Massachusetts restaurants may still be facing an estimated loss of over $2.1 billion, according to the report.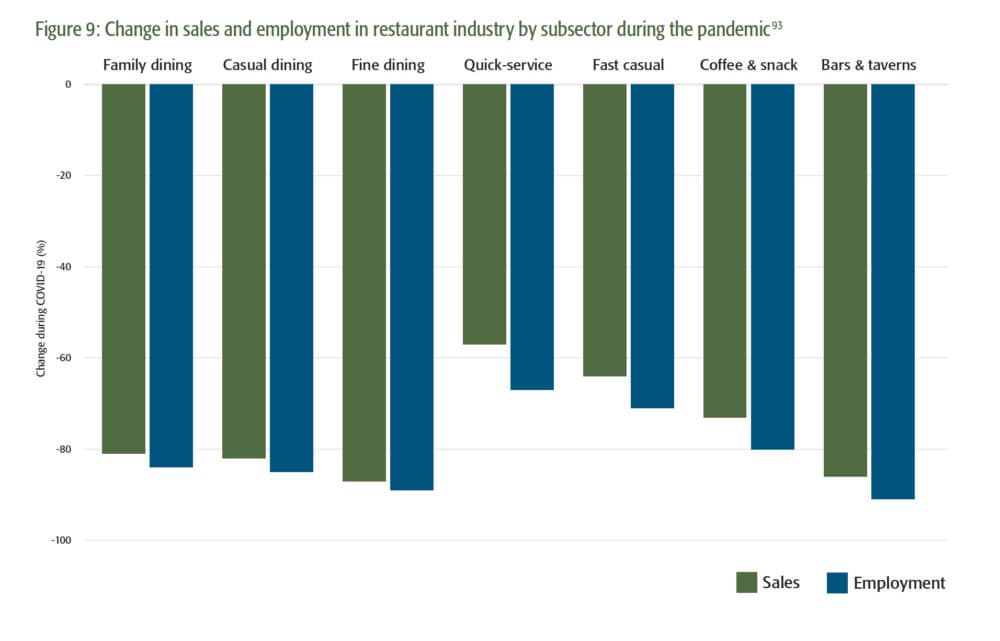 Partner with other restaurants on gift card programs and promotional offers
Partner with local farmers and distributors to host community events on restaurant property
Partner with charitable organizations to provide nutritious, culturally appropriate meals to needy families
Initiate targeted advertising campaigns to reach customers at their homes, including via interactive activities like cook-alongs
Offer additional products and services, such as cooking classes, pre-made dishes, and t-shirts
Expand seating into parking lots and onto sidewalks as permitted
Make wait times, seating capacity, safety measures, and other pandemic-related changes as transparent as possible, and use the opportunity to increase presence on social media
Invest in touchless payment options, personal protective equipment for staff, and other reforms that respond to COVID-19 concerns among customers
Recommended Public Policies
Reform the process for obtaining liquor licenses by shifting control over the number of licenses available to the local level and away from the state Legislature
Allow alcoholic beverage takeout and delivery on a permanent basis and with fewer restrictions
At the state level, allow restaurants to sell fresh produce, meats, and other whole foods by-right during the pandemic to compete more directly with grocery stores. Expedite occupancy permits for related endeavors through prioritization and virtual inspections
Prioritize local permitting for food trucks owned by restaurants
Impose a cap on commissions and sign-on fees for restaurants to use delivery services to get food to customers
Allow outdoor seating in parking lots and on sidewalks by-right, with some restrictions to ensure sufficient mobility and safety in the area
Retail Industry
Between February and May 2020, retail employment in Massachusetts decreased 20%, according to the report. Although retail sales have begun to rebound, there is a divide between those businesses the state deemed "essential" and those deemed "non-essential."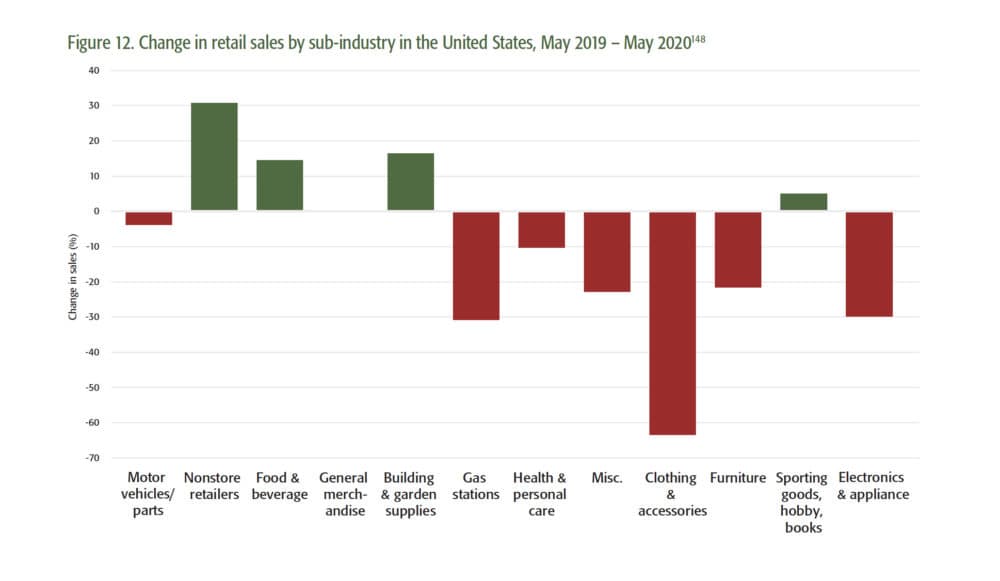 Develop and rely on order confirmation messaging that allows stores to notify customers when and how to receive their order and allows customers to notify the retail establishment when they have arrived to pick up the order
Develop and prioritize touchless points where possible (payment, self-checkout, online inventory lists and menus, etc.)
Hold and advertise clearance sales for out-of-season inventory
Set up specific areas on third-party customer review websites to allow retail customers to comment on in-store experiences and how stores are implementing COVID-19 safety measures
Recommended Public Policies
Incentivize businesses to use BOPIS and expand delivery infrastructure through by-right delivery
Reduce or eliminate local permitting requirements for outdoor product displays and points of sale on business property
Explore the effectiveness of an extended state sales tax holiday for retail trade purchases for stimulating long-term economic growth
Explore the viability of temporarily eliminating employer-side state payroll taxes for retail businesses, including comparing the cost of tax revenue losses with the multiplier effect of increased spending
Investigate the costs and benefits associated with suspending the federal employer-side payroll tax for a distinct period of time, especially as it would help the retail trade sector
To view the Pioneer Institute's full report, click here, or go to PioneerInstitute.org.