7 Art Exhibits To Visit From The Comfort Of Your Couch
This article is more than 2 years old.
Uncertainty can be paralyzing, but one thing is certain in this time of COVID-19 — none of us knows what happens next. As a result, some art galleries, especially those based at universities, have announced that they will remain closed to the general public this fall. Others are open but with contingency plans should things go south. Fortunately, many local venues have launched virtual programs including online exhibits, artist talks and even online concerts and film festivals to save the day. Some plan to keep online exhibits up, even as they swing open their doors to on-site visitors.
Here's a selection of a few offerings that can be enjoyed from the comfort (and safety) of your own couch. They include slide shows, videos, even 360-degree walk-through tours. Yes, we know that seeing art on a computer pales in comparison with the power of seeing an exhibit in real life. Still, there are advantages. There's often more time to engage with art, especially if you take the time to listen to artists and curators explaining their process and intent. Plus, no one's going to reprimand you for grabbing a snack as you watch!
Through Aug. 9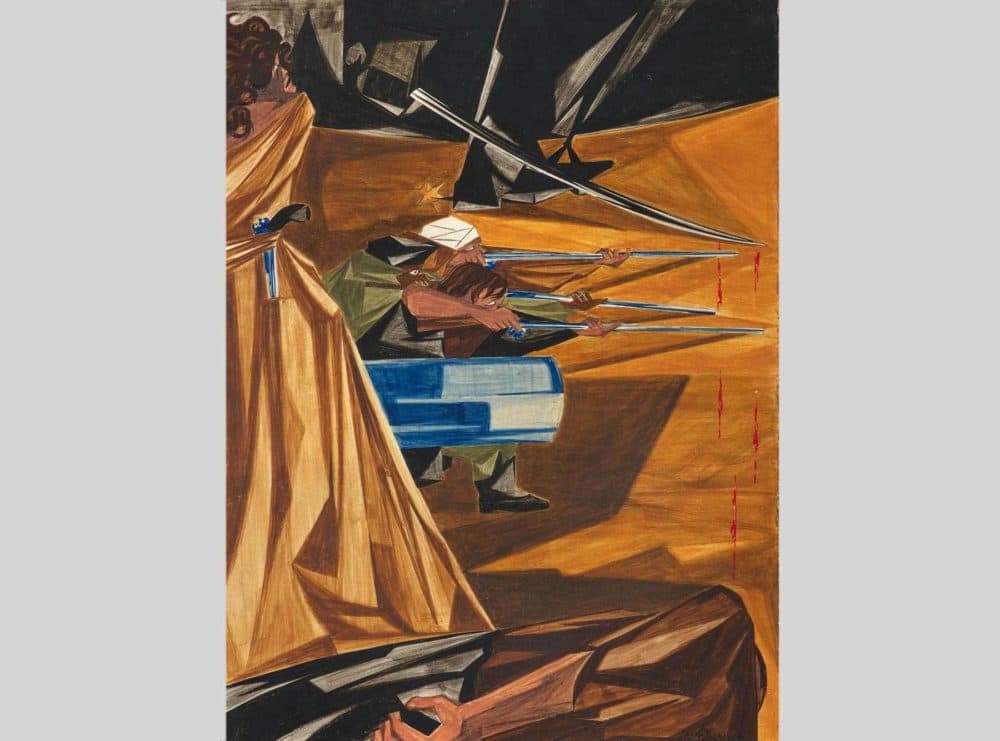 Jacob Lawrence created masterful paintings focused on history and African American life. Now, in perhaps one of the most comprehensive local virtual exhibits, PEM is showing the artist's "Struggle: From the History of the American People," depicting scenes of critical moments in American history.
Lawrence's 30 panels retell historical events between 1770 and 1817 in the characteristic style he called "dynamic cubism." Unlike the traditional narratives we're used to seeing, this retelling of American history includes Blacks, women and immigrants as active players. Lawrence's Panel 27, created in 1956 with egg tempera painted on hardboard, is entitled "for freedom we want and will have, for we have served this cruel land long enuff — a Georgia slave, 1810." It depicts a suppressed slave revolt planned by an enslaved Georgia man to liberate enslaved communities in Georgia and North Carolina.
Panel 12, "And a Woman Mans a Cannon," from 1955, was inspired by Margaret Corbin who fought in the Battle of Fort Washington in New York in 1776. When the British killed Corbin's husband, she took up his duty of loading and firing the cannon. This painting, along with the others, is presented in conjunction with related artifacts and artworks. Critical assessments are provided for each piece by historians, writers and artists.
One of the coolest things about the exhibit is its 360-degree gallery tour allowing you to walk the space virtually. You can also read an essay and see a video by Lydia Gordon, an associate curator at PEM, as well as listen to a podcast, and hear comments by contemporary artists Derrick Adams and Bethany Collins, who have been influenced by Lawrence and who are also showing work as part of the show.
Lawrence called himself a "storyteller" and we can appreciate his artful telling of stories that we might have otherwise overlooked.
---
Through Aug. 30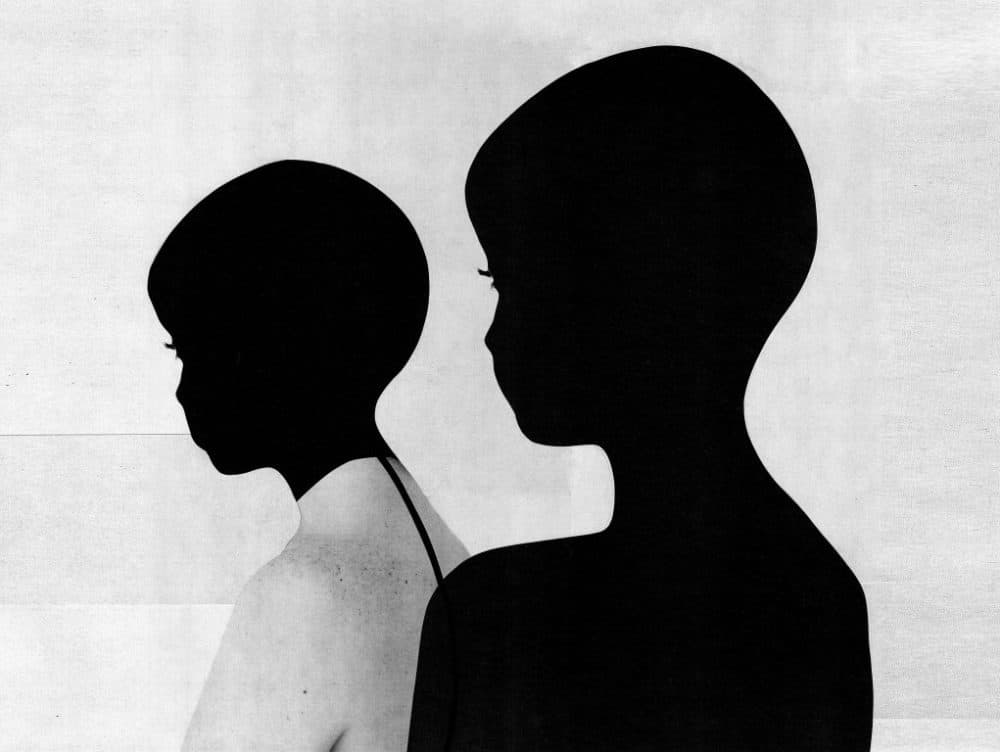 What does intimacy mean in the middle of a pandemic? Is it lost, reimagined or does something new bubble up as we live our days in insolation?
This is the question posed in the digital exhibition which inhabits its very own website. Nine artists — sculptors, photographers, video and digital media artists --are paired with nine writers and poets. The matches spark conversations of the sort that, pre-pandemic, might have taken place between friends over a glass of wine.
The sound and video work of New York artist Jesse Chun is paired with Colombian writer Danilo Machado's poem considering English and its dominance over other languages. Harlem writer Ladi'Sasha Jones writes a response to New York artist Jeremy Toussaint-Baptiste whose interactive performance piece involves installing a landline at his home and answering the call of anyone wanting to chat, 9 a.m. to 9 p.m. Sunday through Tuesday through the duration of the show. He promises no answering machines, no caller ID, no call waiting. Jones reflects on how landlines produce intimacy through the stillness they demand. She broadens out from there, connecting phone lines, homes and cities to portals of intimacy and Black life.
And there's more. Each first and third Wednesday of the month through October, the BCA is hosting "Lunchtime Listening Sessions" featuring performing artists of color who use their art to address the pain and anger of racism, along with attempted healing.
---
Through the Fall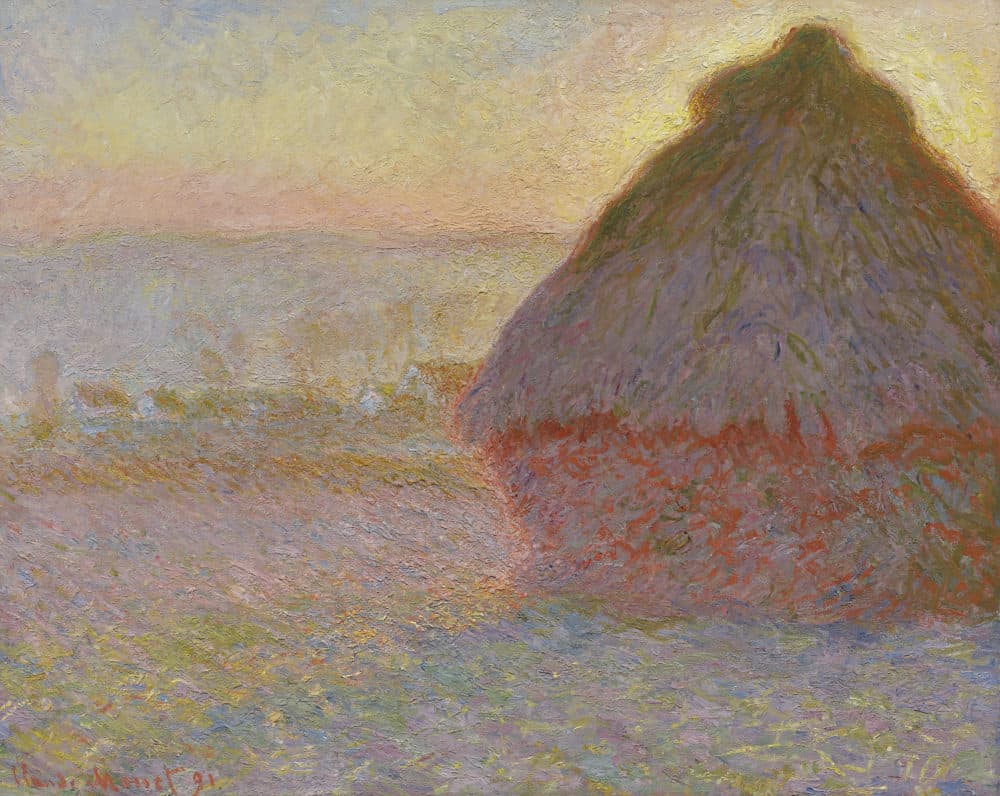 Claude Monet was beloved in Boston, as he was around the world. In honor of the museum's 150th anniversary, the MFA had planned to exhibit all 35 of its Monet paintings for the first time in 25 years. This didn't happen. But you can still get a taste of what the exhibit might have been like by visiting the MFA online. See a sampling of Monet's works in both slideshow and video format. Watch a video from associate curator of European paintings Katie Hanson and even hear music inspired by Claude Monet. Contemporary classical violinist Lilit Hartunian plays three pieces by composers active in Monet's era which she pairs with works she has found inspirational.
---
Through the Fall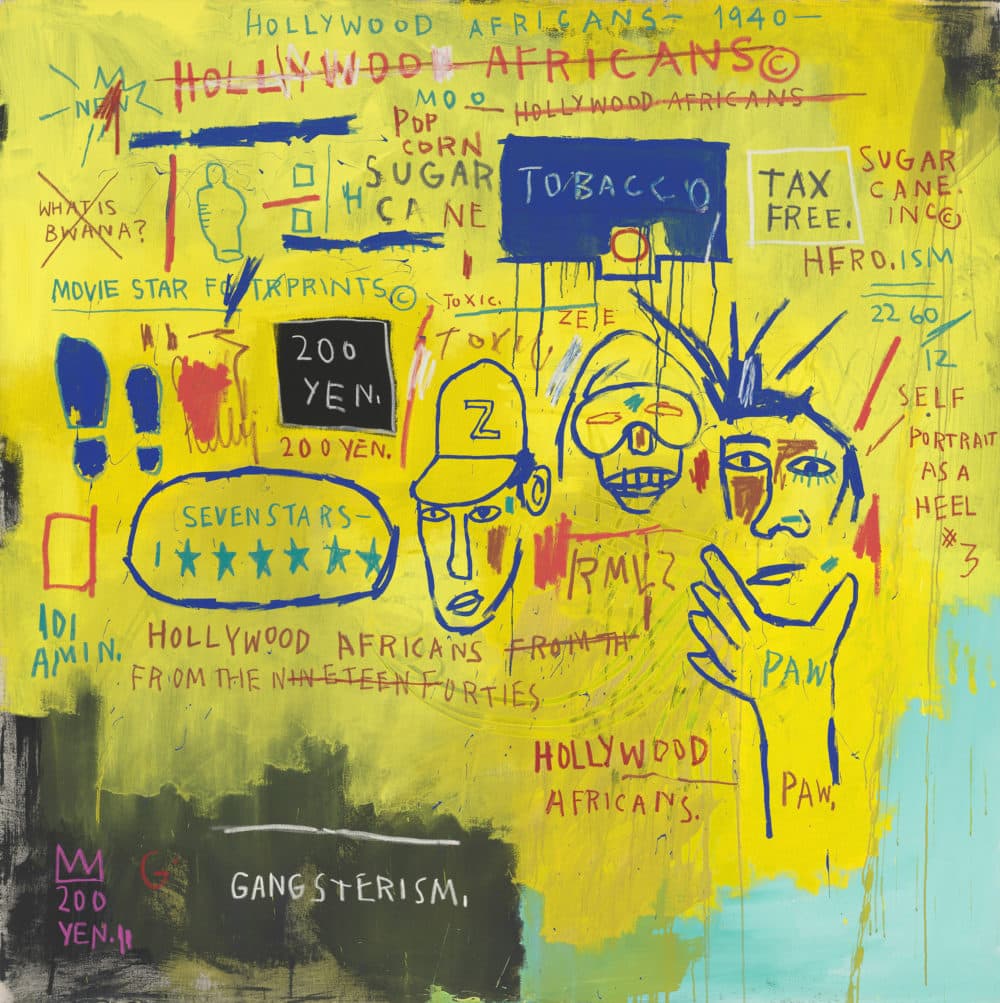 Also at the MFA is "Writing the Future: Basquiat and the Hip Hop Generation" looking at New York in the 1980s as graffiti tags on subway cars transitioned into fine art on gallery walls. Jean-Michel Basquiat was at the center of the action, but a host of others energized the scene, creating paintings, sculpture, drawing, video, music and fashion, including artists like A-One, ERO, Fab 5 Freddy, Futura, Keith Haring, Kool Koor, LA2, Lady Pink, Lee Quiñones, Rammellzee and Toxic.
In the online version of the exhibit, you can view an excerpt from the video "Style Wars" documenting the connections between graffiti and facets of hip-hop culture like breakdancing and DJing. You can also take a closer look at Basquiat's painting "Hollywood Africans." Also included is a selection of music that inspired and came out of New York's post-graffiti era.
---
Through Sept. 8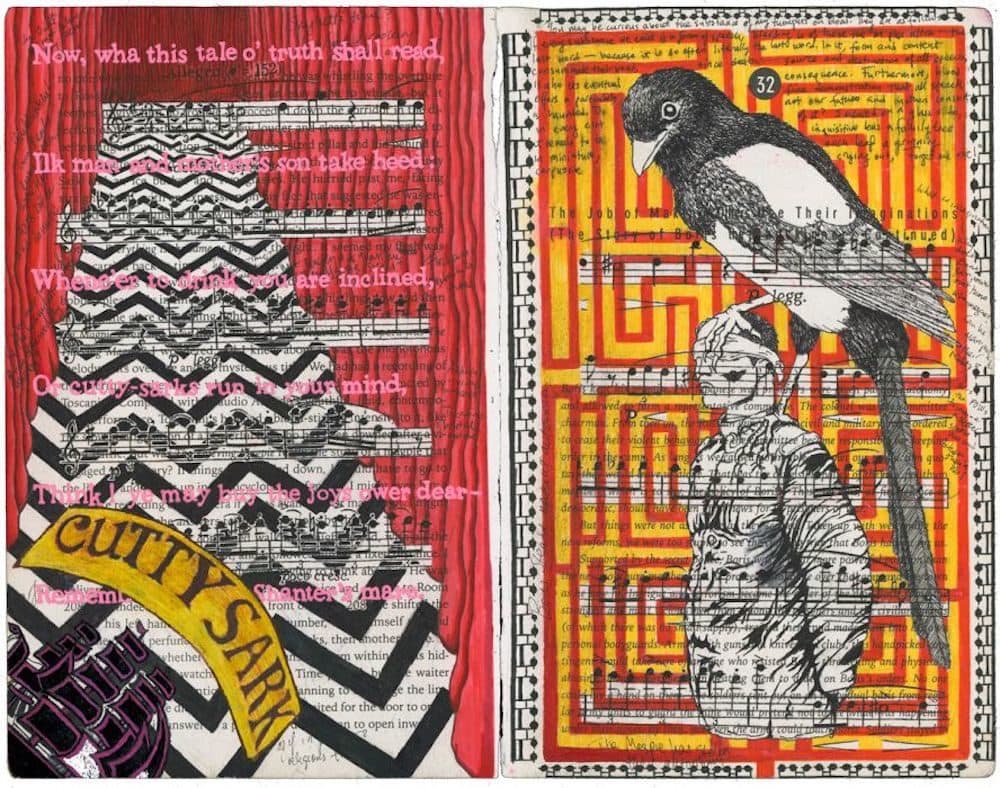 "As above, so below" is a phrase attributed to ancient Greek author Hermes Trismegistus. Long before COVID-19, Tufts students chose that phrase as the theme of this year's thesis exhibition, capping off two years of work in the university's graduate art program. Though the exhibit didn't happen, it's all online, eerily prescient in its acknowledgment that our individual lives are governed by bigger forces that we can't control.
Each of the 17 artists participating in the exhibit has a dedicated web page. Peruse an online catalog and take a virtual tour of the show. The school promises a physical exhibition at some point in the future, but no one's making promises as to when.
---
Through Aug. 29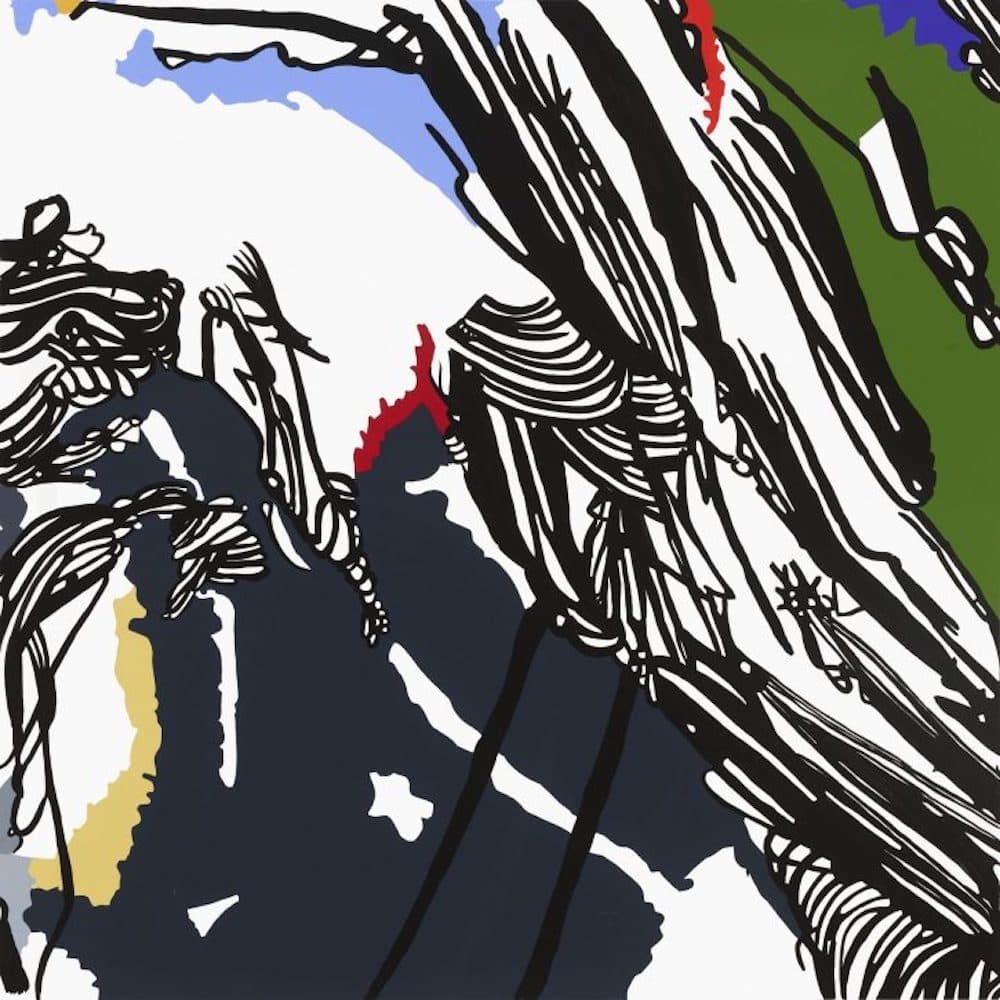 During the pandemic, artists have continued to create. Gallery NAGA shows us what its 41 artists have been up to. From the graphic paintings of South African artist Sophia Ainslie to the textured meditations of Martin Kline in New York, nearly all of the work on view is brand new, and some of it, the gallery says, is still drying in the studio.
---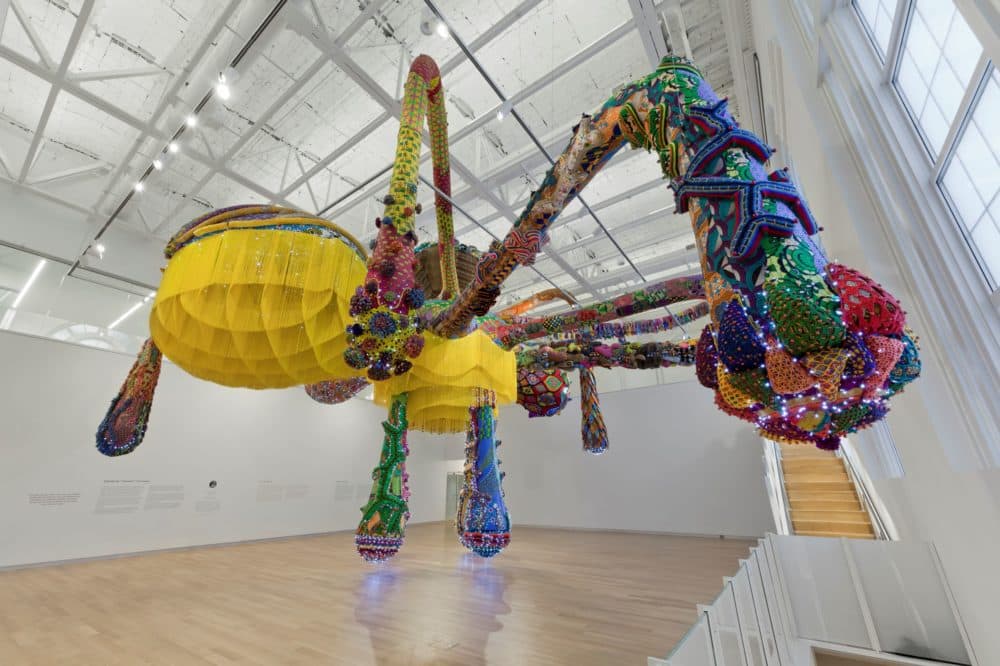 MAAM opened and closed in a blink of an eye, thanks to COVID-19. Even so, the new museum is making its presence felt, at least virtually, through what it calls "MAAM From Home."
You can watch videos of the artist collective Ghost of A Dream (a collaboration of Lauren Was and Adam Eckstrom) who transformed the lobby of MAAM into a site-specific installation titled "Yesterday is Here" made from 30 years' worth of leftover MassArt exhibition catalogues and artist invitations. Another project involved fashioning a rainbow flag from hundreds of money bags the team collected from the failed bankrupt Trump Plaza Casino in Atlantic City. It is, they say, "a statement about Trump's failed businesses and his lack of respect for the LGBTQ community."
If you've noticed a theme, you've caught on to Ghost of a Dream's schtick. Whatever they create involves the detritus collected in pursuit of a hope or dream.
Also at "MAAM From Home" is a video from Mohawk multimedia artist Skawennati and her avatar "xox" as she takes us on a tour of her virtual world as part of the "Game Changers" exhibit exploring artists working at the confluence of contemporary art and video games. Another video available for viewing is from Portuguese artist Joanne Vasconcelos who discusses the inspiration behind her large colorful installation Valkyrie Mumbet at MAAM.
In addition to videos, "MAAM From Home" offers do-it-yourself art projects and even a free background for your next Zoom meeting.
---
Final Thoughts
One of the perks of virtual gallery hopping is that you're no longer limited to visiting local venues. If you're willing to travel, virtually at least, check out New York's Whitney Museum, Guggenheim or MoMA and LA's Broad Museum. With the power of the internet, you can even travel abroad. Visit Seoul's National Museum of Modern and Contemporary Art, the Vatican Museums in Rome, the Rijksmuseum in Amsterdam, the MASP in Sao Paolo, The British Museum in London and the Hauser & Wirth gallery with locations around the world.
In 2020, culture is where the couch is.