Why It Took 80 Years For A Piece By Acclaimed Black Composer Ulysses Kay To Have Its World Premiere
Play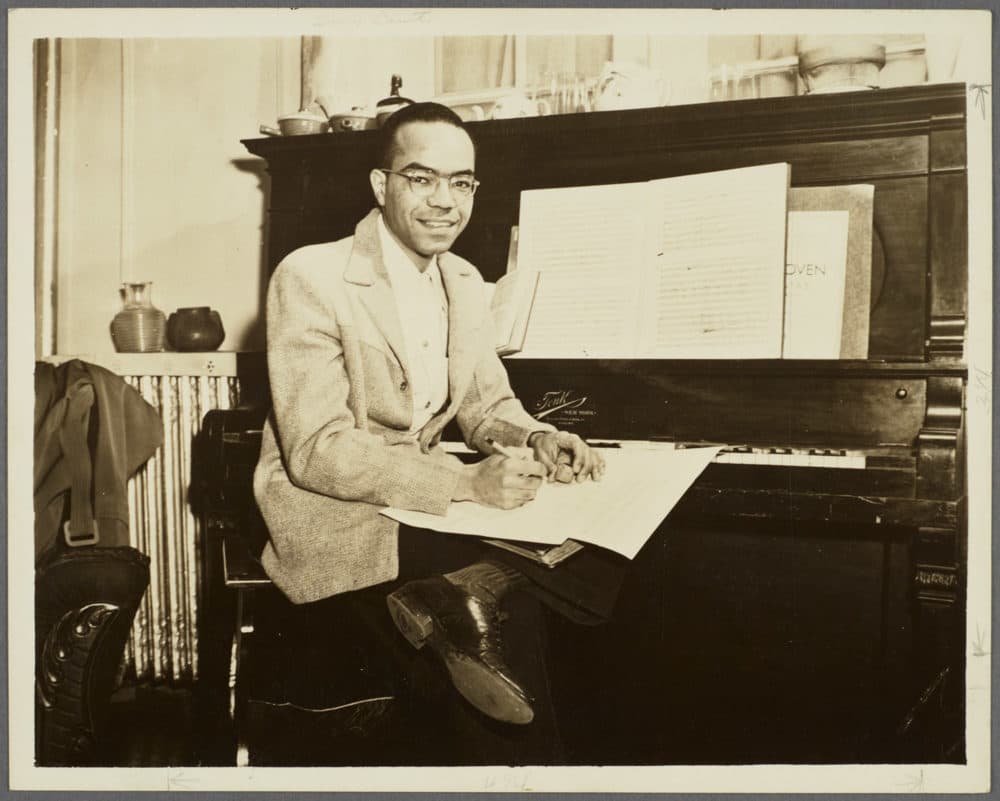 This article is more than 2 years old.
Boston Symphony Orchestra violist Mary Ferrillo is always searching the internet for viola repertoire that gives her instrument — which isn't in the spotlight often — a chance to shine.
"Usually the keyword is 'viola solo, with piano, not with piano,' " she explained during a meeting at Symphony Hall, which went dark in March.
Speaking through her mask, Ferrillo, who joined the BSO in September, said she misses playing with her peers in the orchestra's home. With more time on her hands since the pandemic hit, the 31-year-old musician stumbled on a Sonatine with viola and piano that blew her away. She immediately wanted to share it with other violists.
"The joke of the viola is that we don't really get to express it very often," Ferrillo said, "so it's really lovely to see a composer — and especially such a young composer — really recognize there's that potential in the instrument."

Twentieth-century composer Ulysses Kay wrote the Sonatine 80 years ago when he was in his early 20s. Ferrillo called the piece a sweet whirl of emotion in a beautiful little package.
"It is compact — it's just under five minutes," she described. "Just the first page alone feels like such a joyous expression of romanticism and youth."
Ferrillo had heard a set of piano inventions by Kay, but she didn't know he wrote any music for viola. "It's such a surprise because it fits us so well. And usually when pieces fit us musically and inspires us they are everywhere."
So Ferrillo set her sights on performing the Sonatine and learned a whole lot more about his legacy along the way.
Kay was born to a musical family in 1917. While growing up in Tucson, Arizona he studied piano, violin and saxophone. Kay's uncle, the great jazz bandleader and cornet player King Oliver, encouraged his nephew to pursue his passion for music. Kay would go on to study at institutions including the University of Arizona and the Eastman School of Music in Rochester, New York.

Ferrillo said she feels a connection to Kay who, like her, was a fellow at the Tanglewood Music Center (which was called the Berkshire Music Center in his day). The composer was there on a scholarship in 1941 and began studying with German composer, violinist and violist Paul Hindemith. Their relationship continued at Yale.
Recently, as the racial protests ramped up across the U.S., Ferrillo said she felt compelled to explore musical identities that haven't been represented in classical music and her own repertoire. She wanted to see what she could offer in performance. So the violist proposed Kay's Sonatine for the BSO's musician recital series that's part of Tanglewood's virtual festival.
When Ferrillo contacted the American Composers Alliance for performance rights they wrote back thrilled and added a surprising zinger. "Oh, and if you play it, just let us know because it'll probably be a world premiere," Ferrillo recalled them saying. She immediately spiraled into nervousness.
The violist wondered why the Sonatine — written in 1939 — hadn't been available until now. The answer lies with another violist who first discovered it back in the 1980s as an undergraduate at the Eastman School of Music.
"I actually tend to joke around about myself as being a triple-affected class" Juliet White-Smith mused, "being Black, female and a violist."
She recalled digging through the school's library for viola music by Black composers. "As a musician, and as a person who is Black, I wanted to find things I could play by people who looked like me," she recalled. "As a violist that was challenging at the time."
White-Smith started by searching composer by composer, which yielded a short list. She moved to flipping through the card catalog, "And lo and behold, there were pieces by a handful — maybe four or five composers on the shelves by Black composers — and two of these pieces were by Ulysses Kay."
She'd found reproduced manuscripts of the Sonatine Ferillo would eventually fall for more than a decade later, along with Kay's Sonata that White-Smith wanted to play.
Years later White-Smith, a busy academic, hoped to program the Sonata for a faculty recital while at the University of Northern Colorado. So she mustered the courage to track Kay down and dialed directory assistance on her push-button phone. It was pre-internet, 1993.
"I figured there couldn't be more than one Ulysses Kay in Teaneck, New Jersey," she recalled.
Kay answered the phone and White-Smith said he didn't remember writing the two short pieces. "He was shocked," she recalled. He asked where she found the music because the composer said he didn't even have copies of the two pieces. "He was really pleased that someone was was performing them."
Kay died two years later.
Over time White-Smith learned the composer withdrew the Sonatine from his portfolio at some point during his career, but never destroyed it. Now a professor in the music department at Ohio State University, she was instrumental in getting the short work published, and is thrilled that Ferrillo was finally able to perform it with pianist Brett Hodgdon for Friday's Tanglewood debut.
For the young BSO musician, engaging with the premiere of an 80-year-old piece in front of cameras felt emotional on many levels, "because it wasn't new," she said, adding, "It could and should have been performed before now."
Turning to the music, Ferrillo said the very American romantic work sounds sweeping with long, beautiful lines of viola. After listening to preview of Ferrillo's interpretation White-Smith called the early Kay work a gem.
"It's almost as if he were hanging out outside the viola practice rooms and getting inspiration from a variety of different styles of viola pieces," she said. It offers glimmers into Kay's future development as a composer.
"There is lyricism in this piece — it's at an early part of his career and output — but the lyricism never really leaves as you progress into his more mature works," she said, adding Kay's counterpoint exchanges, or the call-and-response between the piano and viola would built upon through his work with Hindemith after they met at Tanglewood.
The composer's daughter Virginia Kay can't wait to listen to a piece that illuminates her father's trajectory. She remembers hearing his mid and later career works at concerts in New York when she was growing up.
"I understood that he was very much at the top of his field," Ms. Kay said, adding it was a small field with very high gates her father was able to scale.

On his way up, Ulysses Kay won a slew of accolades and prestigious awards including a Fulbright Scholarship. During the Cold War he was invited to be part of a delegation of American composers that travelled to the Soviet Union as musical ambassadors. Ms. Kay welcomed the reciprocal group with her father at LaGuardia Airport where she handed a bouquet of flowers to Russian icon Dmitri Shostakovich.
"I think I was just 7 years old," she recalled.
Her father was always working, Virginia Kay said, during the day as an editor at Broadcast Music Incorporated and at night composing in his home studio. Early in his career he didn't feel the need to define his artistic expression as "Black music," she explained, as many of the pioneers that came before him did. "Through most of his career the idea of art and expression for its own sake — for the music itself — was the ideal. But towards the end of his career, he was very clear about that it was African-American in so far as it was his creation."
Ms. Kay pointed to two of her father's operas, "Jubilee" (1975) and "Frederick Douglass" (1991). They were based on the experiences of slaves and fight for freedom during the Civil War.

She said living through the era of the civil rights movement and being married to Barbara Kay — a bold activist and Freedom Rider — inspired the composer to perhaps be less abstract artistically and more socially rooted.
But while Ulysses Kay shared stages with the greats of his day, his daughter said over time his compositions haven't been performed as widely and are often programmed for cultural anniversaries or events including Black History Month. Professor Juliet White-Smith wants to change that.
"His orchestral works were premiered by major orchestras, major conductors," she said, "the New York Phil and Leonard Bernstein, Chicago Symphony. The fact that his name — like many other Black American artists — is not mainstream is a sad thing for our country."
The violist hopes the premiere of a five-minute, rediscovered work will introduce audiences to a great composer while also bringing people together in a time of civil struggle — because she believes that's what art is supposed to do.
After learning more about Kay and the continuum of great Black composers in the 20th century the BSO's Mary Ferrillo said she's got a lot of new music to play, including his Sonata.
---
You can learn more about Ulysses Kay by visiting Columbia University's digital archive.
Mary Ferrillo's performance of Kay's Sonatine for Viola and Piano will go live as part of the Tanglewood 2020 Musicians in Recital series Friday, July 31 at 8:30 p.m. It will remain online through Friday, August 7.
This segment aired on July 31, 2020.