At Barrington Stage Company, The Show Will Go On
It's been a heartbreaking moment for theaters across the country who have had to cancel all foreseeable productions, close their doors until 2021, or make sweeping cuts to staff due to the COVID-19 pandemic. But Julianne Boyd, artistic director of Barrington Stage Company in Pittsfield, Massachusetts says, "we never thought of closing. We said, 'how can we keep open?'"
In Berkshire County, arts and culture are a driving force of the economy. Boyd decided that as the community begins to rebuild their economy while weathering the pandemic, Barrington Stage would need to find a way to support that economic rejuvenation. Like many, she also craved a way to quell feelings of self-isolation. "To be in a room where something is happening is really important and to share that collectively — I think we need that," says Boyd. So, maintaining social distance, Barrington Stage will open one-man show "Harry Clarke" by David Cale and directed by Boyd on Aug. 5.
The production was set to be performed indoors on the Boyd-Quinson Mainstage with a set of strict safety protocols for audiences, but plans changed when Barrington Stage learned that Gov. Charlie Baker delayed entering the second part of phase three of the state's reopening plan. To adapt to new guidelines, "Harry Clarke" will now be performed outdoors under a tent at the Polish Community Club. Masks will still be required and seating will be socially distanced.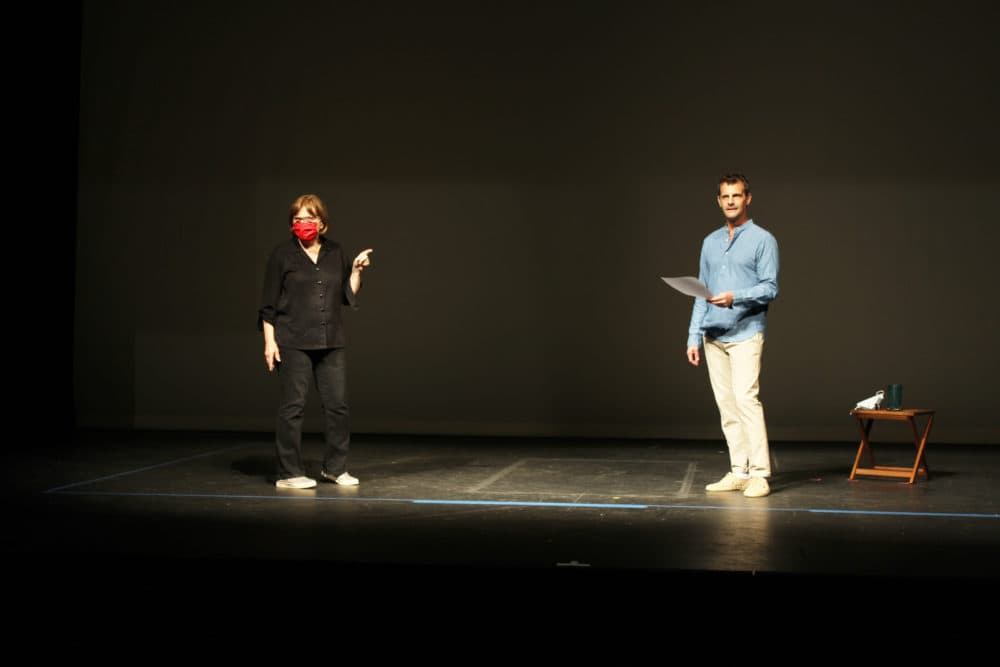 Since research conducted by the CDC determined that COVID-19 is rapidly spread amongst people who are in close contact for a prolonged period of time, the theater industry has been forced to adapt their practices and redefine what "live theater" means. Utilizing technology, many companies are finding ways to bring theater into the homes of their audiences and stay connected to the communities that they serve.
Instead of pivoting toward virtual programming, Boyd says the Barrington Stage team asked themselves, "could we create art with fewer people?" They postponed their original 2020 season which included musicals "South Pacific" and "Ain't Misbehavin'" to next summer. Instead of closing until then, they reimagined a new season that could be presented to audiences in a way that maintained social distance.
One-person shows seemed like the best way to ensure safe rehearsal processes and low-cost productions. "Harry Clarke," starring Mark H. Dold, will have a simple set, one costume and no crew backstage. Only four people have been in the rehearsal room and each is tested for COVID-19 once a week.
Boyd hopes "Harry Clarke" will provide a break from the collective stress of the current moment and bring some joy back into the lives of Barrington Stage audiences. "It's a charming, funny, very touching story about a conman. If [people] are going to go out and not be in self-isolation and be somewhere, albeit six feet apart, they want to be entertained," she says.
Dold jumped at the opportunity to return to Barrington Stage, a long-time artistic home for him. He came up from New York City to self-quarantine for about two weeks before rehearsals began. The pivot from performing indoors to outdoors did not shake Dold's confidence. He says the sudden change of plans is "like a perfect metaphor for what a life in the theater really is."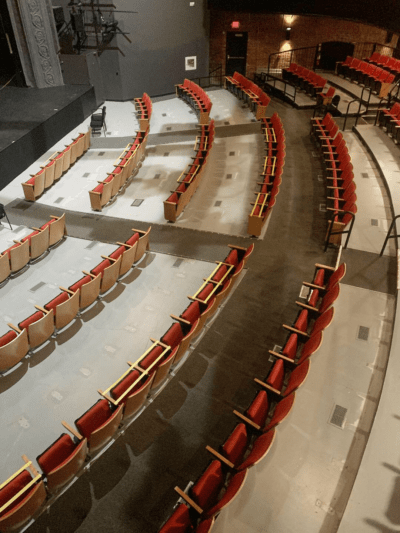 In preparation for an indoor production, with guidance and support from Actors' Equity Association (the actors' and stage managers' labor union) as well as the local hospital and city health officials, Barrington Stage made considerable changes to their theater. The space, which previously sat 520 people, will now seat 163. Every other row of seats was removed with two vacant seats between each party. They also installed a brand new air ventilation system that increases the amount of fresh air pumped into the theater during performances. In the restrooms, all sinks, paper towel dispensers and toilets now have touchless sensors. Although these changes will not be utilized for "Harry Clarke," the theater is now prepared for indoor performances when permitted.
Boyd believes that these new guidelines will not affect the overall quality of the theater-going experience. "It's a new norm. I think people will get used to it. Once they sit in their seat and the lights go down, it's going to be a very similar experience to what they had before," she says.
Dold feels the core of his process hasn't changed either. He is mostly curious about how his interaction with the audience will shift when he looks out into a crowd of masked people. Because "Harry Clarke" is a one-man show and a first solo performance for Dold, he relies on the audience more than usual. "The audience is my only scene partner in this piece. They are crucial to me," says Dold. "I hadn't considered not being able to actually read their faces...this is probably the strangest thing for me so far." Dold looks forward to the challenge of reading the audience. He says, "I'm going to have to tune in to other things because I'm just not going to be able to get it from faces."
Although Dold acknowledges that the circumstances are somewhat disconcerting, he believes that the show is much bigger than himself. It's for the audience and the community at large. "This is all just a celebration of us trying to be hopeful, trying to reclaim something that has been lost," he says, "it's for everybody who has had the courage, stamina and faith to be there and keep art alive."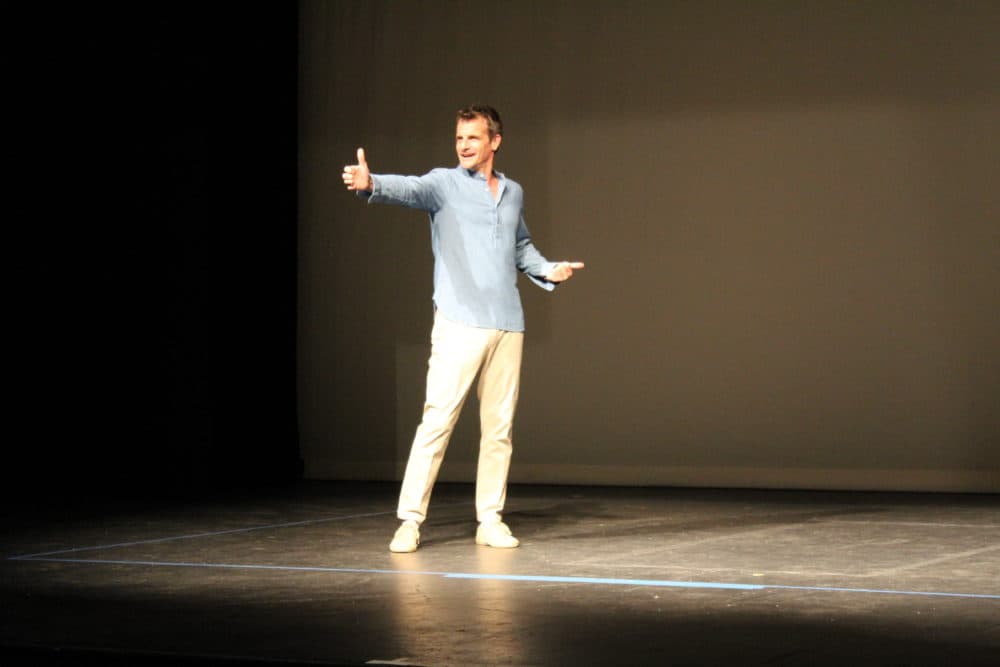 As for audience members who may not be ready to return to the theater? Boyd says, "please don't come to the theater. We don't want anyone who is uncomfortable. This has to be a comfortable experience for people." She hopes that those who have underlying health conditions that may put them at a higher risk if exposed to COVID-19 will stay home. "If you have a lung condition, diabetes, or any other illness, you shouldn't go to the theater," Boyd says. "This is for people who want to have this experience who feel really good. Some people just think it is necessary to go out."
Barrington Stage has no current plans to stream "Harry Clarke" virtually but is considering streaming future cabaret projects. They also have more outdoor programming lined up, including musical revue "The Hills Are Alive with Rodgers & Hammerstein" opening Aug. 19.
If someone attends a performance and later notifies the theater that they have tested positive for COVID-19, those who were seated around the individual will be notified. Boyd says there are no plans to close the production if an audience or staff member reports that they are sick.
And if an audience member doesn't follow the safety protocols? To that, Boyd says, "this is going to be a great experience if you abide by the rules. If you don't, please leave."
---
"Harry Clarke" runs at the Barrington Stage Company Aug. 5-16.