Imagine There's No Virus — The Huntington's Radio Plays Look To The Future In 'Dream Boston'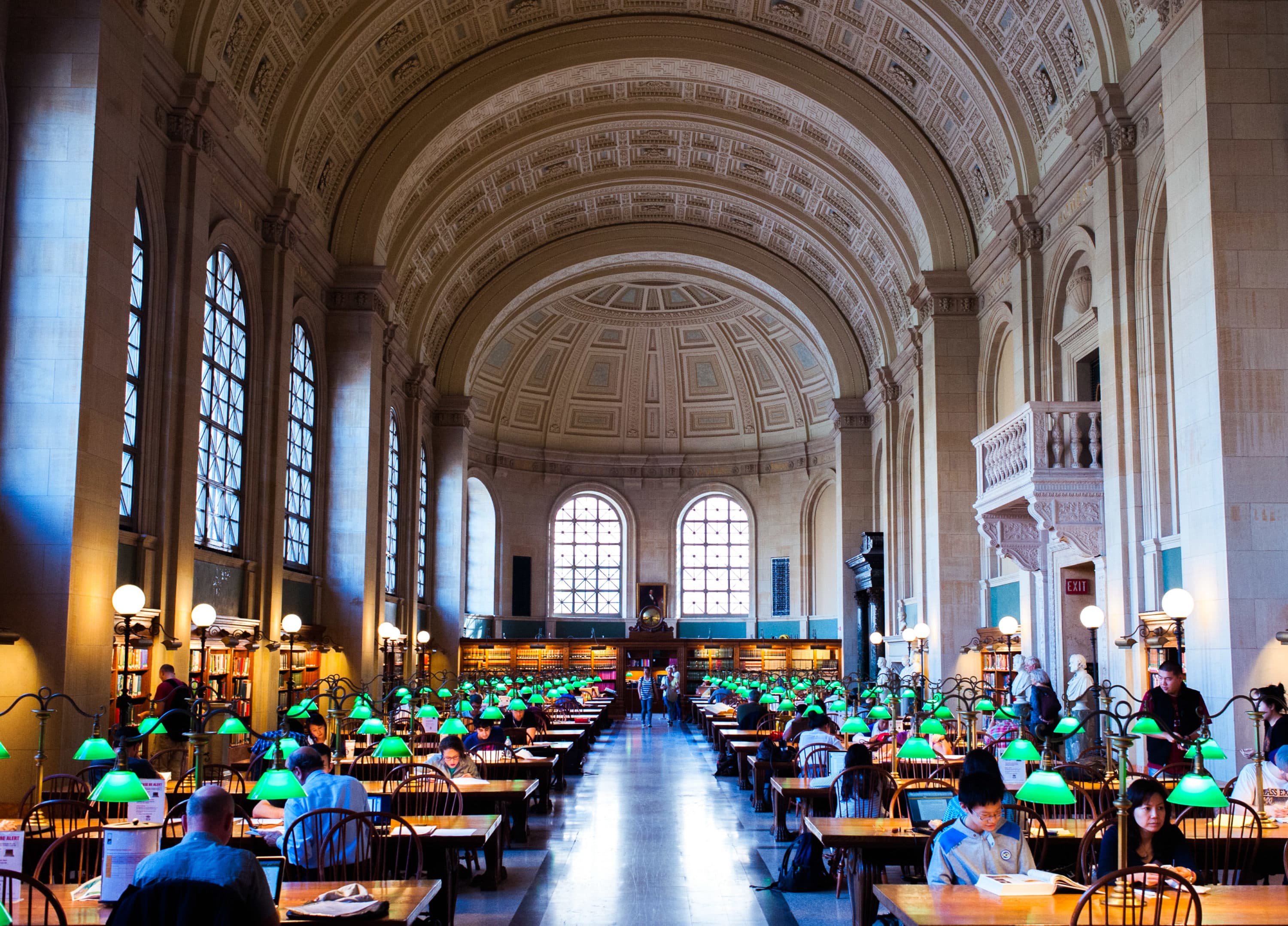 This article is more than 2 years old.
If you close your eyes and listen, local spots like the Boston Public Library, MIT's Great Dome and the North Bridge in Concord come to life in the lushly layered soundscapes of the Huntington Theatre Company's new audio micro-plays, "Dream Boston." Four of the area's leading playwrights answer the Huntington's call to "imagine their favorite locations, landmarks and friends in a future Boston, when we can once again meet and thrive in our city." There are footsteps, cannons, cheering and other elements of Valentin Frank's rich sound design that help set the scenes.
Kate Snodgrass and Brenda Withers tackle loss from different angles, and Melinda Lopez looks to the past only to push us to think more about the future. (A fourth play by Kirsten Greenridge will be released Thursday, July 16.) The trio of plays are all good listening, but Snodgrass' "Overture" is the most enduring and "By the Rude Bridge" by Lopez the most thought-provoking. The plays also draw on many stalwarts of the local acting community.
On July 4, 2023, Lilly (Elle Borders) and Tim (Richard Snee) come together at the top of MIT's Great Dome in "Overture." The characters can hear fireworks and faint music in the background while crowds gather below them. Tim, a custodian at MIT with "keys to the city," proudly points out Boston University, MIT and Harvard, all visible from their vantage point, as if they're on top of the world. They're here to honor Lilly's dad, of whom we learn quite a bit from their brief conversation. The former professor loved people and he used to let Tim listen in on his astronomy class.
Lilly asks, "Which way is the wind blowing?" It's something her dad would ask. Tim positions her toward the Charles River for the big moment. "Good. He'll get to be with all the people," Lilly remarks. Soon Tchaikovsky's "1812 Overture," performed by the Boston Pops, pipes up. At the start of its histrionic finale, Lilly lets her dad go while laughing into the night with Tim. The simultaneously celebratory and painful pulse of "Overture" is something to savor long after it's over.
In Withers' "McKim," set in the BPL's Bates Hall, Edward the librarian (Nael Nacer) and Lil Nunez (Krystal Hernandez) argue over a book the library doesn't have that Lil reserved nearly three years earlier. The book was recommended by her now-deceased mother and she isn't sure what to do next. Edward's simile about change underscores the liveliness and nuance of the dialogue even if the story itself has less of a punch than the other two.
Snodgrass, Withers and Lopez are gifted storytellers with a long list of awards and accomplishments and these five-to six-minute tales highlight their mastery. Snodgrass is the artistic director of Boston Playwrights' Theatre and the Boston Theater Marathon, which she helped co-found, Withers is an actor and founding member of the Harbor Stage Company on Cape Cod and Lopez is an artist and educator whose one-woman play "Mala" was a major success both onstage and on television. From 2013 to 2019, Lopez was the playwright-in-residence at the Huntington as part of the Mellon Foundations' National Playwright Residency Program.
Set at the Minuteman National Historical Park on Patriots' Day, April 19, 2025, Lopez' "By the Rude Bridge" — a nod to Emerson's "Concord Hymn" — is chock full of vibrant imagery and sound. We encounter Chase (Lonnie Farmer), a re-enactor donning a red coat who shares his love of his job, one he's been doing since the age of 10. Today is the 250th anniversary of the shot heard around the world, and the president, a woman, will lay a wreath at the corner of the Minuteman Statue.
I didn't expect to be so moved by this historically driven piece, but Chase, with his knowledge and enthusiasm, sucked me in. His son is a veteran and when he was at war, Chase wondered if his son would return from battle. To commemorate that time and pay his respects, Chase often stops by the marker put in place in 1910 for the death of British soldiers that many pass without noticing.
By illuminating how history and the memorials erected in its honor can mean different things to different people, Lopez wields enormous power here. It's a timely topic given the recent highly charged protests and campaigns in Boston and D.C. urging the removal of the Emancipation Memorial along with confederate statues that serve as reminders of the racism that's shaped our country. "I wonder," Chase asks presciently, "250 years from now what memorials will we build? What statues? What will we tell our children's children about what we fought for?"
What indeed.
---
Melinda Lopez is a guest on WBUR's Radio Boston Thursday, July 16, discussing the Huntington Theater Company's new series of audio plays, "Dream Boston."