Harbor Stage Company, With Its Usual Flair, Reels In Jez Butterworth's 'The River'
Update: Harbor Stage Company has extended the production through Sept. 10.
WELLFLEET, Mass. — There's something invigorating about watching an excellent resident or repertory company at work — and these days it's excruciatingly rare. The American Repertory Theater is a repertory theater in name only as productions no longer feature a resident acting company, for better or worse. And there is a "worse." Companies can choose seasons based on the acting company's abilities (and lack thereof) or shoehorn actors into parts that they're not capable of playing.
Fortunately, we still have several good resident companies in New England — Shakespeare & Company in Lenox, Actors' Shakespeare Project in Boston and the Trinity Repertory Company in Providence.
And one of the most exciting is certainly Harbor Stage Company, featuring four actors who broke off from the Wellfleet Harbor Actors Theater (WHAT) and who, after the firing of Jeff Zinn at WHAT, managed to take over the small harbor stage where WHAT grew up before moving to the larger Route 6 space.
What a job they've done with their three-play summer mix of classical adaptations, original work and contemporary plays. Robert Kropf's adaptation of "Miss Julie," which opened the harbor season, will be coming to the Modern Theatre Sept. 15-25. But before that, their latest, Jez Butterworth's one-act, "The River," is haunting the Wellfleet harborside through Sept. 3.
Butterworth is a hot British playwright who has written "Mojo" and "Jerusalem." (Won't somebody do that in Boston.) He also has the movies "Spectre" and "Black Mass" to his credit, if that's the word. "The River" is a less adrenaline-filled ride than Butterworth's other work, recalling the psychological menace of Harold Pinter and the ghostly-tinged creepiness of Conor McPherson ("The Weir"). And if the writing isn't quite as poetic as Pinter's and McPherson's it's closer than most contemporary plays are to that Anglo-Irish gold standard.
As the play opens, Kropf is entertaining his lover (played by Withers)  in a small cabin which, like him, is both grizzled and romantic. He seems to be a fisherman-poet, a soulful DIY guy (I wish I could fillet a fish like he can) and Withers is his perfect soulmate. Until she walks out the door and — at this point you might want to stop reading if you're planning on seeing the production.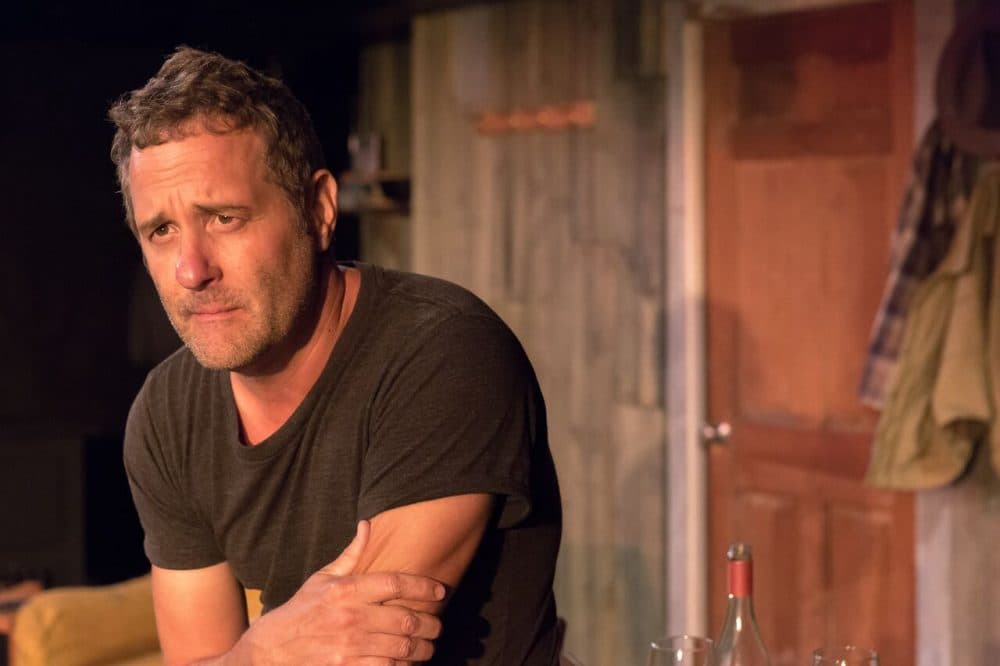 When Withers walks out, in walks Stacy Fischer as another woman.
He's had other "perfect" soulmates before. Is he a Bluebeard serial collector? Or a serial liar-lover? Or something more mysterious and less definable? A stand-in for a more modern spiritual malfunction or inability to make connection?
The women, too, play roles, and say things that make you question their honesty. Withers at one point lets him be the "teacher," even though she might know as much as he does. Fischer boasts of her flirtation and possibly more while she was walking along the river, leaving him frantic that she might have drowned.
The three actors, who capture the mood wonderfully, helped found the theater along with Jonathan Fielding, the director of this production. The two couples (Fischer and Kropf are partners, as are Withers and Fielding), along with set designer Sara C. Walsh, lighting designer John R. Malinowski and technical director Evan Farley are masters of their craft, producing atmospherically dense work that isn't afraid to embrace complex rhythms and existential questions. I wish their whole season were replicated in Boston, including Withers' intriguing-sounding play, "The Kritic."
Now it wouldn't have been terrible to see the star of the New York production in the role of the man — Hugh Jackman. The point is that the four actors — Fielding is also a fine thespian — have built up such a level of trust that you want to see them bring their own insight and artistry to these malleable roles, much as Will LeBow and Karen MacDonald did in the Brustein-Woodruff A.R.T. days.
You don't know quite what to make of Kropf's damaged soul, and that's a good thing. Is he merely gasping for air, desperate to stay alive, like the fish who escaped back to the river? Is he luring these women in the way a fisher lures fish, only to snuff out their lives? Or is it all just a cosmic game, though one that doesn't seem to give him much satisfaction?
Withers really has a thing for these charismatic British daughters of Virginia Woolf — she's even reading "To the Lighthouse" here — but she was equally luminous in Stoppard a couple of years ago. And Fischer takes over all her characters, whether naively femme or dangerously fatale. You're not sure till the end, if then, which she is in "The River."
You're not sure of much by the end, except that you've seen a group of first-rate artists confront a challenging work and left us all the better for it.
This article was originally published on August 17, 2016.