Fuller Craft Exhibition 'Shelter, Place, Social, Distance' Explores The COVID-19 Lexicon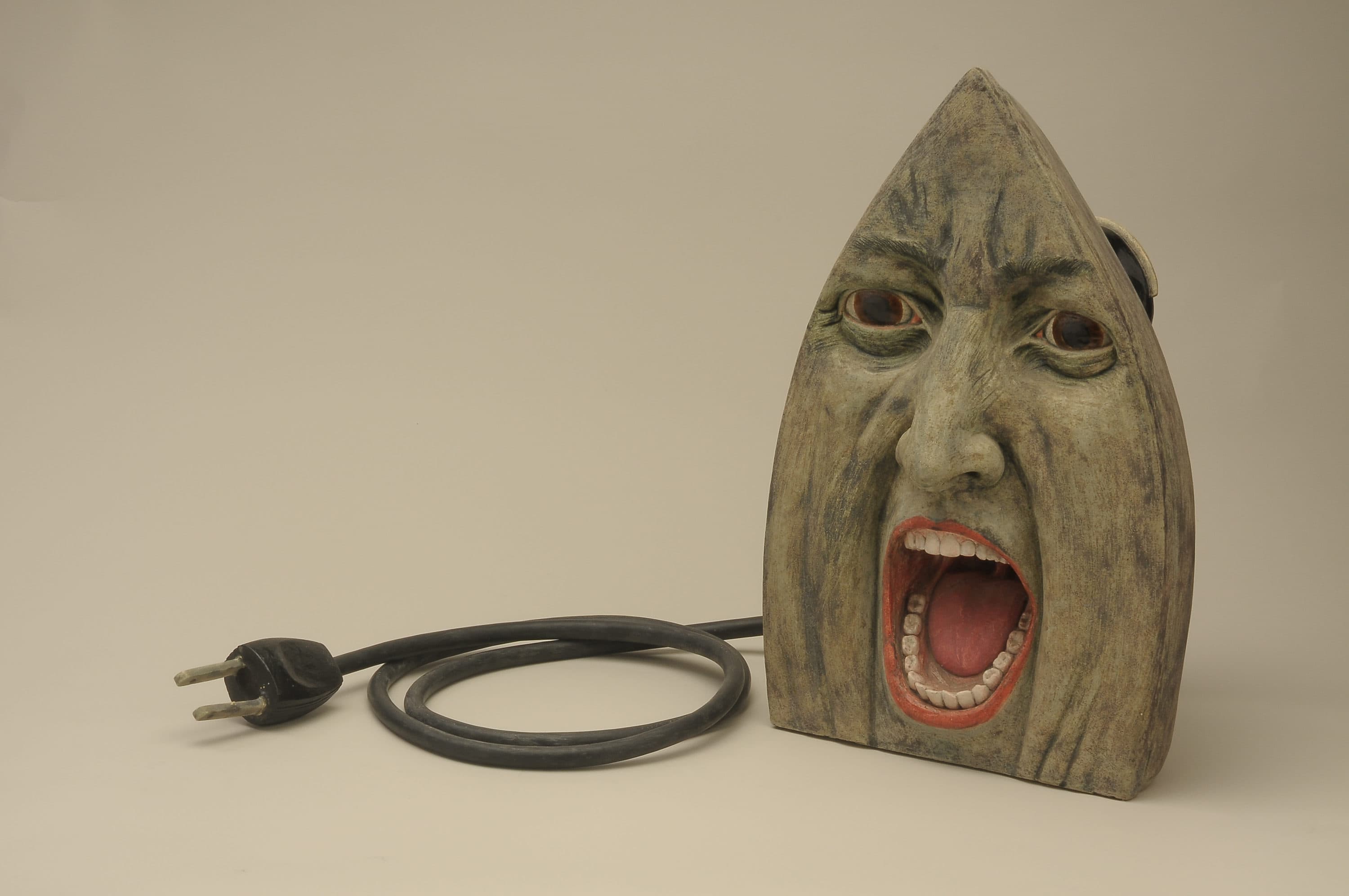 This article is more than 1 year old.
Ahh… home. It can mean safety, comfort, protection.
But what happens when you're stuck there? Suddenly, instead of warm and fuzzy feelings, home can evoke a sense of boredom, even entrapment.
This knotty conundrum is explored in Fuller Craft Museum's new show "Shelter, Place, Social, Distance: Contemporary Dialogues from the Permanent Collection," now on view.
Marking the museum's reopening after months of closure due to COVID-19, the show confronts a new reality in which the lexicon of "social distancing," "quarantining" and "sheltering in place" has become everyday terminology. As we grapple with our strange new lives, our relationship with the world has dramatically changed.
After the pandemic, the relationship with home got complicated, says Beth McLaughlin, the museum's chief curator.
"It became a place of safety, protection, but it also became a place of entrapment," says McLaughlin. "Or perhaps we were getting sick of being at home, and sick of the people we were stuck at home with. To see that shift in our relationship of home, I thought was very intriguing."
Responding to these changed relationships around home, community and isolation, while also neatly solving a problem of trying to mount a large exhibition during a pandemic, McLaughlin turned to Fuller's own collection and pulled together a show meant to resonate with the moment. Though all 41 works on view (divided into sections around the words "shelter," "place," "social" and "distance") were created long before COVID-19 appeared in humans, many pieces in the show adeptly seize on themes interwoven throughout our current world.
"Hopefully, the objects will help people make sense of it all," says McLaughlin.
In the category of "shelter," California artist Tony Berlant creates his 1990 "House" from photo-printed plywood and metal scraps inspired by Venice Beach advertising signs. He combines the pieces into a sort of 3D jigsaw puzzle evoking warmth, familiarity and safety.
While for some, the idea of home is best embodied in a physical structure, for others, home is more about a person. Akio Takamori's ceramic sculpture "Grandmother" from 2010 pays homage to the artist's grandmother, who in the piece stands on slightly bowed legs with folded arms and a stern, unflappable demeanor. She is the kind of figure (remembered in this form from Takamori's childhood in Japan) who calls up warm feelings of safety. But home is not always a safe place. Laura Petrovich-Cheney creates sculptures out of salvaged debris from natural disasters. In her piece "Cornered" (2017), she retrieved salvaged wood from wrecked houses after Hurricane Sandy and the 2016 wildfires in Gatlinburg, Tennessee and created a wooden "quilt" with connotations of warmth and comfort that belie the tragedy and loss from which the quilt was born.
"She's really looking at what makes a house a home," says McLaughlin. "What is the emotional toll when your house is destroyed? Can you move on and make something beautiful from that?"
Home and place are inextricably linked. Eddie Dominguez's 2014 earthenware plate "New Mexico Sunset" is emblazoned with swirling oranges and reds settling over what looks like rows of plants in an agricultural field.
"It's really just him paying tribute to his homeland and where he lives," says McLaughlin.
Meanwhile, Julie Elkins' "Walk Home" from 2003, features a porcelain teapot with a scene from her walk home from Virginia Commonwealth University in Richmond, where she was a graduate student. The landscape features cracked sidewalks, a brick wall with graffiti and a distant cityscape that includes a smokestack and water tower.
"She's really looking at areas that people might think are gritty or unattractive or even feel unsafe, and making them beautiful," say McLaughlin. "She's creating a little vignette of experience in places that mean a lot to her."
Neighborhoods and experiences take place in communities, and it's in communities that we gather to celebrate societal victories, whether it's gathering to applaud hospital workers at the height of the pandemic, or lately, protesting racial injustice and police brutality. The section of the exhibit entitled "social" attempts to examine our lives as social beings.
"Pussyhat Test Pattern" was the prototype for the fluffy pink hats that became de rigueur streetwear leading up to the Women's March of 2017. The hat began as part of The Pussyhat Project collective but quickly became a worldwide phenomenon, illustrating how community can be formed around not only a place but an ideal.
The exhibit section on "distance" looks at triggers for emotional withdrawal and isolation. Jodi Colella presents a found ceramic figurine wrapped in wool, linen and cotton threads in her 2018 piece "Reaching Equilibrium." The figurine's head, face and arms are obscured by what looks like a ball of twine, and the only thing we can see are protruding legs. This is Colella's comical representation of the suffocation she felt as a housewife. Also in a comic vein, Cynthia Consentino's clay figure "She Irons II" (1998) shows the angry visage of a woman stamped onto the back of a flat iron. It reflects, "feeling very trapped by the home," says Mclaughlin. "Very trapped by the chores that she was required to do to take care of the family in the house."
Jim Bassler's "Homeland Security" was created in 2015 after the Boston Marathon bombing. Bassler transformed a typical running bib, complete with runner's numbers, into a suit of armor, a poignant lamentation of the need for physical protection while enjoying an innocent activity.
"It affirms the growing need for physical protection as society gets increasingly violent," says McLaughlin, "but he's also suggesting that in doing so, we're isolating ourselves from other people. The physical armor eventually will lead to psychological armor and a way to wall ourselves off from other people."
One particularly striking piece for this moment is furniture maker Tom Loeser's "Double Rocker Back to Back," created in 2007. As the name suggests, two rocking chairs, attached by a common rocker rail, sit back to back. The users of the chair are together, yet apart. Can they converse? Will they understand each other?
"This rocker is actually looking at these shifting social interactions and the way in which dialogue can either promote or discourage socialization and social interaction," says McLaughlin.
Like many of the objects in the show, "Double Rocker" adroitly summarizes where we are in a COVID-19 world. We exist together, but, for safety's sake, stay (at least six feet) apart.
---
"Shelter, Place, Social, Distance: Contemporary Dialogues from the Permanent Collection" runs through Nov. 22 at Fuller Craft Museum in Brockton.