A 'Touchstone' For Equality And Racial Justice: Reflecting On Crispus Attucks' Legacy At Old State House
An exhibit at the Old State House in Boston is taking a fresh look at the first person to die in the American Revolution — and how advocates have used his legacy for social and racial justice throughout American history.
Crispus Attucks was the first person shot and killed by British troops during the Boston Massacre on March 5, 1770. He also was a former enslaved person who was half Native American and half African.
Now the "Reflecting Attucks" exhibit at the Old State House is showing how Attucks' legacy has pushed forward calls for racial justice — whether that was with Black abolitionists in the 1850s, civil rights advocates in the 20th century or with recent calls for police reform following the killing of George Floyd.
"Attucks is a touchstone for a 250-year-long conversation about equality and racial justice and how it relates to our fundamental understanding of what it means to be an American," says Nat Sheidley, president and CEO of Revolutionary Spaces, which oversees the Old State House.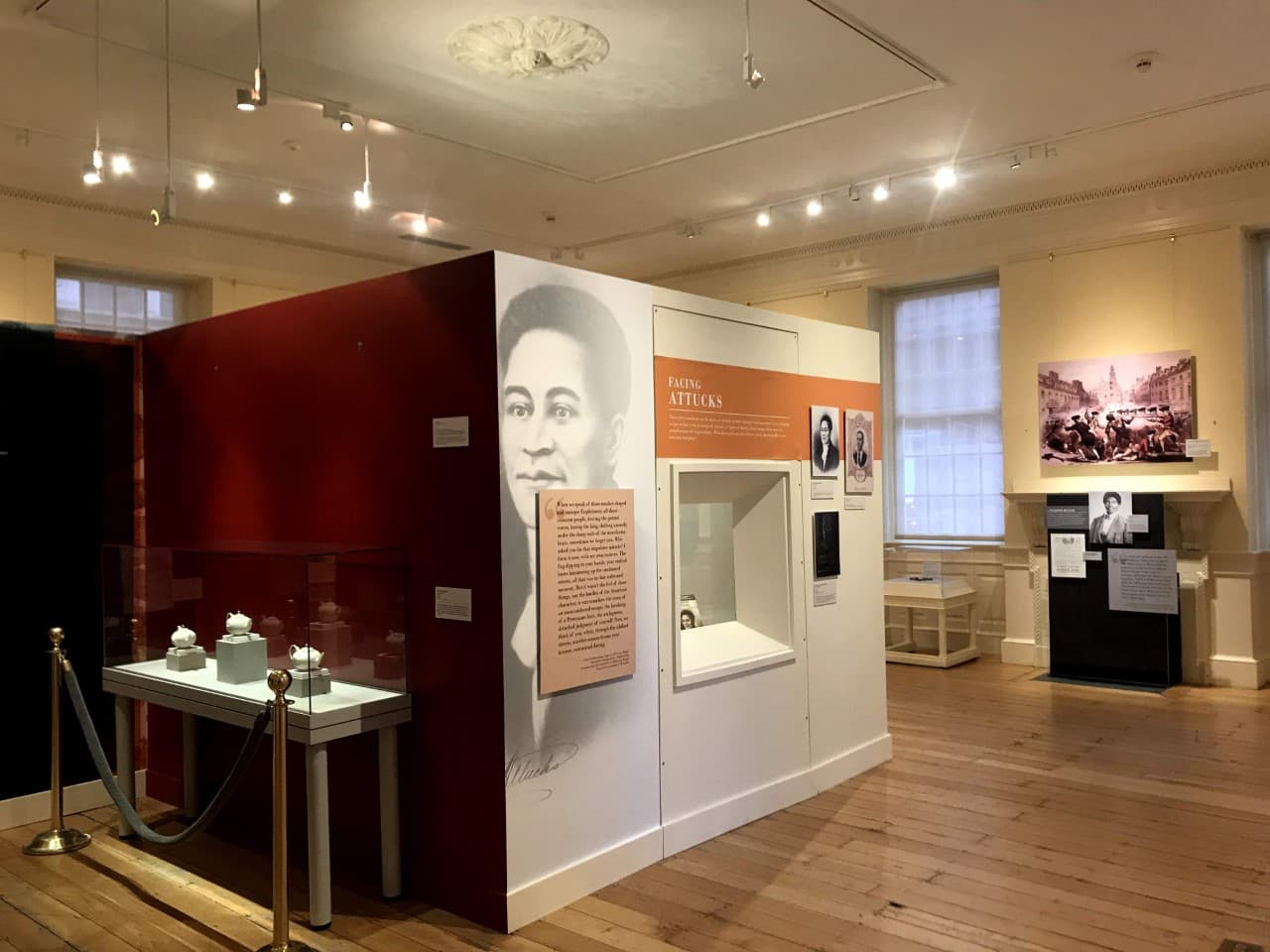 The exhibit partially looks at Attucks during his own time as a person of mixed race and how that affected his own life, Sheidley says.
"He was not an unusual man for the time," he says, "but we are often blind to this world that he comes from. So part of it is trying to understand exactly what it was like to be Black and Native American in early Massachusetts."
From there the exhibit progresses to show how activists have used the legacy of Attucks and his place as the first person killed in the American Revolution to push for racial justice. Sheidley said that ranges from Black abolitionist and historian William Cooper Nell using Attucks as an example of a former enslaved person becoming a powerful American icon to William Monroe Trotter citing Attucks as he fought against the racist film "The Birth of a Nation" coming to Boston.
"The story of Attucks is also a reminder that in the past people have also looked to this story to make interventions in the relations of power and the questions of equality in their own time," Sheidley says. "That we have found ourselves in this moment where, organically, people have made the connection between Crispus Attucks and, for example, George Floyd, it's painful but I think it's also a recognition that...we owe it to ourselves to think deeply about how we want to tell the story of our nation's founding. And how the story that we tell about our past shapes our understanding of who has a voice today. Whose voice matters? Who gets to be part of the circle of 'We The People?'"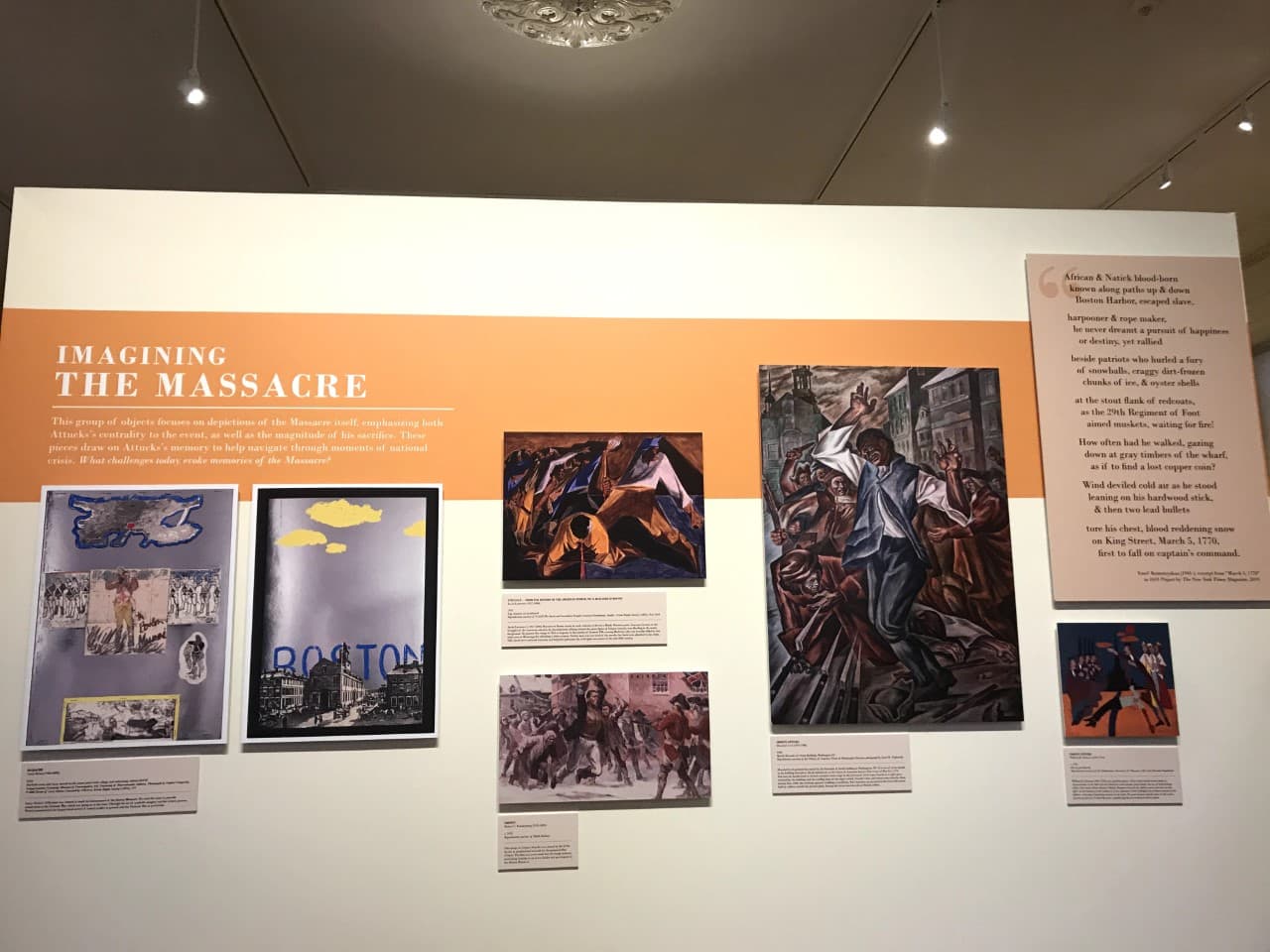 "Reflecting Attucks" opened on March 5, the 250th anniversary of the Boston Massacre, before the Old State House had to shut down because of the pandemic. The building opened back up on Aug. 1. Now only eight people are allowed into the exhibit at a time and online ticket sales are encouraged, Sheidley says. The exhibit will likely be on display through the summer of 2021 and digital content releases will complement the exhibit starting later in August.
Revolutionary Spaces hopes the exhibit allows people to reflect on who is included in the narrative of America and how that narrative can serve different purposes for different people.
"If we think that the founders are just men like John Hancock and John Adams, and we're blind to the contributions of people like Crispus Attucks, we have a very different understanding of what the arc of American history looks like," Sheidley says. "If we recognize someone like Attucks as a founder as well, it changes what our contemporary conversation looks like."