The FDA Is Reviewing Biogen's 'Breakthrough' Alzheimer's Treatment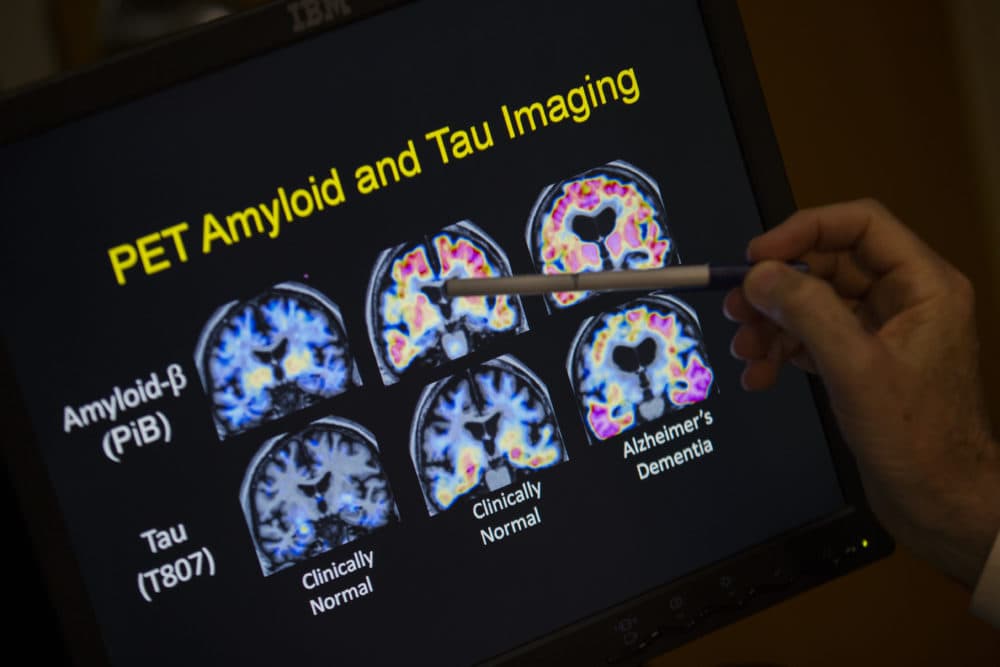 This article is more than 1 year old.
After a decade-long process, Cambridge-based biotech company Biogen has shepherded what experts say may be the "first real treatment" for Alzheimer's disease to the Food and Drug Administration's door.
It's called aducanumab. In Biogen's clinical trials, which had a bumpy road and received some mixed results, participants who got the treatment were able to retain their memory and perform every day tasks for longer than those who got the placebo.
On Friday, Biogen announced that the FDA accepted its application, complete with phase one to three clinical trials, for the treatment's approval. The federal agency will decide whether the new treatment is approved for use in the clinic by March 7, 2021.
"I think there's a reasonable chance that aducanumab, if approved and we don't know that yet, will be the first disease-modifying agent for Alzheimer's, and that will be a huge milestone and patients of mine and others can access the drug," says Dr. Dennis Selkoe, professor of neurologic diseases at Brigham and Women's Hospital and Harvard Medical School. He did not work with Biogen, but some of his patients were involved in aducanumab clinical trials.
Before aducanumab, Selkoe says doctors could only offer Alzheimer's patients drugs that would delay some of the symptoms of the disease, but then would lose efficacy. They could do nothing to slow the progression of the illness itself. But by altering the course of Alzheimer's itself, aducanumab might be able to offer patients something that no other drug candidate has been able to achieve: more time.
"Having cared for hundreds of patients with this disease, this would be a game changer. At least for some of my patients, if aducanumab is approved, [it would be] something that will slow down their deterioration, that will keep them in a better place for a longer time," he says. "This is something patients and their families have been desperately seeking."
I spoke with Selkoe about the drug and how it works. This interview has been edited for length and clarity.
What does aducanumab do?
"Aducanumab is an antibody. It binds to the amyloid beta protein, especially aggregate forms of the amyloid beta protein that we consider to be the principle bad guys in Alzheimer's disease. Alzheimer's begins in many cases, if not most cases, with the build up of this small protein called amyloid beta and the formation of amyloid beta plaques. There's a lot of evidence that people with too much build up of this small protein develop Alzheimer's. Now aducanumab binds to amyloid beta protein. It mobilizes the body's immune system against the amyloid beta plaques, and seems to clear the plaques themselves.
"The next step in Alzheimer's is the buildup of toxic tangles of a protein called tau, as well as the accumulation of tau in an abnormal form called phospho-tau. In participants in Biogen's clinical trials, amyloid plaque burden went down and tau burden went down.
"Importantly, in the phase three clinical trials, aducanumab helped the rate of decline of cognition in patients — things like memory and other cognitive functions that are lost gradually. There was evidence that aducanumab helped preserve doing household chores, cleaning, preparing a little food and doing other everyday tasks that we expect folks to do relative to the placebo. Aducanumab blunted that decline. It didn't stop the decline, but it slowed it, which is what we're hoping for."
Is the FDA expected to approve aducanumab?
"It cannot yet be concluded that it will be approved. It was a very important step for the FDA to announce that they will review Biogen's application and accelerate that review. An FDA advisory committee will also examine the data and give an opinion — it could be a split opinion. Everything depends on what the experts believe is a sufficient degree of slowing the decline to make this appropriate for approval and therefore [administer] to however many hundreds of thousands or millions of people who present with Alzheimer's disease.
"Some experts may opine that while it shows a clinical benefit and no question removes the abnormalities of Alzheimer's from the brain, the degree of benefit is not that large. It's a small benefit that one sees. Then some will say, even if it's a small benefit, it's one that my loved ones and patients should be offered.
"From my view, it's very impressive that it can actually do that, and it should be approved based on the data. This is a very complex disease, and I don't think anyone believes that aducanumab will solve the patients' problems in their entirety. It is a very important step in the right direction. You need to walk before you run, and without that first crucial step, we won't get as much progress towards the second and third antibody."
What would the approval of this medicine mean for those with Alzheimer's?
"This is a remarkable development. Time and again, I will tell patients that I see evidence that you have symptoms and signs of Alzheimer's, but I don't have a treatment that will slow that down. We only have symptomatic treatments that can help you for a few weeks or months, then lose effect.
"This is a game changer, even though I and others acknowledge it's not ideal. There's still more work to do. What we need to do is gain experience with how early we should be using aducanumab. It will be remarkable thing to turn to families and say, 'We do have a drug.' "