With Removal Of Mail Machines, Mass. Officials Call For Action On Postal Service Ahead Of Election
Play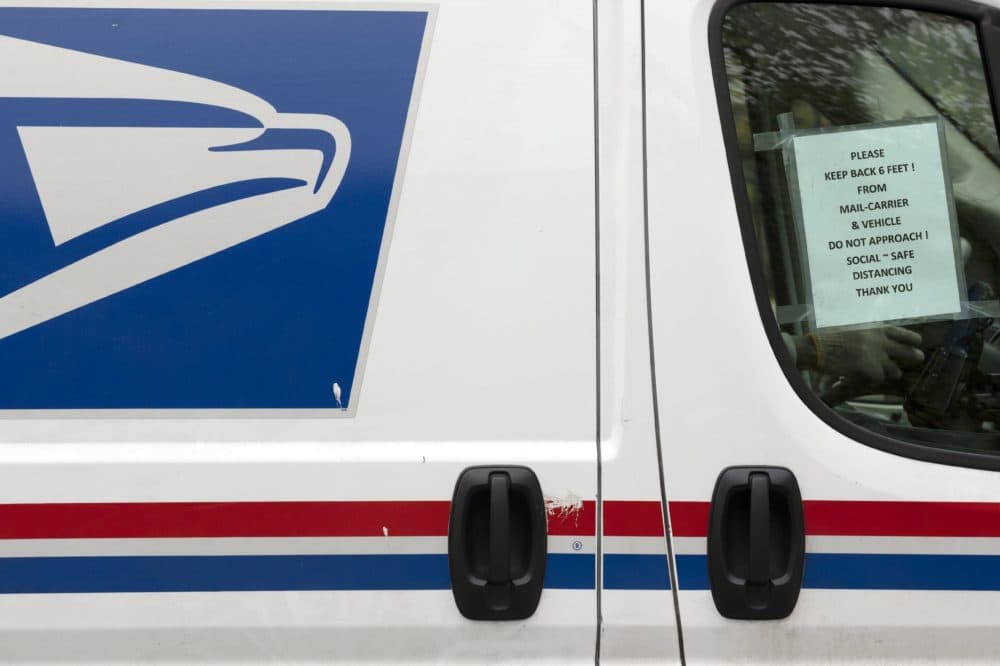 This article is more than 2 years old.
The audio atop this post contains a report by WBUR's Simon Rios.
As mail voting takes center stage this election because of the coronavirus pandemic, officials in Massachusetts are voicing concern about the ability of the U.S. Postal Service to carry out its duties.
Dan St. Marie, New England president of the National Postal Mail Handlers Union, Local 301, said 16 sorting machines have been removed from circulation in Massachusetts as part of a nationwide reduction plan, just as millions of voters are casting their mail ballots.
But St. Marie said he believes the removal of the machines will not hamper the delivery of mail during the elections, though he does think changes to postal operations seem designed to sow mistrust in would-be mail-in voters.
"[Critics are] saying, hey... they can't do their job, so mail-in ballots shouldn't be allowed."
St. Marie said the postal service has established a new rule regarding what time mail trucks need to leave facilities. He said it's long been common practice to include mail after the scheduled departure time if there is room in the trucks, but now with the rule change, he said a handler was disciplined for including mail after that time.
While he expressed confidence in the ability to get the mail out, St. Marie said changes at the national level could get in the way.
"Technically, around the time of the actual election, [there] could be an issue with delays. But again… [if USPS officials] let us do what we do, it would be fine," he said.
The removal of the mail machines has elected officials across Massachusetts up in arms.
"Technically, around the time of the actual election, [there] could be an issue with delays. But again… [if USPS officials] let us do what we do, it would be fine."

Dan St. Marie, New England president of the National Postal Mail Handlers Union, Local 103
Massachusetts Secretary of State William Galvin, a Democrat who oversees the state's election process, criticized the removal of the machines — along with other recent cutbacks that have led to a nationwide slowdown in mail service — as "politically motivated."
He said Tuesday that the state's only recourse is legal action to make sure the agency prioritizes mail ballots ahead of the election, as it's always done.
"We're alarmed," Galvin said. "The postal service has been able to provide ballot delivery even during wars, so I don't understand why this would be such a problem."
More than 1 million voters in Massachusetts have requested mail ballots ahead of the state's Sept. 1 primary, and nearly 150,000 completed ballots have so far been returned, he said. The deadline to request a mail ballot is Aug. 26.
Galvin urged people to consider handing in mail ballots at designated local drop boxes, or take advantage of in-person early voting, which opens in Massachusetts on Saturday.
U.S. Postmaster General Louis DeJoy responded to the outcry in a statement Tuesday, saying he is suspending initiatives to restructure postal operations. DeJoy said retail hours at post offices will not change, mail processing equipment and blue collection boxes will remain where they are, no mail processing facilities will be closed, and overtime will continue to be used as needed.
USPS "is ready today to handle whatever volume of election mail it receives this fall," DeJoy said in the statement.
Massachusetts Attorney General Maura Healey said she would keep the pressure on President Trump's administration to protect mail service.
"This isn't the first time the Trump Administration has backed down when Democratic AGs have filed suit," she said. "But we aren't going to just take Postmaster General DeJoy at his word – we need concrete action and binding agreements. With no indication of that, we are moving forward with our lawsuit to hold the Trump Administration accountable for its illegal actions and to make sure every vote counts."
Healey and other state attorneys general are suing to prevent the administration from enacting further cuts to the postal service ahead of the election.
"Donald Trump is trying slow down the Postal Service to rig the election,"Healey tweeted earlier Tuesday afternoon. "We are suing to stop him."
And Democratic U.S. Rep. Jim McGovern on Tuesday said he'd introduce legislation into Congress meant to protect the agency.
He also called for the resignation of DeJoy, who Trump recently appointed as Postmaster General, during a press conference outside the postal service's regional distribution center in Shrewsbury. DeJoy is expected to testify before Congress on Friday.
U.S. Reps. Stephen Lynch and Seth Moulton, both Massachusetts Democrats, also held events with postal workers in the state Tuesday.
An email seeking comment was sent to Massachusetts spokespersons for the postal service Tuesday afternoon.
The agency has said it will halt its efforts to remove mail sorting machines and public mailboxes across the country, but it's not clear whether equipment that's already been removed will be replaced.
Postal service officials have said the agency reductions, which included cuts to staff overtime, were due to lower mail volume during the pandemic.
Union officials, however, have been warning the reductions will prevent the agency from being able to handle the influx of election-related mail expected this year, not to mention seasonal surges in mail volume around the holidays or during tax season.
With reporting from the Associated Press' Philip Marcelo and WBUR's Simón Rios
This article was originally published on August 18, 2020.
This segment aired on August 19, 2020.