Pandemic Has Taken Mental, Financial Toll On Family Child Care Providers
Home-based family child care providers in Massachusetts were hit harder, financially and mentally, than other child care providers as the state closed schools and businesses because of the pandemic this spring, according to a new survey.
Child care providers reported high levels of stress and anxiety as the pandemic sickened and killed thousands, upended livelihoods and closed physical school and child care facilities, according to a pair of surveys by the Saul Zaentz Early Education Initiative at the Harvard Graduate School of Education, with Abt Associates research and consulting firm.
"The biggest overarching concern is that they won't be able to reopen," said Stephanie Jones, a professor of early childhood development at Harvard who conducted the research. "That they won't be able to go back to their business — their own business — and they won't have the supports or the resources, access to information that will allow them to do that successfully or the model will be so broken that [it] just will be untenable."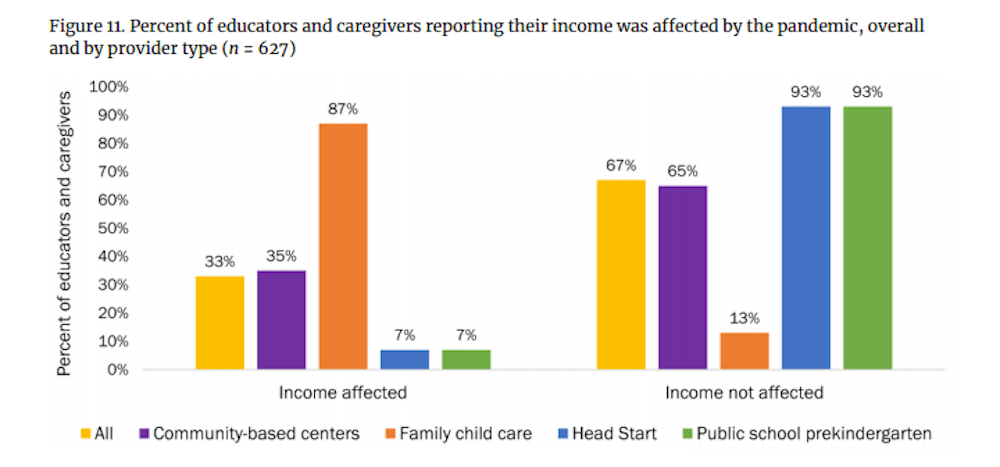 Home-based child care appears to have taken a larger economic hit during the pandemic than child care centers, according to the surveys that were conducted in April, May and June. Of the respondents, 87% of family child care providers said their income had been affected, compared to 35% of employees at child care centers. Nearly half of family child care providers thought their future income would change, compared to 14% of educators and providers in public school prekindergarten programs.
"I've been without income and won't be able to continue much longer, despite the fact that I know my day care families are counting on me to be able to reopen my business when appropriate. It might not happen and I'm scared," wrote one provider on the survey. While only 8% of all survey respondents said they were looking for second jobs, family child care providers were more likely to seek alternative income sources (12% reported doing so).
Many said they were not able to access federal pandemic assistance early on, such as the Paycheck Protection Program and the Pandemic Unemployment Assistance. The Paycheck Protection Program ran out of money within 13 days of launching, among other challenges, though additional funds were provided.
Centers and their employees were more likely to access small business loans than other providers, with 13% of center-based providers accessing the loans compared to 2% of family child care providers. Two-thirds of family child care providers said they would likely seek financial aid in the future, while a quarter of center-based providers reported the same.
"After 30-plus years running a successful family child care — always having a waiting list, never having to advertise — I'm not sure what the future holds," another provider wrote. "Fifteen weeks of mandated closing and unemployment is detrimental not only to my business, but to my family."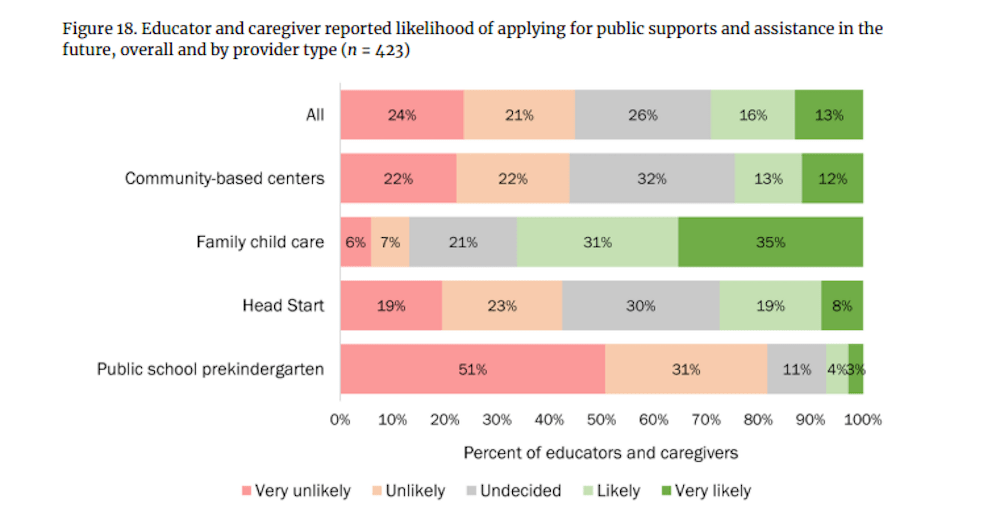 For someone like Jones, who has studied early childhood closely for years, and for the parents and providers who are living with the realities of the pandemic, the survey results may not be that surprising. It is a snapshot of what many in the early childhood field have long known: child care is fragmented, fragile and essential. The pandemic has exacerbated that reality.
"It's already a stressed and strained system, and it's like it placed a 10 billion pound weight on a strained system," Jones said.
During the state-mandated closures, about one-fifth required families to continue to pay tuition and fees. Nearly a quarter of providers that did not charge families received some voluntary payments from families.
Jones hopes that the surveys demonstrate how disparate the child care system is, and spur creative thinking about ways to support it, particularly family child care businesses.
"Part of it is about public and policy will," said Jones. "Early care and education is kind of a public good. It is necessary to sustain a healthy society, to sustain and support healthy working families. ... This is actually really essential to the functioning of our society, to the functioning of our families."
That would mean resources to sustain providers financially and psychologically, particularly as programs reopen.
In particular, 60% of all educators and caregivers reported the pandemic affected their mental health overall, with many reporting increased stress, anxiety and uncertainty. Of those with children at home, nearly three-quarters said they felt concerned for their children's future.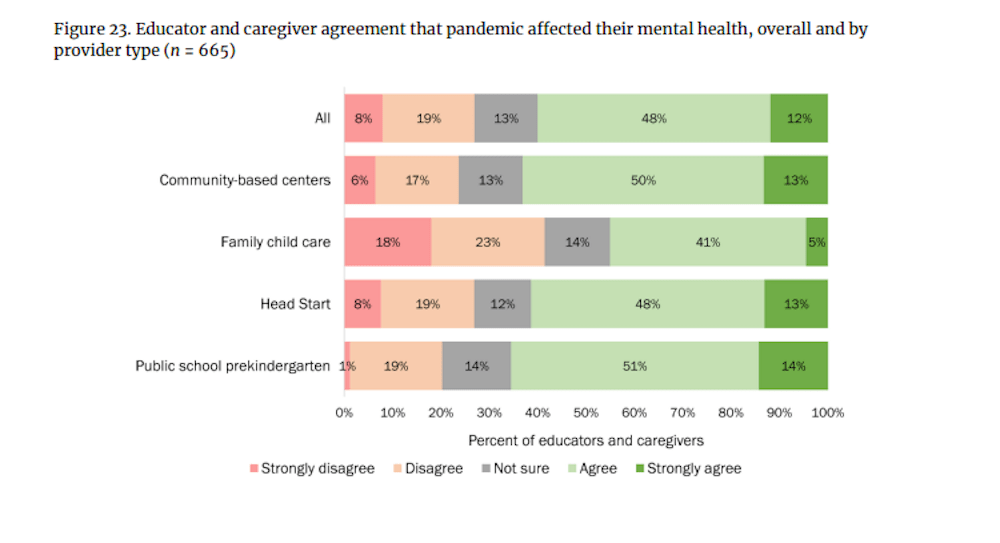 While the majority said they had guidance about hygiene protocols and materials, less than 40% of providers had access to mental health supports, with the notable exception of Head Start, where about two-thirds said they had access to mental health supports.
"There is nothing really there for anybody to go to" when it comes to mental health, Jones said. "We were all talking to each other saying, 'Gosh, I feel like I can't sleep' [or] 'I can sleep too much' or 'I'm having crazy dreams' or 'I'm so anxious all the time and I'm angry.' [But] there's no system that is set up for anybody to go to and talk about or get some support for around those feelings. And that's particularly true for providers."
While waiting for more structural and policy changes to come to child care providers, Jones recommends some simple mental health exercises to help alleviate the stress: take a few minutes every day to shut off devices, close your eyes and breathe.
This article was originally published on August 19, 2020.