Founding Director Of MASS MoCA Reflects On His Departure And Art In A Post-Pandemic World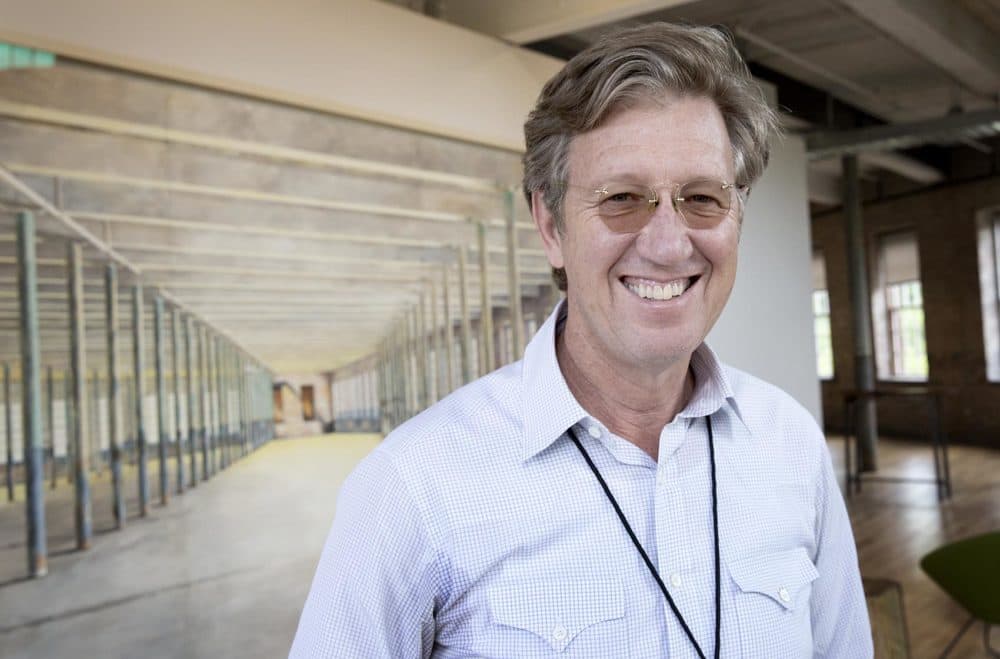 This article is more than 1 year old.
This month, the Massachusetts Museum of Contemporary Art announced its founding director, Joseph C. Thompson, would step down at the end of October after 32 years in the role.
Thompson founded MASS MoCA, as it is commonly called, in 1988, with the goal of transforming an old electrical factory building in North Adams into a museum. It would be 11 years before MASS MoCA actually opened, but it has since established itself as one of the premiere contemporary art museums in New England — and, at 200,000 square feet, the largest.
The news of Thompson's departure comes at a moment of great uncertainty for MASS MoCA and other institutions of its ilk, which have taken a massive financial hit in the pandemic. It also follows a year of scrutiny on Thompson, who last summer was charged with vehicular homicide for his role in a 2018 traffic collision that killed a motorcyclist, Steven Fortier. Thompson has since pleaded not guilty and awaits a trial. A museum spokesperson said the court case was not a factor in Thompson's decision to step down.
The director said the decision was one he had been considering for several years, and had put off — first to see MASS MoCA through the departure of his longtime deputy director, and then to steer the museum through the early months of the pandemic. He declined to comment on the pending court case.
In an interview, Thompson spoke about his hopes for MASS MoCA, how contemporary art has changed in the last three decades, and the future of the arts in a post-pandemic world. These are lightly edited excerpts from the conversation.
Why step down now? I mean, it is the middle of a pandemic, it's a pretty dicey moment. What's your thinking there?
Well, I think we've absorbed the first blow of COVID-19, and closed and have reopened quite successfully. Lots of people are enjoying our very spacious galleries, and we've even managed to concoct a kind of micro-performance schedule. I think we've had 12 or 14 very small-footprint performances in very large outdoor spaces, and it's going well.
We know that the winter is going to be challenging, and that's one of the reasons I'm sticking around in one form or another. I'll keep my director's hat on through October and then will be giving advice to the board and staff through the winter and spring, and indeed through next summer. So I'm not walking out the gates tomorrow. I'm ambling out slowly over the next year. And that's in large part to be here during whatever might happen in the coming fall, winter and spring with respect to the pandemic.
What about for you personally — why, then, was this the moment you wanted to move on?
Creative institutions need new perspectives all the time: fresh leadership on the board and fresh leadership on the staff, new points of view, wider perspectives. … I feel like the institution is in good shape. We weathered COVID with our little endowment intact. I'm very proud. Most of our people have come back. I think we were 165 employees before COVID, [and] we laid off 122. But 133 in total are back at work now and most of those are our longtime staff. So the team is in place, our program feels really exciting and our calendar is full for the next couple of years, and it just feels like the right time. I guess I concluded there's never a perfect time, but this feels as right as it ever has. I'm 62, and so I have a few more years of kicking and screaming ahead of me, but not a lot. So it felt like if I was going to try something else, it was time to do that.
There was so much hope around MASS MoCA's potential to enliven North Adams, and then, as time went on, we've seen that that's been much more mixed. It's been a lot harder to see a trickle-down effect — I don't know if that's the right way to put it.
I think that's fair. Five years ago, had you asked me, "Name, the things you're most proud of and the things that you're most disappointed [about]," I would have listed the kind of socioeconomic bounce of North Adams as something that had not gone as well — or put it this way, had not gone as fast as we had hoped. However, the last five years, there's a new vibe in town and you can see it and feel it. Younger people are moving to town. There are new restaurants opening up all the time. There's been probably twenty five million dollars just in hotel investment.
I'm now thinking about how the hospitality industry is taking this huge hit in the pandemic.
Oh, yeah, I know it. I'm worried. In the 2008/2009 recession North Adams took it in the nose a lot harder than a lot of other places and took a lot longer to recover. And I'm fearful of this one, too. Particularly because a lot of the new investments in North Adams have been in the hospitality industry, restaurants and lodging. And obviously they're suffering. The two major hotel properties, Porches Inn and Tourists, within four hours of our announcement that we were closing last March, they announced that they were closing. ... So there's a ramrod-like connection, obviously, between visitation and cultural tourism patterns and the economic fortunes of North Adams. So it's worrying.
You managed to get some big names pretty early on in MASS MoCA's history. Was that hard?
No. Even though we don't have a lot of money, we have two — or, I'll say, three really valuable assets to offer artists: space, which is hard to get in cramped urban environments. Time, which is kind of the flipside of that. The pace of change and life in North Adams is slower than it is in Boston or New York. And so an artist can come here and be in residence and tweak and fiddle and rehearse and build and sculpt for, you know, weeks or months, not hours or days. And our last resources are people. We have one of the most talented staffs in the world.
I'm curious what you see has changed in the art world — even just in terms of what artists are concerned about, perhaps.
These have been tumultuous times, socioeconomically, politically. There's just a million really hot-button topics on the table right now. And artists, who respond to life around us, not surprisingly are deeply engaged by those concerns. So we're seeing much, much more art that is dealing really directly with questions of race and racism, social justice, economic equity.
And also, I would say, increasingly artists and people in the arts world are asking institutions to grapple with these issues in a way that they maybe hadn't before, or maybe that we didn't hear.
That that's definitely going on, and the conversations are deep and meaningful.
And something else is going on, too, which is almost more technical. ... [T]here's just a lot of artists for whom the whole idea of labeling them is ridiculous on some levels. I mean, what is Laurie Anderson? I mean, she's a great visual artist and she's a great performer and a great singer-songwriter and a great videographer, a great filmmaker. And there's just a lot of artists like that. … They're very, very, very fluid across boundaries that perhaps museums continue to insist upon, even though they're not really there anymore.
I'm curious, big picture, what your thoughts are on how the arts are going to survive in a pandemic and post pandemic world.
I think creativity is fundamentally human. It's like eating. So I'm not worried about that at all. But I'm worried about the support structure we're going to lose. No doubt we're going to lose some venues and institutions and places where art gets made and shown. And so there's going to be a seismic shake out, I believe, in that whole ecosystem of where we go to enjoy art.
I don't buy that kind of inevitable digitization and online-ification of art. Artists have been unbelievably heroic in bringing their talents to our homes and into our isolated lives by means of all kinds of screens, of every different shape and size. While I find it necessary and I'm deeply appreciative of that effort, I find it woefully insufficient. And I think that, if anything, the last four or five months dramatizes the value of real places where real people gather at the end of the day. That's the core of our work.