In Roxbury's Nubian Square, A Rally For Jacob Blake
This article is more than 2 years old.
People gathered in Roxbury's Nubian Square near a Boston Police Department building Sunday evening to hold a rally for Jacob Blake, and express their outrage over systemic racism and police violence against Black people.
The organizers of the gathering, a local chapter of a group called the Party for Socialism and Liberation (PSL), said they stood in solidarity with protesters in Kenosha, Wisconsin, where a week ago a police officer shot Blake seven times in the back, resulting in him being paralyzed from the waist down.
Several speakers took turns addressing the crowd through a loudspeaker, before the group set off to march to Franklin Park.
"We're all grieving collectively," said Phoenix Printemps, interim director of Boston-area Youth Organizing Project. "We can't wait for somebody else to die on camera for us to get our way!"
When it was his turn at the mic, Cecil Carey, a teacher with Boston Public Schools, tied the problem of systemic racism with a capitalist system that exacerbates inequality.
"As a teacher, I see how all our struggles are connected," he said. "From adequate funding of education, to housing, to racist police terror, we have a common target. The rich, who impose racist austerity as they line their pockets."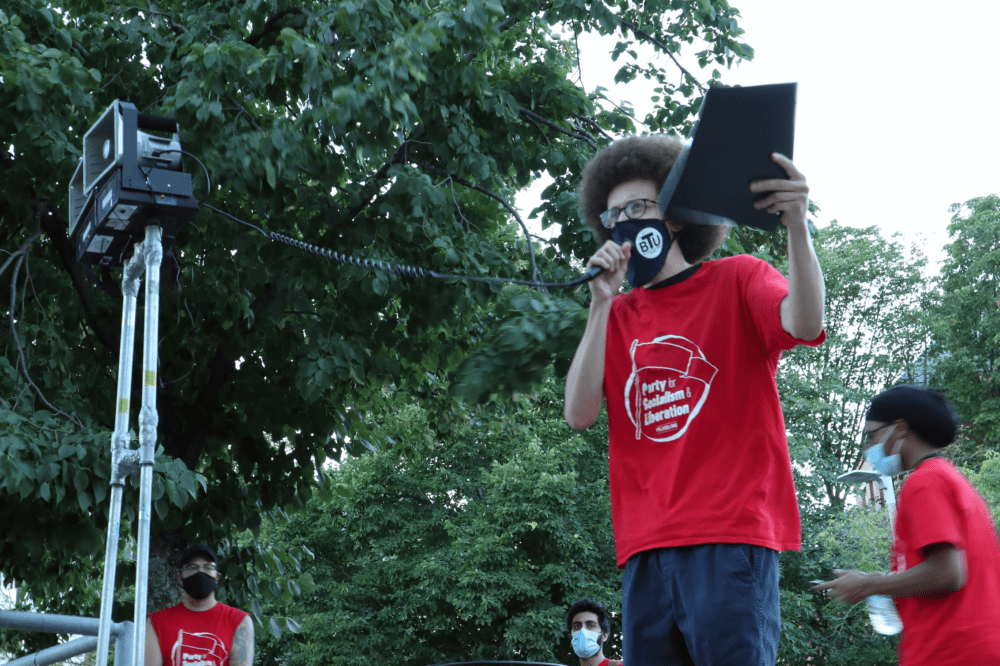 "We do not need police in our schools," he said. "We need councilors, we need psychiatrists."
Near the front of the crowd, Rev. Jacob Urena looked on. Asked why he came out, he said that videos of Black people being injured or killed by police now seem like "a repetitive, never-ending thing."
"We see a lot of good gestures. We see [Black Lives Matter] being posted on the streets ... but when it comes to real change in government and policies, it's very hard to see politicians come through with things they say they're going to do."
That's why Urena, who is a co-founder of The Order of St. Martin de Porres, a socioreligious organization dedicated to social justice, said it is up to Americans to come together and push for systemic change.
"It starts with protests and marches like this, but also following through and making sure these aren't just one-day events. But it's a momentum, a domino effect that keeps going."
This article was originally published on August 30, 2020.