A Boston Photographer's View Of The March On Washington
The temperature at this year's March on Washington, on Aug. 28, soared to 93 degrees with maximum humidity. The heat pulled on me and stuck to my skin. I typically carry three cameras with ease, but that day they felt a hundred times more massive. On that late summer day, the drone of protesters' voices couldn't compete with the hum of crickets and cicadas in the trees lining the reflecting pool at the Lincoln Memorial.
Race inequality is not a new challenge for America, but George Floyd's killing by police officers in Minneapolis has brought boiling racial tensions to a full overflow. Police shot Breonna Taylor dead in her home while executing a "no-knock" warrant, and men chased and fatally shot Ahmaud Arbery in broad daylight. Just recently, Jacob Blake was shot seven times in the back by the police in front of his young children. He is now paralyzed.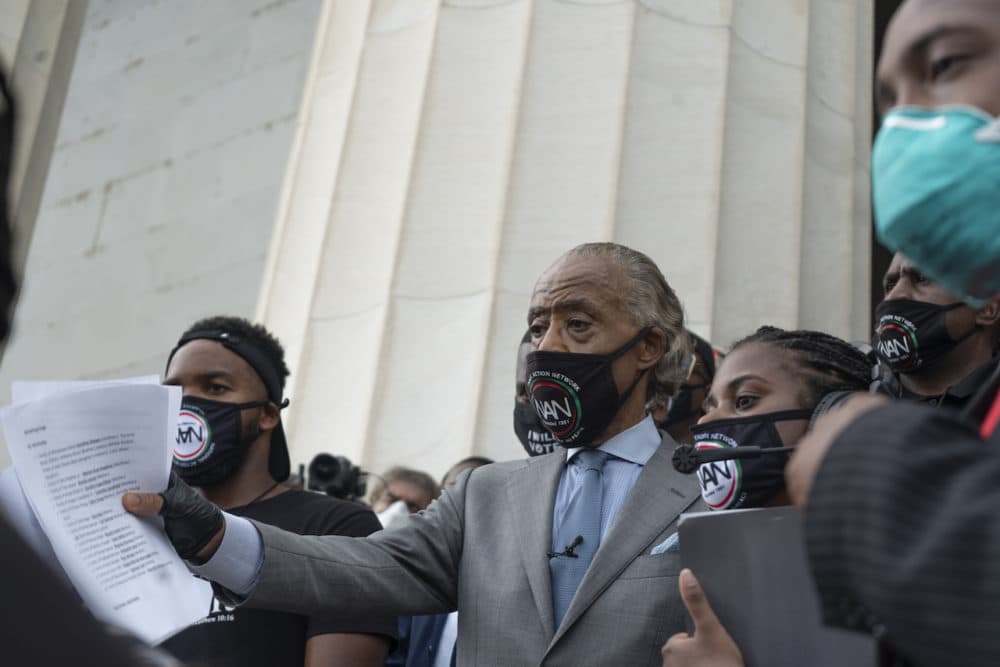 The anger over these injustices brought snaking lines of people to the March on Washington. Rev. Al Sharpton, who organized the rally with the National Action Network, became worried about the spread of COVID-19 at the march. He canceled buses across the country to keep the numbers down. But tens of thousands of people still showed up.
The vast crowd gathered at the steps of the Lincoln Memorial. Family members and friends of slain Black folks' families surrounded Sharpton, who introduced Blake's father.
The event was joyous, celebratory and a show of Black pride. People smiled and embraced, but standing beneath images of dead Black people, whose lives were robbed, you could not help but be reminded that this was all an act of protest.