Shortage Of Dry Ice Could Chill Coronavirus Vaccine Distribution
About 50,000 pounds of dry ice arrives at Acme Dry Ice in Cambridge every morning these days. Three hours later it's gone.
"I can't get ahead," says Acme owner Marc Savenor. "I've been doing this for 42 years and I've never seen it like this, ever."
Most of Acme's dry ice deliveries go to pharmaceutical firms across Massachusetts. Savenor estimates that 50% of his customers are working on some element of coronavirus vaccine research. The Centers for Disease Control guidelines say the first two vaccines expected to come to market will need dry ice for shipping, storage or both (according to documents obtained by The New York Times.) Savenor says he can't keep up with demand now, during the trial phase, before any vaccines have been approved for use.
"The demand on dry ice is so high around the country that people have been calling us from Chicago, Seattle, Texas, Wyoming," Savenor says. "New York, New Jersey, Philadelphia, everyone's getting hit at the same time."
Hit on both the demand and supply side. Coronavirus vaccine production is not the only factor driving up demand. An increase in food delivery and shipments, like those ribs Savenor ordered recently to cook at home, means more calls for dry ice.
At the same time, dry ice production has slowed because the supply of carbon dioxide, from which dry ice is made, is down. Carbon dioxide is captured during the production of ethanol, which has dropped off, in part, because fewer Americans are driving and buying gas.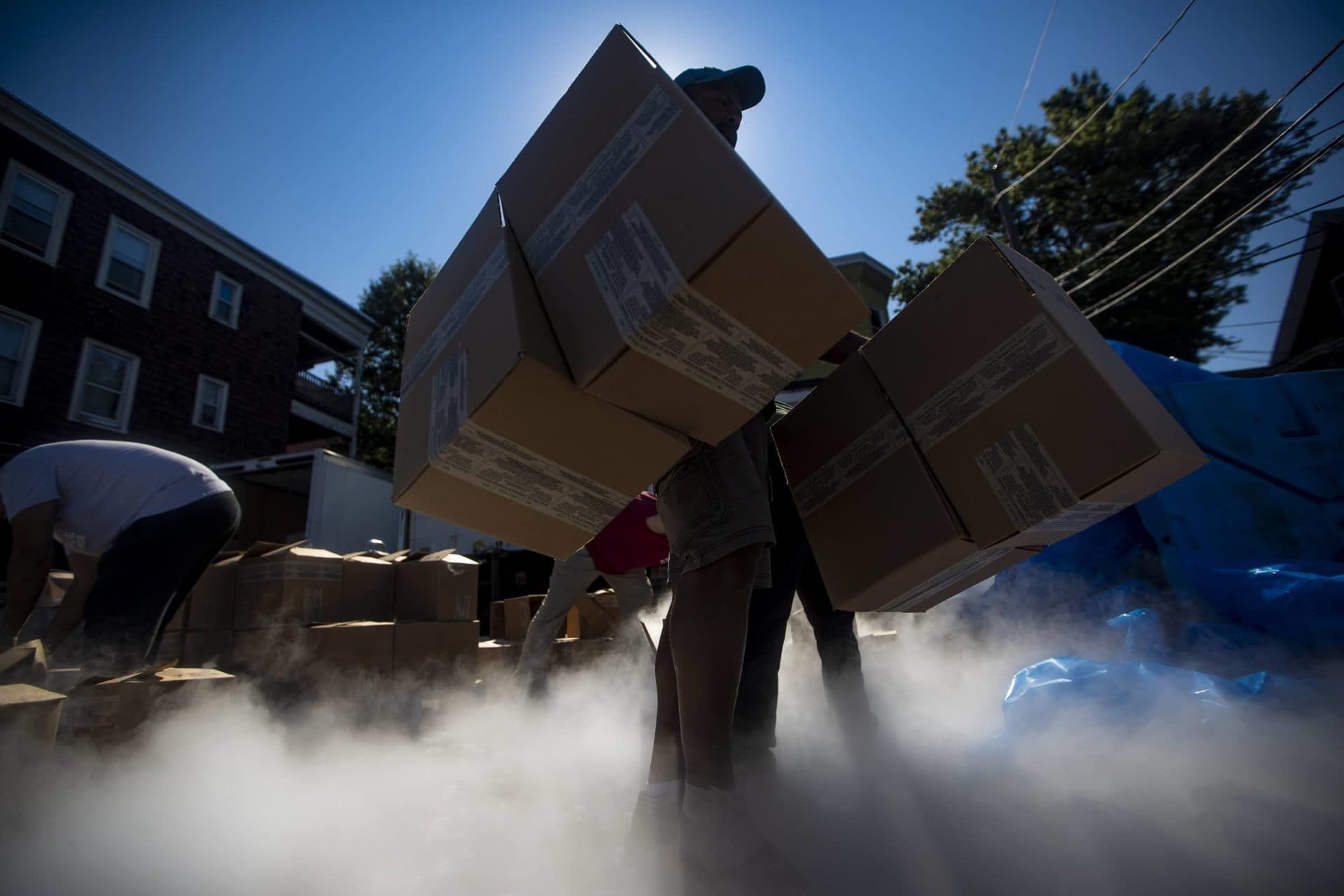 At American Dry Ice Corp. in Palmer, the main manufacturer for New England, co-owner Daniel Koerner says he gets about 85% of his CO2 order these days. Slower ethanol production isn't the only problem. Koerner says rail deliveries that used to take 8 to 10 days now take 12 to 16 because the rail supply chain has slowed during the pandemic.
"You can lose a week with that," Koerner says. "We could sell another 30-40% if we could increase production."
With vaccine distribution, public health experts say the plan is to use dry ice in storage containers as a substitute for building large freezers. McKesson, the company hired as the central vaccine distributor, has not responded to questions about the limited supply of dry ice.
Not all of the vaccines being tested for the coronavirus need sub-zero storage. Regular refrigeration is expected to be sufficient for several vaccines that could be available next year, if they are approved for use.
Rich Gottwald, president of the Compressed Gas Association, says he expects the carbon dioxide shortage will ease by the end of October. More ethanol plants are due back online. Food delivery services don't need as much dry ice to keep products cold. In the winter, Americans drink less soda, which fizzes with carbon dioxide. And rail service may pick up again.
"Our members are doing everything they can to get people the CO2 they need," he says, "to create new CO2 is a big expense that can take a year or two to build, so there's not a short term solution that is an easy one."
But Savenor is not so sure that supplies will be back to normal by winter, when the vaccine storage demand may increase.
"Nobody can see the future," he says, "especially during this pandemic."