Artistic Director David Dower, Who Built ArtsEmerson's Foundation Of Equity With David Howse, Will Step Down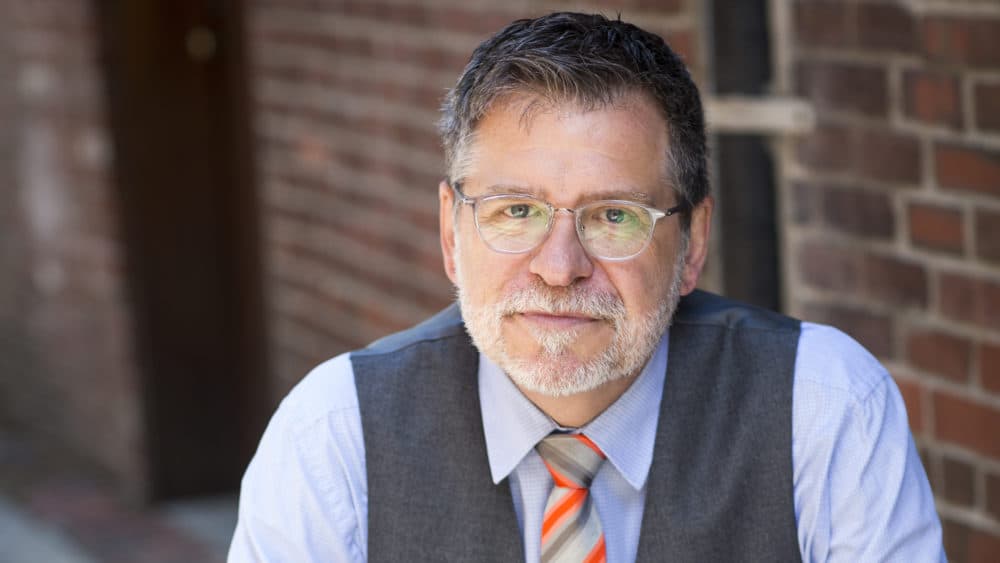 This article is more than 2 years old.
In theater, once a show is ready for opening night, the director has to let go. This is the analogy ArtsEmerson's David Dower used to explain why after nearly 10 years he's officially stepping away from his role as artistic director on Jan. 1.
"If the director sticks around, the director tinkers and the play goes out of whack," Dower said. "[ArtsEmerson] has been like a play we've been making, and we've been calling people around this vision. At a certain point, it moved from aspirational to actual ... the ensemble is so tight and the play is open. And my responsibility is to get out of the way of its flight."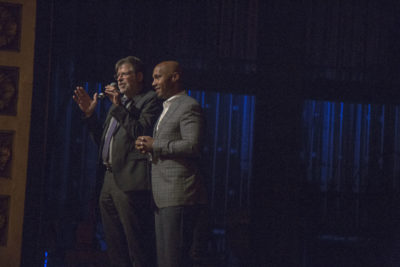 ArtsEmerson is the presenting organization of Emerson College and brings contemporary theater to Boston. At a moment when more is being demanded of American theater, and Black, Indigenous and people of color are calling for more consistent representation on stage and in leadership, Dower is stepping down. He has set the vision and artistic direction, serving as the public face of this institution along with executive director David Howse.
They've worked together and in tandem with colleagues for years, striving to create opportunity and push the needle toward equity. But, Dower said, the biggest shifts often require the sacrifice and in this case, a statement.
"The institution of theater in America is not going to advance until the power changes. And so you can do whatever you want with the programming. You can do whatever you want with the audience. But until power changes, that's not going to happen," he said. "That's only going to happen because people make certain decisions about stepping out of power, stepping away. So I feel good about stepping aside."
In his more than 30-year theatrical career, Dower said he has directed about 75 plays. He is the co-founder and a contributing editor to HowlRound Theatre Commons and previously served as associate artistic director of Arena Stage in Washington, D.C., founded and served as artistic director of The Z Space Studio, and co-founded and served as co-artistic director of The Z Collective in San Francisco. At ArtsEmerson he directed Guillermo Calderón's "Kiss," Daniel Beaty's "Mr. Joy," Melinda Lopez's "Mala," "Baritones UnBound," and Maurice Hines' "Tappin' Through Life."
Jamie Gahlon, director and co-founder of HowlRound, said what exemplifies Dower as a person are the high ideals he seeks to embody.
"He really believes that the resources of the not-for-profit theater are resources that should be stewarded so that everyone has access to arts and culture," she said. "If you look at the programmatic choices that ArtsEmerson has made over the last decade — but really since he's been at the helm in particular — I would say that there's zero tension between artistic excellence and civic engagement and really putting the world on stage."
Dower is moving to San Francisco to be near family and take on a leadership role with The 7 Fingers, a world-renowned circus collective based in Montreal. He will serve as executive producer of The 7 Fingers U.S. operation. Dower has known the founders of the collective since training with the Pickle Family Circus early in his career. Something about the circus arts still moves him after all this time.
"You're seeing the human form, the virtuosity of the human form, what we're capable of," Dower said. "You're seeing our interdependence."
Dower will continue to work as a consultant while ArtsEmerson begins looking for candidates to serve as an artistic leader, though not director, David Howse said. Howse will transition to vice president of the office of the arts while continuing his position as executive director.
Jacqui Lindsay, who served as a consultant at ArtsEmerson and helped build its shared leadership model, said Dower and Howse actively engaged the community beyond selling theater seats. She credits them for addressing issues of all kinds facing Boston.
"There was this real integration that started to take place," she said, "where the theater became this welcoming place that brought in the diversity of the city, catalyzed by this theater that was shown and being brought not only from cultures around the world but really connecting to the kinds of issues that ArtsEmerson was learning that the Boston community cared about."
For the past several years, these two men became known as "the Davids" throughout Boston's arts and culture scene, recognized for their shared legacy.
"In truth, in this shared leadership model, so much of what we do is together. We program together. We vision together. We've led together. We strategize together," Howse said. "And even though this decision emanated from him personally, probably a little over two years ago, as he was thinking about what comes next for him."
Both started this work around equity long ago, realizing that the stage did not reflect the community which needed to be addressed and changed. In this way, Howse said, they positioned ArtsEmerson as a civic player and an activist organization.
"When David came to the city as an outlier, a newcomer, he was unapologetic about what he meant to build, and unapologetic about with whom he wanted to build that organization," Howse said. "That kind of drive has stretched everyone in the organization, has stretched the audience in ways that make us more open, more curious and wanting even more. I think that is an important legacy that he leaves."
Artist Daniel Beaty, who wrote "Mr. Joy," said the core values Dower and Howse each speak are truly implemented with integrity.
"The relationship between 'the Davids' for me is a model of the exact type of possibility and the exact type of collaborative leadership that can allow something new to emerge," Beaty said. "It's two brilliant men who built something together. A white man with core values, realizing that he can move on to something else. And a black man who's supremely qualified, stepping into his rightful position."