Get A Flu Shot Before The End Of October, Mass. Medical Society Urges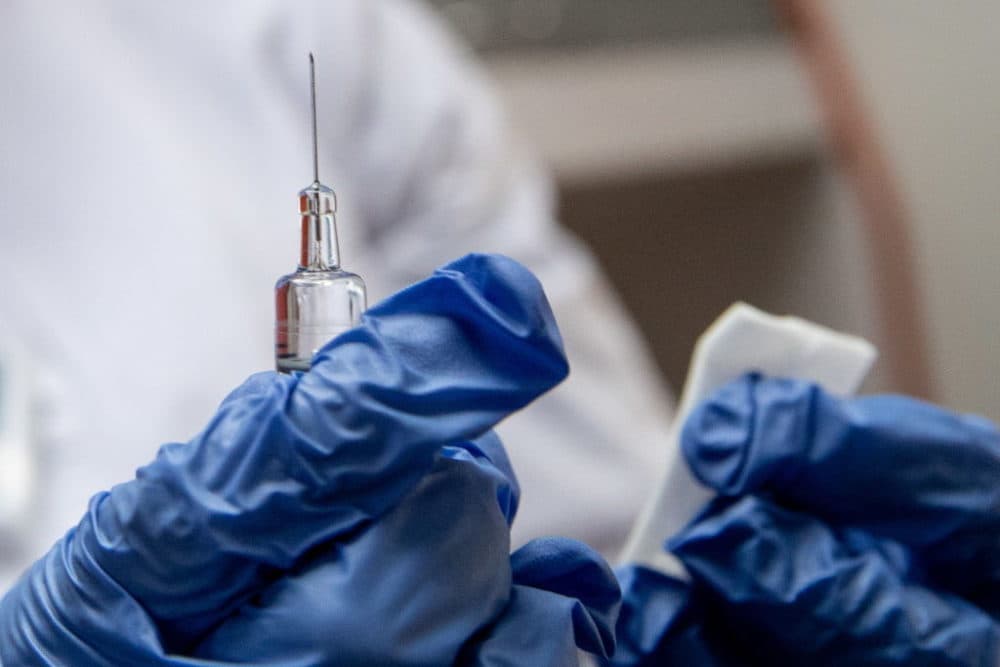 This article is more than 1 year old.
The Massachusetts Medical Society is urging people to get a flu shot within the next few weeks as a way to protect themselves and to prevent hospitals from becoming overloaded due to the ongoing coronavirus pandemic.
Massachusetts Medical Society president Dr. David Rosman called flu shots more important than ever in order to reduce the number of people hospitalized because of the flu while medical facilities deal with an influx of people infected with the coronavirus.
"Those resources are resources needed for patients who have bad cases of COVID," Rosman said. "There are only so many ICU beds and we want to make sure we preserve them as best needed."
The Centers for Disease Control and Prevention estimates seasonal influenza is responsible for between 140,000 and 810,000 hospitalizations each year in the United States, and it is responsible for between 12,000 and 61,000 deaths a year.
Speaking from a CVS clinic in Roslindale on Thursday, Gov. Charlie Baker echoed calls for residents to get immunized, warning that in the event of another surge of COVID-19 cases, a bad flu season could compound the burden on the state's health care system.
"From a diagnostic point of view, from a care delivery point of view, from a capacity point of view, having the flu and COVID-19 surge in the commonwealth at exactly the same time would be an incredibly difficult situation for [health care professionals] to manage their way through," Baker said.
The Massachusetts Medical Society is urging people to get a flu shot by the end of October.
"Flu season really gets going as you get toward late October and into November and then the winter," Rosman said. "So it's not very useful to get your flu shot after the end of flu season, and it's most useful to get it when the flu season is really getting going."
This article was originally published on September 17, 2020.