On The Cusp Of A Breakthrough, Anjimile's Music Transforms
Play
This article is more than 2 years old.
Back in 2015, Anjimile experienced a crippling bout of writer's block. So he did what any smart musician would: he wrote it into a song. The result, "Maker," is, in its original incarnation, intimate and spare — an unvarnished meditation on the creative process.
Five years later, Anjimile says "Maker" was also about something else.
"'Maker' is about, for me, my exploration of my identity, like pretty specifically as a trans person," the singer-songwriter explained recently from a socially-distanced perch on his back porch in Jamaica Plain. "Which is wacky because when I wrote this I did not identify as trans yet."
A lot has changed in the years since "Maker" was written. Anjimile started hormone therapy, learning to sing in a voice a whole octave lower. He came out as trans to his parents. (He now identifies as non-binary and uses both "they/them" and "he/him" pronouns.) And the version of "Maker" on his new album, "Giver Taker," is bolder as well, a propulsive, urgent arrangement that occasionally breaks into near-ecstasy.
"Giver Taker" is Anjimile's second full-length project, but in many ways, it's a first. The Texas-born musician, whose given name is Anjimile Chithambo, moved to Boston for college and gained a following with restrained, sometimes delicate songs that invited comparisons to Sufjan Stevens. His 2016 debut "Human Nature" garnered praise in local publications. Two EPs, "Colors" (2018) and "Maker Mixtape" (2019), helped earn him the occasional shoutout from national publications. But with early critical praise and profiles in Rolling Stone and NPR, "Giver Taker" already seems to be something of a breakthrough.
"Giver Taker" revamps a lot of Anjimile's old material with a bigger, more adventurous sound — a pretty different artist than fans may remember. "Even though I've self-released stuff in Boston in the past, it does feel like a debut," Anjimile said. "Because it feels like I finally have the resources to make the artistic statement that I want to make."
Those resources include a contract with the indie label Father/Daughter Records and a grant from the Boston Foundation. The money helped Anjimile hire a couple friends to produce the album: frequent collaborator Justine Bowe, who performs as Photocomfort, and producer Gabe Goodman.
"He's a maximalist, in my opinion, disguised as a minimalist," Anjimile said of Goodman. "And so he adds wild sounds, but only a little bit at a time."
The trio renders some songs almost unrecognizable from the originals. "Baby No More" transforms from a wistful acoustic ditty into a playful, up-tempo bop. "In Your Eyes," one an ambient ballad, now sounds like a blast from radio's soft rock past.
"I love the sound of 1980s pop," Anjimile said. "I love the reverb. I love the drum machines. I love the vocals."
The songs on "Giver Taker," written over the course of several years, trace Anjimile's sometimes tumultuous entrance into adulthood — including, at age 22, his treatment for alcoholism. With that sobriety came a newfound spirituality. Not the strict Presbyterianism of his upbringing, but something a little more... free.
"I have, like, a crystal in my pocket right now," Anjimile said, laughing. "When the wind blows a certain way, I'm like, 'Wow, thanks, universe!' "
Maybe it's silly, but those thoughts keep him grounded. "When I got sober, I was like, 'Oh, my God, I thought I was gonna die. But I am super not dead. Wow, I can't believe this!'" Anjimile said. "And I was like, 'There's gotta be something going on in the universe that has granted me this newfound, like, resilience.' "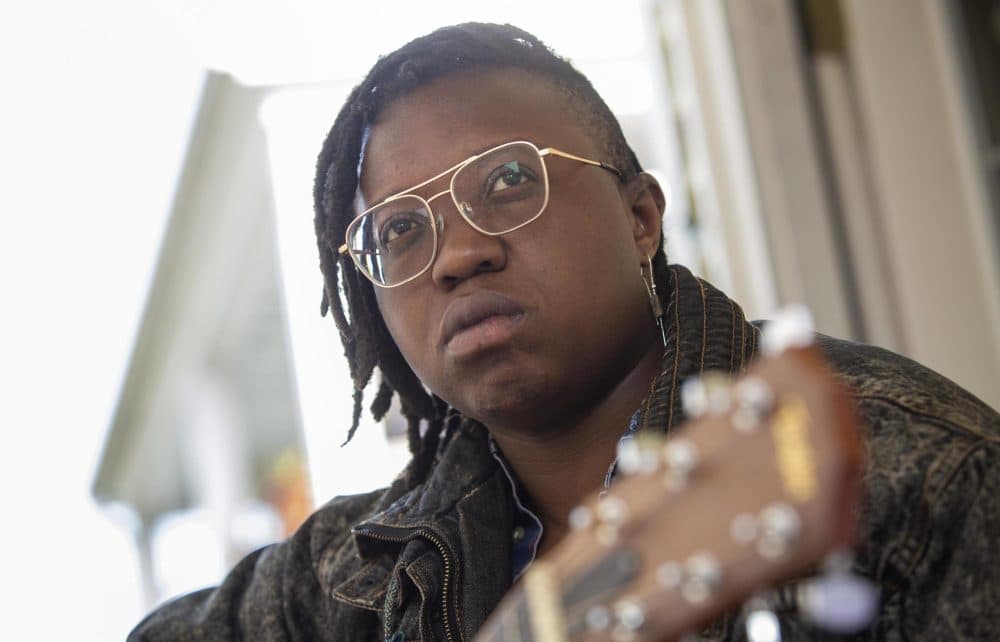 The way Anjimile describes it, "Giver Taker" isn't so much about not dying as being reborn. It's about transformation, which contains both growth and loss. Identity — the sense of self that anchors you — changes.
"I identified as a lesbian, and then that wasn't a thing anymore. And then I identified as an alcoholic, and then that's not a thing anymore — I don't drink," Anjimile said. "Identifying as all of these things and then those things changing into something else and growing into something else."
He continued. "It is bittersweet to grow. And I guess the record is about how it is bittersweet to grow."