Disciplinary Hearings Begin For Ex-Prosecutors Accused Of Withholding Evidence In Farak Drug Lab Scandal
The Massachusetts Board of Bar Overseers begins disciplinary hearings Monday for three former state assistant attorneys general accused of not disclosing evidence during a drug lab scandal.
Former assistant attorneys general Kris Foster, Anne Kaczmarek and John Verner all face potential punishment — including possible disbarment — over accusations they withheld information about the scandal involving disgraced chemist Sonja Farak.
Farak was arrested in 2013 on charges of ingesting the drug samples she was testing and tampering with drug evidence for criminal cases at the state-run drug lab in Amherst, Mass. She was convicted in January 2014 and completed an 18-month prison sentence.
In October 2014, a defense attorney found evidence in the prosecutors' possession that showed Farak's drug use at the lab went on for much longer than the state acknowledged at the time. Since then, thousands of criminal cases of so-called "Farak defendants" have been dismissed.
Nina Morrison, senior litigation counsel with the Innocence Project, filed the complaint after a lower court judge ruled that two of the prosecutors — Foster and Kaczmarek — committed fraud by withholding the evidence.
"We really thought that we had an ethical obligation to make sure that they were held accountable for putting the lives and liberty of so many citizens second to their desire to minimize the scope of the investigation," Morrison said.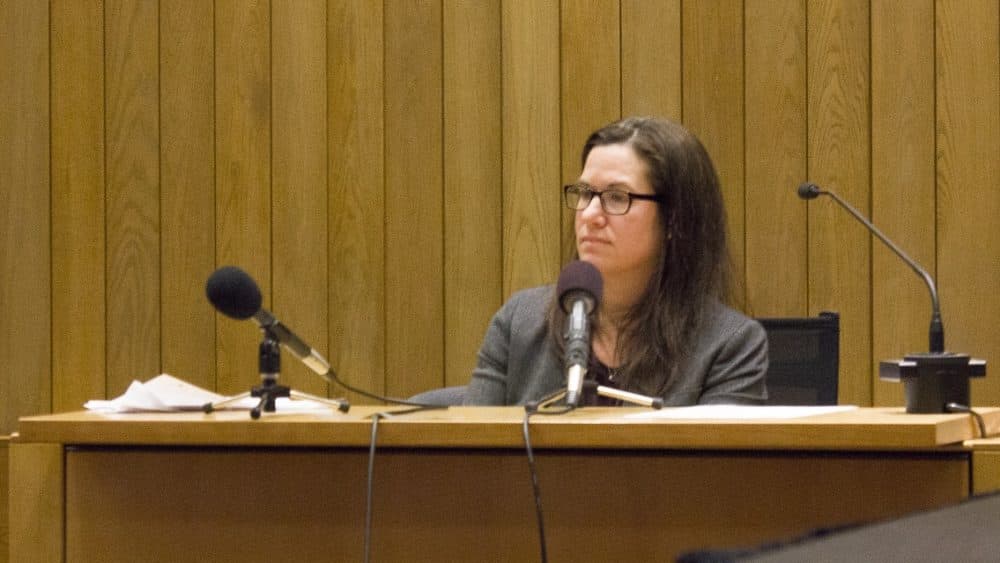 Examining The Timeline
Initially, prosecutors said Farak's drug use had gone on only for months while she worked at the Amherst lab. At first, the state said just two criminal cases were affected.
Years of litigation and hearings over challenges from criminal defense attorneys showed prosecutors did not disclose records that showed Farak had been using drugs at the lab for years.
In 2013, Superior Court Judge C. Jeffrey Kinder ordered Foster to provide all the documents related to the case. Foster wrote a letter saying that every document and all investigative files had been provided to defense attorneys.
In 2014, defense attorney Luke Ryan was granted access to the files and found documents in which Farak admitted to using drugs at the lab and working while under the influence for several years.
That led to a scathing 2017 ruling from Superior Court Judge Richard Carey, who concluded that Foster and Kaczmarek deliberately withheld evidence proving that Farak's misconduct was greater. Carey said the prosecutors' conduct was "reprehensible" and "not limited to an isolated incident, but a series of calculated misrepresentations."
In 2018, the state Supreme Judicial Court ruled that thousands of criminal charges based on Farak's testing must be dismissed.
At the time Farak's misconduct was revealed, the state was dealing with another drug lab scandal involving former state chemist Annie Dookhan. She was convicted in 2013 of tampering with drug evidence and not properly testing samples at the Hinton Lab in Boston. She served three years in prison.
Monday's Hearing
After the Innocence Project complaint, the Massachusetts Board of Bar Overseers added Verner to the case because he supervised Foster and Kaczmarek in the state attorney general's office under former AG Martha Coakley.
In their responses to the complaint, all three prosecutors said they were not to blame.
Foster's response essentially said that, at the time, she had worked in the attorney general's office for less than two months and was acting under the direction of her supervisors. Foster said state police investigators and Kaczmarek told her that all "relevant and appropriate materials" had been produced.
In her response, Kaczmarek made some similar arguments, saying she was a lower-level assistant attorney general who was not responsible for ensuring that potentially exculpatory material was distributed. Her response said "implementing procedures for dissemination of information to other law enforcement agencies other than the Attorney General's office lies at the top of the supervisory chain, not the bottom," adding that it was the responsibility of other supervisors to make sure possible exculpatory evidence was turned over. She also said the office was not the only agency with access to the materials, claiming state police were aware of the documents indicating the scope of Farak's drug use, as was Farak's defense attorney.
Verner's response said he believed the other two prosecutors had turned over all the materials relevant to the case.
While misconduct complaints against attorneys are not uncommon, Morrison said it's unusual for prosecutors to face public disciplinary hearings.
"This is a very rare occurrence, and the fact that it's available to the public to watch will give some rare public scrutiny to how the accountability process plays out," Morrison said.
All three still hold active law licenses. Foster is legal counsel for the state Alcoholic Beverages Control Commission; Verner works in the office of Suffolk County District Attorney Rachael Rollins. It is not clear where Kaczmarek is currently working.
The attorneys face a range of punishment, up to disbarment. Monday marks the start of what's expected to be more than two weeks of testimony.