'At Least Moderately Severely Ill': A Boston Infectious Disease Specialist On Trump's Condition
04:59
Play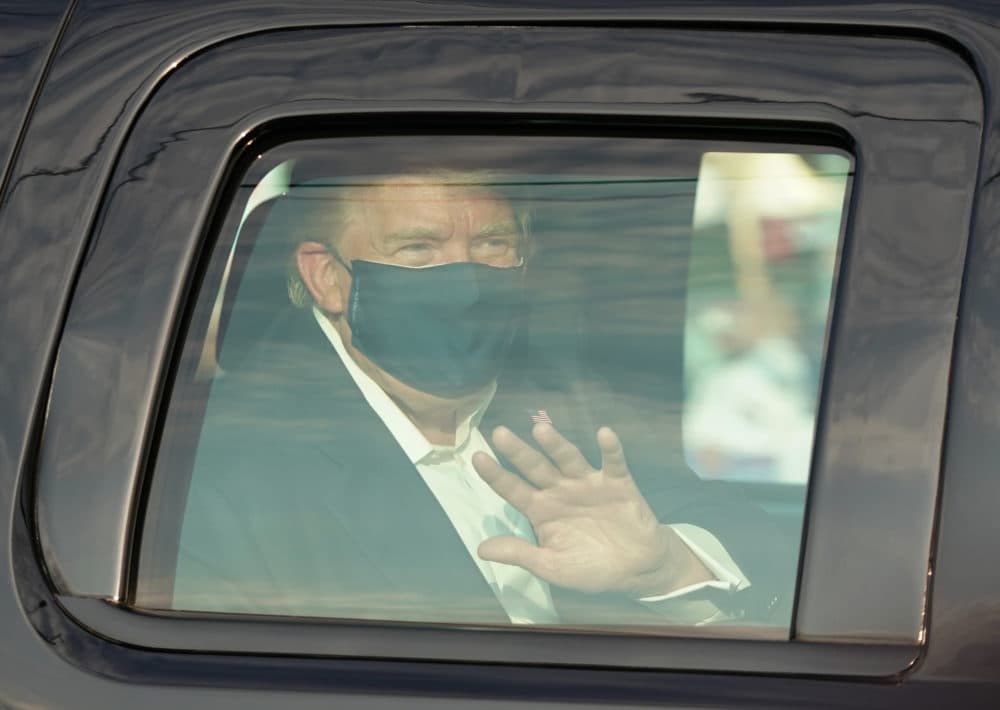 There have been mixed messages coming out of Washington about President Trump's health since he tested positive for the coronavirus.
White House doctors say he could be discharged from the Walter Reed National Military Medical Center as soon as Monday.
The president took a drive outside the medical center on Sunday to wave to supporters and posted a video message to Twitter.
Other doctors treating the president say his oxygen level has dropped twice since Friday, and that he is being given several treatments, including steroids.
For a closer look, WBUR's Morning Edition host Bob Oakes was joined by Dr. Nahid Bhadelia, an infectious diseases physician and the medical director of the special pathogens unit at Boston Medical Center.
Here are highlights from the interview, lightly edited for clarity.
Interview Highlights
On the president's condition
I think it's certainly more than a mild case, partly because just the steroids are themselves the indications for that. If you look at the data that came from this large trial, the recovery trial in the United Kingdom, that proved that it's actually not helpful. And people haven't been on oxygen who don't have at least moderate disease, who are not consistently [on] oxygen, who don't need mechanical ventilation.
And so let's just step back a little bit. I think that two phases of this disease are when you get infected, the virus does its damage. But then it also incites this immune response — which in some ways is helpful, but in other ways, can be maladaptive in some people. And when that happens, your inflammatory markers go up. You have this 'cytokine storm' is what it's called. And that second phase is when the steroids are considered as opposed to the medications that the president received on Friday — the Regeneron antibodies as well as Remdesivir — which are aimed to try to get the virus down, which makes sense. And you may want to give that a little earlier because of the abundance of caution to the president.
In the case of the steroids, it's a balance because if he gets a steroid too early, you're potentially depressing the good immune response along with the bad one. And so this was a very conscious decision on the part of the president's physician to make that decision, that the risks outweighed the benefits, which at least tells me that he's at least moderately severely ill.
On if it's too early for the president to return to the White House
In my opinion, it is for a couple of reasons. I think once patients have entered this immune phase of response, I think they require a lot closer medical monitoring. And not only that, the president received a couple of different experimental drugs — one that is under expanded use with the Remdesivir, but one that's under compassionate use that hasn't been used in that many humans. And that monitoring of just those two drugs would keep him there.
The third is the dexamethasone itself. ... It's a drug that does have its own side effects, particularly in patients who are older. And so those are many reasons in which, as a physician, I might want to keep a patient of his age and medical comorbidities in-house closer in a hospital.
On what the president's doctors should be watching for
What they're already I'm sure doing is every day looking at his inflammatory markers. These are lab results that tell you, again, how bad that inflammatory response is in the body, what your immune response is. And the second thing they may be doing is actually doing pretty regular imaging just to make sure — we heard over the weekend that the president's physician, Dr. [Sean] Conley, said that his imaging wasn't completely normal as was expected. And that's true. Generally, in patients with COVID, you see signs of viral pneumonia in people who are milder. But the progression of that is going to be important. And, of course, they're going to follow him clinically.
On whether to hold the vice presidential debate in person after White House exposures
I think they should make it into a virtual event because it's not just about the people in front of the camera, but everybody else who has to come together to put the event up. And that's an infection control issue as well.
This article was originally published on October 05, 2020.
This segment aired on October 5, 2020.