Cambridge Poet Louise Glück Named 2020 Nobel Laureate In Literature
This article is more than 1 year old.
Louise Glück is one of America's great poets, a poet of truly tragic stature. Her work is both profound and sometimes shocking. Intensely serious and often surprisingly witty. A common adjective for her writing is "austere," but that austerity can be ravishingly beautiful and tonally complicated. And these qualities, almost from the very beginning, have been inseparable. "I hate them," she writes of the aromatic blossoms in "Mock Orange," maybe her best-known early poem, "I hate them as I hate sex." What Shakespeare wrote about "the web of our life" being "of a mingled yarn," is especially true of Glück's poetry.
Her poems wrestle with "the human condition" — family and love, sex and marriage, loneliness and separation, the spiritual quality of nature; increasingly and inevitably mortality, the terrors and on rare occasions the joys of sheer existence. Her insights are unsparing, while her spare, colloquial language has enormous resonance. Her poems are heartbreaking in their eloquence and penetration, their power of catharsis.
While not all poets get the rewards they deserve, Glück is the rare poet who has won almost every award a poet can win: Pulitzer Prize, National Book Award, Bollingen Prize, National Book Critics Circle Award, two Guggenheim Foundation fellowships. She was the 2003-04 Poet Laureate of the United States, and in 2015 she received the National Humanities Medal from President Obama.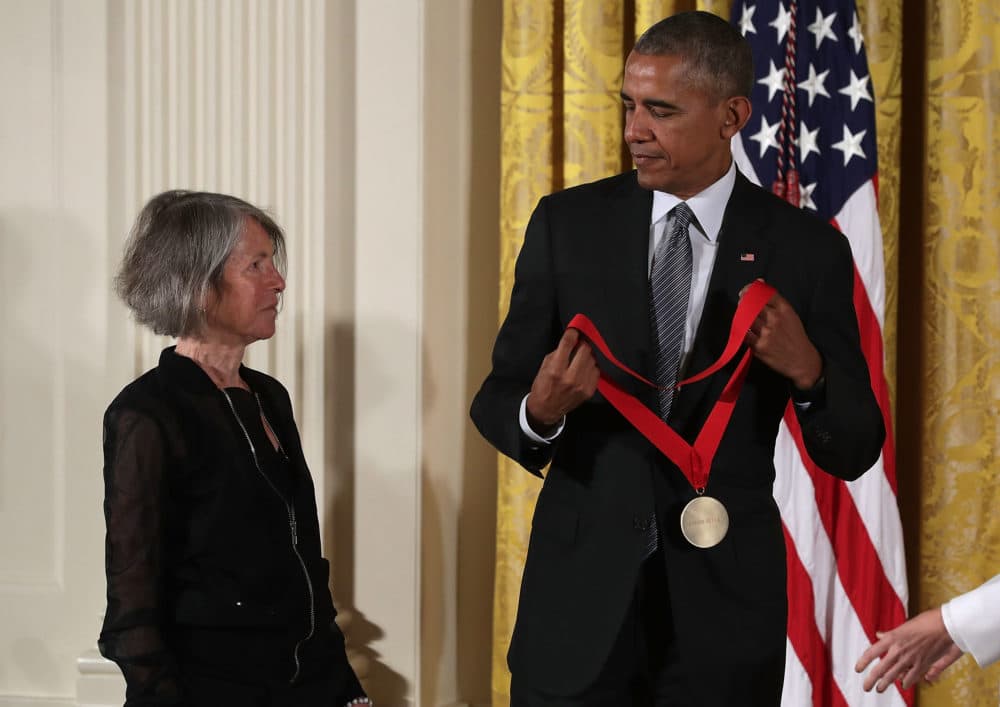 And now Louise Glück has been awarded the Nobel Prize in Literature — the very first American woman to receive this award for writing poetry since the literature category was established in 1901. She joins T.S. Eliot and Bob Dylan as the only other American-born poets to do so. Novelists Pearl Buck and Toni Morrison are the only other American women to win for literature.
Glück also happens to be one of the handful of Nobel poets to have a substantial connection to Boston — the others are Octavio Paz and Seamus Heaney (who both taught at Harvard), Derek Walcott (Boston University) and Joseph Brodsky (who frequently visited from Mount Holyoke). She lives in Cambridge and has been a visiting writer in the creative writing MFA program at BU, though she now teaches at Yale. In the last lines of the unsettling and sometimes hilarious title poem of her 1999 volume "Vita Nova," the very last lines in that book, she writes: "I thought my life was over and my heart was broken. / Then I moved to Cambridge."
What's crucial, of course, is that her poetry deserves all the accolades. The Nobel committee's citation reads: "for her unmistakable poetic voice that with austere beauty makes individual existence universal." That word "austere" again. Her poems are reverberant but plainspoken, sometimes almost anti-poetic. She has managed to keep a balance between "telling how it is" and carefully making, inventing, a work of art. You can hear her thinking on the page.
Yet without exactly being hopeful, her poems are also about survival — both her own and the survival of the species, of the world. "I did not expect to survive, / earth suppressing me," she writes in "Snowdrop," from her Pulitzer Prize-winning book "The Wild Iris," the poem quoted at the greatest length on her Nobel website page.
But this is not a poem in her own voice. It's the flower — the "Snowdrop" — that's speaking. "I didn't expect / to waken again, to feel / in damp earth my body / able to respond again, remembering / after so long how to open again / in the cold light / of earliest spring — "

afraid, yes, but among you again
crying yes risk joy
in the raw wind of the new world.

Is it in her own voice that she speaks to "My body," in her poem "Crossroads"?

it is not the earth I will miss,
it is you I will miss.

One of the distinctive aspects of Glück's work is that her writing comes in bursts, not just poems but whole books — one reason her work appears at a relatively slow pace. So although she is a lyric poet, each of her volumes has a cumulative power and unity — as if the poems were written in a single steady burst of inspiration. Each book acquires the size, the grandeur of a Greek tragedy. One of her most moving and powerful recent books, "October," is a single poem in six parts, written after the Sept. 11 attacks.

Tell me this is the future,
I won't believe you.
Tell me I'm living,
I won't believe you...
death cannot harm me
more than you have harmed me,
my beloved life.

When a poet writes so much on such a high level, it's hard to pick a favorite poem or book. The Pulitzer Prize-winning composer John Harbison has set some of her most serious poems to music, but I'm terrifically fond of a parody country-and-western lyric that she wrote for Harbison called "Stand by Your Grievance," which includes some deliciously bitter Glückian lines about trying to rub out the memory of a failed affair with "the soapsuds of my sorrow / And the brillo of my pain."
At the moment, my favorite poem of hers, with its mocking self-irony, is "Vita Nova," in which, in a "splitting up dream," a couple are fighting over their dog, ominously named Blizzard. "Poor Blizzard." Glück asks with comic empathy the deep question of identity, "why was he a dog?"

     Blizzard,
Daddy needs you; Daddy's heart is empty,
not because he's leaving Mommy but because
the kind of love he wants Mommy
doesn't have, Mommy's
too ironic — Mommy wouldn't do
the rhumba in the driveway.

"Mommy" sounds like the poet's nightmare-image of herself — knowing, ironic ("too ironic"), yet with a thorough understanding of the irreconcilable differences. It's the human comedy (not quite a "divine comedy" — though the title also comes from Dante). She mocks sentimentality, but her sympathies are all-embracing. She's tougher on the wife than on the husband, who wants a more romantic kind of love, more spontaneous, sillier. "Supposing / I'm the dog" is the surprising turn. "O Blizzard, / be a brave dog — this is / all material. . . you will eat again, you will grow up into a poet!" The poet's life, as James Merrill wrote, is a dog's life.

Life is very weird, no matter how it ends,
very filled with dreams. Never
will I forget your face, your frantic human eyes
swollen with tears.

Everything suddenly merges — comic and tragic, human and animal, the mundane and the poetic. In the context Glück has created, the most banal statement ("Life is very weird") takes on oracular profundity and poignance. And then, as the title has foreshadowed, this is a book about a "new life" — and the poem ends with an opening out into a future of possibilities. The darkness of the mythic dreamworld turns into the light of the real possibility of transcending the tragic:

I thought my life was over and my heart was broken.
Then I moved to Cambridge.

I can't think of another poet who can shift tone so rapidly and daringly, who can give the most commonplace language such charge.
If I had to choose my current favorite of her books, it would probably be, as is often the case with Glück, her most recent: the haunting, dreamlike, almost unbearably poignant "Faithful and Virtuous Night." The title is what the orphaned narrator remembers mishearing when he was a child as the title of a book his brother was reading about King Arthur. The narrator here is mostly not Glück herself, but a male painter (real? imaginary?) who sounds very much like her. It's probably more explicitly about making art than any of her previous books. Life and art, dark ("faithful," "virtuous") and light, memory and dream, comic (the misheard word) and tragic (the inescapability of night). In one prose poem called "Theory of Memory," a fortune-teller predicts: "Great things . . . are ahead of you, or perhaps behind you; it is difficult to be sure. And yet, she added, what is the difference?" Purest Louise Glück.
The Nobel committee has made an inspired choice.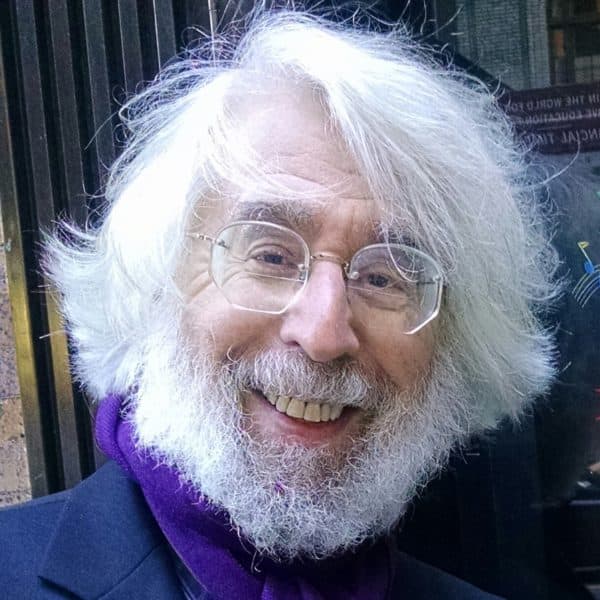 Lloyd Schwartz Arts Critic
Lloyd Schwartz is the classical music critic for NPR's Fresh Air and Somerville's Poet Laureate.