Health Experts Say Mass. Is In 'A COVID Autumn,' And We're Not Ready For Winter
As more Massachusetts towns and cities find themselves in high and moderate-risk territory, coded as red and yellow on the state's coronavirus map, Massachusetts seems to be entering a COVID-19 autumn, as Harvard epidemiologist Dr. Michael Mina puts it. Without fast intervention now, Mina warns there may be a "massive uptick in cases as the winter sets in."
Epidemiologists often use the analogy of a forest fire to describe epidemics. Over the summer, when infection rates were low, the pandemic felt controllable with only a few small fires smoldering in hot spots like Chelsea and Revere. Businesses, gyms and restaurants were opening back up. But now, epidemiologists are seeing smoke alarms everywhere.
"We have a huge number of little sparks happening throughout the entirety of the forest," Mina says.

In the last week, the number of communities in the higher risk category — defined as having more than eight daily COVID-19 cases on average per 100,000 people — nearly doubled from 23 to 40. Another 79 municipalities are in the moderate-risk category.
Other pandemic indicators, notably the positive test rate, have creeped upwards over the last two months as well. On Friday, the percentage of people testing positive spiked to 4.6%.
Mina says there are a multitude of reasons why a "COVID winter" is approaching. The main one is that people are starting to spend more time inside, where ventilation is poorer than outdoors. It might also be possible that we are simply more susceptible to infection when the air is cold and dry, he adds.
According to Mina, the best way to head off a COVID-19 winter is for everyone to wear a mask and practice social distancing. The next thing, he says, is to make cheap, self-administered coronavirus tests available to everyone two or three times a week. These tests already exist, he says, and holds up a low-sensitivity coronavirus paper test strip from Cambridge biotech E25Bio as an example. But FDA approval hasn't come down for the test yet.
"We are moving into this fall and winter, and we are moving into it without many more tools than we started with in the spring," he says. "I haven't seen the type of urgency we need to get ready for the winter. It's easy to sit back on our laurels and say, 'Hey, we figured out how to control the virus.' Maybe. But likely not."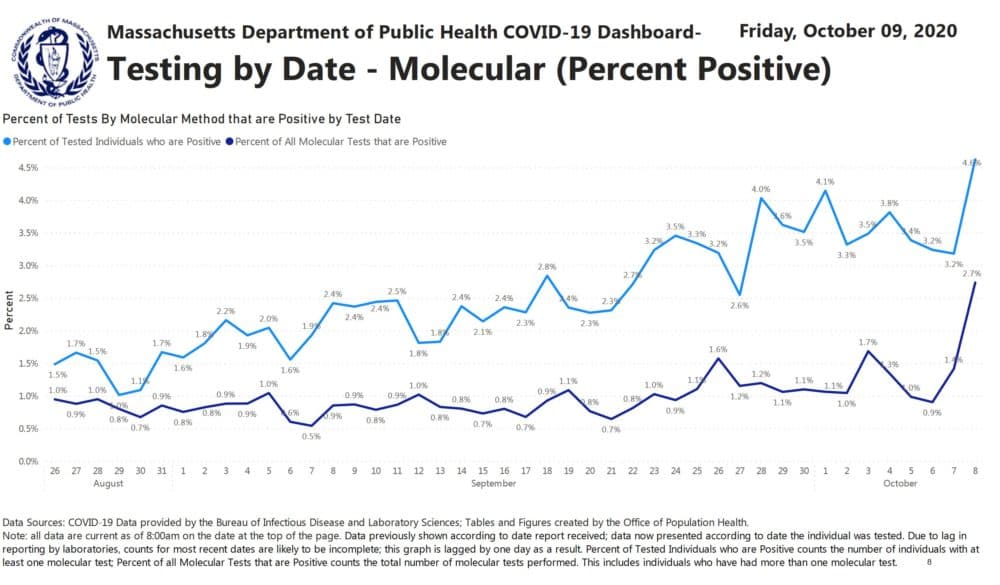 Governor Charlie Baker's administration is trying to suppress the pandemic by targeting interventions in communities that are at "high" or "moderate" risk levels. As communities' coronavirus risk levels drop to "low," more restrictions are lifted on schools and businesses, and outdoor gatherings can swell to greater sizes. The state is also providing free testing sites and public outreach campaigns in some communities.
Last spring, a COVID-19 shutdown left Massachusetts' streets silent and helped quell the intensity of the pandemic, but some health experts say such restrictions are not as effective when deployed in some towns but not others.
"When you're only being surgical with geography, you can only go so small because we have regional job networks. Shutting down Chelsea but leaving Boston open isn't going to work because how many people move between Chelsea and Boston every day?" says Dr. Benjamin Linas, an infectious disease doctor at Boston Medical Center. "People need to work, buy goods, take their kids places."
Recently, members of Baker's administration noted that some of their targeted interventions seem to be working. At a press conference last week, Secretary of Health and Human Services Marylou Sudders pointed out that Lynn's COVID-19 rate has fallen and that the state's free mobile testing program helped subdue a spike in cases in Salem.
"Salem went down from 11 down to three-and-a-half [average daily cases per 100,000 people]. So, what we're trying to do is very much tailor [our response] now," Sudders said at the press conference.
But Linas says that tailored response needs to go further and focus on things like specific venues and industries, not just geographic regions. Unfortunately, he adds, health experts currently don't have the data they need to draw a truly effective, targeted intervention against the coronavirus.
"The root cause of the problem is that we are how many months into this, and we still don't really understand what's driving transmission," he says. "We don't know where it's happening, in what venues, between what people, and what they're doing when it happens."
The way to get that data would be for the federal government to pour dollars into research. That hasn't happened yet, he says, when it comes to research into what types of businesses and locations are most tied to the virus's spread. Without more federal coordination, Linas and Mina say Massachusetts and other states will be inadequately prepared for the coming winter and the fire they fear is on the horizon.