'Borat Subsequent Moviefilm' Highlights Humanity In A Country Sickened By Plague And Politics
In normal times, a 14-year-later sequel to a lightning-in-a-bottle pop culture phenomenon like "Borat: Cultural Learnings of America for Make Benefit Glorious Nation of Kazakhstan" would reek of desperation. Like Mike Myers' Austin Powers before, Sacha Baron Cohen's hirsute, blissfully bigoted journalist is the kind of sublime comic creation that was ruined by your least amusing friends imitating him so badly and so often you probably forgot why you ever found him funny in the first place. ("Borat" belongs next to "The Big Lebowski" on a list of wonderful movies with the most annoying fans imaginable.) Besides, Baron Cohen has never been able to capture that same spark again, with duds like "Bruno" and "The Dictator" unable to sustain the hidden camera antics, though I will confess a soft spot for his 2016 bomb "The Brothers Grimsby," an astoundingly vulgar espionage adventure in which the happily-ever-after ending included Donald Trump accidentally being infected with AIDS.
But these are anything but normal times, as that last sentence about a certain someone catching a contagious virus may have reminded you. (Or you could just look outside.) It turns out that "Borat Subsequent Moviefilm: Delivery of Prodigious Bribe to American Regime for Make Benefit Once Glorious Nation of Kazakhstan" is just the movie for a country sickened by plague and politics. Shot in secret before and during the pandemic, it finds our disgraced former reporter stumbling undercover around CPAC, synagogues and anti-mask rallies. Unspeakably gross, juvenile and containing something sure to offend just about everybody, it's also sort of sweet. Schmaltzy, even. Or, at least as schmaltzy as a Baron Cohen movie can be.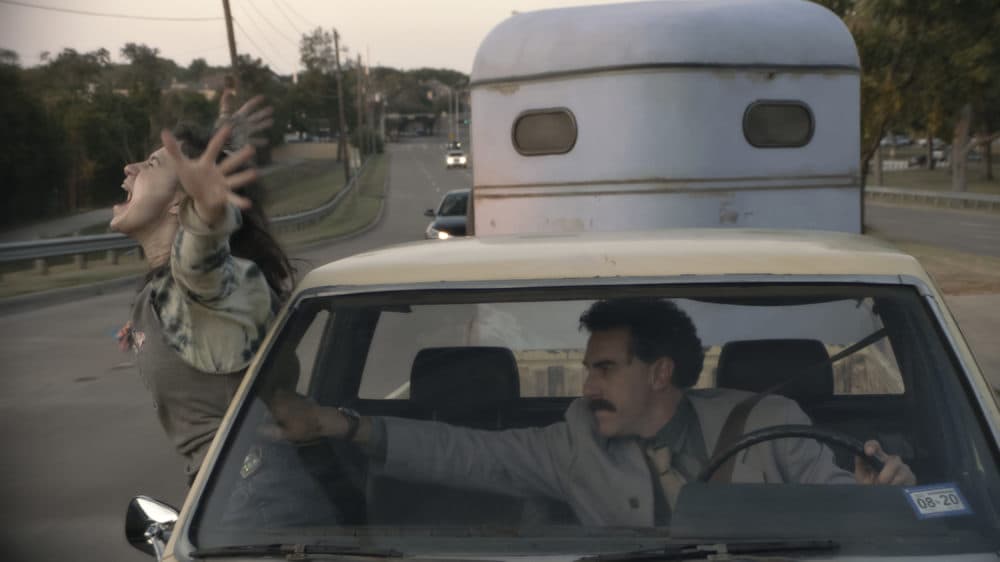 Our intrepid journalist has spent the past 14 years in a gulag as punishment for the humiliation his hit film brought to their once glorious nation. But upon learning of our current American president's affinity for corrupt, strongmen dictators, the Kazakh premier dispatches Borat to the U.S. again, this time with an impressive bribe in the hopes of joining "McDonald" Trump's esteemed inner circle of Vladimir Putin, MBS and Kim Jong-Un. The problem is that Borat's 15-year-old daughter Tutar (Maria Bakalova) stowed along for the trip and ate the prized pet monkey her father was supposed to present to "Vice Premier Michael Pence." So now they have to come up with another way to impress American leaders, and that infamous footage of the president partying with Jeffrey Epstein gives Borat some bad ideas.
Without giving away any of the big gags, it's safe to say that the movie is essentially a remake of "Paper Moon," with Borat and Tutar as the estranged father and daughter stuck together on a disastrous road trip, developing unexpected affection for one another during their episodic adventures. Yes, this time around Baron Cohen wants you to actually care about the characters, and it's surprising how much tenderness he manages to wring out of his mustachioed buffoon. Newcomer Bakalova is a remarkable find, keeping up her end of the comedic chaos and delivering a tour-de-force gross-out dance at a debutante ball. (Two words I never want to hear again: "moon blood.")
It's a much plottier, more conventional movie than the previous picture, which was doomed by its own success to be an unrepeatable stunt. Baron Cohen can't walk down a city street here as Borat without mobs of frat boys demanding "high fives" and begging for selfies with him, so he spends a lot of the sequel in a fat suit and other disguises. (There's even a generic Borat costume for sale at the Halloween store where he tries to shop.) I remember the first film's savage satire being one of the few political highlights of the dispiriting Dubya era — a dire time for America that's being wrongly romanticized right now by some in comparison to our current calamity — but the same schtick wouldn't work today because the culture itself has changed.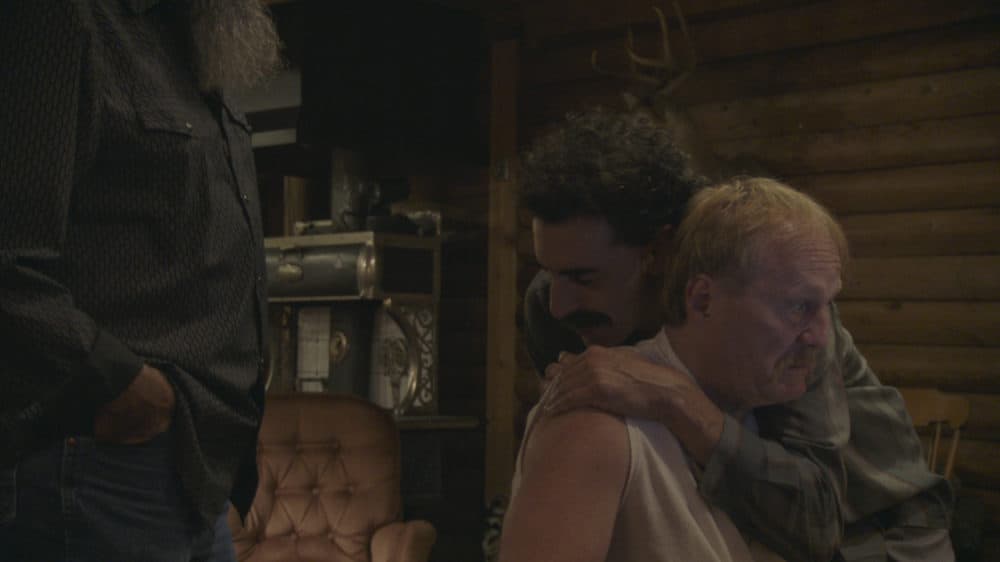 Baron Cohen is a genius at cozying up to regular folks and coaxing them into sharing their most hidden, horrible prejudices and cruelties on camera. But what do you do now that all that stuff's accepted and out in the open? With self-described "Deplorables" wearing "F--- Your Feelings" shirts and chanting racist taunts at Trump rallies there's nothing left to expose. The big disappointment of Baron Cohen's 2018 Showtime program "Who is America?" was the complete lack of surprise at what was coming out of people's mouths. Dick Cheney autographing a waterboard kit was kind of outrageous, but also just seemed like something that Dick would do.
In "Borat Subsequent Moviefilm" (I'm not typing out the whole title again) the trick is for the most part inverted. Sure, people will brazenly write whatever anti-Semitic slogan you want in frosting on a cake, but the movie lingers more on unexpected kindnesses from its unsuspecting camera subjects. Borat's bit now is to see if he can push these people far enough that their humanity comes out at the most surprising, sometimes ironic moments, like when the two Pizzagate guys tell him he needs to cool it on the conspiracy theories. If you can set aside the fellas throwing "Heil Hitler" salutes at an anti-mask rally — and I understand that's a big "if" — the movie leaves you with a sunnier view of humanity than its predecessor did.
This isn't to say Baron Cohen has lost his edge. The last 20 minutes or so of the sequel ascend to the same "I can't believe I'm watching this" heights of the original film, and I'm pretty sure there's one public figure who doesn't know yet that he's in this movie. (I'm betting his lawyers will be the first to break the review embargo.) It might seem a little square, yet there's also something radically optimistic about Borat learning how to respect women and treat them as equals. "Borat Subsequent Moviefilm" seems to be saying if this guy can change his ways, there might be hope for America after all.
---
"Borat Subsequent Moviefilm: Delivery of Prodigious Bribe to American Regime for Make Benefit Once Glorious Nation of Kazakhstan" starts streaming on Amazon Prime Video Friday, Oct. 23.