Aaron Sorkin's 'The Trial Of The Chicago 7' Dramatizes Aftermath Of 1968 Democratic National Convention Riots
Peaceful protestors are getting their heads bashed in by cops while an unhinged attorney general and a racist judge make a mockery of the criminal justice system during a contentious election year in a bitterly divided country. Geez, I have no idea why writer-director Aaron Sorkin's "The Trial of the Chicago 7" might seem so pertinent to this particular moment, but the enormously entertaining courtroom drama about the aftermath of the 1968 Democratic National Convention riots has been stalled in and out of various stages of production for more than a decade. Earlier this year, a planned awards season campaign was scuttled and the film sold off by original distributor Paramount Pictures when the pandemic hit. Now, after a long, strange trip the movie finally arrives on Netflix this weekend, feeling right on time.
For those behind on your boomer hagiography, it's the oft-told tale of eight anti-war activists who were railroaded by the Nixon administration on trumped-up conspiracy charges during a six-month trial that turned into a media circus, thanks in no small part to the subversive antics of Yippie leaders Abbie Hoffman (Sacha Baron Cohen) and Jerry Rubin (Jeremy Strong) while an apparently addled Judge Julius Hoffman (Frank Langella) did his darndest to make sure that if justice was going to be served it would have to wait for an appeal. The trial is perhaps most notorious for the court-ordered shackling and gagging of defendant Bobby Seale (played here by Yahya Abdul-Mateen II) who had never even met his alleged co-conspirators but the prosecution thought they could scare the jury by sticking a Black Panther in with this crew. (Seale's case was severed from the others and declared a mistrial when the feds realized they weren't going to win on the optics of putting a Black man in chains.)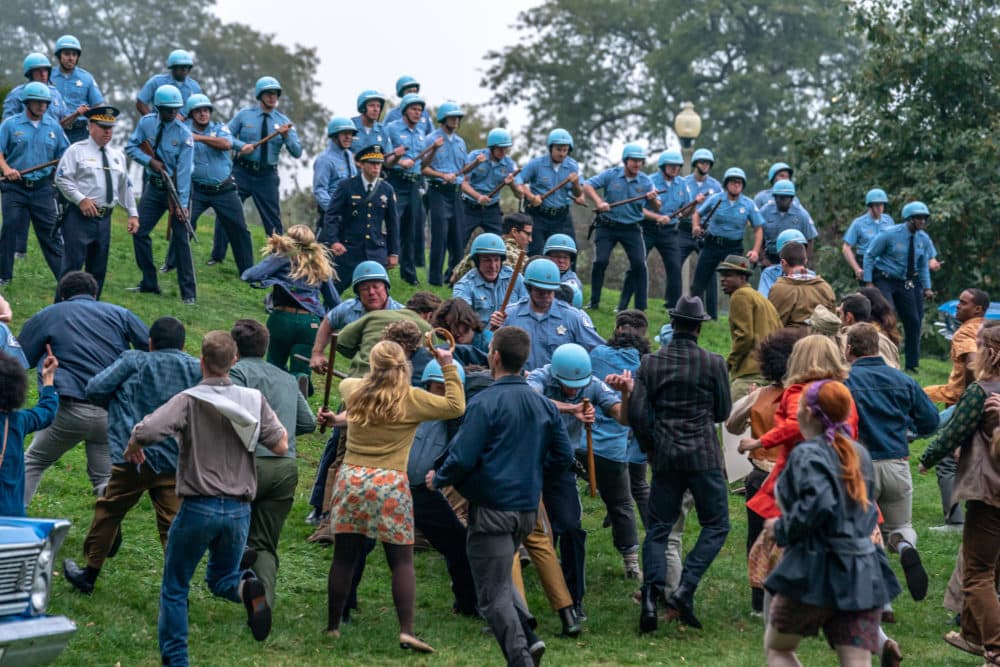 It's a story perfectly suited for Sorkin, the screenwriter who since "A Few Good Men" and "The West Wing" has specialized in soaring, self-righteous speeches by quippy idealists who love being smarter than you. But anyone who's sat through an episode of "The Newsroom" or "Studio 60 on the Sunset Strip" knows that Sorkin can also sometimes be insufferable, over-identifying with his difficult men of genius. He works best when reined in by true stories, which might be why "The Trial of the Chicago 7" is his best script since "The Social Network," chockablock with hyperliterate zingers and groovy grandstanding. Nobody really talks this way but we all wish we did. It also hugely helps that he doesn't have to write for any female characters, which is not exactly a Sorkin strong suit, putting it politely.
"The Trial of the Chicago 7" becomes a (lopsided) battle between Abbie's class clown activism and the more dignified dissent voiced by Eddie Redmayne's Tom Hayden, with avuncular organizer David Dellinger (John Carroll Lynch) stuck being the dad who keeps threatening to turn the car around if these kids don't stop squabbling. (If any of their arguments about settling for centrism in order to win elections sound familiar it's because we just spent an entire primary having them. Again.) It's a stroke of brilliance casting real-life merry prankster Baron Cohen as Abbie, whose rock-star charisma overwhelms any objections to his iffy Worcester accent or the fact that the actor is now roughly the same age as Hoffman was when he died in 1989. He gets a hilarious Cheech and Chong rhythm going with Strong's Jerry Rubin, and Mark Rylance is simply a delight as longhaired, pot-smoking attorney William Kunstler, playing every scene unruffled and slightly behind the beat, as if tuned into his own private frequency.
A trial so theatrical is a natural for screen adaptations, and as early as 1971's "Vladimir et Rosa," Jean Luc-Godard and Jean-Pierre Gorin were already sending it up with a "Judge Himmler" doodling notes in Playboy centerfolds behind the bench. But as a kid, I first learned about the case from HBO's 1987 "Conspiracy: The Trial of the Chicago 8," a dramatic performance of the courtroom transcripts occasionally interrupted by commentary from the surviving defendants. It's a strange production marred by shooting on early video with soap opera cameras and the curious casting of Robert Loggia as Kunstler, who can't help coming off like he beats the crap out of hippies in his spare time. (Ditto Peter Boyle as Dellinger. This was one scary bunch of pacifists.)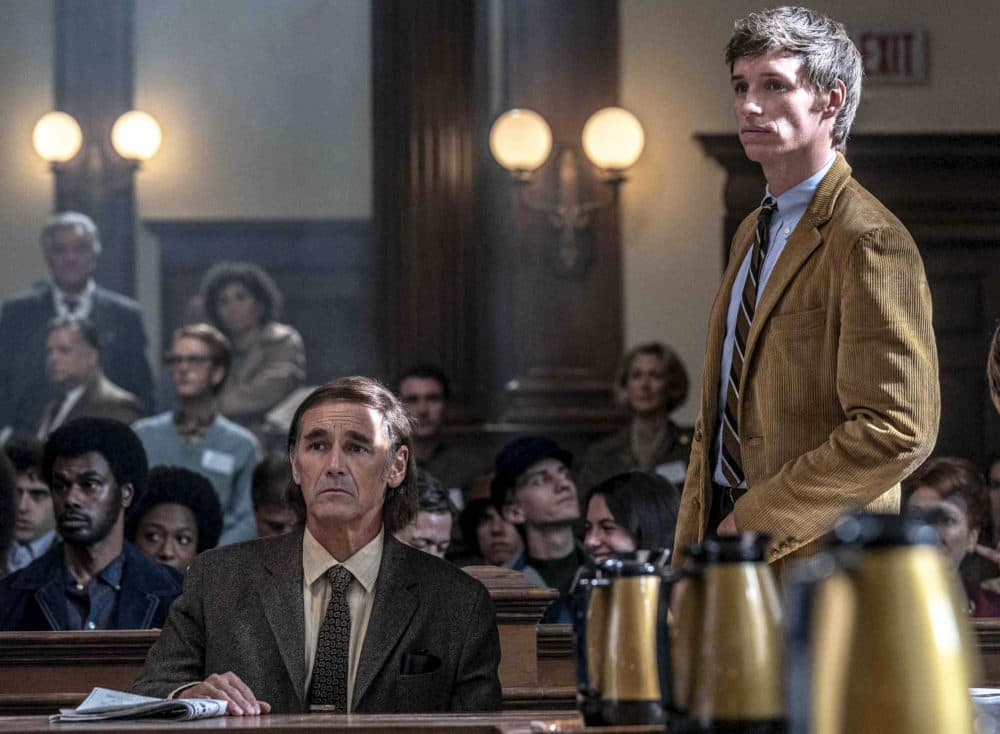 But my favorite of all these is Brett Morgen's 2007 "Chicago 10," a rollicking hybrid of documentary footage from the riots and cartoon re-enactments of the courtroom shenanigans, featuring one of the great Roy Scheider's final performances voicing Judge Hoffman. Morgen scored the movie with contemporary tracks from the Beastie Boys and Rage Against The Machine to try and bring the story into the present-day context of the Iraq war. There must have been something in the air, because that same year Steven Spielberg almost shot Sorkin's script — production fell through due to a Writer's Guild strike — with Baron Cohen as Hoffman, Will Smith playing Bobby Seale and Heath Ledger as Hayden.
Sorkin's film really could have used a star like Ledger playing Hayden. I'm afraid to say the appeal of Eddie Redmayne has always been lost on me, and the character is written a bit unfairly, stretching the historical record to provide a more uptight foil for Hoffman's hilarity. (There's no way the Tom Hayden depicted in this movie ever could have gotten a date with Jane Fonda, let alone married her.) It's interesting where and when Sorkin has chosen to depart from the facts of the case, toning down outrageous aspects like the trial's celebrity guest stars Allen Ginsberg, Norman Mailer and Judy Collins, while also trimming significantly the amount of time Seale spent shackled to that chair. "The Trial of the Chicago 7" adds an arc for Dellinger I don't think quite clicks, but the feel-good Hollywood ending Sorkin has spun here out of whole cloth is shameless, unbelievable and absolutely irresistible. I applauded in my living room.
---
"The Trial of the Chicago 7" starts streaming on Netflix Friday, Oct 17.