On Halloween Night: A Five-Course Pairing Of Food And Fright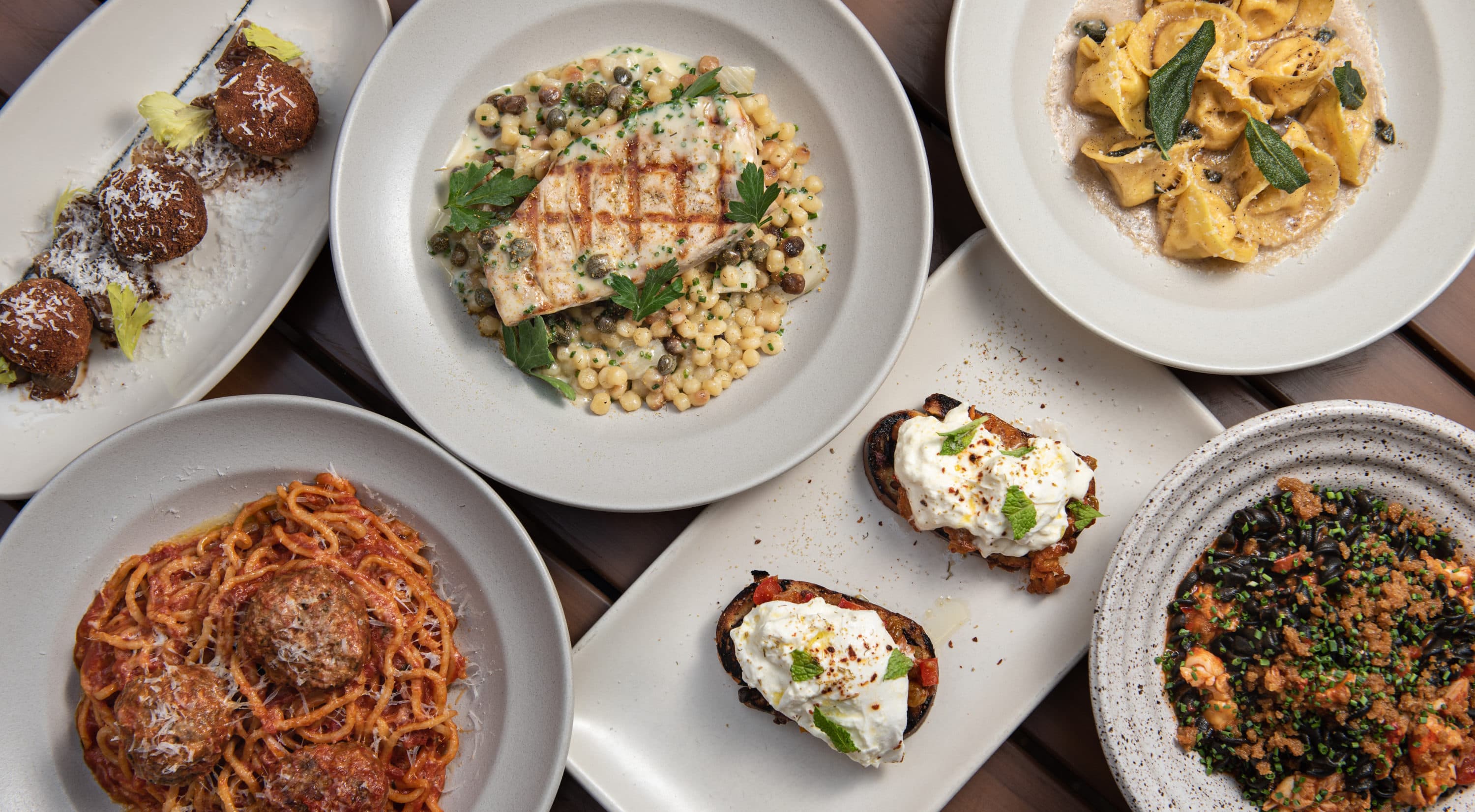 This article is more than 2 years old.
As much as we all could use a little revelry right now, Halloween is going to look pretty different this year. While trick-or-treating and costume parties aren't recommended, on the menu instead is a weekend where screams meet cuisine. This curated list of streaming scary movies and TV shows paired with local treats from new area eateries. So go ahead and order some takeout, slip into your favorite sweats, and indulge in these five helpings of jump scares and goodies for your taste buds.
Stream: "The Invisible Man" (2020) | HBO Max
Savor: Capalbo's Pop-Up at Bambara Kitchen & Bar | Cambridge
Sometimes, films don't need to slip into the supernatural to be uniquely unsettling. Just take a look at the recent "The Invisible Man," a reimagining of the classic 1897 H. G. Wells novel and its 1933 film adaptation. The modern version anchors its terror in the post-#MeToo movement world, as Cecilia Kass (portrayed with harrowing grace by Elisabeth Moss) is stalked by an invisible force — possibly her abusive ex-boyfriend — and is gaslit by basically everyone around her. To counteract the empathic dread, consider loading up on comfort food from Bambara Kitchen & Bar's new popup restaurant, Capalbo's.
The Italian-American focused pop-up, which will run through the rest of the year, specializes in house-made pastas and more. Standouts include the squash and ricotta tortelli and the homey white bean and kale soup with crispy sourdough croutons fried in extra virgin olive oil. (Here's a tip: savor a soul-soothing spoonful every time a character tells Cecilia that she's crazy). Chef David Bazirgan counts the thick bucatini and red sauce as a favorite dish. "The meatballs are a labor of love and the cheese we're using is a Sardinian pecorino called pecorino sardo, a hard cheese produced exclusively on the island of Sardinia," he says. Delight in perfectly cheesy chicken parm as you watch Elisabeth Moss chew the scenery.
---

The gothic horror of "The Haunting of Bly Manor" — the second season in Netflix's chilling "The Haunting" anthology series — transports viewers to a dark, fog-shrouded English manor in the late 1980s, where terrors trail an au pair as she looks after two young children. Perhaps haunted house tales are so enduring because of the terrifying notion at their core: that the one place you're supposed to feel safe in this world is actually your greatest nightmare. And with a quick trip to Earnest Drinks, a coffee shop and bar that recently opened within the new Gracie's Ice Cream in Kendall Square, you can be sure that that the spirits are not just confined to Bly Manor.
Owner Aaron Cohen slings boozy milkshakes and slushies (and also alcohol-free versions, but 'tis the season for spirits) like the minty and delicious Cookie Hopper, which is based on the classic after-dinner-drink called the grasshopper, and a spicy margarita mango slushy with a tajin spice rim. "We've been having a lot fun both re-imagining classic cocktail combinations as frappes and coming up with new combos based on some of our most popular ice cream flavors," Cohen says. Guests can also build their own frappes by choosing from the shop's 15 ice cream and sorbet flavors as well as a list of spirits and toppings.
---

Right from those tinkling piano notes of the iconic intro music, you know what you're in for when you queue up "Unsolved Mysteries" — you'll be glued to your chair episode after eerie episode. The first six-episode season of the Netflix reboot dropped in July, joined by a six-episode second season that dropped earlier this month. From cold cases to alleged paranormal phenomenon, the blend of investigative reporting and eye-witness accounts hits a macabre sweet spot. And since "just one more episode" never actually means just that, you could use some caffeine to fuel your cruise into the creep.
Caffé Ducali, the Italian-inspired espresso bar that opened last week in the North End right next to the Ducali Pizzeria, brews coffee and espresso with Gran Riserva Lavazza coffee beans from Torino, Italy. Classic macchiatos and the house specialty Pellicano, made with lemonade and cold brew, join the eatery's breakfast bites, Italian flatbreads, salads and more. "The strongest thing we offer has to be a double espresso," says owner Philip Frattaroli. "No extra water or milk to dilute the caffeine; it's a really smooth blend and it transports me to Italy every time I have one." One of those will let you blame your jitters on the caffeine.
---
Stream: "Bite Size Halloween" (2020) | Hulu
Savor: Harvest's Halloween Doughnut Pop-up | Cambridge

Who has any attention span these days? Hulu's "Bite Size Halloween," a series of 28 shorts that are all under eight minutes, serves up a spectrum of spine-tingling thrills. From the campy '80s throwback "Landline" about a haunted rotary phone, to the taut sci-fi horror "NYX" about a strange discovery on a lunar observer, the shorts pair well with the snacks from the Halloween doughnut popup at Harvest in Cambridge.
Executive pastry chef Joshua Livsey dreamed up doughnuts based on the Halloween favorites of Reese's Peanut Butter Cups, Skittles, Twix and apple cider. "I love candy, and given that things are a little different for Halloween this year, I wanted to give people an opportunity to get their trick-or-treating fix in a fun way," Livsey says. Pre-order boxes of four ($13 plus tax) through Thursday, Oct. 29 for pickup on Halloween. Much like Hulu's Halloween shorts, you can easily plow through the whole box before you look down and even realize all the treats are gone.
---
This pairing is all about a double helping of nostalgia. While the 1993 fantasy dark comedy "Hocus Pocus" certainly isn't new, it's absolutely required viewing for everyone every Halloween and a re-watch is even sweeter as you inhale treats that harken back to the candy stores of yesteryear. Husband and wife duo Michael and Greer Missouri opened sukker & sweet last October in The Street Chestnut Hill, looking to bring that nostalgic penny-candy experience to the neighborhood.
In the wake of COVID-19, they've recently rebooted the store and pivoted away from self-service bins, instead offering candies in custom packaging. You'll find sweets like salty kitties (a salted black licorice cat that, if you squint, might just look like Binx), crispy chocolate puffs and sour gummies. "I love the sour peace signs, salty sea stars and the milk chocolate licorice pearls. It takes me back to my childhood in Norway," says Michael Missouri. You can absolutely still quote the movie with a mouthful of these candies, and remember, in the immortal words of Winifred Sanderson, "It's all a bunch of hocus pocus."