'Such Feeble Evidence': Mass. Lawyers Say State Falsely Accused Them Of Sending Drugs To Prisoners By Mail
Resume
More than a dozen Massachusetts attorneys claim they have been falsely accused by state prison staff of sending drugs to their incarcerated clients.
Since September, several attorneys have called on the state Department of Correction to change the way it handles testing the mail they send to their clients in prison. The attorneys say the DOC's drug test is not intended to be used on documents, and the results are not considered reliable.
Lawyers Accused Of Mailing Drugs
Criminal defense attorney Lisa Newman-Polk had just started her vacation in August when she got a call from one of her clients incarcerated at MCI-Concord.
"I knew it was an emergency because he was only going to call if there was an emergency," Newman-Polk said. "I answered, and he said, 'I'm in the hole [restrictive housing], because they say the mail that you just sent me has K2 on it.' And I was completely shocked and completely freaked out."
K2 is a brand name for synthetic cannabinoids, or fake pot. The drug can be smuggled into prisons by spraying it onto paper that a prisoner can then smoke. The DOC says its field tests for K2 are confirmed by a lab, and Newman-Polk said the lab test on her client's mail later showed that there were no drugs. During the several weeks it took for the confirmatory testing, she says her client was moved to a restrictive housing unit, lost his prison job and could not begin his education program.
"The fact that my client was just scooped up, kicked out of a really important college program that's important for his reentry — it's important for his mental health — and thrown into restricted housing for something he did not do, based on such feeble evidence, is wrong," Newman-Polk said.
WBUR agreed not to name Newman-Polk's client because he and his attorney fear he could face retaliation.
Illicit drugs have long been a problem in prisons so Newman-Polk said she called the DOC to explain that the mail was legitimately from her so there must have been an error. She explained this could jeopardize her client's parole. But prison officials wrote the accusations were serious, and the action taken against him was appropriate.
The DOC maintains that restricting a prisoner's movement inside a correctional facility until test results come back from a lab is not discipline. Newman-Polk says while there was no formal disciplinary hearing, her client was effectively sanctioned.
"While there is no formal hearing, the DOC is most certainly punishing our clients, who are placed in restrictive housing, removed from programming, lose their employment, and have their attorney-client relationships compromised," Newman-Polk said."Whatever label they put on it, in every way that matters, our clients are disciplined."
"The fact that my client was just scooped up, kicked out of a really important college program that's important for his reentry — it's important for his mental health — and thrown into restricted housing for something he did not do, based on such feeble evidence, is wrong."

Lisa Newman-Polk
Concerned about her client and how her legal career could be affected, Newman-Polk started talking with colleagues. She said she learned that 16 other attorneys were suspected of sending drug-tainted mail to clients at various Massachusetts prisons, and that some attorneys withdrew from those cases.
Newman-Polk and other lawyers asked the state to address the issue. Both the state's public defender agency and Prisoners' Legal Services of Massachusetts said they've heard that several lawyers have been notified that mail they sent to incarcerated clients has tested positive for drugs.  They say attorneys can face stiff consequences for such allegations, and punishing prisoners immediately based on questionable testing is harming attorney-client relationships.
"Clients have, at times, refused our mail due to the consequences of a false positive — consequences that include being put in solitary confinement," said Vanessa Velez, deputy chief counsel with the Committee for Public Counsel Services. "This is unacceptable, and we urge the DOC to change course."
It appears no attorney has faced criminal charges or discipline because of the prison mail testing. Defense attorney Ryan Schiff wrote to the Department of Correction, as well as the state attorney general and the U.S. attorney for Massachusetts, saying that the test is a blunt tool to try to address the problem of drugs behind bars.
"If there really were a problem with a large number of lawyers sending drugs to their clients in prison, then an investigation should be done and criminal charges should be brought," Schiff said. "But that's never done, so that tells us how much faith can be placed in this preliminary test that they're using."
The DOC's Drug Testing Practices
The  DOC uses a field test called "NARK II," which is designed to quickly react to the chemical compounds of illicit drugs. But some experts say the test is not reliable if it's being used to detect drugs placed in paper.
Forensic chemistry consultant Heather Harris, an assistant forensics professor at Arcadia University, trains students and agencies how to use the NARK II test. Harris said the test was meant to be presumptive and determine if there is probable cause to believe illicit drugs are present. She said it is not designed to screen for the presence of drugs on mail.
"It's a wholly inappropriate use of that test," Harris said. "They're not intended to react with papers and dyes and inks, so in this context of trying to determine if there is a drug within a document, they're not reliable."
Harris also said testing for synthetic cannabinoids is problematic, as the drug is a variety of chemical compounds that is always changing.
The NARK II tests are made by the forensics company Sirchie, which warns on its website that the tests are presumptive and any positive results should be confirmed by a lab.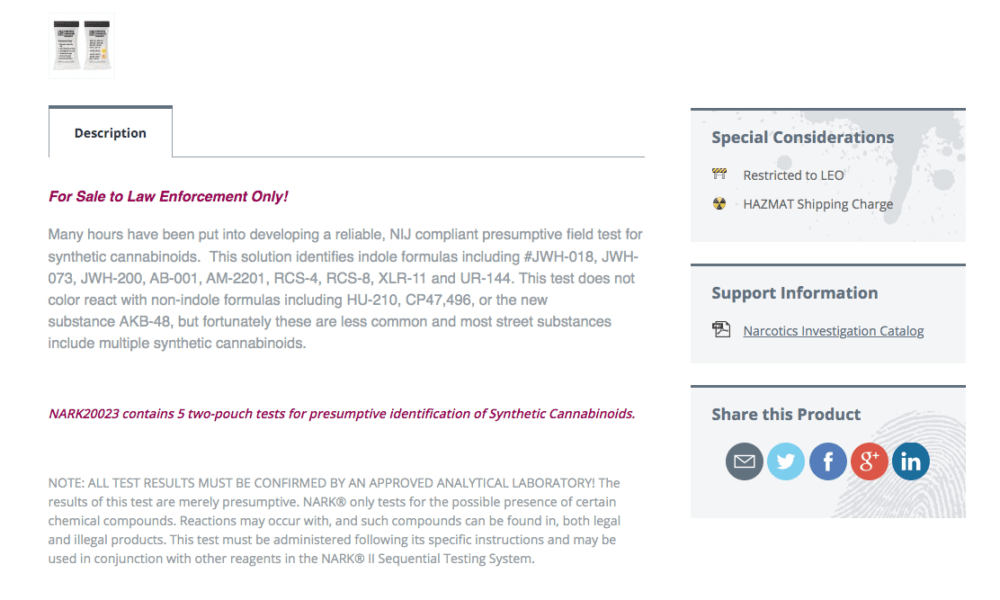 Two months ago, New York prison authorities suspended use of the NARK II tests and all disciplinary hearings based on the testing. Advocates are asking that Massachusetts do the same.
Massachusetts prison authorities say they follow the test manufacturer's recommendation to confirm any positive result with a lab test.
"It would be a far better use of the department's time and resources to be expanding access to evidence-based substance use treatment to incarcerated individuals who want and need it — and not just treatment for opioid addiction," said Elizabeth Matos, Executive Director of Prisoners Legal Services of Massachusetts. "Synthetic marijuana or K2 is extremely dangerous and addictive and has caused a number of overdoses in prisons and jails here in the commonwealth."
The DOC says all incoming mail is inspected and some may be field tested if it appears to contain contraband. The Department says some mail represents as being from an attorney when it is not.  In inspecting mail for testing, the DOC says it looks for things such as an unusual color/texture of the paper or violations of  postage policies. The DOC says its mail regulations are in writing 103 CMR 481.
As for attorney Newman-Polk, she said now that her client's test was negative and there was no disciplinary hearing, he is catching up on his college program and working on requirements to be released on parole.
This segment aired on October 30, 2020.