'The Biological Event Of Our Lives': Boston Biotech Unicorn Dives Into Mass Coronavirus Testing
Resume
"It's sort of like a grown-up train set," Jason Kelly says.
Kelly is the CEO of Gingko Bioworks, a big Boston biotech startup based in the Seaport, and he's leading the way through a brightly lit room about the size of a high school gymnasium, where workers are assembling and testing rows of machines and robots along gray metal tracks.
"You see these little, like, train cars that are moving along?" he asks. "What they're able to do is move little plates — laboratory plates — that would have a bunch of different test samples in the plate. And it can move them anywhere through the facility — you see the tracks running through there? It's about an 18,000-square-foot box we're standing in here."
Nearby, a lime green robot arm towers above the gray rails every few feet. The arm's pincers can pick the plates up and move them onto pieces of lab equipment, Kelly explains.
"And then the equipment can run," he says, "and in this case, what it would be doing is running COVID-19 diagnostic tests to see: is this a positive or a negative sample?"
Ginkgo Bioworks is scrambling to set up these high-tech machines for a new mass test processing lab -- at a time when there are growing calls for much more testing.
Massachusetts is at the front of the testing pack, with up to 90,000 residents a day getting tested. But experts say it's still not enough to suppress the virus by catching asymptomatic cases early. Kelly agrees, and says the new testing facility will be able process tens of thousands of coronavirus tests a day.
"In the context of reopening society," he says, "for workplaces and schools, you need so much more [testing] than we're doing today that you absolutely have to start deploying new technologies like this, if we're going to make it cheap enough — before we all have a widespread vaccine — to really get the virus under control."
Kelly hopes the Gingko testing facility will be up and running by early next month, and expects it to be needed at least through 2021.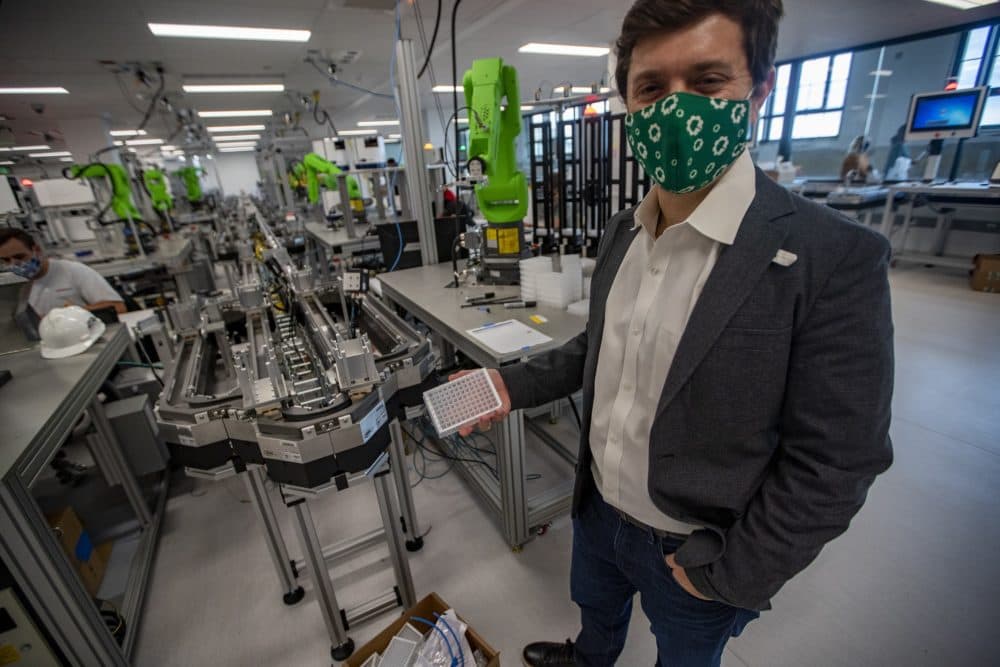 Ginkgo Bioworks won a $40-million federal grant to repurpose top-of-the-line DNA analysis machines — what's called next-generation sequencing — for coronavirus testing. It's awaiting emergency approval of those tests. It's also piloting a workplace testing program using saliva tests.
"Everything is designed to be quick but also convenient," says Ginkgo's Rob Morfino. "So we really want people to have testing as part of their daily routine."
Many Massachusetts residents who've gotten tested in recent months would not call it quick or convenient. Or pleasant, if it involved a deep nasal swab.
But the Ginkgo Bioworks effort is part of the growing push toward a new phase of testing that includes shallower swabs and far more screening of people without symptoms. Facing a resurgence of the virus, Boston Mayor Marty Walsh has called in recent days for all residents to get regular testing.
Dr. Thomas Tsai, a testing policy expert at Harvard and Brown University, says he's seen remarkable strides on improving technical aspects of testing in recent months.
"Our efficiency of our testing through newer technologies such as next-generation sequencing —  these are things that we were talking about as coming down the pipeline," he says. "But that future is now, is here. These technologies are present."
The challenge, Tsai says, is that most tech innovations focus mainly on what happens in the laboratory, speeding up the time it takes to process tests. "But there are multiple bottlenecks we have to consider," he says, "and if we are to truly improve our testing strategy we have to break through all of those bottlenecks."
Those bottlenecks include ferrying tests quickly to processing sites like the one Ginkgo Bioworks is setting up, and getting results back to people quickly — and persuading lots of people without symptoms to take the tests. Also: the cost and availability of tests where they're needed most.
"Those are not technological questions," Tsai says. "Those are complex questions around policy goals and public health."
It's laboratory as factory. That trend is just starting, and it is going to drive biotechnology for the next 50 years.

Ginkgo Bioworks CEO Jason Kelly
The technological side is plenty complex as well. Jason Kelly at Ginkgo Bioworks says getting all the elements of the huge robotic testing system to work together is "non-trivial." But Ginkgo is known for large-scale automation of life science lab work, normally to help develop new drugs or plants or other biological innovations.
"It's laboratory as factory," Kelly says. "That trend is just starting, and it is going to drive biotechnology for the next 50 years. It's going from people at a bench — like me back in grad school, doing it by hand — to what you just saw back there with robotic tracks and arms. We're just starting."
Ginkgo is what's known as a unicorn, a start-up valued at more than a billion dollars — in this case, over $4 billion. Kelly says it's pitting its technical heft against the coronavirus.
"This is basically the biological event of our lives," he says. "Imagine if this whole thing that was tearing the world apart was a computer virus. Would Google sit it out?"
The company is one of dozens working on new testing technologies, and Kelly predicts more rapid progress. And when the pandemic is over, he says, the Ginkgo Bioworks testing machines can be reused for the company's more typical biological engineering work.
Meanwhile, he sees the extensive testing done by the Broad Institute for New England universities as a model for the country: The colleges screen students once or twice a week, and have -- for the most part -- managed to keep coronavirus levels so low on campuses this fall that they've been able to keep functioning. Frequent testing is the key, Kelly says.
"I think if we commit to it," he says, "every month there will be newer technologies, newer scale, people will invent stuff, pool this, paper-test that, and it will get easier and easier and easier, and we'll start to beat it."
This segment aired on November 3, 2020.